Watches have been a staple in every wardrobe for decades. Even with the rise of various tech gadgets, watches just cannot be easily replaced. On the contrary, the watch market is still continuously expanding; now with more brands and styles to choose from. You can surely find the watch that will best suit your lifestyle, wardrobe, and even budget.
If you want to spend thousands of dollars on a timepiece, you can browse for luxury brands such as Rolex, Patek Philippe, Audemars Piguet, etc. However, if you are like most of us that looks for the most affordable yet high-quality watches, you won't also be disappointed with this list. Below you'll find some of the best affordable brands on the market today to make your search easier. Many of these brands have been featured in our best under $500 watch lists.
Best Affordable Watch Brands
Timex
Timex is considerably one of the biggest watch companies in the world today. This is perhaps attributable to the company's commitment to its philosophy of creating affordable clocks and watches. From a small company that started in Waterbury, Connecticut; it is now called the Timex Group officially which is currently headquartered in the Netherlands. Its companies are strategically located throughout the globe – in the United States, India, and the Philippines.
Aside from affordability, the brand is also known for the simplicity and durability of its timepieces. The company offers a wide range of models and even presents special watches occasionally. Examples of these special watches are the Mickey Mouse watches, Timex Ironman, and the V-conic.
Casio
Next on the list is one of the brands frequently compared with Timex – we're talking about Casio. It is actually an electronics company that originated in Japan. It has developed different kinds of products, from finger ring pipes to calculators, to digital cameras, digital watches, and many more.
Casio started producing digital watches in the 90s and it has continued to thrive from that point. It now has several popular collections including G-Shock (which we will discuss in detail later on), Baby-G, Pro Trek, Edifice, Classic, Dress, and Vintage.
Seiko
Another popular watch brand from Japan is Seiko. Unlike Casio that has diverse products, Seiko specializes only in creating high-quality watches since it was founded in Tokyo, Japan in 1881. Its commitment is to promote Japanese craftsmanship through its timepieces.
More so, Seiko is able to expand its range – from affordable watches to high-end timepieces that can even compete with Swiss watch brands. Regardless of the collection and their prices, Seiko watches are known for their durability, precision, and style.
Orient
Next, we have Orient. You might be surprised to see this brand on this list since it is usually compared with Swiss watch brands and you might have thought that their products are quite costly. However, the truth is that high-quality Orient timepieces are actually very affordable.
Orient is currently a subsidiary of Seiko yet the company continued to make its own movements to maintain its exceptional quality. There are four primary Orient collections – Classic, Bambino, Sport, and Orient Star. Whichever collection you may prefer, you are assured that an Orient timepiece is stylish and reliable.
Citizen
Citizen is one of the major brands of another conglomerate in Japan, Citizen Watch Co. Ltd. Since its foundation back in 1918 at Shokosha Watch Research Institute, Citizen has launched a number of exceptional timepieces that left marks in the history of the Japanese watch industry. This includes the Citizen Calendar, Parashock, Parawater, Voice Master, and many more.
Nowadays, Citizen is highly-regarded for their stylish, innovative, and high-quality watches. One of its outstanding collections is the Citizen Eco-Drive which is listed among the best solar watches. Citizen is also usually compared with brands of the same price range such as Seiko, Fossil, Garmin, and TW Steel.
Stuhrling
From several Japanese watch brands above, we now have an American watch company – Stuhrling. Although the company is still quite new in the watch industry, Stuhrling adheres to the old Swiss horology tradition. This may be the company's tribute to the master Swiss watchmaker from whom it got its name – Max Stuhrling.
However, it doesn't mean that Stuhrling watches are Swiss made. Rather, most of its products are manufactured and assembled in Hong Kong. Its movements, in particular, may come from China and Japan; although the more expensive models have Swiss movements. In terms of aesthetics, many find Stuhrling watches as unique, beautiful, and fashionable while still being relatively affordable.
Hamilton
Hamilton originally started in Lancaster, Pennsylvania back in 1893. However, the company's operations in America ended in 1969. After this, the ownership of the company has gone through various acquisitions and mergers until it became part of the Swatch Group up until today. Along with this, Hamilton is now based in Bienne, Switzerland.
Interestingly, Hamilton watches showcase both its American and Swiss origins. The designs and styles are quite American, while the movements boast of Swiss precision. Because of this, Hamilton is highly regarded compared to other brands in its price group. In fact, watch enthusiasts opine that the brand is underrated considering the relatively low price points of their watches.
Fossil
Fossil is not just a simple American watch brand. Aside from its trendy fashion watches in the iconic tin boxes, Fossil also designs, manufactures, and distributes products for other brands such as Armani Exchange, Diesel, Michael Kors, Kate Spade New York, Tony Burch, and many others.
Regardless, Fossil watches per se are well-respected, especially among fashion watches. They have quite a wide range of designs – modern, sporty, classy, etc. The movements used also have quartz and Swiss options. It is pretty much easy to find a Fossil watch that will suit your preference.
Invicta
Invicta is a Swiss watch brand that started way back in 1837. However, many are quite doubtful of Invicta watches because of their affordability. After some research, we find that it's pretty understandable why Invicta does not gain as much respect as other Swiss brands.
Although Invicta boasts of its Swiss heritage, not all of their watches are fully Swiss-made. In fact, many of its products come from Asia and are equipped with Japanese quartz movements. However, it does not mean that Invicta watches are not worth buying. They still do have that luxurious design, despite not being at par with Rolex and Omega. They still have impressive quality offered at affordable price points.
Nordgreen
Next, we have a very young Danish watch brand – Nordgreen. It started only in 2017 by Jakob Wagner through a Kickstarter campaign. A year after, three of its collections were already successfully launched and funded. Nordgreen specializes in minimalist watches for men and women.
Similar to most Danish companies, Nordgreen supports three charitable causes by giving a portion of its profits. These causes are Water for Good, CoolEarth, and Pratham UK.
Solios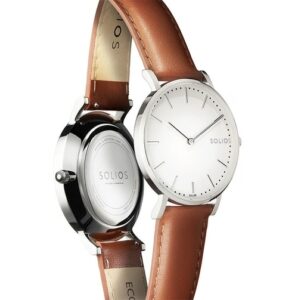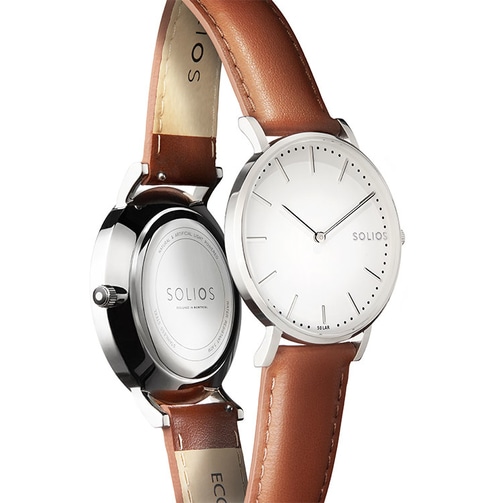 Solios is a Canadian watch brand that started in Montreal by two entrepreneurs. Solios watches are elegant, minimalist, and best of all, solar-powered.
More so, the company's mission is to create products that are sustainable and would last a lifetime. Having this in mind, the battery of a Solios watch doesn't need to be replaced as it can be recharged with solar energy. The design is also timeless to go perfectly with whatever fashion trend that may arise. Lastly, the materials used are carefully chosen and assembled together to produce durable watches. Further, the leather straps are synthetic and not made of animal skin; the packaging is eco-friendly and ionic coloration is used to minimize waste.
Triwa
Triwa is another relatively new watch brand that started only in 2007. It was formed by four friends who now hold significant positions in the company. Triwa watches are marked with Scandinavian simplicity and creativity, along with impressive build quality. Their designs are mainly contemporary but craftsmanship is traditional.
By 2009, Triwa has also expanded its range of products – marketing bracelets and sunglasses as well in its outlet stores.
AVI-8
Read as "aviate", the Avi-8 is a UK-based watch company that specializes in creating pilot watches and other types of timepieces that pay tribute to aviation. Its products in general honors, not just the aircraft, but the designers, engineers, and pilots, as well.
It is still considered a "microbrand" having started only in the mid-2000s by some veterans in the watch industry. These veterans include some historians, aviation enthusiasts, and of course, watchmakers. This is perhaps the reason why Avi-8 watches have a distinctive look compared to other aviation watches. They are also built with premium quality materials and are relatively affordable.
Bulova
Next, we have an American watch brand that started in New York way back in 1875 – the Bulova. As one of the longest-running watch brands, it is not surprising to find various Bulova watches that made their mark in the watch industry, including the Accutron and the Precisionist. There are also some Bulova watches that became more popular because of their exposure in some films.
Bulova is currently one of the subsidiaries of Citizen Watch Co. after the latter acquired it in 1979. Regardless of ownership, Bulova is highly regarded in the watch industry because of the high accuracy, style, and durability of its timepieces. It also showcases quite a wide range of watches – from high-end ones to mid-range and low-end ones that are frequently compared with Seiko.
TW Steel
TW Steel is a Dutch watch brand that makes distinctive oversized watches – measuring at least 38mm in case diameter to as large as 48mm.
The company started in 2005 by father and son, Jordy and Ton Cobelens. The distinctive style of TW Steel watches is inspired by women wearing oversized male watches that Jordy saw in nightclubs. Realizing that there's a demand for such watch styles, TW Steel was launched.
Although TW Steel watches are pretty affordable, the brand has been receiving mixed feedback. Some prefer the brand's competitors such as Seiko and Fossil; while others simply do not want oversized watches on their wrists. On the other hand, there are also some who admire the looks, styling, quality, and comfort that TW Steel watches offer.
Tissot
Tissot is a Swiss watch brand that started in 1853 by another father-and-son duo, Charles-Felicien and Charles-Emile Tissot. Back then, it was just a humble assembly shop named Charles-Felicien Tissot & Son in Le Locle, Switzerland. Currently, Tissot is a subsidiary of The Swatch Group after the latter acquired it in 1983. Despite this, Tissot is still based in Switzerland so it takes pride that all its products are Swiss-made.
Tissot is able to maintain the relative affordability of its watches by sourcing all its materials locally, including the movements, and keeping the production and assembly in Switzerland. Because of this, the company is able to reduce the overall production cost. As such, Tissot has built an excellent reputation in the watchmaking industry. Its watches are known to be of great quality and even considered as "affordable luxury" timepieces by watch enthusiasts.
Victorinox
Perhaps you've encountered the brand name Victorinox for Swiss army knives and not for watches. That's because Victorinox was started as a supplier of knives to the Swiss army when it started its workshop in 1884. However, throughout its history, the company was able to develop its product range; hence it now includes watches, travel gear, fragrances, and household and professional knives. Although, its primary product is still the Swiss Army knives.
Victorinox watches are considered to be on the entry-level because of their affordability. However, since they are still Swiss-made, many find them to be of good quality and sports-friendly. As with all other Victorinox products, its watches are also durable and accurate.
Alpina
Another Swiss watch brand with a long-running history is the Alpina. It may be less popular compared to other brands but it doesn't mean that their products are any less than its competitors.
On the contrary, Alpina is known for producing the finest Swiss movements. Its watches are robust yet stylish and precise. They are fancy-looking but you wouldn't have to break the bank. As such, Alpina watches are easily categorized as "affordable luxury". In fact, the Alpina Alpiner watch was included in our list of best affordable automatic watches.
G-Shock
We have briefly mentioned G-Shock above in our short overview of Casio. It is indeed one of Casio's biggest collections that it is sometimes considered a separate brand.
G-Shock watches are usually known for a wide range of designs that they offer at very low price points. They are all tough, waterproof, and depending on the particular product line, G-Shock watches also have some advanced features that may suit your lifestyle.
G-Shock offers a very wide range of impressive watches. As such, we have made several posts on G-Shock watches, such as G-Shock for Teenagers, G-Shock for Women, G-Shock for Police, and even for those With Small Wrists.
Movado
Movado is another Swiss watch brand that has a long-running history. It started in 1881 in La Chaux-de-Fonds, Switzerland, and was originally named LAI Ditescheim & Freres SA. Currently, the company's headquarters is located in New Jersey yet it has maintained its manufacturing sites in Switzerland.
Although you might find some Movado watches quite costly, a significant number of its products are pretty affordable for the general public. Regardless of the price point, all Movado watches are Swiss-made, simple yet elegant. All of them bear the distinctive one-dot at 12 o'clock.
Mondaine
Another Swiss watchmaking company that offers affordable timepieces is Mondaine. The company started in 1951 but its primary products back then are clocks for train stations. Yet, in 1986, Mondaine began to create watches and they are all inspired by the Swiss Railways.
Mondaine watches have the remarkable red second hand and the two-second 'pause'. This may seem quite odd at first but it has become widely popular and has gained praise throughout the years. In terms of quality, you won't be disappointed as they are accurate, legible, and stylish. Also, since Mondaine watches are Swiss-made and affordable, they surely are a good investment.
Junghans
Next, we have a German watch brand – Junghans. It started as a watch and clock company in 1861 in Schramberg, Germany, and was initially named Junghans and Tobler. It was not until 1927 that Junghans started creating wristwatches. By the 1950s, the style of Junghans watches was largely influenced by the designer Max Bill who incorporated the Bauhaus design in the clocks and watches.
At present, Junghans watches are still popular for its Bauhaus-inspired design. They may have vintage aesthetics yet the technology used is constantly being innovated. In addition to this, wearers of Junghans watches have only good reviews and recommendations for the brand.
Luminox
Luminox was founded in 1989 by a watch industry veteran, Barry Cohen, along with Richard Timbo. Its mission is "to offer cutting-edge luminescence and readability in its line of high-performance sports watches."
To build their market, the two partnered with the US Navy SEALS and other elite units. Because of this, the company is able to build timepieces that are tested and proven to survive in the toughest environments. In fact, its watches made it to our list of Toughest Watches on the Planet.
Guess
You might be familiar with Guess not because of its watches but maybe because of its lifestyle products such as clothes, denim, and accessories. Yet it doesn't mean that Guess watches are not worth buying.
Guess watches are manufactured by Sequel AG, a Swiss company that is part of the Timex Group. Primarily fashion watches, Guess timepieces are of course stylish than they are intricate. They are usually equipped with quartz movement, are accurate and reliable.
Nixon
Nixon is another American brand that offers fashion watches. It was founded by Andy Laats and Chad DiNenna in 1997.
Nixon watches are usually compared with Fossil watches considering that they are both fashion watches. It means that Nixon also produces good quality watches with various designs to cater to both the young and adult markets. Watch collectors may easily dismiss them but for the general public, they surely are worth the price.
Swatch
We've mentioned the Swatch Group several times in this post already so now we'll focus on the said brand. Swatch is undoubtedly one of the biggest watch brands today. It is a Swiss company that was founded by Nicolas Hayek in 1983.
Since its foundation, Swatch was able to establish a good reputation for the quality of its products. Swatch is known for its affordable, creative, and durable watches. Given the size of the company, you would also see a very wide range of watch collections that it offers. To give you a gist, we have listed the Best Swatch Watches for Men and Women.
Skagen
Officially named as Skagen Denmark, Skagen, is actually NOT a Danish watch brand. Rather, it is an American brand that also offers jewelry, handbags, and other fashion accessories.
Originally, Skagen watches were produced in Hong Kong. However, in 2012, Fossil bought the license to manufacture its watches so since then the production of Skagen watches is being done in China.
As with its other products, Skagen watches bear simple and minimalist designs. The company believes that simplicity makes the products beautiful and more versatile. Users of Skagen watches opined that the timepieces are perfect for those with small wrists. They also love the titanium case and mesh bands.
Shinola
Shinola is another lifestyle brand that manufactures watches, leather, and other goods. It was founded by Tom Kartsotis back in 2011.
Shinola watch as durable, stylish, and affordable. Although it takes pride as being an American brand, some watch enthusiasts criticize their watches because most of the parts used are imported and they are just assembled in Detroit. Nevertheless, the fact that Shinola watches are stylish and sturdy still remains true.
Oris
Oris is another Swiss watch brand that has been in the industry for over a century. The company was founded by Paul Cattin and Georges Christian back in 1904.
Oris specializes and focuses solely on mechanical watches. All its products are marked with a distinct red rotor design. They are built to last for years using only the finest materials. The company also boasts of its tight quality control and high manufacturing standards to ensure that all Oris watches are of excellent quality.
While budget shoppers may not think of them exactly as "affordable", Oris watches are relatively cheaper compared to other brands that produce mechanical watches and are Swiss Made.
Rotary
Rotary is a British watch brand that originally started as a Swiss one. It was founded by Moise Dreyfuss in 1895 and remains to be family-owned (Dreyfuss Group) up to present.
As a company, Rotary is a member of the Federation of the Swiss Watch Industry FH, which tells much about the performance and reliability of its watches. It is also highly respected in the watch industry because of its heritage and adherence to its core values. Rotary has also received a number of awards throughout the years.
Rotary also offers a wide range of watch collections – from affordable ones to high-ends. You may also choose a style that will best suit your preference.