Are you looking to upgrade your entry-level dive watch? Well, the next logical step here is to check out what the mid-range market has to offer. These dive watches are a step above those under the $200 and $100 watch range. With more advanced features, higher quality builds, and more premium materials used, the watches that we included in this list are designed to be reliable and attractive.
They are also among the best all-around dive watches in this price range. If this is your budget for dive watches, then you have hit the jackpot, my friend. Here are the best dive watches under $400 that you can buy today!
(Please note, at the time of publishing, all these watches were selling for $400 USD or less. Prices may have fluctuated since then, possibly pushing them over the original budget.)
Best Dive Watches Under $400
Pantor Nautilus 200M Dive Watch
Let us start things off with the up-and-comer watch brand, Pantor. Their Nautilus watch series earns its aquatic moniker with its sleek, submarine-like build, and impressive timepiece construction. Within the Nautilus 200M lies a Japanese automatic movement with 24-jewels and a 21,600VPH. This highly accurate watch movement also provides an additional 41 hours of power reserve. As for the watch's features, it comes with a stainless-steel bezel with aluminum inlays. The dial window is made from durable and scratch-resistant sapphire crystal, and it also utilizes flexible and sturdy rubber straps. As for essential dive watch elements, the Nautilus 200M coated the dial hands and markers with Swiss C1 Super LumiNova. It also incorporates a screw-down crown which helps it achieve its 200-meter water resistance rating.
Seiko Prospex PADI Solar (SNE435P1)
The PADI Solar is a special edition Seiko timepiece that packs quite a punch. It does not only feature an exclusive design that blends the classic dive watch aesthetic with a modern twist, but it is also equipped with top-tier horological technology. With its 43.5mm diameter, stainless steel case, bracelet, and polished blue dial – the Prospex PADI Solar is undoubtedly a looker. It is not just all style though as Seiko packed the PADI Solar with substance as well. Utilizing Hardlex mineral crystal glass, the PADI Solar provides durability and legibility thanks to the anti-glare coating. The watch also uses the Caliber V157 Japanese Solar Quartz Movement, which offers top-notch accuracy and reliability. In regards to visibility, the PADI Solar uses Lumbrite coated hands and markers for low-light environments. The PADI Solar also features a date display and a one-way rotating bezel. As for its marine application capabilities, it provides up to 200-meters of water resistance.
Citizen Eco-Drive Promaster Altichron Dive Watch (BN5058-07E)
The Citizen Eco-Drive Promaster Altichron showcases a highly-detailed dial with a sporty and modern aesthetic. It features a stunning black-ion steel case with black polyurethane straps. The dial features a black design complemented by red accents. The Promaster Altichron is aimed to appeal to thrill-seekers with its 200-meter water resistance and altimeter, which can measure between 1,000-feet to 32,000-feet. There is also a date display and compass incorporated into this timepiece. Additionally, since this is mainly an outdoor timepiece – it will be able to make the most out of Citizen's Eco-Drive watch technology. If you are an outdoor enthusiast who enjoys conquering both land and sea, then definitely check out the Promaster Altichron.
Stuhrling Original DEPTHMASTER Dive Watch
The Stuhrling Original DEPTHMASTER is a 'by the book' dive watch that showcases all the essential features impressively. While the polished silver-tone and blue color aesthetic has been a staple in the dive watch category, the DEPTHMASTER delivers these qualities in a highly refined manner. Featuring high-grade Caliber Claro 888 Swiss automatic movement that also packs 36-hours of power reserve, the DEPTHMASTER is as reliable a timepiece as they come. The DEPTHMASTER is also pre-adjusted for each customer to ensure the perfect fit. You can send your wrist size to Stuhrling Original when purchasing the DEPTHMASTER to have them re-adjust the bracelet to your specifications. This dive watch comes with up to 200-meters of water resistance and utilizes a screw-down crown and rubber gasket for an optimum waterproof design.
Orient Neptune Dive Watch (RA-EL0002L00A)
Named after the Roman God of the Sea, the Orient Neptune certainly has some huge expectations to meet. Fortunately, it manages to do its namesake proud with its well-rounded and high-quality build and features. The Orient Neptune utilizes a polished 43mm diameter case and bracelet and takes full advantage of its Japanese automatic movement with an analog dial display. The dial window is made from scratch-resistant sapphire crystal. Other notable features include a unidirectional bezel, date display, and a screw-down crown. The Neptune dive watch is also water-resistant for up to 200-meters, making it suitable for most recreational water activities like swimming but not scuba diving.
Certina DS Action Precidrive Chronograph Dive Watch (C032.417.17.051.00)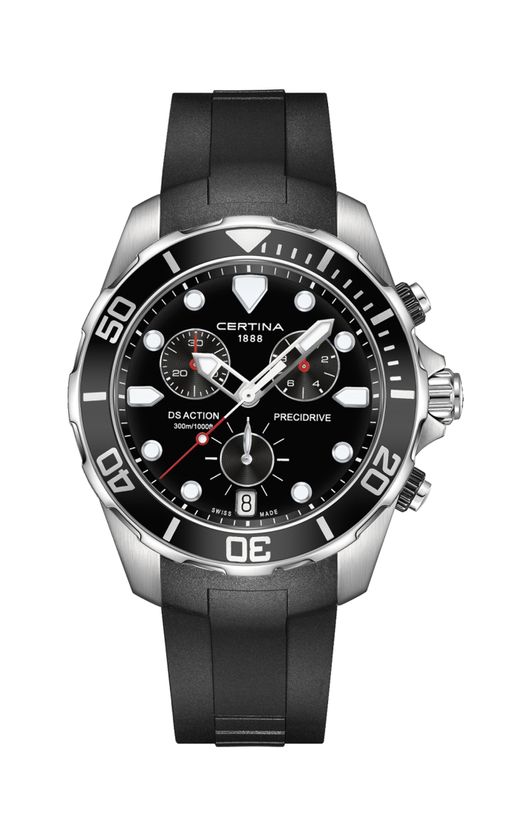 The Certina DS Action dive watch features a sporty aesthetic and added functionality with its chronograph features. The polished stainless-steel case, which measures in at 43mm, is partnered up with a polyurethane rubber band for improved flexibility while maintaining excellent durability. The Certina DS Action dive watch is equipped with a screw-down crown which improves the overall seal of the case. Additional features include a unidirectional rotating bezel and sapphire crystal glass. Underneath the striking black dial is a high-precision quartz movement that operates the main and three sub-dials. As for the Certina DS Action's marine capability, it offers a water resistance of up to 300-meters, making it suitable for diving as well.
Seiko Prospex Special Edition Blue Dive Watch (SRP773)
The Seiko Prospex Special Edition takes its aquatic theme to heart with its all-blue aesthetics. With its brushed black stainless-steel case and rubber band, the Prospex Special Edition Blue has a more casual and sporty appeal. The dial features ocean wave pattern which adds some pizzazz to the Special Edition Blue's charm. This Prospex dive watch uses Seiko's Caliber 4R36 automatic movement which uses a 24-jewel design. The dial features bold and luminous markers and hands for optimum legibility and visibility, even in low-light environments. This Seiko dive watch is also equipped with a screw-down crown which helps provide it with up to 200-meters of water resistance.
Victorinox Swiss Army Maverick (241824)
While Victorinox is known for their impeccably designed and built multi-functional outdoor timepiece, they can also surprise with a highly stylish wristwatch now and again. Case in point, the Maverick model #241824. This timepiece integrates two-tone gold and silver for its case and bracelet. The 43mm case is made from black PVD and provides it with a nice modern appeal. The watch incorporates a rotating bezel and screw-down crown while the dial's design provides excellent legibility. This Victorinox watch utilizes quartz movement for its analog dial and also comes with a date display. It provides up to 100-meters of water resistance which means it is designed for recreational swimming only.
Bulova Marine Star Dive Watch (98B301)
With a luxurious charm that can easily give some high-end models a run for their money, Bulova is certainly a highly sought-after timepiece brand. The Marine Star dive watch exudes an air of elegance that is not common in this specific watch category. The Bulova Marine Star comes in at 45mm with a stainless-steel case that features a blue with gold accent design. With its Swiss quartz movement, the Marine Star manages to provide excellent accuracy in timekeeping. The three sub-dials also help improve the overall functionality of the Marine Star. We also like the mineral domed crystal used in this model as it certainly enhances its appeal. As for its water resistance rating, this stylish Bulova dive watch manages to deliver a 200-meter rating.
Glycine Combat Automatic Watch (GL0093)
Glycine is well-known within outdoor enthusiast circles, and it is easy to see why. The Glycine Combat Automatic is designed to take on rough roads and accompany an adventurous spirit. The Glycine Combat Automatic GL0093 features a black and brown aesthetic that further emphasizes its outdoor theme. While it is designed specifically for land use, the 200-meter water resistance makes the Glycine Combat an excellent companion during water activities and sports as well. This is a highly functional watch with its bi-directional rotating bezel and automatic movement. It features a 42mm black PVD stainless steel case and is available in both nylon and leather straps. The analog dial is well-protected within a sapphire crystal window which has an anti-glare finish.
Citizen Promaster Diver (CA0715-03E)
With its emerald green, silver, and black color tone, the Citizen Promaster CA0715-03E will be quite an eye-catching wristwatch. It is not just flashy, though as this dive watch provides excellent accuracy, functionality, and reliability out there in the open seas. With a stainless-steel case that measures 46mm, the Promaster's size is certainly significant. This timepiece comes with Citizen's signature Eco-Drive watch technology which allows the timepiece to recharge using natural and artificial light. Other features include chronograph functionality which allows wearers to track minutes (30), 1/5th of a second, seconds (60). A caliber B612 quartz movement powers this Citizen dive watch. The black dial incorporates luminous hands and markers and is accompanied by a rotating elapsed time bezel and date display as well.
Seiko Prospex Monster (SRPD25)
Featuring a slick silver, black, and blue design – the Prospex Monster also exudes an air of ruggedness with its robust build. The dial features luminous and bold hands and markers and is operated by a Japanese automatic movement. There is also a day and date display feature which is placed under a magnifying glass. The Seiko Propex Monster features a screw-down crown and a water resistance of up to 200-meters.
Orient Kamatsu Dive Watch (RA-AA0003R19A)
Classy with a dash of self-assurance, the Orient Kamatsu can easily double as a dress watch with its executive charm. The robust dive watch from Orient features a sturdy build with its sleek 41mm stainless steel case and sapphire crystal glass window. The watch is equipped with traditional dive watch features such as a 120-click unidirectional bezel and screw-down crown. Inside the polished silver-tone case is a Japanese automatic movement that powers its luminous three-hand design. The hour markers are also coated with a luminescent finish for optimum visibility, even in low-light environments. The exceptional build of the Kamatsu provides it with up to 200-meters of water resistance. This Orient dive watch also comes in seven color variations.
Tissot Seastar 660/1000 Dive Watch (T1204171104100)
The Tissot Seastar provides excellent functionality with a handsome aesthetic for divers who wish to conquer the ocean with style. The Seastar comes in at 45mm and utilizes high-quality 316L stainless steel for its sturdy case. Underneath the polished blue dial is a Swiss quartz movement which ensures that the hands and date display remain accurate at all times. The Tissot Seastar is also designed to provide water resistance of up to 300-meters and is ideal for most water activities and sports except for scuba diving.
Luminox Scott Cassell Special Watch (3059.SET)
The Luminox Scott Cassell Special is a fine addition to any adventure seekers' collection of timepieces. The black markers perfectly complement the vibrant orange dial with luminous white accents. The watch features a sporty and outdoor style aesthetic with its black 44mm stainless steel case. The case utilizes a durable mineral crystal window and also comes with a rotating bezel. The rubber band helps keep the watch comfortable with its flexibility. The Luminox Scott Cassell is equipped with a high-precision quartz movement with analog display. The watch is also designed to deliver up to 200-meters of water resistance.
VOSTOK Amfibia WR200M Dive Watch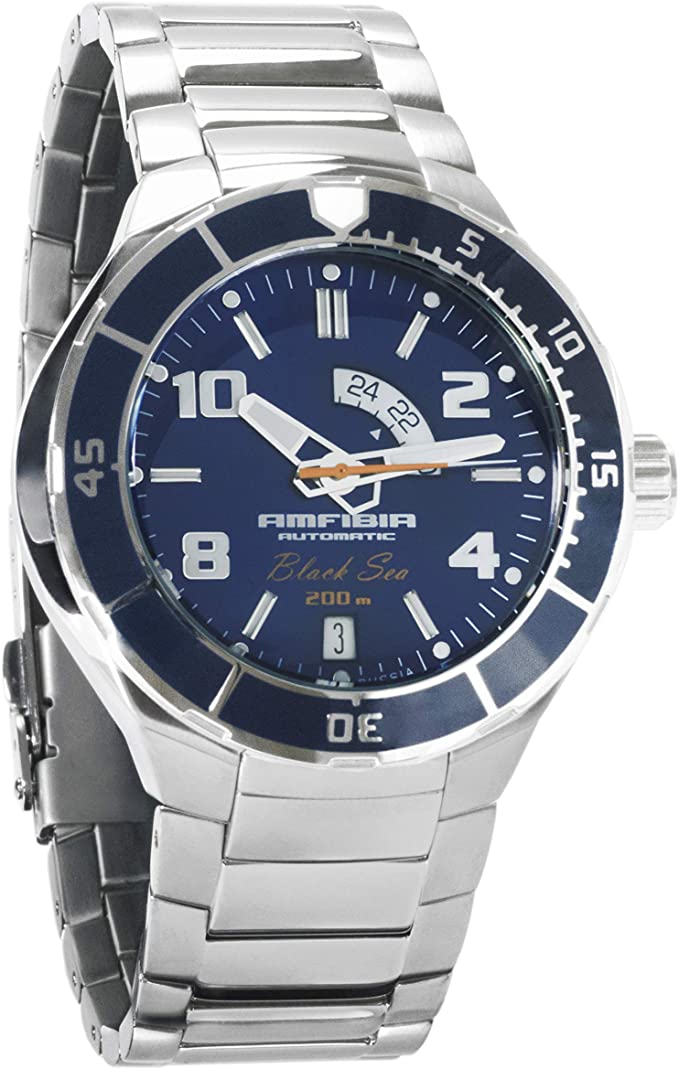 Designed for the outdoors, the VOSTOK Amfibia is an impressive collection of rugged timepieces from a company that is also the official supplier of the Defense Department of the Soviet Union. With credentials like that, you can expect VOSTOK watches to deliver in regards to reliability. Fortunately, the VOSTOK Amfibia also nails it in the head when it comes to style. The Amfibia is available in wide variety of designs that range from an all-stainless-steel build to models that utilize flexible rubber band straps. The VOSTOK Amfibia uses automatic self-winding movement and provides a power reserve that can last for up to 31-hours. The case of the Amfibia also incorporates an anti-shock design and can offer up to 200-meters of water resistance.
Seiko Automatic Analog Watch (SKX007K)
The Seiko Automatic SKX007K is a sports watch with excellent dive watch capabilities. With its Japanese automatic movement, you don't need to worry about the SKX007K to run out of battery any time soon. The automatic movement also delivers impressive precision in regards to timekeeping. The analog dial display is encased within durable Hardlex crystal glass, and the stainless-steel case itself measures in at a well-balanced 42mm. The dial also features a day and date display, a unidirectional bezel, and a build to allows the watch to provide 200-meters of water resistance.
Nixon Descender Dive Watch (A9591258-00)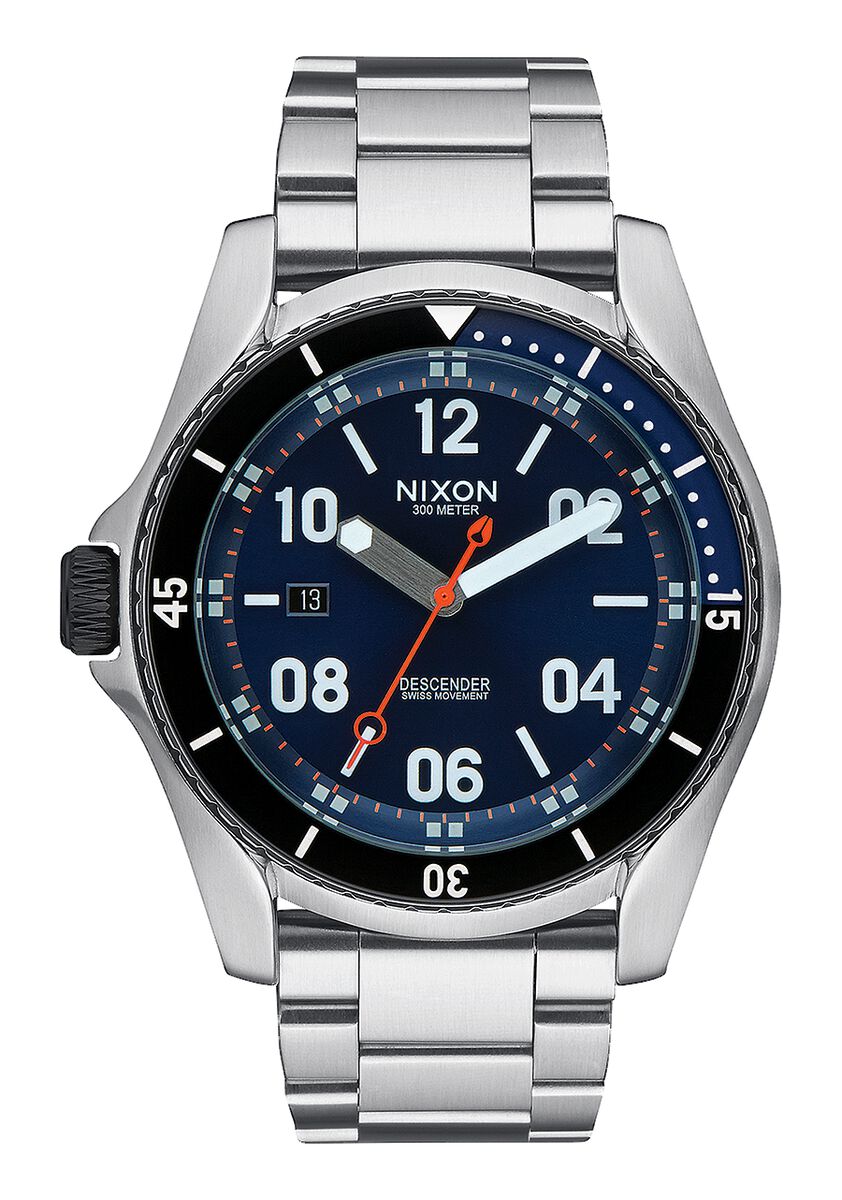 The Nixon Descender Dive Watch blends traditional horology with modern aesthetics to deliver a sleek and stylish timepiece for ocean lovers. The watch is also designed for left-handed individuals with its left-side screw-down crown. The watch is rather large as it measures in at 45mm. This includes the unidirectional bezel. The Descender also delivers in regards to accuracy as it uses Swiss quartz movements. There is also a date display which is located at the 9 o'clock position. The Nixon Descender is suitable for most water-based activities and sports except for diving as it provides water-resistance of up to 200-meters.
Seiko Diver Automatic Watch (SKX009K2)
You can't keep a classic down. The Seiko Diver Automatic is one of the most popular mid-range dive watches in the market, and it earns its reputation. With its Japanese automatic movement, the watch is battery-free and recharges via kinetic energy. The watch also incorporates the classic dive watch design with its two-tone red and blue dial accompanied by a polished stainless-steel case and bracelet. The Seiko Diver Automatic also comes with a unidirectional bezel and a day/date display. The case measures in at 42mm and utilizes a Hardlex crystal window. The hands and marker are all coated with a luminescent substance to help enhance visibility underwater and in low-light environments. This dive watch has a water resistance for up to 200-meters, making it a good choice for most recreational water-based activities except scuba diving.