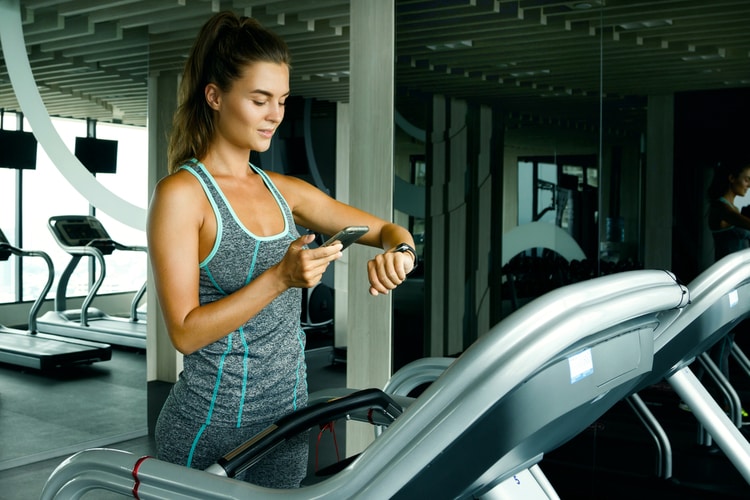 Smartwatches have become much more than simple extensions of our smartphones. Thanks to brands such as Polar, Garmin, Suunto, and Coros, we now have a lot of capable fitness trackers that we can carry on our wrists.
These kinds of watches still carry essential smartwatch features such as notification systems and emergency alerts. And while most of these advanced fitness trackers lack advanced smartwatch capabilities, they are still the best watches for athletes and fitness enthusiasts.
In this article, we will be going through our top smartwatches for fitness tracking.
Our picks include the Wear OS-powered Suunto 7, the Polar Vantage V2, and the Garmin Forerunner 245 Music.
But if those watches do not fit your needs, we have plenty of alternatives on this list. Keep on scrolling to find out more.
Best Smartwatches for Fitness Tracking
Suunto 7
For those looking for a Wear OS-powered fitness smartwatch, the Suunto 7 is a perfect fit. This model is Suunto's first Wear OS device. It embodies Suunto's signature rugged build quality and fitness expertise while still executing essential smartwatch features.
This watch is very competitive when it comes to its specs. It has a sharp 1.39-inch AMOLED display with a screen brightness of up to 1,000 nits. This ensures that you will see your screen no matter the lighting conditions, time of day, or activity you are doing. The screen is protected by gorilla glass, which makes it safe for different fitness activities.
The overall build is also incredibly sturdy, which is no surprise given Suunto's reputation. The bezel material is made up of stainless steel, and the main body has Glass-fiber reinforced polyamide.
What differentiates the Suunto 7 from other Wear OS devices is the software experience. The Suunto 7 has the Suunto App, which cannot be found in competing devices. The Suunto app offers online and offline maps, over 70 sport modes and activities with specific modes such as outdoor running, interval running, etc., as well as the ability to track analytics on the smartphone app.
The battery life of this watch generally lasts anywhere from 20-28 hours. You can extend the battery life up to 40 days if you do not wish to use the Suunto 7's more advanced features.
The Suunto 7 does have compromises, such as the lack of a microphone and speaker. However, if you are looking for the most advanced Wear OS-powered fitness tracker, the Suunto 7 is your best bet.
Polar Vantage V2
A good alternative to the Suunto 7 is the Polar Vantage V2. This smartwatch comes from a very reputable company and is made for both professional athletes and casual consumers. Just like the other models in Polar's smartwatch lineup, the Vantage V2 is strictly made for maximum sports performance.
It does leave out some more consumer-oriented features and does not incorporate the bleeding edge of smartwatch technology. However, all of its software and hardware design elements ensure that the Vantage V2 can be as optimized as possible to the needs of professional athletes.
As expected from a multisport watch, it has all the necessary sensors to produce accurate results. It has a built-in optical heart rate sensor, GPS, accelerometer, barometric altimeter, and compass. Additionally, the vantage V2 can track additional non-training-related activities such as sleep tracking and general health tracking.
The hardware of the watch is also well optimized for the needs of athletes. The watch has a lightweight frame that only weighs 52 grams. This is perfect for workout sessions since the watch won't add additional weight that can potentially restrain your activities.
The battery life of the Vantage 2 can last up to 40 hours in training mode or seven days with basic usage and 24/7 heart rate monitoring. The long battery life ensures that the watch will not die even while using most of the features during training sessions.
Coros Apex and Apex Pro
If you are looking for a high-end fitness tracking smartwatch that can withstand any training environment, the Coros Apex and Apex Pro are some of the best watches on this list. These watches carry most of the features found on Coros' entry-level Pace series but add new features and improvements to aspects such as the build quality.
Both watches are feature-packed and can track almost any indoor and outdoor activity. They both sport similar sensors and are capable of giving accurate results.
Coros has also nailed the design of these watches. Both watches use high-quality materials that easily reflect their retail prices. The glass is protected with Sapphire crystal, and the body is made of either steel or titanium.
Both watches have an aluminum back cover. Both watches also feature a rotating crown which is crucial to have when wearing gloves that cannot access the touchscreen display. Both have a water-proof design and can withstand a depth rating of 100meters, making them great for swimming-related activities.
There are, of course, some noteworthy differences between the standard Apex and Pro Model. The Apex has a more elegant design that can fit any occasion, while the Apex Pro has a bulkier design that is made for outdoor activities. This does inevitably make the Apex Pro thicker and heavier.
The Apex Pro also has more features such as blood oxygen monitoring, a larger sensor, and an oximeter which is found on the higher-end Vertix.
Like the Pace Series, the Apex Series has outstanding battery life. The Apex can last up to 100 hours in UltraMax mode. It will last up to 35 hours on GPS mode and 30 days on standby usage.
The Coros Apex Pro, on the other hand, can last up to 40 hours on normal GPS mode. It can also last up to 100 hours in UltraMax mode.
Garmin Forerunner 245 Music
Garmin is another smartwatch brand that is well regarded for their smartwatches. Their lineup combines luxury with unmatched fitness tracking. One of their top-performing models is the Garmin Forerunner 245 Music.
The Forerunner 245 Music is similar to Garmin's other premium smartwatches. It has advanced training features and the latest tech that would satisfy the needs of casual users, enthusiasts, and professionals. It is also equipped with Garmin Coach to help optimize your training routines.
But what differentiates this watch from the rest of Garmin's offerings is its music features. It can seamlessly integrate with music streaming services such as Spotify. It also has plenty of storage if you prefer to listen to your own music library.
Additionally, this watch has safety features to help avoid accidents when doing activities while listening to music. And in case you do get into an accident such as a hard fall, the watch will automatically send your location to your emergency contacts.
With all the features that this watch packs, it still manages to last up to six hours in GPS/music mode and seven days in smartwatch mode. If you are looking for the perfect music and workout buddy, the Forerunner 245 Music has your back.
Garmin Instinct
If all you need is a simple fitness tracking device and do not want most of the complicated features found in most modern smartwatches, the Garmin Instinct is a great alternative from Garmin.
This watch has a vintage inspired-look similar to vintage Casio watches. It places heavy emphasis on durability, navigation, and fitness.
The Instinct has a boxy design with five buttons on the sides. The buttons are very important since the Instinct does not feature a touch screen.
And speaking of the screen, the Instinct features a monochrome screen instead of the usual vibrant AMOLED screens found on most smartwatches. This kind of display should appeal to fans of vintage Casio watches.
The Garmin Instinct does feature some essential smartwatch features, such as smart notifications support. However, the smartwatch features are quite limited due to the Instinct's OS and lack of a touchscreen.
However, the main focus of the Instinct isn't the consumer-level smartwatch features. The main appeal of this watch is its fitness tracking and GPS features. And thanks to its conservative spec sheet, the watch can last up to fourteen days.
This can come in handy during emergency situations during your workout sessions. Overall, if you are looking for a more basic watch that has more fitness and exploration functions, then the Garmin Instinct is a great choice.
Apple Watch Series 6 and Series 3
The Apple Watch is without a doubt one of the best smartphones for the iPhone. Nearly all aspects of this watch are well thought of and integrate very well with the features of the iPhone.
However, the watch isn't just all about its looks and fancy features. It is also a very capable health and fitness tracking device.
The Apple Watch Series 6 is equipped with Apple's most advanced heart rate sensor. It also has all the necessary sensors to accurately track different exercises and activities.
The Series 6 can also install third-party apps that further expand its already great workout routines. It can also be connected to third-party apps such as Strava.
Also, unlike most of the fitness tracking focused watches on this list, the Apple Watch Series 6 makes no compromises in its software experience. It has a smooth UI, great build quality, great display, and seamless integration to the iPhone's features.
The Apple Watch comes at a hefty price tag. However, those with a limited budget can still have the Apple Watch experience through the company's budget offering, the Apple Watch Series 3.
The Apple Watch Series 3 does cut some corners to reduce its price. Some are related to its aesthetics, while others are software-related. However, most of the key Apple Watch-related features, especially its fitness tracking capabilities, remain intact with this more affordable version.
Polar Ignite
If you are looking for a more affordable Polar smartwatch with features that better fit casual users, the Polar Ignite is a great alternative to the Vantage V2.
Just like other Polar smartwatches, the Ignite is built well and has all the essential training features. However, unlike watches from the Vantage series, the Ignite focuses less on training modes for athletes and more on daily maintenance and exercises.
The Polar Ignite still has all the essential tracking options found on other Polar watches, such as cycling, running, and swimming. The Ignite also has a built-in GPS, optical heart rate sensor, activity tracking, solid battery life, and smart notifications.
Additionally, the Ignite features adaptive workout recommendations. The watch tracks your recent activities and offers recommendations for the best activities to work on. Alternatively, the Ignite can assess your current state through a five-minute fitness test.
The Polar Ignite sports a lightweight 35-gram body, a crisp and bright display that can rival watches from the Vantage series, and battery life that can last up to 17 hours in training mode.
Fitbit Sense
The Fitbit Sense is Fitbit's latest and most advanced smartwatch offering. It takes several cues from their best-selling Versa series but makes major improvements to better compete with well-known watches such as the Apple Watch.
Compared to the Versa Series, the Sense offers an even more premium look. It has a stainless steel frame and aluminum body. The screen is protected with Corning Gorilla Glass 3, which makes the watch very safe to use for more extreme activities. Fitbit also offers several color options for the Sense to fit your style.
But what makes the Fitbit Sense an upgrade to the Versa series is the number of health tracking options available. It features an EDA scan for stress management. This is done by measuring the sweat on your skin. Additionally, the whole process is kept simple and can be done by just placing your palm on top of the smartwatch.
The Fitbit Sense is also the first Fitbit also to include an onboard ECG application, which can be read within 30 seconds after generating a single-lead ECG. The Fitbit Sense also supports temperature tracking, which is performed at night.
Also, just like the Versa 3, the Fitbit Sense has a built-in GPS. This means that you can now go for runs without the need for your smartphone. It can accurately track the route you take, pace, distance traveled, and the time it took you to complete your route.
Responding to messages is also faster and more convenient using the speech-to-text feature. Additionally, the Sense supports both Alexa and Google Assistant, making it compatible with a wide range of equipment. Having both assistants also means that Android users who are more used to using the Google Assistant won't feel out of place.
And lastly, all of this is made possible thanks to Fitbit Sense's faster processor. You can expect a smooth and lag-free user experience. Overall, if you are looking at the best smartwatch that Fitbit has to offer, the Fitbit Sense should be on top of your list.
Fitbit Versa 3
The Fitbit Versa 3 is the upgrade to Fitbit's popular Versa 2. It carries everything that made the Versa 2 a very compelling choice in its price range. But now, the Fitbit Versa 3 has a built-in GPS. This means that you can now get accurate results without needing to carry your smartphone during runs.
Like its predecessor, the Fitbit Versa 3 has a 1.58 inch AMOLED display with a screen resolution of 336 x 336 pixels. It also has an always-on display, blood oxygen, temperature tracking during sleep, and a battery that lasts up to six days.
Aside from its fancy looks, the Versa 3 is an extremely capable tool for fitness-tracking. It can measure steps, distance, calories burned, and heart rate. The Versa 3 covers the basics well and has the same fitness features as the more expensive Sense.
It also has 20 different activities under sports mode, including indoor and outdoor swimming. It is also well optimized to detect movements that can trigger the watch to start sessions automatically.
Additionally, the Versa 3 now features the Google Assistant. Previous iterations only included Amazon's Alexa. This makes the Versa 3 a more versatile device since you can potentially connect it to more devices. This also means that Android users can now answer calls directly from the watch.
With the number of features and the battery life of the Versa 3, it is one of the most compelling options in its price range. If you are looking for a feature-packed square watch with great build quality, software, and battery life, make sure to check out the Versa 3.
Samsung Galaxy Watch Active 2
If you are interested in a smartwatch that manages to combine consumer-oriented features with advanced fitness tracking features, the Samsung Galaxy Watch Active 2 is a great choice. The Galaxy Watch Active 2 is based on Samsung's flagship Galaxy Watch 3 but has tweaks that optimize it for active users and athletes.
In terms of the design, the Galaxy Watch Active 2 ditches some of the Galaxy Watch 2's premium design elements for a simpler and minimalist look. The physical rotating bezel has also been replaced with digital rotation via the screen's edges. All of these changes are done to make the Galaxy Watch Active 2 lighter and better for workout sessions.
But in terms of its core functionality, the Galaxy Watch Active 2 does not have any compromises. It is still utilizing Samsung's custom Tizen OS which allows the installation of third-party applications.
Notifications and messages can also interact with various means, such as the onscreen keyboard or voice commands. Several core features can also be done with the help of Samsung's voice assistant, Bigsby.
But, of course, the real star of the show here is the fitness and health features. The Galaxy Watch Active 2 comes with various fitness and health tracking features such as GPS and various health and workout-related apps. And even with all of its features, the Galaxy Watch Active 2 maintains two-day battery life.
Huawei Watch GT 2e
If you are looking for a feature-packed fitness tracking smartwatch that has long battery life, the Huawei Watch GT 2e is a great alternative to watches such as the Galaxy Watch Active 2. It can do everything that the higher-end Huawei Watch GT 2 can but places more emphasis on having a design that is more optimized for fitness activities.
The GT Watch 2e and the GT Watch 2 are very similar in terms of their specs. They both have the same Kirin A1 processor, the same two-week battery life, the same Bluetooth 5.1 connectivity, etc.
What separates these two models is the design. Both are high-quality and premium feeling smartwatches, but the GT 2e has a simpler look that is reminiscent of the classic digital watches. This allows the GT Watch 2e to be more lightweight and better suited for workouts.
Both the buttons and the wristband have also been redesigned. The large buttons and strap locks often on the GT 2e bumped into the wrist when doing exercises. This is why the buttons are smaller, and the strap locks no longer allow the GT 2e to be laid flat.
The wristband is also different and is more optimized for sports. The holes in the wristband allow for better airflow. The buttons have also been changed in order to bump less with your wrist during heavy workout sessions.
There are some trade-offs with the GT 2e. There is no longer a speaker and microphone, and the RAM is reduced. But overall, if you are looking for a more budget-friendly and sports-optimized version of the GT 2, then this watch is a great choice. Make sure to check out our full review to learn more.