Watches have long been a staple accessory for both fashion and function. With the rise of smartwatches, the traditional wristwatch has had to evolve to stay relevant, and one way it has done so is by offering a variety of strap options.
The right strap can completely change the look and feel of a watch, making it suitable for a wide range of styles, activities, and personal preferences. Join us as we explore some of the most popular types of watch straps and the benefits and drawbacks of each.
What Precisely is a Watch Strap?
Watch bracelet, watch band, or whatever name you may call it, the watch strap is basically the band you put on a wristwatch. It is essential in order for you to strap a watch around your wrist. Since the watch strap both offers functional and aesthetic purposes, it can also be sorted as an accessory.
The increasingly common materials used in crafting watch straps include metals, nylon, leather, and rubber. This is typically fastened around the wrist with the use of a folding clasp or a buckle. Watch straps are also available in different styles, sizes, and colors, so there are plenty of variants for you to choose from.
Different Types Of Watch Straps
Leather straps
A timeless classic accessory that is one of the ultimate favorites of many watch collectors and enthusiasts, the leather strap is a naturally soft and flexible type of watch strap that delivers great comfort on the wrist. It offers a warm and stylish look to any wristwatch and is perfect to wear for both casual and formal occasions.
Leather straps are available in a variety of colors, sizes, and styles. It is made from some of the finest materials, such as full grain, top grain, and genuine leather. Among the three, full grain leather is best known for its durability and is the best option for anyone who wants a strap that will last for many years. Top grain, on the other hand, is a bit softer and has a more refined look. Lastly, genuine leather is a lower-quality option that is mostly used for more budget-friendly watch straps.
Leather straps are incredibly durable and long-lasting. Unlike other types of watch straps, such as those made of rubber or nylon, leather straps are able to withstand everyday wear and tear. With proper care, the leather strap can last for many years to come.
Perhaps, the only primary drawback of leather is it is not an ideal option for water-resistance watches. For someone with an active lifestyle, this strap may not be the best choice for you, as it can become damaged by moisture or excessive sweating. Smelly too.
Overall, a leather strap is a top-tier choice for dress watches considering its class and sophistication. It exudes a classy aesthetic that can be easily matched with any formal wear.
Rubber straps
Ask watch connoisseurs and casual wearers what types of watch straps they prefer, and they'll definitely tell you about rubber straps. This type of watch strap is known for the comfort it brings to the wrist, which makes it a durable alternative to traditional metal or leather straps. Rubber is a flexible and waterproof material, making it ideal for those who lead an active lifestyle or who live in hot and humid climates.
One of the cool benefits of rubber straps is their versatility. It is available in numerous colors, textures, and thicknesses, allowing you to choose a strap that matches your personal style. Its extensive list of options makes it a lot easier for you to find the best rubber strap for your watch.
In terms of durability, rubber straps are hard to beat. They are highly resistant to wear and tear, and they can withstand exposure to moisture, heat, and other elements that can cause damage to other types of straps. Additionally, rubber straps are easy to clean and maintain, which makes them a low-maintenance option for those who want a long-lasting and practical strap for their watch.
Another advantage of rubber straps is their budget-friendly tag. Compared to metal or leather straps, rubber straps are generally more affordable, making it possible for people to own multiple straps for different occasions.
NATO straps
NATO straps are a type of watch strap that has gained popularity in recent years due to their versatility and unique design. Originally, this watch strap was used by the British military, which is why it is meant to be durable and reliable. To this day, the NATO strap is widely used by watch enthusiasts as a stylish alternative to traditional watch straps.
If there's one defining trait about the NATO straps, it is their design. The strap consists of a long piece of fabric that passes through the watch and is secured with a second piece of fabric that fastens the strap in place. This design offers several benefits, including increased stability and security, as well as the ability to easily adjust the strap length.
Aside from that, the NATO strap is also hyped for its versatility. This watch strap is often used to replace traditional metal or leather straps, given that it can be adjusted to fit most wrist sizes. As such, it is a great option for those having a hard time finding the perfect strap that comfortably fits their wrist.
NATO straps are relatively easy to install, and they can be changed quickly and smoothly. As such, it will be a lot simpler to switch up your look as often as you like. Made from soft, lightweight fabric, the NATO straps feel light on your wrist. They are also highly breathable, making them a great option to use in hot or humid climates.
Like the rubber straps, the NATO straps are also known for their affordable price, making them a great alternative to traditional metal or leather straps.
Stainless Steel Bracelets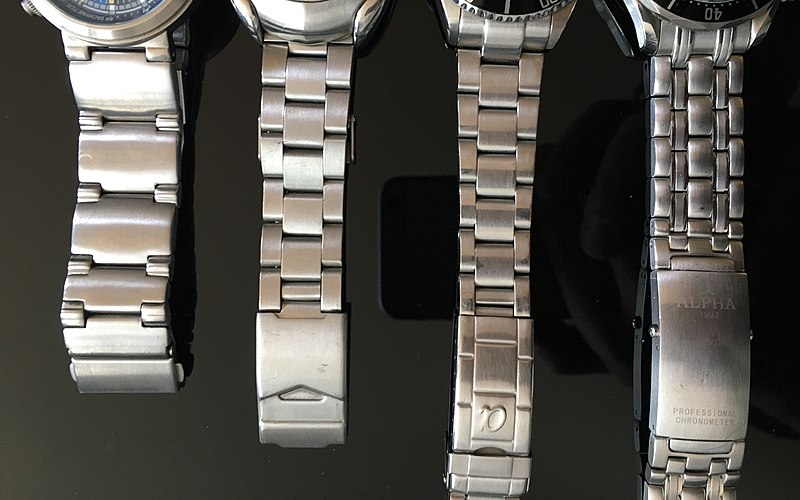 For a more sleek and formal look, the stainless steel bracelets are, without a doubt, the most popular option among watch lovers and enthusiasts. This type of watch strap is known for its durability and stylish appeal. Made with high-quality materials, the stainless steel bracelet is sure to be resistant to corrosion, rust, and other damage.
Stainless steel bracelets are available in a range of finishes, such as polished, brushed, and matte. These options allow anyone to find the ideal bracelet that suits best their personal taste and style. The clean lines and minimalist aesthetic of stainless steel bracelets make them a popular choice for someone who wants to achieve a classic and understated look.
Speaking of durability, the stainless steel bracelets are hard to beat. They are resistant to wear and tear and can withstand exposure to moisture, heat, and other elements. Plus, they are easy to clean and maintain, making them a low-maintenance option.
When it comes to its price tag, stainless steel bracelets are relatively more expensive than rubber or NATO straps. However, this watch strap's durability, versatility, and streamlined appearance make them a worthwhile investment.
All images are courtesy of eBay unless otherwise stated.
Featured image courtesy of (Stratman2) on Flickr.
Searching for a cutting-edge and top-tier Swiss smartwatch? Make sure to read our comprehensive review of the Swiss smartwatches.