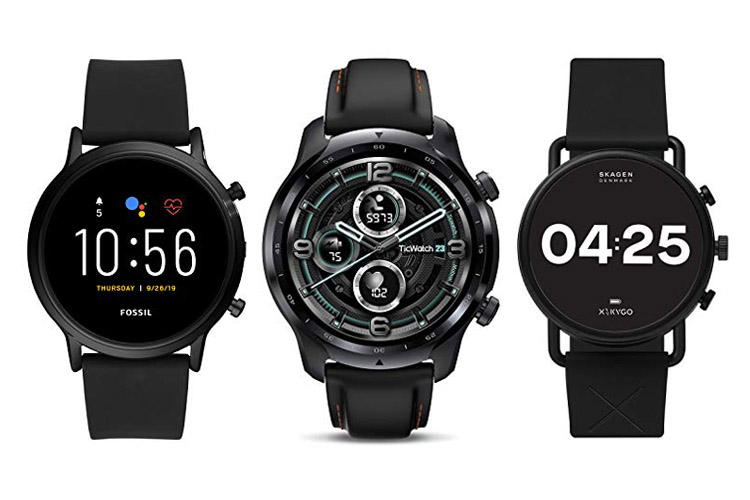 You could say that Google knows a thing or two about Android, so, it's no surprise that their WearOS operating system is one of the leading Android-compatible watch platforms.
There's a broad range of manufacturers using WearOS in their devices, from traditional watchmakers like Fossil to newer entrants such as TicWatch. With Google continually evolving the platform, it leaves the manufacturers free to focus on creating the best hardware.
Since all WearOS watches use the same platform, they might seem quite similar at a first glance. But, I've been looking closely at the key differences that make each one unique and I've gathered everything I learned in this article.
The TicWatch Pro 3 is our top recommended WearOS smartwatch. Not only does it run the latest chipset for a smooth experience, but the innovative dual-screen puts it well ahead of the competition on battery life. TicWatch also throws in some helpful apps and a launcher that's only available on their watches.
Keep reading for a full breakdown of the best WearOS smartwatches currently available, including some stylish picks and a few options for anyone on a tighter budget.
Pros and Cons of Wear OS
What makes WearOS tick? Well, here's a rundown of the main pros and cons of the platform:
Works with Android and iPhone – WearOS is based on the Android operating system, as such, it integrates very well with Android phones. However, Google has been working hard to ensure it works just as smoothly with iPhones too.
Excellent app selection – One of the biggest selling points of WearOS is the app selection. There's a huge range of compatible apps in the Play Store, from both third-party developers and Google themselves. A WearOS watch is the only way to get Google Maps, Google Fit, and Google Pay on your wrist. The platform also supports internal storage of music and podcasts for apps that support offline listening such as Spotify.
Supports calls and messaging – Providing the watch has the right hardware, WearOS allows you to make and receive calls using the watch. This can use your phone's Bluetooth connection, or via an LTE connection for watches that support this. There are also multiple input methods for sending messages including handwriting and voice-to-text.
Limited battery life – The key thing to bear in mind with WearOS is battery life. It's prone to draining the battery faster than competing platforms such as Garmin and Fitbit.
For a full breakdown of WearOS pros and cons, check out our full article on smartwatch operating systems.
Best WearOS Smartwatches in 2021
Best Overall: TicWatch Pro 3
Pros/Cons:
Innovative dual-screen provides always-on screen without hindering battery life

Bundled with TicWatch's own apps and launcher

The very latest processor puts it on a par with the top smartwatches on the market

Quite pricey compared to other smartwatches
Our top pick is the TicWatch Pro 3. It has a speedy interface that makes it a joy to use. This is thanks to the inclusion of the very latest Snapdragon 4100 chipset which is on par with processors in the top tier Apple Watch and Samsung's flagship watches.
Its stand-out feature is the dual-screen which sees a second LCD screen on top of the normal smartwatch screen. The low-power LCD screen provides the always-on watch face whilst the AMOLED screen underneath provides the smart features when activated.
This innovative approach has given the watch has a battery life superior to most other WearOS watches with around 3 days of regular usage or up to 5 days with light use.
The watch has 8GB of onboard music storage and Bluetooth for connecting your headphones to listen on the go. You can also make and receive calls thanks to a built-in speaker and microphone.
When it comes to fitness, the TicWatch has GPS, heart rate monitoring, and an altimeter built-in. Its IP68 rating means it can be submerged in up to 1.5m of water for 30 minutes without a problem.
To add extra value, TicWatch have created and bundled in their own launcher and applications. This includes Ticsleep for sleep tracking and TicHealth which brings together all your fitness stats into a central report. Whilst there is overlap in terms of features with Google's own apps like Google Fit, it's certainly nice to have the option for advanced reporting.
Runner Up: Fossil Gen 5 Carlyle
Pros/Cons:
Stylish watch with several designs and straps to choose from

Make and receive calls from the watch

More customization over battery modes

Battery only just makes it through a full day
Next is the Fossil Gen 5, like most of the other watches here it runs Snapdragon's 3100 chipset which is a small step down from the 4100 in the TicWatch, but the differences aren't too noticeable and the 1GB RAM certainly helps it run well.
The design is inspired by Fossil's traditional line of smartwatches, so it's just as much a fashion accessory as it is a useful gadget. The watch face is 44mm and there's a huge selection of designs and straps to choose from across the Gen 5 range. The straps are quick to remove so you can update them regularly.
The Gen 5 is exactly what you'd expect a WearOS watch to be, only they've done it really well. It has the standard 3 button layout that is common with WearOS watches and inside are all the key sensors including GPS for tracking your workouts, heart rate monitor, and NFC for use with Google Pay.
One key differentiator is a lot of customization over battery modes on the Gen 5, you can select a custom mode and turn off the hardware that you don't use such as speakers, fitness sensors, etc.
Battery life is where the Gen 5 falls down, it will only just make it through a full day of use with no buffer for the next day at all, so you'll be charging it every night.
Budget Pick: TicWatch E2
Pros/Cons:
Very affordable price

GPS and heart rate monitor

No NFC for contactless payments

Cannot be used for calls
The E2 is a budget smartwatch from TicWatch that runs WearOS. It runs an older Snapdragon 2100 processor that isn't as speedy as the one found in the TicWatch Pro 3 but still manages to provide a decent experience.
TicWatch can offer the watch at an affordable price by removing some of the sensors found in their more premium devices. For example, there's no speaker so any Google Assistant responses will be in text format, this also means you cannot use it for calls.
It's lacking NFC so you cannot make contactless payments with the E2 and there's no dual-screen display which reduces the battery life to about one full day with regular use, this still rivals the battery on any Apple or Samsung watch.
Aside from these notable exceptions, the experience is quite similar to other WearOS watches. It has GPS and a heart rate monitor for fitness tracking, as well as a 5ATM rating which is suitable for use up to 50m underwater.
Best for Fitness: Fossil Sport
Pros/Cons:
Smaller and lighter on your wrist

Great for swimming with a 5 ATM rating

Battery only just makes it through a full day
The Fossil Sport is cheaper than the Gen 5 and, as the name implies, has been designed with sports and fitness enthusiasts in mind.
It has an aluminum body that's much lighter than the stainless steel body of the Fossil Gen 5 and makes it more comfortable on your wrist when working out. It has a slightly smaller watch face at 43mm (also available as 41mm), although the display size itself is slightly bigger due to a reduced bezel.
The Fossil Sport has the same Snapdragon 3100 processor as the Gen 5, however, it has a reduced RAM of 512MB so you might notice some delay when loading or switching apps compared to other watches. It also has reduced storage of 4GB, although this is still adequate room to store music or podcasts for your workouts.
Despite having a larger 350mAH battery, The Fossil Sport has a similar battery life to the Gen 5 which is about one day. Some users on Amazon report around 30% battery remaining after a full day's usage, or as low as 10% when it's used for exercise.
The Fossil Sport is more water-resistant than the Gen 5, suitable for use up to 50m compared to the Gen 5's rating up to 30m. This means you can comfortably use it whilst swimming or during other water-based activities.
Despite its lower price point, it's not lacking in sensors. There's GPS, NFC, heart rate monitor, altimeter, ambient light sensor, and a microphone and speaker for making calls.
Most Stylish: TicWatch C2+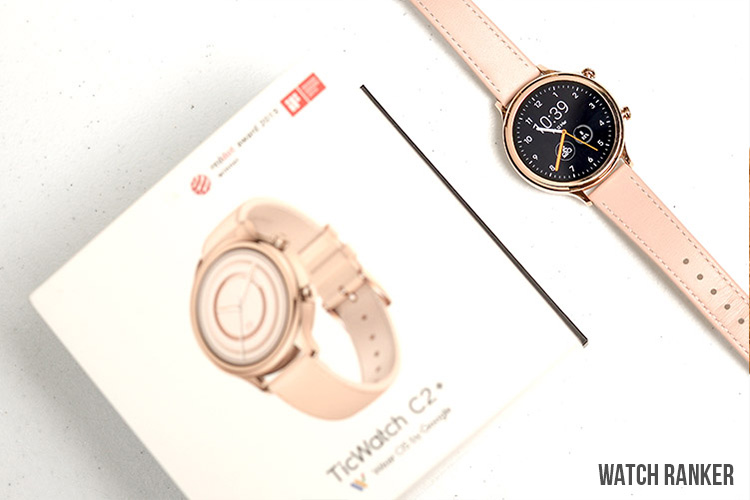 Pros/Cons:
Stylish looking smartwatch

Great value for money

Includes bespoke app suite from TicWatch

Sluggish interface compared to other WearOS watches

Cannot make or receive calls
If you want something that's stylish and doesn't break the bank, the TicWatch C2+ is perfect. It's paired back in terms of hardware, however, you still benefit from all the extra apps and launcher that TicWatch put into their top-tier devices.
The C2+ has a lower spec Snapdragon 2100 processor and 512MB RAM, this does mean overall that the watch is a bit more sluggish and not as quick at app switching or launching the Google Assistant.
It's also missing the dual-screen technology found in the more expensive TicWatch Pro 3 so even with a decent 400mAh battery, it will last about a full day with regular usage or two days with light usage.
It does still have built-in storage for offline music and podcasts and NFC for making payments via Google Pay. There's a microphone for accessing Google Assistant, although no speaker so making calls is off-limits.
As with the TicWatch Pro, the watch comes preloaded with some bespoke TicWatch watch faces and some dedicated TicWatch apps such as TicHealth, TicPulse, and TicExercise, although these do overlap somewhat with Google's own app suite.
Best for Outdoors: Suunto 7
Pros/Cons:
Rugged watch suitable for most environments

Bright screen is ideal outdoors

Automatically downloads free maps of your local area

Bulky on your wrist

Most expensive watch reviewed here
Suunto is an expert in sports equipment so it's no surprise that their smartwatch is packed full of fitness features that are particularly suited to endurance or extreme sports.
With a durable casing, the ability to handle 50m submersion in water, and operating temperatures between -20°C to 50°C, this watch can handle anything. The display is outstanding with one of the brightest and most vibrant screens on a WearOS smartwatch, this makes it ideal for use outdoors.
The only downside to this ruggedness is that the watch is very bulky on your wrist at 15.3mm thick and weighing 70g which is well above any other watch here. Its durability is reflected in its design, looking much more like a sports watch than others here which have opted for a more everyday style.
As with many of the watches here, it has the 3100 Snapdragon processor with 1GB of RAM which will run WearOS smoothly. There's also 8GB of onboard music storage which rivals the TicWatch Pro 3. The only thing missing is a speaker, although there is still a microphone for using the Google Assistant.
One unique feature of Suunto's smartwatches is their free offline maps that automatically download via Wi-Fi when you get to a new place. This means you can go for a tether-free run without having to worry about pre-downloading your route. This unique feature of Suntro watches will suit runners or cyclers.
See how the Suunto 7 compares to their other watches in our review of Suunto's full range.
Industrial Design: Skagen Falster 3
Pros/Cons:
Lightweight watch with unique watch bands

Make and receive phone calls

Only just makes it through a full day on a single charge
The Skagen Falster 3 is a 42mm watch with a matt metal finish and unique industrial-style bands that are quite exciting and in keeping with the Skagen brand.
The Falster 3 has three buttons, two of which can be pre-programmed, and a third crown dial which has become standard on WearOS smartwatches.
The watch is a great all-rounder. For general use, it has NFC technology for making payments and packs in both a microphone and speaker accessing the Google Assistant and making phone calls.
When you're ready to workout, the watch is a good companion as its 41g design doesn't feel too heavy on your wrist that you need to leave it at home. It has GPS and a heart rate sensor built-in, and 8GB of storage so you can listen to music on your run without carrying your phone.
It is rated for use up to 30m underwater so you can use it whilst swimming and don't need to worry about taking it off in the shower afterward.
The watch has a 310mAH battery which is rated for 24 hours between charges, users on Amazon agree that even with heavy exercise it will get you through a full day with no problem.
Minimal Design: Moto 360 (3rd Gen)
Pros/Cons:
Fewer buttons give a minimal look

8 GB of onboard storage for music and podcasts

Cannot be used for calls due to lacking a speaker
Given that the Moto 360 2nd gen was launched way back in 2015 and criticized for its 'flat tire' across the bottom of the screen, it seemed like the 360 was dead in the water.
But then Motorola gave us all a surprise in 2020 when they launched a brand-new 3rd generation Moto 360 sporting a Snapdragon 3100 processor and 1Gb RAM which rivals the other watches on the market.
Whilst they've got rid of the flat tire, the display doesn't reach the edge of the watch face which leaves a ring around the screen, although this isn't necessarily a dealbreaker.
Motorola have opted for just two buttons on the watch, one of which is the crown dial. This gives a minimal watch but does limit the number of pre-programmable actions.
The watch hasn't been designed with sports in mind, although with GPS and a heart rate monitor, it's still fine for light exercise. You can still listen to music via Bluetooth headphones that can connect directly to the watch and take advantage of the 8GB of onboard music storage.
The watch does have a microphone so you can speak to Google Assistant, however, it doesn't have a speaker so responses will be text-only and you can't make calls either.
The battery options are much more limited with just regular mode and time-only mode, whereas most other watches have more controls such as extended and custom battery modes where you define which sensors to leave on or off. It does come with a handy charging cradle and can be fully charged in just 60 minutes.
Premium Design: Michael Kors Access (Lexington)
Pros/Cons:
Stainless steel watch strap with traditional links

Etched bezel and two-tone strap give a premium look

Michael Kors branding

Battery only just lasts a full day
The Michael Kors Access Lexington is another WearOS watch worth a mention. Given that Michael Kors is part of the Fossil Group, you won't be surprised to find that the specs and features are near identical to the Fossil Gen 5.
It has a speedy Snapdragon 3100 chipset and 1GB RAM. The watch has a built-in speaker and microphone for calls and 8GB of onboard music storage for downloading from Spotify or Podcasts.
Where Michael Kors is different from the Fossil Gen 5 is its aesthetic appeal. Both the casing and the strap are made from stainless steel with a premium finish, the strap has traditional links that can only be changed with the proper tool.
Aside from the branding on the watch itself, there are also several bespoke Michael Kors watch faces to choose between.
Shown here is the Lexington edition, this has an etched ring around the display and comes in several color options, including silver, gold, two-tone, and a sleek looking black. There is also a Bradshaw edition which mimics the design of the traditional Michael Kors watch of the same name.