The ultra-thin watch is one of the marvels of this industry due to its extremely sleek build. To be considered an ultra-thin watch on our list, it must meet a specific size requirement. For this list of recommended watches, we've only considered watches with a case thickness of 9mm and below.
One of the most mind-blowing ultra-thin watches came when Piaget launched the Altiplano Ultimate Concept Watch, which only measured in at a mind-boggling 2mm. How they managed to contain the complex horology mechanism within that tiny space is fascinating and a true wonder of this industry.
While it's a remarkable feat of watchmaking expertise, at $400,000, it's not on our list. You will find several great thin watches that are stylish and affordable, including the classic Hamilton Jazzmaster Thinline or the Citizen Stiletto Eco-Drive that measures under 5mm thick.
Quick Recommendations 

Thin watches exude an air of class and sophistication that is quite different from your traditional luxury timepieces. This a timepiece that will perfectly complement the gentleman's classy attire. If you are in the market for refined and elegant watches, make sure to check out our list of dress watches under $500. If you prefer the minimalist watch aesthetics, we have that here as well.
Now, for the main course – here are the top ultra-thin watches in the market today. Each entry in this list has a case thickness that measures 9mm and below. These are the current best of the best in this particular category, so happy hunting!
Best Thin Men's Watches
Timex Fairfield (TW2P90800)
See on Timex | Read Amazon Reviews
The Timex Fairfield features a casual design with a hint of minimalistic aesthetics that is quite popular with the younger generation. It features a 41mm stainless steel case with a mineral crystal window and has a thickness of 8.5mm – at the cusp of the minimum ultra-thin watch requirement. It utilizes a quartz movement with an analog display and also comes with Indiglo technology for optimum visibility even in the dark. The dial has a pristine white numberless design with only silver-toned hour markers and hands on the display. The Timex Fairfield will suit your everyday timekeeping needs with a chill-vibe charm.
Hamilton Jazzmaster Thinline Watch (H38511553)
See on Hamilton | Read Amazon Reviews
The Hamilton Jazzmaster Thinline takes a more traditional approach with its aesthetic but incorporates it into a 7mm thick case. The stainless-steel case measures 42mm in diameter and contains a highly accurate Swiss quartz movement. The white dial is encased inside a sapphire crystal window with an anti-glare finish giving the Jazzmaster Thinline excellent legibility even in the daylight. The silver-tone hands and markers also utilize a luminous finish for better visibility in low-light environments. Additional features include a date display which is located at the bottom 6 o'clock position. The Hamilton Jazzmaster Thinline also comes in a wide variety of dial colors and styles that you can check out here.
Stuhrling Original Ascot Analog Dress Watch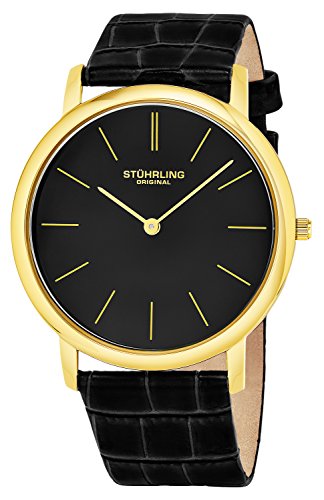 Ultra-thin watches typically have a classy and elegant appearance which is why the Stuhrling OG Ascot Dress Analog Watch is a noteworthy entry due to its minimalistic aesthetics. This timepiece is designed for maximum comfort with its genuine leather band and ultra-slim 6.37 mm case thickness. The dial incorporates a sleek design that enhances its style with a level of the finesse of an ultra-thin watch build—a 2-year international warranty. The Stuhrling OG Dress Analog Watch uses high-precision Japanese quartz movement as well.
Citizen Eco-Drive Thin Stiletto (AR3074-54E)
See on Citizen |  Read Amazon Reviews
Taking the already impressive aesthetics of an ultra-thin watch to new heights, the Citizen Eco-Drive Thin Stiletto comes equipped with an excellent horological build and design. It features a black sunray dial with a three-hand analog display. Inside the timepiece lies a precise quartz movement that operates its gold-tone hands and hour markers. The detailing employed in the design of the Think Stiletto is quite impressive. The case measures 38mm in diameter with a thickness of only 4.7mm. The dial window is also made from sapphire crystal, enhancing durability and excellent scratch-resistance. Also, the watch comes with a fantastic limited five-year warranty. You can also check Citizen's impressive selection of ultra-thin Stiletto watch series here.
Skagen Sundby Titanium and Stainless-Steel Quartz Watch
 See on Skagen | Read Amazon Reviews
The Skagen Sundby features a 37mm titanium case that gives it its lightweight qualities. The steel mesh bracelet is another notable aspect of the Skagen Sundby, which gives it that added pizzazz. Within the robust titanium case is a blue dial that features a concave ring. It also features a luminous three-hand analog display and Arabic numeral hour markers. There is also a date window located at the 6 o'clock position of the watch. The striking blue dial is encased inside a mineral crystal glass. Additionally, it is also designed to provide up to 30-meters of water resistance, allowing it to withstand splashes of water and even quick immersions underwater.
Casio Classic Quartz Stainless Steel 6mm Watch (A700W-1ACF)
With its retro-modern look, the Casio Classic Quartz will certainly appeal to those who love the timeless appeal of classic Casio square watches. The Casio Classic Quartz comes in with a stainless-steel case and bracelet, and the case measures around 35.5mm in diameter and a sleek 6mm thickness. It features a quartz digital display with a 1/100 stopwatch (60 minutes), a date and day display, a daily alarm, as well as an LED backlight. This is also an incredibly affordable timepiece which is always a plus.
Tissot Tradition 5.5 Brown Leather Strap Watch (T0634091601800)
If you are looking for an ultra-thin watch that takes its history and tradition to heart, then Tissot might be the one you are looking for. The classy Tissot Tradition features a silver-tone stainless steel case that measures 39mm in diameter with a 5mm thickness making it quite a sleek timepiece. The white dial is accompanied by silver-tone alpha-style hands and Roman numeral hour markers. The dial is powered by a quartz movement protected underneath a sapphire crystal window. Another notable feature includes a pull/push crown, fixed bezel, and 30-meters of water resistance.
Mondaine Men's Swiss Railways Classic Watch (A6603031411SBB)
With its overall modern aesthetics, the Mondaine Swiss Railways Classic will attract younger watch enthusiasts with its abstract charm. It features bold hands and markers with the second hand featuring a contrasting red tone. This timepiece utilizes Swiss quartz movement within its 36mm diameter stainless steel case which has a slim 8mm thickness. The dial is well-protected within a durable mineral crystal. The Mondaine Railways Classic stays true to its moniker with its robust design that certainly looks like a timepiece a train operator will have in their pocket.
Bering Men's Slim Solar Watch (14440-222)
Durability is where the Bering Slim Solar Watch put most of its focus on, and it definitely paid off as we can see here. In addition to its stylish black design, the Bering Solar Watch also comes with solar-powered technology. What's more impressive is that Bering managed to contain all of these features within a 40mm diameter case with a thickness of only 9mm – keeping it firmly in the ultra-thin watch category. The case is made from IP-plated medical grade stainless steel with the strap is a combination of IP-plated Milanese with stainless-steel interwoven into its design. Also, the Bering Solar Watch has a 50-meter water resistance rating which allows it to withstand rain, shower, and quick dips in the water.
Frederique Constant Slimline Plain Index Collection Watch
Frederique Constant has always been known for its classy slim watches, and the Slimline Index Collection watch is a perfect example of what you can expect from this watchmaker. The refined style of FC is in full display here with its gold-tone stainless steel case which measures 18mm with a thickness of only 5mm. The brown leather strap complements the gold case and grey-white dial which caps off the trifecta of its classy charm. The dial features slim hands and markers with a date display located over at the 3 o'clock position. Frederique Constant has always delivered on slim timepieces with a level of finesse that is unique to the brand.
Fossil Minimalist Quartz Watch
 See on Fossil | Read Amazon Reviews
Fossil Minimalist Quartz Watch is a casual timepiece that is perfect for everyday use. The comfortable brown leather strap is the perfect companion for the polished 42mm silver-toned stainless-steel case. The icing on the visual cake is, without a doubt, the beautiful blue dial. The Fossil Minimalist also stays true to its name with an aesthetic that is best described as subtle. The case thickness is around 9.5mm, so it is a bit over the ultra-thin requirement, but Fossil managed to deliver such a fine-looking watch that we are willing to give it a free pass this one time.This timepiece's other notable features are the quartz movement with an analog dial display and the mineral crystal window. It also provides a solid 50-meter water resistance making it suitable for short recreational swimming but do refrain from wearing it when snorkeling or diving.
Bulova Stainless Steel Analog-Quartz Watch 5.6mm (98A167)
The Bulova Analog Quartz Watch 98A167 is a stunning ultra-thin timepiece that features that classic Bulova style that is just radiating with finesse. This Bulova ultra-slim watch features a 40mm diameter and 5mm thick stainless steel case. Within the sleek build is a quartz movement that drives the analog dial display with impressive precision. The dial features a highly detailed sunray pattern giving this ultra-slim timepiece an added visual flair. It also offers a water resistance of up to 30-meters, which provides it with the ability to withstand quick immersion and the occasional splash of water.
Casio Classic Quartz Watch with Resin Strap (EAW-MQ-24-7B2)
The Casio Classic Watch (EAW-MQ-24-7B2) is a budget-friendly casual timepiece designed for everyday use. The black resin case and band give this Casio ultra-thin watch top-marks comfort while maintaining a dependable durability level. The plastic case measures 35mm in diameter and is about 8mm thick. It features a quartz movement with its analog display. The dial is quite rudimentary with its white finish, black hands, and Arabic numeral hour markers.
Junghans Meister Driver Hand-Winding Watch (27360700)
Time to introduce some high-end brands into the list with the Junghans Meister Driver Watch. This timepiece utilizes premium-grade materials in its build. With a stainless-steel case that measures 43mm and a thickness of only 7mm, the Meister Driver is as sleek as they come. It incorporates plexiglass with SICRALAN-coated crystal for its dial window, making it impressively tough. Turn it around, and we have a transparent back case that displays the complexity of a mechanical watch movement. This is a dazzling display of what you can aesthetically do with an ultra-thin watch.
Rado True Thinline Black Dial Watch (R27741712)
Rado is a personal favorite of mine with its slick, minimalist design. The True Thinline (R27741712) features pure black aesthetics with its black ceramic case and stainless-steel bracelet. The dial is virtually free from any clutter and only holds four diamond hour markers and sleek silver-toned hollow hands. The round case measures 39mm and contains a high-precision quartz movement. This is a hyper minimalistic watch as it only measures in with a 5mm thick case while the watch movement within only measures in at 1mm.
Nomos Tetra Neomatik Automatic Midnight Blue Dial Watch 422
The Nomos Tetra Neomatik is a fine square timepiece that features an impressive aesthetic that seems to be a callback to the golden age of the 20s to 50s. The polished square stainless-steel case contains a top-tier automatic movement. Measuring 33mm in diameter, the Nomos Tetra Neomatik is impressively sleek. Add in it 7mm thickness, and you have yourself one of the classiest square watches around. Again, the retro aesthetic of the blue dial is certainly one of its charms. As for other features, this timepiece includes a fixed bezel, sapphire crystal glass window, and water resistance of up to 30-meters.
Jaeger LeCoultre Master Ultra-Thin Automatic Watch (Q1288430)
The Jaeger LeCoultre Master is a luxury ultra-thin watch and is an excellent choice for those who wish to catch the room's attention. The sleek 7.4mm thick case is accompanied by a champagne sunray-brushed dial that perfectly complements the silver-tone dauphine-style hands. The watch also comes with a dark brown alligator leather band that helps enhance its elegant aesthetics. Within the watch lies an automatic movement that operates its analog dial. The dial is well-protected within a scratch-resistant sapphire crystal window, so you don't have to worry about this timepiece getting chipped. If you are looking for an ultra-slim watch that will accompany you during formal galas.
Reef Tiger Skeleton Ultra-Think Steel Automatic Watches (RGA1917)
Are you looking for an ultra-thin watch with a skeletal dial design? Then you have to check out the Reef Tiger Skeleton RGA1917 Automatic Watch. It features an elegant polished stainless-steel case that measures 40mm in diameter. The case is about 8mm thick and incorporates a Sea-Gull ST1771 automatic movement with an analog dial display. To ensure you can view all the complex inner workings of this automatic movement, the Reef Tiger utilizes scratch-resistant sapphire crystal with an anti-glare finish. The dial is most certainly the main event of this timepiece with its stunning blue inner bezel. It also features leaf-shaped hands and diamond-shaped markers.
Seiko Solar Quartz Thin Gold-Toned Watch (SUP872P1)
Classy is the best word to describe what the Seiko Solar Quartz SUP872P1 can bring to the table. While it does not have any modern kinks in its aesthetics, it does capture that timeless classic timepiece charm. The simplicity of the Seiko Solar Quartz is its biggest draw. The gold-tone stainless-steel case gives it a touch of class, and a scratch-resistant Hardlex crystal window protects that case from scratches. Also, as the name implies, this Seiko ultra-slim watch is solar-powered, so you don't need to worry about it running out of juice any time soon.
Casio Quartz Stainless Steel (EFR-S107D-1AVCR)
The Casio Quartz Stainless Steel EFR-S107D-1AVCR takes the ultra-thin timepiece and pushes it to the limit in terms of build. With a case thickness of 7.8mm, you may be forgiven for thinking that the Casio Quartz EFR-S107D-1AVCR is more of an aesthetic accessory rather than a reliable tool. However, with its rugged and scratch-resistant sapphire crystal window and 100-meter water resistance, this has become one of the most robust ultra-slim watches in the market today. This is one small dog with a big heart and an equally big bite.