In any household, it is quite typical to have some old, broken timepieces laying around, probably hidden in the bottom of a drawer. These items may just need new batteries, replace some parts, or may have totally stopped working for whatever reason. If you think it's a waste to just throw away these broken watches, we've got some ideas for you.
Repair
We understand – some watches have really been special for you. Either you received them from someone special or because of the memories you've had with those watches. However, no matter how careful you are, these timepieces might not survive over time.
As such, the first thing you may consider doing is repairing your broken watch. If you have some knowledge and tools, replacing a few parts could be easy and will not cost much money. On the other hand, you may also bring it to a professional watchmaker or to a watch repair shop to see if your old watch can still be used after a few tinkering.
If you have a broken vintage watch, repairing may be challenging since most watch manufacturers tend to stop producing some parts for their old models. And of course, professinal repair might be more costly than what it's worth. In such cases, you may opt to recycle your watch instead.
Recycle
Recycling a watch may be unpopular to some but it's actually pretty common. In fact, giant smartwatch manufacturers like Samsung and Apple already have their own recycling programs. Moreover, similar to your jewelry and other accessories, watches may be recycled thru scrapping, selling on online platforms, or finding a shop willing to purchase your old watch.
To know more about recycling watches, you may read our post here.
Donate
Another option for you would be to donate your old watch. There are various charity organizations, such as Esslinger, that happily accept old, unwanted, or broken watches. These charity organizations usually use the watch for watchmaker training or for fund-raising (by reselling or recycling the watches). However, before giving your watch to charity, make sure to check their acceptable items first.
You may also donate your watch to watchmakers and some manufacturers who may still find the watch parts useful.
Repurpose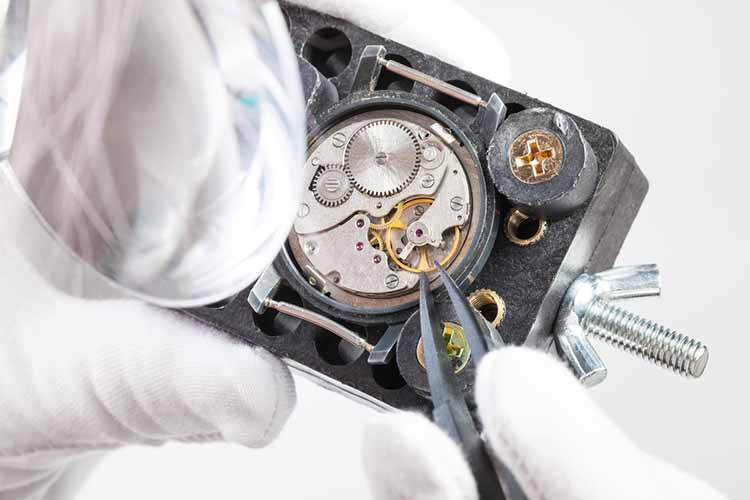 If you are the crafty type, then you can surely do a lot of other things with your old watch. To help you start, here are some DIY ideas that may inspire you.
1. Unique Bookmark
One quick DIY project you may do is to turn a part of your watch into a bookmark. Simply remove the part you want (probably the strap), and then attach a yarn, ribbon, or string to it.
2. Sun-catcher
If you have numerous old watches, you can take the window glasses off, paint them, then hang them together with some style. You instantly have a house decor or a unique gift for a friend.
3. Craft clock
After taking off the window glass, you may use the watch dials. Using 12 watch dials, you may design your own craft clock on a thin and flat item such as a vinyl record. Then take a clock motor and some scrap materials that may be used as watch hands. Glue them together and you have another unique house item.
4. Photo frame
If the watch face is a bigger one, they're perfect to be repurposed as small photo frames. Just remove the hands and the glass, and fit a picture inside. Then, you may display the watch photo frame on a wall or as a pendant to your necklace.
5. Mini sculptures and Scrapbook
The mechanisms inside a watch are particularly intricate, especially for mechanical watches. If you have amazing hand-and-eye coordination, you can create mini-sculptures using the mechanisms and other watch parts. You may also use such parts as decorative elements in your scrapbook.
What to do with broken watches?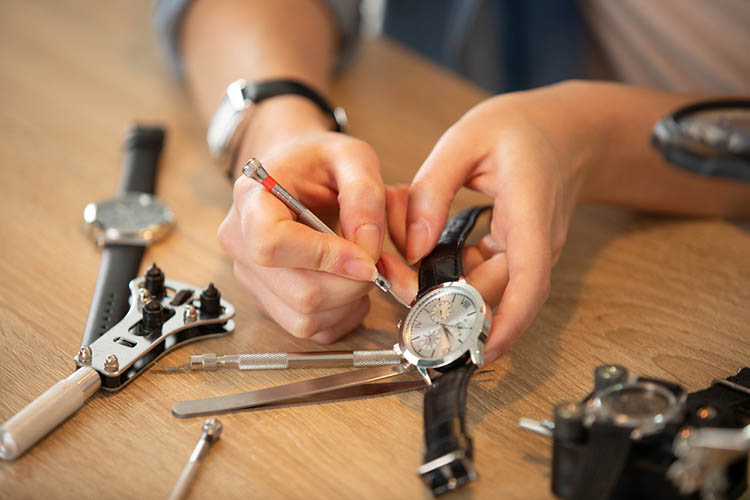 The good news is, you don't necessarily have to just throw away and bade goodbye to your money's worth once your watch gets broken. There are various options for you: Repair, Recycle, Donate, and Repurpose. If the watch has a sentimental value and you can't let go, you may have it repaired or include it in your next DIY project. If you want it to serve another noble purpose, bring it to an organization for recycling or as a donation.