Winner: Amazfit GTR
If you are interested in these two watches, we highly recommend spending the extra money to get the GTR. It is the smartwatch with the better build quality and better software implementation.
Introduction
Amazfit is one of the most well-known brands in the smartwatch market. They have been producing lots of models for almost every price range, which makes their offerings very accessible.
The Amazfit GTS and GTR are Amazfit's entries to the midrange smartwatch market. Both are similar watches in terms of the features that they offer and in terms of the software experience. There are, however, differences, most noticeably their design and form factor.
Both of these watches are excellent choices. But which one of these is for you? Keep on scrolling to find out.
Note: In this comparison, we will be looking at the 47mm variant of the GTR. For a more in-depth look at the Amazfit GTS, make sure to check out our Amazfit GTS Full Review.
And if you are interested in how the GTS fares with the rest of the competition, make sure to check out our Amazfit GTS vs. Huawei Watch GT 2e comparison.
Amazfit Brand Overview
Amazfit is a newcomer to the smartwatch industry. They are a US-based company that was only established in 2016. However, they have mostly been getting more attention due to the number of products that they produce each year.
They are owned by Huami, who is currently the exclusive partner of Xiaomi. Together, they have become the second-largest wearable manufacturer. This is an impressive feat, given their relatively young age in the industry.
Their current lineup is more diverse and targets a wide range of audiences. They have budget offerings such as the Pace series as well as more high-end watches such as the Stratos Series. The Amazfit GTS, is, of course, part of their midrange series aimed at casual users.
Specs
Amazfit GTS
Amazfit GTR 47mm
Dial thickness
9.4mm
10.75mm
Screen size
1.65 inch AMOLED
1.39 inch AMOLED
screen resolution
348 X 442 341 PPI 100% NTSC
454x454px
Colors
6
3
Weight
25.5g
aluminum alloy:36g
stainless steel:48g
titanium:40g
IP rating
5ATM
Sports mode
12
NFC
Supported
Battery capacity
220mAh LiPo
410mAh LiPo
Charging time
2hr
Battery life
Daily use mode:14 days
Daily use mode:24 days
Basic watch mode:46days
Basic watch mode:74 days
GPS continuous working:25hrs
GPS continuous working:40hrs
Location technique
GPS+GLONASS
GPS+GLONASS
Sensors
BioTracker PPG Biological tracking optical sensor
6-axis acceleration sensor
3-axis geomagnetic sensor
Air pressure sensor
Ambient brightness sensor
BioTracker PPG Biological tracking optical sensor
6-axis acceleration sensor
3-axis geomagnetic sensor
barometric sensor
capacitive sensor
ambient brightness sensor
Supported Devices
Android 5.0 and above, iOS 10.0 and above
Packaging and Unboxing Experience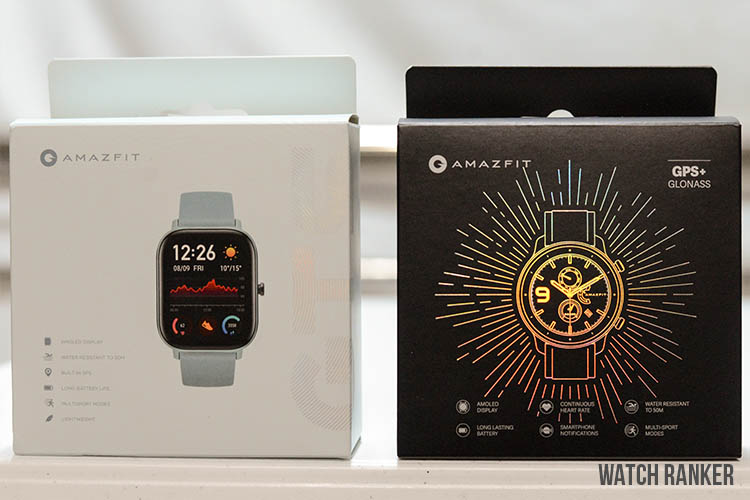 Winner: Amazfit GTR
Before we get to the comparison, I would like to quickly talk about the packaging and unboxing experience on these two models. It does not directly affect the performance of the smartwatches, but we still give some emphasis here as we can gauge how much effort a company has made for the first impression of their products.
As mentioned in our dedicated review, I wasn't too enthusiastic about the GTS unboxing experience. It just didn't feel like it reflected its price point. The GTR goes for the same style but makes minor improvements that put it miles ahead of the GTS. The most noticeable one being the GTR's holographic box art, which further establishes it as a premium product.
Both of these smartwatches still feel as if you are unboxing a piece of technology rather than a luxury item. But out of the two, the GTR had the more aesthetically pleasing box. The black and minimalist look along with the high-quality product art makes it feel more expensive.
Both smartwatches come with the same accessory. They come with the proprietary magnetic charging cable and the related paperwork. And with that out of the way, let us proceed to the rest of the comparison.
Design and Build Quality
Overall Winner: Amazfit GTR
Design Language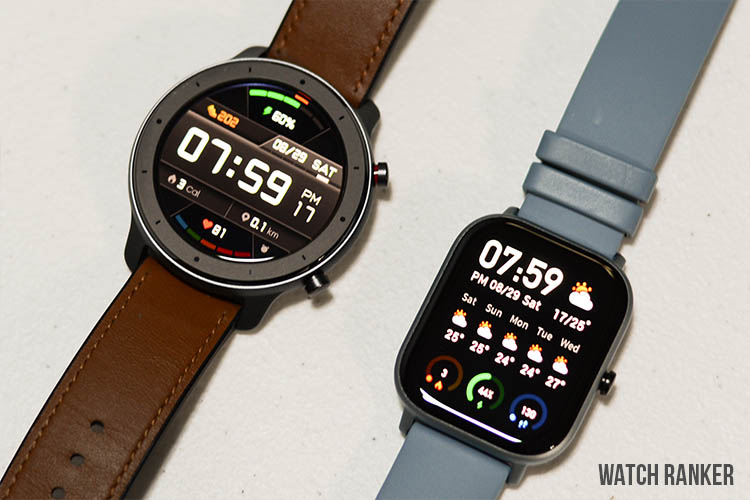 Winner: Tie
The GTS and GTR are two completely different looking smartwatches. The lower-priced GTS has a square shape that is going for that clean and minimalist look. The GTR, on the other hand, is a more traditional looking round smartwatch that goes for that premium wristwatch look.
In terms of aesthetics, the GTS is a small watch that doesn't have excessive buttons on its sides. The GTR, on the other hand, features two buttons and has noticeable markings in its bezel that mimics the ones found on analog watches.
In terms of the color options, the GTS has more variants compared to the GTR. This makes a lot of sense, considering the GTS is marketed towards the younger and more casual audience while the GTR is for a more mature audience.
The GTR is also available in two sizes, the 47 mm and 42 mm versions. The GTS, on the other hand, is only available in a single size. This is unfortunate since there are some people like me who would have preferred having a larger watch with a square display.
In terms of the materials used, the GTR feels better built. Both of our units are made of aluminum. However, the GTR feels higher quality.
This is evident at the back where the heart rate sensor is located. The GTS feels more plasticky on the GTS.
Personally, both smartwatches look great, and the better-looking watch will depend on your personal preferences. One is a traditional-looking watch while the other is a cleaner and more modern-looking watch.
Weight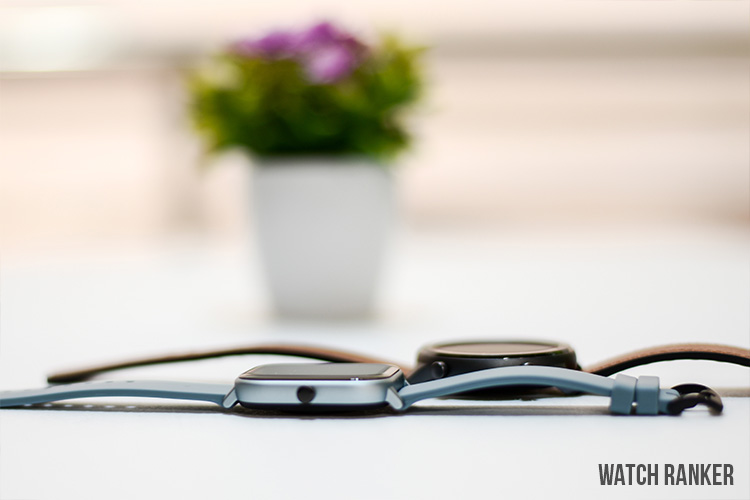 Winner: Tie
The Amazfit GTS is the lighter smartwatch. And in my opinion, It also makes it the more comfortable smartwatch. It only weighs 24.8 grams.
Once it's on your wrist, it practically disappears. You are only reminded of its presence when you get notifications.
The GTR, on the other hand, isn't that much heavier. It only weighs 36 grams. Both are lighter than other watches that we have reviewed, such as the Huawei Watch GT 2e.
It is worth noting that despite its lightweight design, the GTR does not compromise on the feel and the build quality. This is unlike the GTS, where the lightweight design seems to be directly reflected in its lower quality build.
But overall, it will once again come down to personal preference. I personally enjoyed using the Amazfit GTS due to its lightweight design, but others should be perfectly fine with the GTR.
Dimensions
Winner: Tie
Given its weight, the GTS is also the smaller smartwatch. It has the following dimensions: 43.25 x 36.25 x 9.4mm. The GTR, on the other hand, has the following dimensions: 47.2 x 47.2 x 10.75 mm(47 mm)/42.6 x 42.6 x 9.2 mm(42 mm).
Despite its larger size, the GTR still maintains its lightweight design. And overall, it is still comfortable to wear.
Again, this will entirely depend if you want a larger or smaller smartwatch. There are no downsides to either model since both of them have been designed well.
Display

Winner: Amazfit GTR
Both smartwatches are equipped with a clear and vibrant AMOLED display. You won't have a problem with these regardless of what lighting condition you find yourself in.
The GTS has a more seamless presentation since the bezels are not so obvious. The GTR, on the other hand, has a more obvious bezel but is integrated into the overall aesthetics of the watch.
Both smartwatches feature an AOD mode that will, of course, drain the battery faster. However, it is worth noting that the AOD on both of these smartwatches is non-customizable. You can only select between a digital and analog-style.
Buttons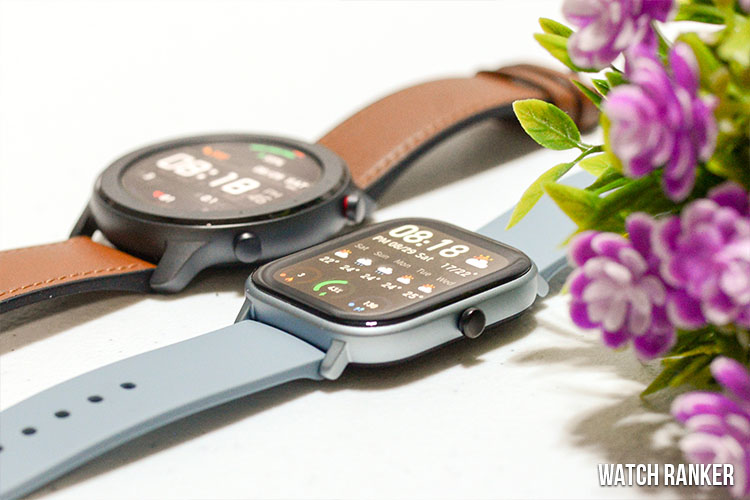 Winner: Check Software Performance Section
The Amazfit GTR features two buttons while the GTS only features one. The single button design perfectly fits the GTS' aesthetics. However, in terms of functionality, I have to give it to the GTR.
The buttons on the GTR are larger and have a design that closely resembles the dial of a traditional wristwatch. The GTS, on the other hand, has a smaller button that doesn't get in the way of your wrist.
In terms of feel, both buttons are tactical and accurate. They both work every time they are pressed. This indicates good hardware and software implementation from Amazfit.
Since both of these watches have good button placements, we will be deciding the winner based on the functionality of their buttons in the user interface section.
Strap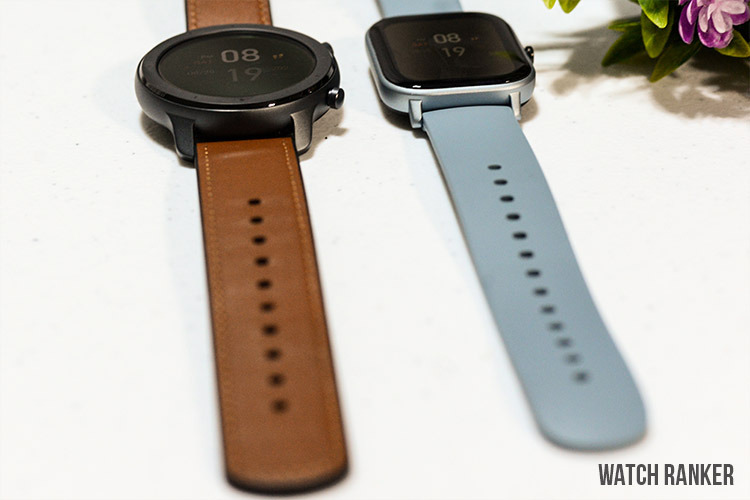 Winner: Amazfit GTR
Both straps are of high quality, and I have no problems using both of them. However, it is very evident that the Amazfit GTR's strap is of higher quality. Our unit came with a synthetic leather material that looks and feels more expensive than the GTS' silicone.
But in terms of comfort, neither strap shouldn't cause any issues. In this case, we just prefer the aesthetics of the GTR over the colorful designs available on the GTS. But if you are not a fan of any of these straps, both the GTR and GTS' straps are easily replaceable.
Features
Winner: Tie
The Amazfit GTR and GTS have the same number of features. Both have heart rate monitoring, sleep tracking, fitness tracking, compass, etc. (fix). Both smartwatches are also equipped with a Bluetooth 5.0 Chip that maintains a solid connection.
Unfortunately, these smartwatches also suffer from the same flaws. Both of them cannot store music since they do not have built-in storage.
They can control the music playback of your device. However, I found that this feature didn't work too well due to the latency.
Both smartwatches have a find my phone feature and interestingly enough, also find my watch feature through the Amazfit App. This can be helpful when you are trying to find your watch in indoor environments, but it won't be useful if you lose your watch in noisy or outdoor environments since these do not have a speaker.
Health Tracker
Winner: Tie

Health Tracking
The Amazfit GTS supports several health-tracking features that are commonly found in most smartwatches. These include heart rate monitoring, step and activity tracking, sleep tracking, and idle alerts.
Both the Amazfit GTS and GTR are equipped with the BioTracker PPG Bio-Tracking Optical Sensor, which is advertised for accurate 24-hour heart rate monitoring. While it works, for the most part, there were instances where my heart rate was way off. And unfortunately, both of these still display data even when I am not wearing them.
They also support sleep tracking. However, this is by far the GTS and GTR's weakest feature. Both watches cannot display your sleep data, and instead, you'd have to use the Amazfit application. This is extremely annoying, especially when I am still half asleep in the morning, and I am trying to check if I already got enough sleep.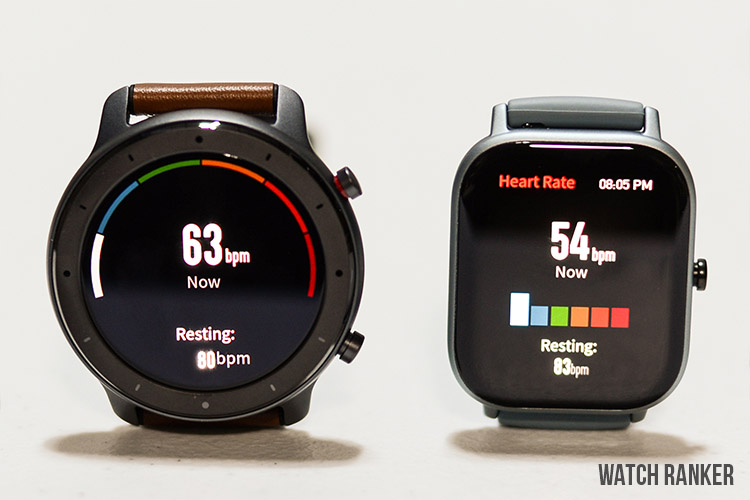 These watches also feature a step and activity tracker. It can be accessed by swiping right from the home screen. Unlike other watches in this price range, it can show additional data such as calories burned, steps taken, etc.
The idle alerts work well. However, there were instances where it was telling me to stand up even if I have been standing for hours. But this happens in my other smartwatches, so it isn't entirely the Amazfit's fault.
I also noticed that both the GTS and GTR made occasional mistakes with step tracking. I was reaching a thousand steps even while I was sitting the entire time. However, I believe that is a problem with smartwatches and is not isolated to Amazfit's watches.
Fitness Tracker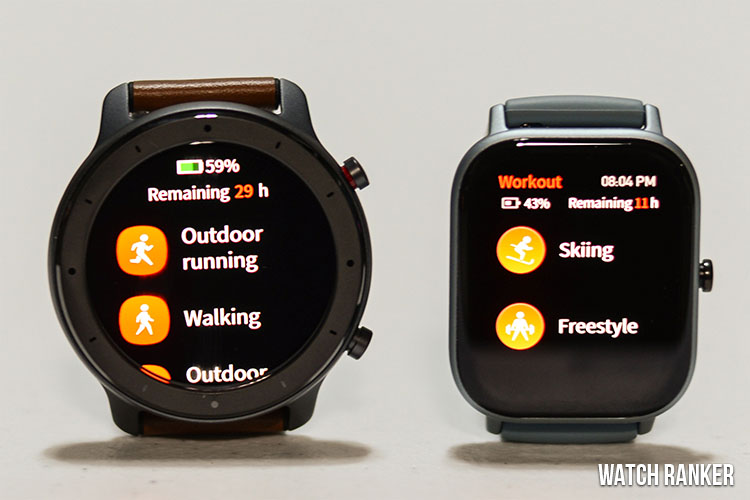 Winner: Tie
In terms of fitness tracking, the Amazfit GTS and GTR cover all of the basics. These include Outdoor Running, Walking, Outdoor Cycling, Treadmill, Indoor Cycling, Open Water Swimming, Pool Swimming, Elliptical Trainer, Climbing, Trail Running, Skiing, and Freestyle.
The sensors found on both of these were able to produce satisfactory results. There is no option to add custom workouts. Instead, you get a freestyle mode that automatically detects your movements. Overall, the fitness tracking works well with both devices.
Battery Life
Winner: Amazfit GTR
In terms of the battery life, the Amazfit GTR is rated to last longer. It is utilizing a 410 mAh battery, which is almost twice the capacity of the GTS' 220 mAh battery. It is rated to last for 24 days, but during our use case, the battery was lasting similarly to the GTS, which is about 14 days in total.
Both smartwatches also share the same proprietary cable that I am not a fan of. The charger's cable is non-removable, which means you will have to bring the whole charger if you travel. But then again, this shouldn't be much of an issue during regular use since you will barely have to charge these smartwatches.
Watch Software Performance
Overall Winner: Amazfit GTR
User Interface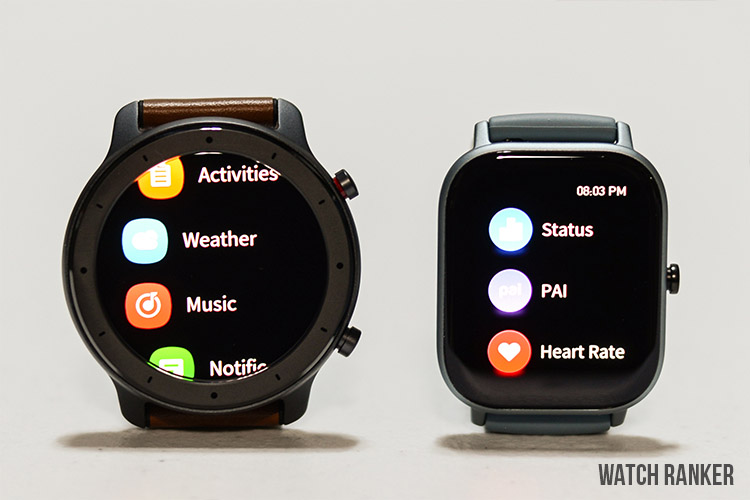 Winner: Amazfit GTR
As mentioned earlier, the operating system on these two smartwatches is the same. However, it is worth noting that the Amazfit GTR has a more refined UI that is noticeable with its redesigned icons and menu system.
The user interface and the overall performance was noticeably more fluid on the Amazfit GTR. This may be due to the better hardware inside, but we can't confirm this since the processor and RAM are not disclosed by the manufacturer.
Also, when you swipe down, the GTR features an additional battery saver mode. This is quite odd since the GTR already has plenty of battery, but it is there to help you further extend the battery life.
Aside from those slight differences, the overall experience is roughly the same on these two smartwatches. Both of their menus are also customizable through the Amazfit smartphone app. You can rearrange the icons to help quickly access apps such as the notifications or the settings.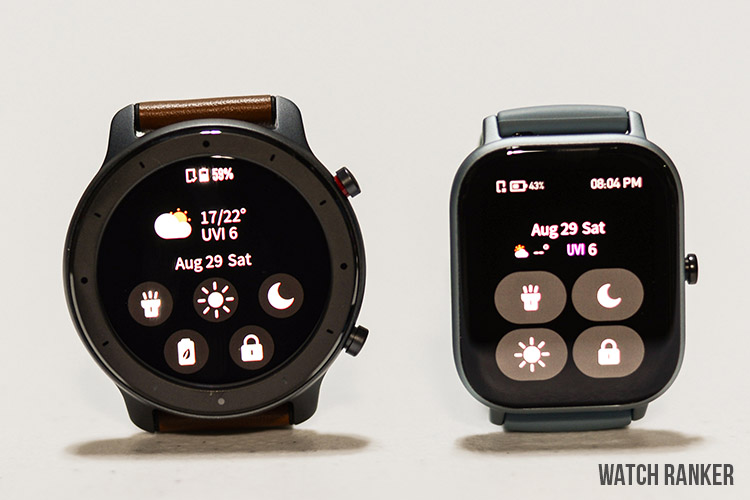 In terms of performance, both watches encountered some frame drops, especially on the home screen. However, it was not enough to detract from the overall experience. We also did not experience any crashes on both watches.
Unfortunately, since both watches share the same operating system, they both share the same flaws. You cannot customize the home screen on both models. You only get the activity tracker and step tracker.
The GTS offers a watch face that can have shortcuts to various apps, such as the weather. However, the presentation isn't that great, and it isn't a real solution to this issue.
Another gripe that I have with the OS of these two devices is the lack of smartphone-like gestures for quick access to essential apps such as notifications or settings. There are, of course, workarounds, as mentioned earlier, but they are not as intuitive as some of their competitors.
Watch Faces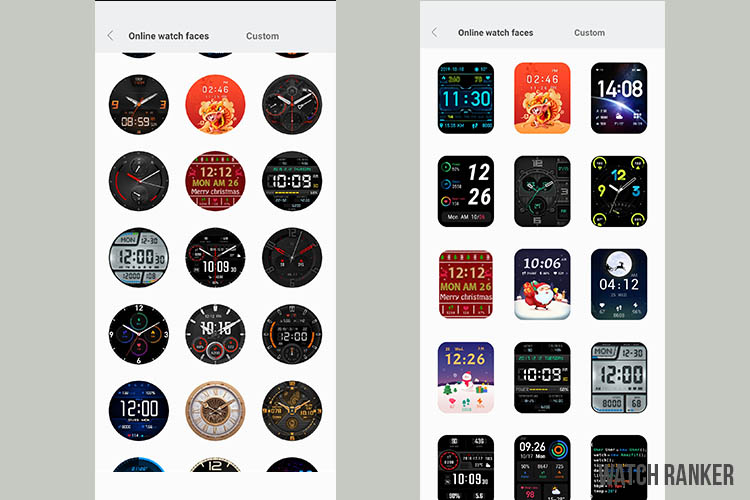 Winner: Amazfit GTR
The watch faces offered on both models are similar. However, the Amazfit GTS has two exclusive watch faces.
Its two default watch faces offer customizable widgets. By default, they show information such as weather, heart rate, and step tracker. You can further customize these watch faces to show information such as a compass, alarm, humidity, etc. You can also click on those widgets to quickly access their corresponding apps.
But aside from those two watch faces, the rest of the offerings through the Amazfit app are the same. And also, it is worth noting that the aesthetics of these two watch faces aren't as high quality as the GTR's default watch faces.
It is quite disappointing that Amazfit didn't utilize the GTS' square form factor for more unique looking watch faces. But on the flip side, the overall experience is more coherent, and the transition between these two watches is seamless if you ever decide to upgrade from the GTS to the GTR.
This is a feature that is not possible, even on the more expensive Amazfit GTR. But from there on, it starts going downhill.
In terms of the watch faces that are available for these watches, there are a lot of high-quality watch faces. However, there are also a lot of repetitive designs, so you may need to spend some time looking for one that fits your style.
You are only able to store up to one additional watch face on both devices. This shouldn't be too much of an issue if it wasn't for the long syncing time. Uploading a watch face from the app to the smartwatch took around a minute.
And to make matters worse, these smartwatches do not support custom/third-party watch faces. There are two additional "customizable" watch faces, but those only allow you to change the background image.
Notifications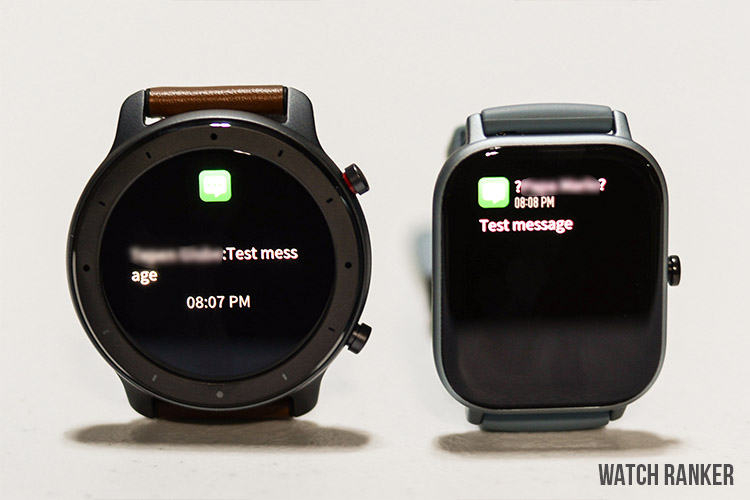 Winner: Amazfit GTR
The notification system is not stellar on either of these two smartphones. However, the Amazfit GTR handles it much better.
The GTR offers an option to be redirected to the notifications app whenever you receive a notification. This makes it easier to check all of your notifications, including the ones you missed. On the GTS, you'd have to scroll all the way down to the notifications tab just to do this.
You can quickly access your notifications by remapping the GTS' long-press or the GTR's second button to the notifications app. You can also change the order of their menus via the smartphone app. However, I still think it would have been easier, faster, and more natural to have a smartphone-like gesture from the home screen instead.
It is worth noting that you cannot interact with your notifications on both devices. Furthermore, you cannot answer your calls on both of these devices. You only have the option to reject a call.
Overall, the GTR slightly does notifications better. But honestly, the notifications on both of these devices could be improved.
Buttons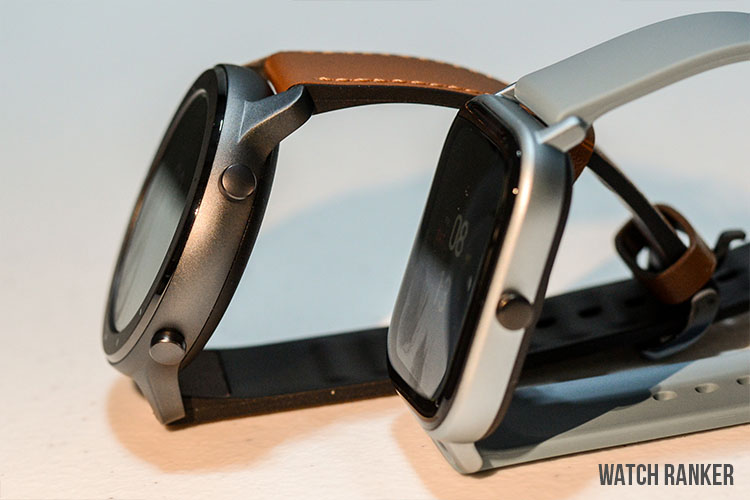 Winner: Amazfit GTR
As mentioned earlier, the GTS only features a single button while the GTR features two. The GTS makes up for its lack of a second button by having the ability to remap the long press to access any application.
I still preferred having a dedicated button for secondary commands since it is faster. However, having long-press functionality on the GTS is better than nothing. It is worth noting that the GTR does not feature long-press functionality on any of its buttons.
As for the GTS' single press/GTR's primary button, they only do one thing, and that is to turn the display on and off. This is pretty much useless since you can just put your wrist down whenever you are done interacting with your screen. This button could have been better utilized if you can access other apps or quickly access and navigate through the menu.
Smartphone App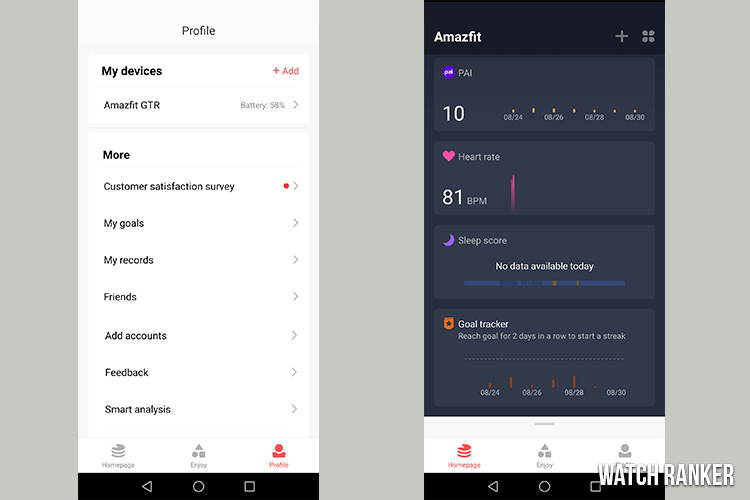 Both smartwatches are utilizing the Amazfit smartphone app. This means that the smartphone experience is consistent between these two models. But unfortunately, they also share the same issues.
The setup process was not great on both models. The smartphone app offers various login methods via various social media accounts such as Facebook. However, most of these methods do not work and will only result in an error.
After the tedious login process, the watches go through a mandatory update that takes several minutes. Only then will you be able to start using them.
The application offers a complete set of features with lots of customization options. However, the presentation of these options are quite messy and not very user friendly. There are a lot of options and customization tools that are buried within the app.
But the biggest issue I have with the Amazfit smartphone app is that it constantly needs to sync with the smartwatch. Every time you open the app, it takes a few seconds to update various data such as sleep tracking and steps.
During my testing, the GTR sometimes got out of sync with the Amazfit App, and I stopped receiving notifications. This only occurred once, but I still think it is worth mentioning.
Overall, the smartphone app is feature-packed, but Amazfit seriously needs to sort out the bugs and work on having a cleaner presentation on their app.
Comparison Winner: Amazfit GTR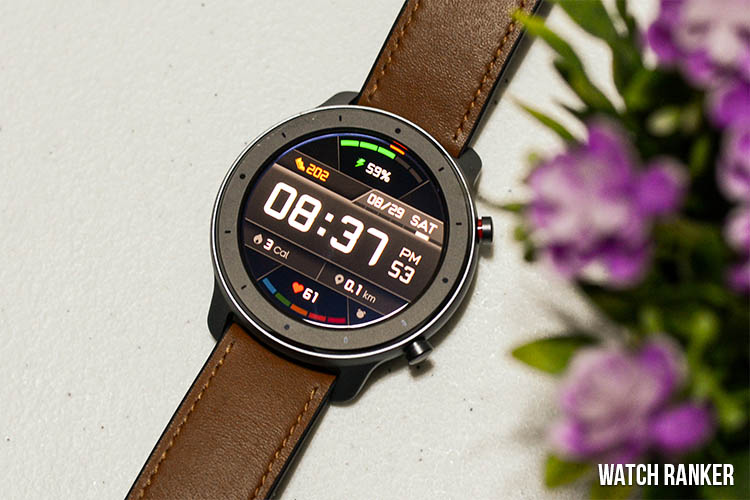 Overall, both smartwatches are good options at this price range. Both smartwatches are well designed, well built, and are ergonomic, making them good daily drivers. They also both offer almost every feature that you'd find in most midrange smartwatches.
But for this comparison, we will have to crown the Amazfit GTR as the overall winner. It has a better build quality and better software implementation. Unless you want that square form factor, we highly recommend spending the extra cash for the better deal.