Amazfit is easily one of the most recognizable brands in the smartwatch industry. Despite being a younger company, they have managed to become the second-largest wearable manufacturer. They have been producing back to back hits such as the Amazfit GTS and the Amazfit GTR.
However, each year becomes more competitive in the wearable market. Smartwatch manufacturers are constantly improving their products providing new features not possible with the older models. One of these competitors is the TicWatch Pro, a smartwatch with an innovative approach in the smartwatch formula. And it also has the aesthetics to match the tech inside it.
Keep on scrolling to find out how well the Amazfit GTR fares against the TicWatch Pro and to find out which smartwatch fits your style better. And if you want to learn more about the Amazfit GTR, you can read our full Amazfit GTR Smartwatch Review.
*Please note, Amazfit rebranded their entire product line to "Zepp" in mid-2020, so you may see watches advertised with the new or old branding while some shops list the products with a hybrid naming such as Amazfit (Huami) Zepp.
Amazfit Brand Overview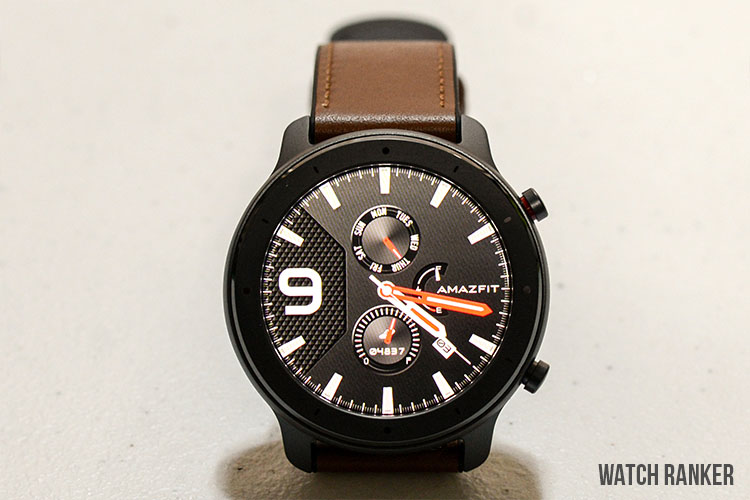 Amazfit is a US-based company that is owned by Huami. They were founded in 2016 and are the exclusive partner and smartwatch provider for Xiaomi. They serve as the extension of Huami and deals with the more expensive and more complex smartwatches.
The Huami branding was originally used for Xiaomi's basic wearables, specifically the Mi Band Series. The success of Huami's wearables in Asia enabled them to expand globally. Huami then established Amazfit to compete with higher-end brands such as Fitbit. And in just a short period of time, Amazfit has managed to become the second-largest wearable manufacturer.
Aside from smartwatches, Amazfit has ventured into other wearables as well, such as wearables for the ears. These are the Amazfit Powerbuds and Amazfit Zenbuds. The Zenbuds include various health monitoring features similar to the ones found on their smartwatches. Amazfit is continuously going in this direction and is creating more fitness-oriented products outside of smartwatches.
TicWatch Brand Overview
Founded in 2012, Mobvoi's core focus has been on voice AI interaction and hardware-software integration, providing B2B and B2C AI products and services to more than 40 countries and regions.
Mobvoi aims to define the next generation of human-machine interaction, creating a more natural and intuitive way for people to interact with machines.
As a technology company driven by innovation, Mobvoi has developed a series of proprietary AI technologies that establish an" end-to-end" human-computer interaction system architecture, including speech signal processing, wake words, speech recognition, natural language understanding, dialogue management, vertical search, speech synthesis, knowledge graph and more.
Specs Amazfit GTR vs. Mobvoi Ticwatch Pro
Brand
Amazfit
Mobvoi
Model
GTR 47 mm
TicWatch Pro
Screen Size
1.39 inch AMOLED
1.39" AMOLED and FSTN LCD Dual display
Screen Protection
Corning Gorilla Glass 3
–
Screen Resolution
454 x 454 pixel
400 x 400 pixel
Pixel Density Sharpness
407 PPI
407 PPI
Touch Type
Multi-touch
Multi-touch
Watch Dimensions
47.2 x 47.2 x 10.75 mm
45mm x 45mm x 14.6mm
Weight
36 grams – aluminum alloy
48 grams -stainless steel
40 grams -titanium
58.5 grams
Watch Case Material
Stainless steel, Aluminum, Titanium
Polyamide & glass fiber
Watch Bezel Material
Ceramics
Stainless-steel bezel
Watch Design
Circular, Flat Dial Design
Circular, Flat Dial Design
Strap Size
22mm
22mm
Watch Colors
Black, Gray
Liquid Metal Silver, Shadow Black
Water Resistance
5 ATM
IP68
Swim-proof
Yes, Recommended
Not Recommended
NFC
Supported
Supported
GPS
with GLONASS
with GLONASS + Beidou
Wi-fi
No
Yes
Bluetooth
Yes
Yes
Accelerometer
Yes
Yes
Heart Rate
Yes
Yes
Compass
Yes
Yes
Gyroscope
Yes
Yes
Altimeter
Yes
No
SPO2
No
No
Elevation
Yes
No
Ambient Light
Yes
Yes
Cadence
No
Yes
FITNESS TRACKING
Sleep Tracking
Yes
Yes
Step Tracking
Yes
Yes
Heart Rate Monitoring
Yes
Yes
Calories
Yes
Yes
Distance
Yes
Yes
VO2 Max
No
No
Blood Oxygen
No
No
Blood Pressure
No
No
Menstrual cycle tracking
No
Yes
Swim tracking
Yes
No
On-screen workout modes
No
Yes
ECG tracking
No
No
Preloaded sport modes
Yes
Yes
Safety tracking
No
No
Battery Life
24 days typical use;40 hours GPS continuous use;74 days basic watch mode
Smartwatch mode: 2 days
Essential mode: 30 day
Battery Technology
LiPo
Li-Ion
Charging Time
1 – 2 hours
About 1.5 – 2 hours
Charging Type
Charging dock
USB based charging dock
Compatible OS
Android
iOS
Android
iOS
Email Alert
Yes
Yes
SMS Alert
Yes
Yes
Calls Alert
Yes
Yes
Event Reminder
Yes
Yes
Weather
Yes
Yes
Third-party Apps
Yes
Yes
MEDIA
–
MP3/MP4
Music Streaming
No
Yes
Bluetooth Music
No
Yes
Radio
No
No
Loud Speaker
No
Yes
Microphone
No
Yes
Time/Date
Yes
Yes
Stopwatch
Yes
Yes
Alarm
Yes
Yes
Control camera
No
Yes
Music Control
Yes
Yes
Find Phone
Yes
Yes
Text Response
No
Yes
Answer Call
No
Yes
Smart Companion App
Amazfit Watch App
Mobvoi App
Customizable watch face
Yes
Yes
Interchangeable band
Yes
Yes
Voice command
No
Yes
Internal Storage
64MB
4GB
Operating system
Amazfit OS
Wear OS
Design and Build Quality
Design Language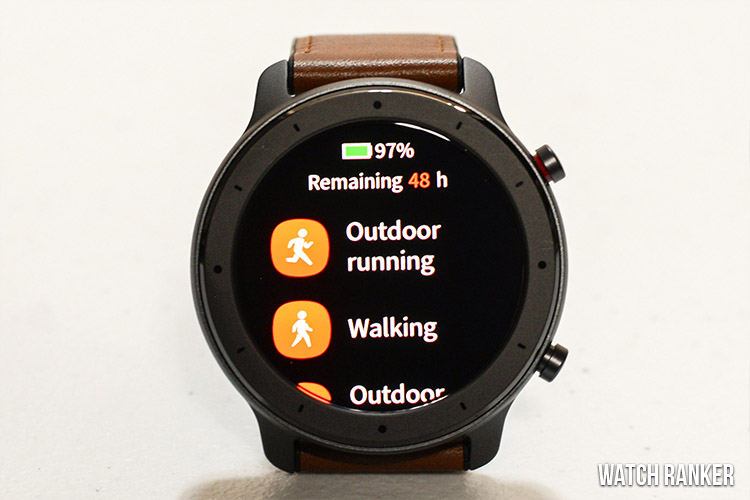 The Amazfit GTR is a more traditional looking smartwatch with a round display. It is going for that premium wristwatch look, which is immediately evident with the aesthetics and the choices of materials used on the watch. Our unit is the aluminum version, but it is also available in stainless steel and titanium.
The GTR features two buttons on the side and has a noticeably large bezel with markings that mimic the ones found on analog watches. It is available in two sizes, the 47 mm version and the smaller 42 mm. That is always highly appreciated as it lets users decide which version fits them best.
The TicWatch Pro, on the other hand, has a classy look with premium design elements similar to high-end wristwatches. It has a nice strap made with a mixture of leather and silicone. The watch's body is large and has some significant heft in it, but it does not feel too heavy on the wrist. It is still comfortable to wear throughout the day.


As for the watch's body, it is made of polyamide and glass fiber with stainless steel bezel that adds to its classy look. There are two physical buttons on this device that make changing settings and navigation a breeze. Both of these buttons have a tactile feel, which helps avoid accidental presses.
In terms of the color options available for the watch, it only comes in black and silver. As for the strap, you have different options. You can buy a silicone strap (orange or black), a brown leather strap, or straps that combine leather and silicone.
Weight and Dimensions
The TicWatch Pro has a dimension of 45mm x 45mm x 14.6mm and weighs 58.5 grams. The Amazfit GTR, on the other hand, has a 47.2 x 47.2 x 10.75 mm watch dimension and weighs 36 grams with the aluminum alloy body.
But despite their differences in their weight and size, both watches should still be comfortable to wear and should not cause any discomfort throughout the day. The straps on both models are replaceable in case you want different aesthetics or different materials.
Screen Quality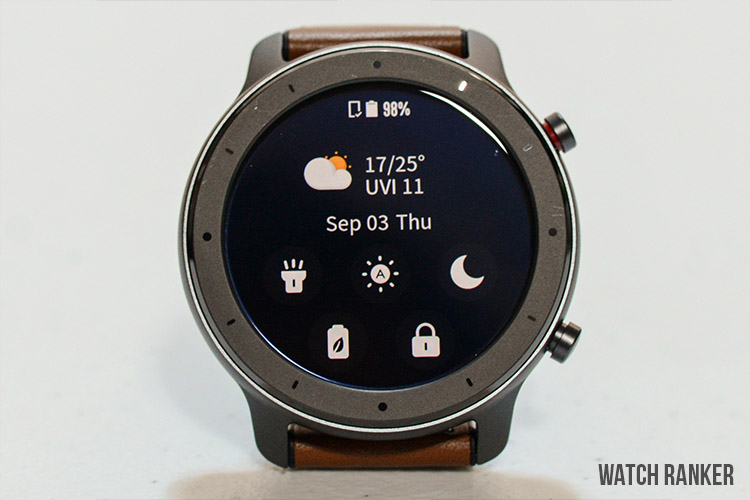 Both of these watches implement their displays differently. The Amazfit GTR has an excellent OLED display capable of producing sharp images thanks to its 454×454 resolution. The text can also be easily seen regardless of the lighting conditions. The colors are vibrant, which makes looking at the different watch face designs a treat.
The GTR's screen can get bright. The auto-brightness does a good job, but you can set it to manual brightness and max out the display if you prefer to do so.
The TicWatch Pro, on the other hand, features a dual-screen technology that combines an OLED and an LCD. It has a 1.39" AMOLED and FSTN LCD Dual display. The goal of this dual-screen design is to save battery without compromising the information displayed.
The OLED screen is used to show the standard Wear OS interface. But when you aren't using the watch, the OLED screen turns off. The LCD display takes over and shows basic information such as the time, fitness data, etc.
Build Quality
Both smartwatches are dust-proof and water-resistant. However, the TicWatch Pro is not recommended for swimming, unlike the Amazfit GTR which has a 5ATM water rating. Additionally, both smartwatches are sweat-resistant, meaning you can confidently use them for sports and other outdoor activities. Overall, both smartwatches are well built and should survive your daily activities.
Features
The Amazfit GTR and TicWatch Pro are both feature-packed smartwatches. And due to the difference between each company's approach to smartwatches, you can expect that there will be some features that are present on one watch and absent on the other. However, the TicWatch Pro is expected to have a better set of features due to its more modern software.
Both of these watches give various alerts and notifications, such as phone calls. You can also interact with these notifications in different ways. Incoming phone calls, for example, can be muted or rejected by the user. The TicWatch Pro can answer calls with its built-in microphone and speaker. The Amazfit GTR, on the other hand, has no speaker and microphone so it cannot interact with phone calls.
Both watches have stopwatch, silent alarm, vibrating alerts, and have achievements. Both awards you with achievements whenever you reach your fitness goals. Additionally, both watches also feature inactivity alerts.
The GTR and TicWatch Pro also have a feature that can locate your phone, which can be helpful if you misplace your phone. Interestingly enough, the GTR also has a "find my watch" feature, but this functionality is quite limited since the GTR does not feature a speaker.
Some notable features that both of these watches do not have are the built-in camera remote control function, shake to dismiss notifications, and support for external memory.
Lastly, both watches can make online payments. Both have NFC (near-field communication) allowing them to make wireless transactions. However, only the Chinese version of the Amazfit GTR has this function.
Software

The Ticwatch Pro runs Google's Wear OS, which not only gives you lots of access to third-party apps but also gives you a familiar user experience that can be easily integrated into your Android smartphone. Furthermore, you get an almost unlimited amount of watch faces and won't be limited by the stock ones. However, you will have to take note that you will also be getting most of the usual Wear OS-related problems.
Since it isn't running a proprietary OS, most bugs and poorly implemented features from Google's Wear OS are also transferred to the TicWatch Pro. Updates are also highly dependent on Google. And lastly, Google's Wear OS is not well optimized and does not run as efficiently as other competing software options.
The GTR, on the other hand, runs Amazfit's proprietary OS which is tailored specifically for the watch. This means that performance is optimized and bugs are easily identifiable.
However, the GTR also has its own fair share of issues. The GTR has no quick access to several functions such as the settings menu and notifications. And in terms of watch faces, the GTR can only hold up to one watch face at a time.
On top of its limited capacity, the installation process is also a pain on the GTR. Installing watch faces takes around a minute. This entire process is discouraging, especially if you wish to cycle through different watch faces.
The GTR does not officially support third-party watch faces. Amazfit does give you some the ability to customize some watch faces, but the background image is the only thing that you can change.
In terms of the performance, it encountered some slight frame drops on the home screen. But overall, the performance was smooth, and the OS did not experience crashes or freezes.
Overall, the GTR runs a more basic software experience with limited features while the TIcWatch Pro runs wear OS and is feature-packed but not necessarily well optimized.
Fitness and Health Tracker

The fitness tracking features on both smartwatches are pretty similar. While they slightly differ in presentation and execution, both watches pretty much do the same thing.
Both watches automatically recognize and records various activities, including walking, running, climbing, and biking. Both watches are water-resistant, but the TicWatch Pro is not recommended for swimming.
The Amazfit GTR and TicWatch Pro nails the basic health monitoring features that any smartwatch should have. They both have heart rate sensors, sleep trackers, step trackers, and various workout modes.
The heart rate tracking supports a 24/7 monitoring mode, and the results were fairly accurate. However, both watches occasionally made some minor mistakes and showed unrealistic results.
Both watches also offers sleep tracking. However, the GTR's implementation is not that great. The GTR cannot show your sleep stats on the watch. This must be done using the smartphone app.
Both watches also does a good job of tracking daily activities. They both remind you to stand up if you have been sitting for too long. They both made occasional mistakes and prompts you to stand up even when you are standing up. However, this is pretty normal for most smartwatches.
Both watches perform well when it comes to fitness tracking. It covers all of the basics, such as Outdoor Running, Walking, Outdoor Cycling, Treadmill, Indoor Cycling, Open Water Swimming, Pool Swimming, Elliptical Trainer, Climbing, Trail Running, Skiing, and Freestyle.
Connectivity
The GTR is utilizing the newer Bluetooth 5.0 chip that offers a solid Bluetooth connection while the Ticwatch Pro uses the slightly older Bluetooth 4.2 chip. Both watches are compatible with modern Android and iOS devices that support Bluetooth. Both also support NFC for wireless transactions. However, the GTR's NFC is only available in the Chinese versions of the Watch.
The TicWatch Pro supports Wi-Fi for application installs and music streaming. The Amazfit GTR, on the other hand, does not feature Wi-Fi.
Battery Life
The Amazfit GTR has excellent battery life. It has a 410 mAH battery that can last up to two weeks of regular use. Of course, features like Always On Display and GPS will drain its battery faster. But you will still be enjoying at least one week of use before needing a recharge. The Amazfit GTR also has a battery saver mode that can help it last up to 24 days.
The Ticwatch Pro, on the other hand, can only last up to two days. But when using the more limited "Essential Mode," which only utilizes the LCD display, the watch can last up to thirty days. The lower battery life is to be expected since it is running Google's Wear OS which supports more features compared to the Amazfit GTR.
Comparison Winner


TicWatch Pro
The TicWatch Pro is our pick for this comparison. It is the technically superior and more feature-packed smartwatch. It may have some software-related issues, but most of them are tolerable for the casual consumer.
However, the GTR still packs a punch and is still a good alternative for people who want to own a basic smartwatch. It covers all the fundamentals and has a stable software experience with minimal bugs. Regardless of what smartwatch you choose, you are guaranteed to be happy with both.