President Barack Obama. Public Domain Image Credit: wikimedia.org
If you are one of our avid readers here, perhaps you've already seen and read about the watch collections of some famous people, including actors and rappers. This time, we'll talk about not just any celebrity but a US president. We'll start this series of Presidential Watches with the collection of the first African-American president of the United States, the 44th President, Barack Hussein Obama.
Former President Barack Obama served from 2009 until 2017 and was a member of the Democratic Party. He also served as a US senator from Illinois from 2005 to 2008 and was the Illinois state senator from 1997 until 2004.
Obama graduated from Columbia University then pursued law at Harvard Law School. After graduation, he then worked as a civil rights lawyer and an instructor of constitutional law until 2004. Among his remarkable accomplishments are the "Obamacare" or the Affordable Care Act, the Dodd-Frank Wall Street Reform and Consumer Protection Act, and the Don't Ask, Don't Tell Repeal Act of 2010.
When he was president, he was frequently spotted with his Rolex Cellini ref. 50509 and his Jorg Gray Chronograph. We'll talk about those two watches in a little while as well as two other pieces that we're also (although quite rarely) seen on his wrist.
President Obama's Watch Collection
Rolex Cellini ref. 50509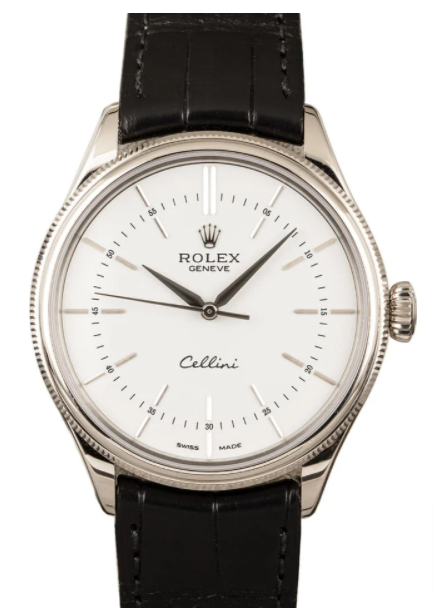 Obama wears a Rolex. But not typical Daytonas or Day-Date The President. Rather, he opted for a classic and elegant Rolex Cellini ref. 50509. This timeless piece boasts its 18-carat white gold case, double bezel, white dial, and a black leather strap.
The Rolex Cellini is pretty straight-forward as it focuses on telling the present time – just the hours, minutes, and seconds and nothing else. This allows the timepiece to be classic with a plain white dial along with silver accents and hands. It also has a domed and fluted bezel that adds quite a subtle detail to the watch. Powering it is a mechanical self-winding caliber 3132 movement manufactured by Rolex with approximately 48 hours of power reserve.
The Rolex Cellini is also available in the black dial. In fact, one of such kind is listed on eBay.
Jorg Gray Chronograph JG6500 "Secret Service"
This particular timepiece was given to Obama by his secret service staff even before he was elected president. In fact, it was specifically available only in the Secret Service gift shop so the piece owned by Obama is a limited edition one with the Secret Service emblem.
The Jorg Gray Chronograph JG6500 is a classic chronograph with three black subdials for the hours, minutes, and seconds. The main dial is also black with big white hour markers and smaller Arabic numerals. There is also a minute-tracker around the dial in white. It also has a date window located between 4 and 5 o'clock.
Because the watch has gathered popularity, Jorg Gray decided to manufacture a commemorative edition of the watch. Its case back comes with an engraving of Obama's name, title, and inauguration date.
TAG Heuer Series 1500 WD1211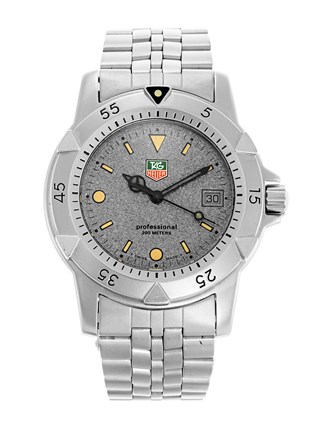 During his campaign, Obama was wearing his TAG Heuer Series 1500 WD1211. Based on some photographs, it seems that this TAG Heuer has been his favorite watch from 1997 until 2007.
The TAG Heuer Series 1500 is a dive watch that fuses the designs of Series 1000 and Series 2000. It comes with a satin-finish stainless steel case, a steel bezel with six triangles, and a brown leather strap. (There are also versions that have a Jubilee style bracelet). On the dial are Mercedes hands, a mix of circular and rectangular luminous hour markers, and a triangle marker at 12 o'clock. At 3 o'clock is a date window. See on eBay.
Highgear Enduro Compass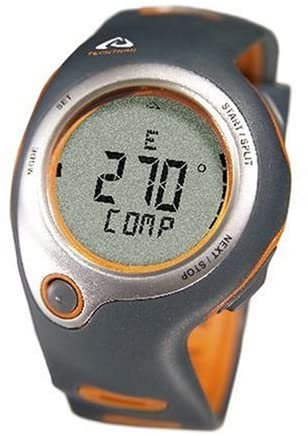 Then, of course, Obama must have a watch for informal events as well. Hence we found the Highgear Enduro Compass. It is pretty easy to spot because of its distinctive asymmetrical case that goes with a black rubber band.
It is a digital watch packed with various functions including an electric compass, a 24-hour chronograph, three alarms, nine interval timers, and three independent timers. It also has a 100-split lap memory, a 100-lap memory, and dual time zones. It is also water-resistant up to 50 meters.
Fitbit Ionic – 2021 Post Presidency

President Obama has always been known for being quite athletic and in good shape, especially compared to some other recent presidents. Even during his time in the oval office, he could be spotted working out or shooting hoops. Since leaving office he appears to be even more active. In early 2021 he was spotted wearing a new smartwatch, the Fitbit Ionic.
This casual and affordable smartwatch makes sense – it's a good match for his active lifestyle and overall laid-back look, especially now since he's more likely to be seen as a podcast interview than behind the podium of a presidential address.