While Breitling is primarily known for their multi-functional and rather stocky timepieces, they also develop sleeker more feminine watches for the ladies. Quite surprising, I know, considering the brand's reputation for their robust and tank-like chronograph watches that Breitling is known for in the market. A glance at Breitling's women's watches catalog will show you just how technically savvy and aesthetically capable they are when it comes to designing luxury women's watches.
Breitling's ladies' watches are quite limited though, but each entry can easily match up to their bulkier and masculine counterpart beat by beat. So, the ladies out there looking for a luxury brand that can keep up with their adventurous soul, Breitling is a good place to start your search. Better yet, here are some of the best ladies' Breitling watches that you can get your hands on today.
Breitling Watches For Women
Breitling Galactic 36 Stainless-Steel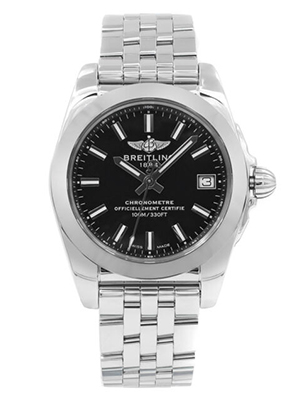 Buy $US | See on eBay | Shop UK
Measuring only at 36mm, the Breitling Galactic 36 offers a demure and elegant option for women who enjoy a good quality Swiss chronometer movement powered timepiece. The ultra-sleek Galactic 36 hides a giant within its striking case as the watch is powered by Breitling's Caliber 74 quartz battery movement with analog display.
The black dial is accompanied by a white with silver accent hands and index hour markers which helps improve overall legibility. To further improve visibility, both hands and markers are coated with a luminescent finish. The Galactic 36 is an overall traditionally designed timepiece with a simplistic, almost minimalist approach to its construction.
The Breitling Galactic 36 is a no-frills women's timepiece that focuses on performance. In that regard, it passes the test with flying colors. Simple, elegant, and reliable – the Galactic 36 is an excellent timepiece for professional women who dress to impress. Don't let the simplicity of the Galactic 36 Stainless-Steel fool you though. It is, without a doubt, one of the most precise and intricately designed timepieces under its hood.
Breitling Galactic 36 Automatic Mother of Pearl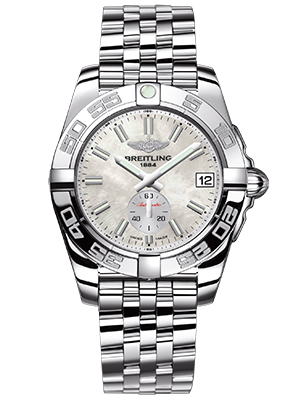 See on Breitling | See on eBay
One way to cement the status of a luxury watch is by utilizing a mother of pearl design, something that this particular Galactic 36 watch model does so effortlessly. The two-tone gold design of the Galactic 36 Mother of Pearl is a visual feast and exudes elegance. The black leather strap balances out the luxurious appeal with a more down to Earth charm as well.
The dial is the main attraction here with its stunning Mother of Pearl aesthetic. Additionally, this watch also comes with enhanced functionality thanks to the seconds sub-dial located over at the 6 o'clock position. There is also a date display located at the 3 o'clock position.
Also, of note is the Breitling Caliber 37 self-winding automatic chronometer movement which comes with COSC certification. This states that this is one of the most accurate timepiece mechanisms in the world today. The watch movement also comes with an additional 42-hour power reserve.
Breitling Colt 33M Lady Silver Dial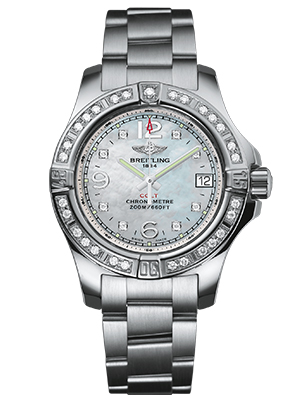 See on Breitling | See on eBay
Style and substance are the two factors that the Breitling Colt Lady Silver Dial brings to the table. Along with the already visually striking polished silver aesthetic, this Breitling watch also incorporated 29 diamonds that are neatly embedded around the unidirectional rotating bezel. Flashy while still maintaining practicality, just what you would expect from a Breitling timepiece.
You will also notice detailed engraved minute numeral markers on the bezel which further boosts the overall classical charm of this timepiece. The outer dial also features a 1 to 100 scale for more precise tracking of minutes and seconds. Over at 3 o'clock, the position is a highly visible date display window.
Underneath the elegant aesthetic is the Breitling Caliber 77 Super Quartz chronometer which also comes with a COSC certification – a testament to its precision in timekeeping. Additionally, the battery life of this movement clocks in at an average of 3 to 4 years. The watch also meets quality standards in terms of construction with its use of anti-glare and scratch-resistant sapphire glass windows. Additionally, this timepiece also has a water resistance of up to 200-meters.
Breitling Chronomat 38 Mother of Pearl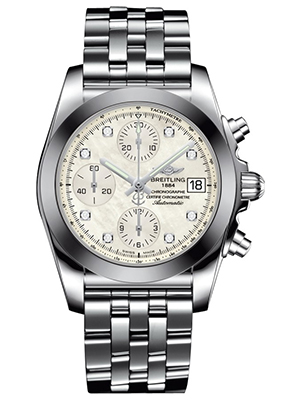 The Chronomat is one of Breitling's top watch lines and it is easy to see why. Each aspect and component utilized in the formation of the Chronomat timepiece is of the highest quality. Case in point, the use of a mother of pearl dial in this particular Breitling ladies' watch. The Chronomat MoP watch delivers a luxurious appeal with the impressive capabilities of the Chronomat series.
In terms of functionality, the Chronomat MoP is no slouch either. The chronograph features are impeccable as always. Each of the sub-dials is neatly positioned around the left side, giving each enough breathing room and preventing an overlapping appearance.
The polished silver-tone stainless steel case and bracelet is further accentuated by the mother of pearl dial. Giving this Chronomat model an almost pristine appeal to it that helps it earn its luxury timepiece categorization. When it comes to Breitling, the Chronomat is the most highly recommended one. From functionality to precision, and now, style – this Breitling watch line manages to pull off the win every single time.
Breitling Superocean 36 White Watch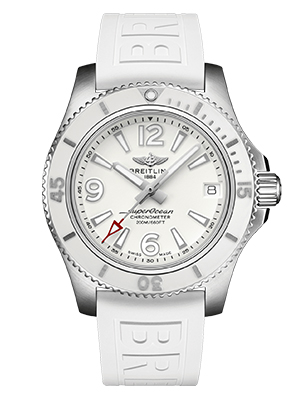 See on Breitling | See on eBay
The Breitling Superocean is an excellent dive watch that delivers top-notch design, construction, and functionality. The Superocean 36 White takes the already impressive craftsmanship of its original counterpart and places all that power into a sleeker and more compact form, enter the Superocean 36.
Featuring a stainless-steel case that measures in at only 36mm and a white Driver Pro III rubber strap for added comfort and stability. As for the case itself, it utilizes a unidirectional bezel with a rotational ratchet. The overall design of the Superocean 36 White is minimalistic and contemporary – making it a suitable companion for the modern woman.
Another notable aspect of this timepiece is the mechanism used. The Superocean 36 is powered by the Breitling chronometer Swiss-Automatic movement and analog display. This mechanism also packs an impressive 38-hour power reserve. As this is a dive watch, it also holds a laudable 200-meters of water resistance.
Breitling Galactic 32 Sleek Edition Pearl and Diamond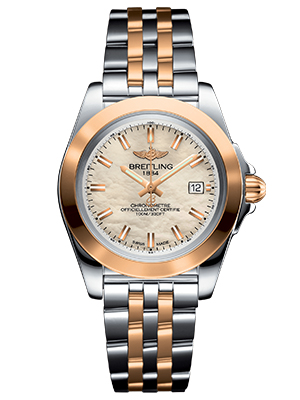 See on Breitling | See on eBay
Quite possibly one of Breitling's most impressive women's watch model to date – the Galactic Sleek Edition takes luxury to new heights. Not only does this two-tone timepiece blends together polished 18k rose gold with stainless steel, but it also features 8 stunning diamonds that are used as the hour index markers in the dial.
Of course, Breitling is primarily known for its immaculate watch craftsmanship so don't think that the Galactic 32 Sleek Edition is all style with no substance. Also, of note is the fact that this timepiece uses COSC certified watch movement. Specifically, the Breitling 71 battery operated the Super Quartz chronometer movement and analog display.
Protecting the dazzling diamond-embedded dial is a scratch-resistant sapphire crystal with an anti-glare finish. The overall construction of the timepiece also provides it with decent 100-meter water resistance. In addition to the already impressive credentials of this elegant Breitling, the timepiece is a 6-year warranty if purchased from official Breitling retailers.
The Breitling Galactic 32 Sleek Edition is an exemplary case and proof that Breitling also offers luxurious and elegant watch models that can hang with the best of them. The lavish design of the Galactic 32 Sleek Edition does feel like a departure from Breitling's practical approach, but this just goes to show the breadth of talent in this company.
Conclusion
It is true that Breitling's timepieces mostly have a masculine appeal to it. But that does not mean that the brand can't experiment and play around outside their 'comfort zone'. The seven Breitling women's watches listed above prove that the Swiss watch company can adapt to a broader audience. Not only are these ladies' watches elegant with a sense of refinement that women are commonly associated with, but they are also impressive when it comes to timekeeping performance.
Hopefully, our little list here has helped Breitling's female fans find the timepiece that will suit their style and preference. Check Breitling's official website for more options as they certainly have a lot to offer in regards to women's timepieces.