With approximately 136 years in the business, Breitling is one of the most renowned and well-respected watchmakers in the industry today. In regards to the quality of their timepieces, precision is a given as Breitling's watch movements are all COSC certified. Aesthetic-wise, the rather large design of Breitling watches makes it quite a masculine watch line.
Breitling is an innovator in the watch business, as well. Their chronographs are some of the best in the market and they are the leading manufacturers of aviation-type timepieces. If you prefer functionality, practicality, and precision in your timepieces – you can't go wrong with Breitling. To help you along the way, we have compiled a list of some of the highest-rated and best-selling Breitling watches in the market today. These are some of the best in regards to what Breitling can offer.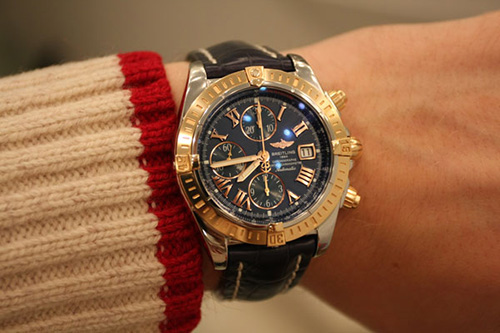 Best Men's Breitling Watches
Breitling Avenger BlackBird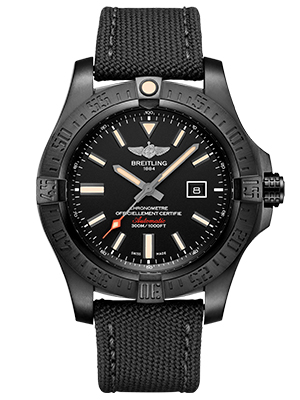 See on Breitling | See on eBay
The Breitling Avenger series is one of the most impressive watch lines in Breitling's catalog. The Breitling Avenger is known for its robust construction and rather imposing design due to its large case, which typically ranges around 48mm. That said, this timepiece also utilizes titanium material which reduces overall weight without sacrificing durability. Also, the use of a lightweight and flexible anthracite fabric strap helps enhance the overall comfort.
All Avenger watch series has a commonality with each iteration, and that is with its function-rich capability along with a highly robust design. The black dial incorporates luminous hands and hour markers that contrast the pure black background giving it excellent legibility in day and night situations. There is also a unidirectional rotating bezel that allows you to track both dive time and flight plans.
The Breitling Avenger BlackBird is a favorite amongst sports enthusiasts and aviators and it is easy to see why. Excellent functionality in conjunction with a COSC chronometer-certified Breitling calibre 17 self-winding automatic movement with analog display makes this one of the most impressive chronograph watches from Breitling.
Breitling Colt Chronograph
See on Breitling | See on eBay
A glance at the Breitling Colt Chronograph will give you an inkling on what to expect. This is a no-frills chronograph timepiece from one of the most respected and trusted chronograph watchmakers in the world today. The functionality offered by the Colt Chronograph is simply staggering. With its incredibly precise dial and sun-dials to the level of detail given to each component of the watch – this is a highlight reel of what Breitling watches are all about.
The brushed polished stainless-steel case look gives it a rather uncompromising vibe while the bright blue dial (of this particular model) gives it that luxury appeal. Within the robust design of the Colt Chronograph is a battery-operated Super Quartz movement that powers its myriad of features. Breitling's Super Quartz movement did not just throw that title lightly, their proprietary Super Quartz movement is about ten times more accurate than your standard quartz movement.
The Breitling Colt does not just excel in terms of precision, it is also designed to weather the most extreme conditions. It features a sapphire crystal window which gives it top-notch durability and scratch-resistance. The overall construction of the Colt Chronograph also gives it around 300-meters of water resistance for good measure.
Breitling Super Avenger II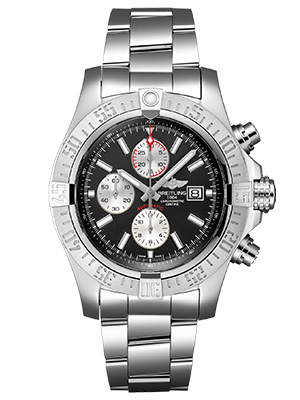 See on Breitling | See on eBay
While Breitling primarily focuses on delivering extremely reliable multi-functional timepieces, they have no trouble showcasing their skill in the aesthetic department – as shown by the Super Avenger II. This timepiece is not only powerful, but it also manages to display a level of sophistication and elegance that gives it a rightful place amongst its high-end luxury watch competition.
With a 48mm stainless-steel case, the Super Avenger II is considerably far bulkier than most luxury timepieces in its price range. This can be a dealbreaker for those who prioritize sizzle rather than the steak, but for those who prefer reliability, professionalism, and functionality – the Super Avenger II is a must-have watch.
As for the inner workings of the Super Avenger II, it utilizes the Breitling Caliber 13 which is a 25-jewel self-winding automatic movement with a power reserve of up to 48-hours. The Super Avenger II is also available in two variations: Volcano Black and the Mariner Blue. Also, Super Avenger II is designed to handle up to 300-meters in water depth making it a suitable timepiece when engaging in most water activities.
Breitling Navitimer World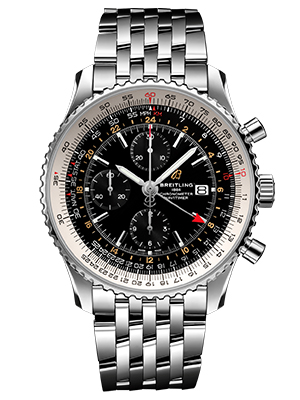 See on Breitling | See on eBay
The Navitimer is one of Breitling's premier watch lines and is one that helped push the brand to prominence during the 50s. This is one of Breitling's high-end models and it comes equipped with their finest watch technology. The Navitimer World is an exemplary timepiece that delivers top-quality performance, design, and construction on all fronts. The level of craftsmanship on display here is simply jaw-dropping.
The Navitimer World, while truly packed with features, comes at a relatively balanced 46mm stainless-steel case. It is surprisingly compact and comes with that sleek modern appeal that is often lost in Breitling's typical tank-like watch designs. Inside the Navitimer World is Breitling's proprietary automatic 25-jewel self-winding movement with an analog dial.
The dial is well-protected within the sapphire crystal window which is tough, scratch-resistant, and utilizes anti-glare coating for optimum visibility. Notable features include the three sub-dials, date display, GMT functionality, and a 42-hour power reserve. The impeccable construction of the timepiece also gives it an outstanding water resistance of up to 300-meters.
Breitling Superocean II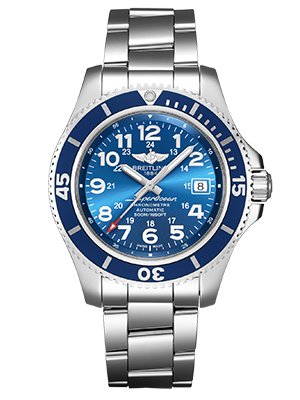 See on Breitling | See on eBay
Another watch line that came about during Breitling's revolutionary era, the 1950s, the Superocean is an excellent dive watch through and through. Its precision makes it a viable military watch while its overall water resistance places it firmly on the upper echelons of dive watches. In terms of design, the Superocean II takes cues from traditional dive watches.
Debuting on the same decade as the Navitimer, the Superocean is designed specifically for the sea as the Navitimer was designed for the skies. At 42mm in diameter, the Superocean II is quite sleek and comfortable to wear. The dial is designed with legibility and visibility in mind.
The markers and hands provide solid disparity against the dial and are both coated with a luminous finish. A notable feature here is the countdown timer functionality that counts down for the last 15 dive-time minutes. The unidirectional bezel also has groves that make it easy to rotate it even underwater. Speaking of underwater, the Superocean II provides first-rate water resistance of up to 1,000-meter.
As for the mechanism within, the Superocean II utilizes the Breitling calibre 17 ETA2824 self-winding movements. The Superocean II excels in its performance across the board – a true masterclass in dive watches.
Breitling Exospace B55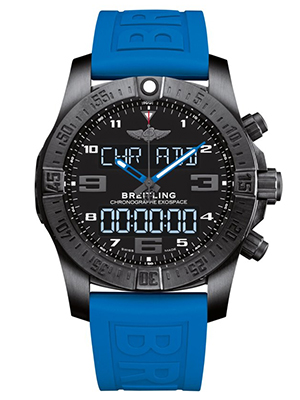 See on Breitling | See on eBay
The Breitling Exospace B55 blends traditional and modern watch technologies into one impressive timepiece that bursts through the glass ceiling as to what a timepiece can offer. With the accuracy of Breitling's analog timekeeping design and the Super Quartz movement in tow, the Exospace B55 is one of the most reliable pilots watches in the market today.
In terms of features, the Exospace B55 comes with a traditional analog dial display and a digital display. The watch is also designed to be compatible with smartphones via Bluetooth. As for the design of the Exospace B55, it takes a sportier approach with its design with a Black Diver Pro III rubber strap and black brushed 46mm titanium case.
Additional features you will find in the Exospace B55 includes an electronic tachymeter, a countdown timer, and a flight plan tracker. The construction of this watch also incorporates a thermo-compensated design that allows it to withstand varying degrees of temperature to ensure it will remain accurate no matter where you are in the world.
Breitling Transocean Chronograph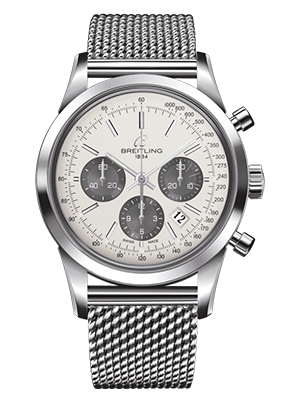 See on Breitling | See on eBay
The Breitling Transocean Chronograph introduces a modern take to the brand's classic series with added functionality while maintaining its elegant structure. To this day, the Transocean managed to mostly retain its original design from the 50s. Throughout the years though, Breitling injected some slight tweaks that helped the Transocean series to stay relevant and up to date in the market. In this iteration, the Transocean embraces Breitling's biggest advantage – accurate chronograph functionality.
Another notable aspect about the Transocean is its use of the Breitling calibre 01 self-winding automatic movement which is the brand's premier watch mechanism to date. The highly polished stainless-steel case gives it a luxury sheen that makes it suitable as a dress watch as well. While stylish, the Transocean delivers the goods when it comes to functionality.
The Transocean is also considerably more compact than most Breitling watches with a 43mm stainless-steel case. You will also find a tachymeter located on the outer rim and a date display in between the 4 and 5 o'clock position. As for its chronograph feature, the three sub-dials manage to precisely track hours (12), minutes (30), and seconds (60).
Breitling Colt Skyracer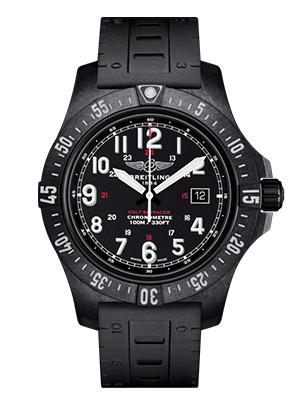 See on Breitling | See on eBay
Simple, reliable, and affordable – these three words best describe the Breitling Colt Skyracer. This particular watch model is relatively more affordable than most of Breitling's timepieces. Don't take this as a downgrade though as the Colt Skyracer makes it up with its top-notch construction and excellent watch mechanism that delivers in the precision department.
While the Colt Skyracer has a more simplistic modern approach with its design, this also gives it a youthful and energetic charm that will surely fit with adventurous watch enthusiasts. The Colt Skyracer is also designed to be as lightweight as possible without compromising the standard high-level quality of Breitling timepieces. They accomplished this quite amicably by incorporating durable yet lightweight plastic polymer which has interlaced composite fibers for enhanced durability.
This combination of polymer and composite fibers give the Colt Skyracer's case up to six times more durable than a stainless-steel case. Other notable features include its anti-magnetic construction, a power reserve of up to 70-hours, and a COSC-certified Breitling 74 Super Quartz movement that pushes the capabilities of the Skyracer through the glass ceiling.
Breitling Avenger II Seawolf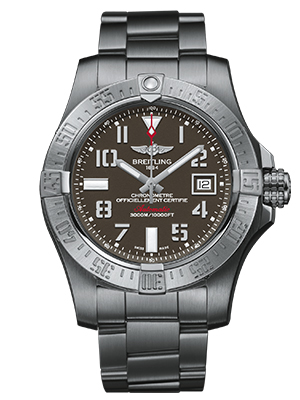 See on Breitling | See on eBay
In terms of dive watch capability, few other models can come close to the Avengers II Seawolf with its 3,000-meter (that's 10,000-feet) water resistance rating. This particular model incorporates a bright yellow dial that makes it even more legible down there in the depths of the ocean. Plus, the polished stainless-steel case and the yellow dial looks quite nice and flashy for those who prefer rolling out in style.
The Seawolf delivers everything you need for a dive watch making it a must-have for any professional whose job description requires them to explore the vast high seas. Of course, the Seawolf is not only exceptional when it comes to its water resistance. In terms of features, the Seawolf also delivers in spades. It comes with a date display, unidirectional bezel, and an automatic movement that provides up to 40-hours of power reserve. If you are looking for an extremely reliable dive watch, you can't go wrong with the Avengers II Seawolf.
Breitling Chronomat B01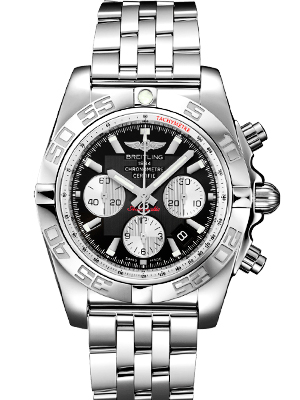 See on Breitling | See on eBay
The Breitling Chronomat B01 is the pinnacle of the Swiss watchmaker's timepieces at the moment. Infused with a bunch of watch technological advancements in Breitling's arsenal, the Chronomat B01 exudes precision with a dash of finesse in its smart design. This is simply a cutting-edge Breitling watch that excels on all fronts.
The heart and soul of the Chronomat B01 lie within its robust exterior. The Breitling calibre 01 is a tremendous timepiece mechanism that comes with top-notch precision to the millimeter. It also packs a 70-hour power reserve and is Breitling's finest creations to date. The Chronomat B01 also delivers on the luxury side of things with its 18ct rose gold and a stainless-steel case.
The construction of the Chronomat B01 also provides it with impressive 500-meter water resistance. It also comes with a dual time zone display and a unidirectional bezel with up to 240 ratchets. This particular Breitling timepiece is designed for use outdoors and in sporting events due to its impeccable level of precision. The Chronomat B01 is Breitling at their best.
Breitling Galactic Unitime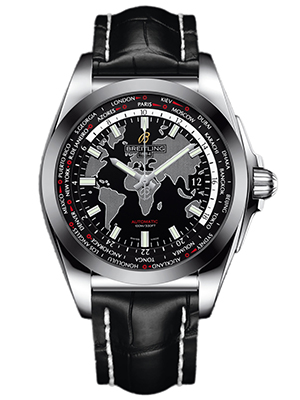 The perfect Breitling timepiece for pilots or simply those who enjoy traveling the world. The Galactic Unitime comes with GMT functionality and an intricately designed dial that features an engraving of the world map. This is one GMT timepiece that wears its primary function proudly on its sleeves.
You will also notice how the different city time zones are all written around the outer rim of the dial. The black dial features luminous silver-tone index hour markers and hands for better legibility even in the dark. There is also a date display located at the 3 o'clock position. Fascinatingly enough, the Galactic Unitime's dial does not feel cluttered at all and displays all information in an organized manner.
Underneath the striking design of the Unitime is the Breitling Caliber 35 automatic movement with analog display. The watch mechanism also offers around 70-hours of power reserve virtually guaranteeing that you won't be running out of juice anytime soon. Additionally, the Unitime also provides up to 100-meters of water resistance for an added measure in reliability.
Conclusion
Breitling is one of the most decorated Swiss watch brands in the market today. They have a rich history in the watch industry and have proven time and time again their ability to innovate and revolutionize timepieces. Simply put, it is virtually impossible to be disappointed with a Breitling timepiece as they always deliver on their promises – and then some.