Ceramic watches have a unique mystique to its name which is why it is highly sought-after within the watch enthusiast community. The luxurious charm and appeal that ceramic timepieces offer are also one of the main reasons why it is a common fixture in the women's watch category. The use of ceramic in watch manufacturing has been around for a couple of decades now and it has seen its fair share of advancements and innovations.
Ceramic watch technology has evolved so much throughout the years that it is virtually indistinguishable now from when it first debuted in the industry. Nowadays, ceramic watches come in a variety of colors that were not present a decade or two back. There is also high-tech ceramic which is significantly more durable than traditional ceramic material used in watches. Hi-tech ceramic is the same type used by NASA in developing certain components for their space shuttles.

Ceramic watches have also broadened their selection in regards to price range. During the early years of ceramic watches, it was considered a luxury accessory with a similar price to boot. Today, ceramic watches are available in a wider price spectrum making it more accessible to clients – no matter the budget. In this article, we will be listing some of the best ceramic watches for women that cover a wide price bracket. From the highly affordable models to premium luxury timepieces, these are the finest ceramic timepieces for the ladies out there in the market today.
Best Ceramic Watches For Women
Peugeot Ceramic Swarovski Crystal Watch (7100BK)
The sleek and modern Peugeot Ceramic Swarovski Crystal Watch features the added visual enhancement of Swarovski crystals as its hour markers. Peugeot utilizes a petite 36mm ceramic case with a unidirectional bezel and is equipped with a durable mineral crystal glass window. Within the silky black aesthetic of this Peugeot timepiece lies a quartz movement with an analog dial display. The pitch-black dial perfectly accentuates the silver-tone with luminous accent hands. In addition, this timepiece also comes with Peugeot's lifetime warranty. Overall, the Peugeot Ceramic Swarovski exudes a level of class that is not commonly found in timepieces within its price bracket.
Anne Klein Diamond-Accented Watch with Ceramic Bracelet
Quite possibly one of the most feminine ceramic timepieces in this list – the Anne Klein features a pure white theme with a focus on a modern minimalist aesthetic. While it incorporates brass as its primary material for the 33mm diameter case, it does feature a high-quality ceramic bracelet with a white matte finish. The brass case has a silver-tone finish which gives it an enhanced level of elegance in terms of design. The case is equipped with a durable mineral crystal window while the dial completes the theme with its milky white color tone. All in all, with the addition of a Japanese quartz movement with analog dial display – the Anne Klein Diamond-Accented Watch captures that innocent feminine charm quite perfectly.
BERING Time Ceramic Collection Minimalist Watch
We have another modern minimalist timepiece in the form of the BERING Time ceramic watch. The slim and petite round case is made from 316L stainless steel and features stunning rose gold and black finish. The bracelet is made from hi-tech ceramic and also utilizes a gold-tone and black finish. As for the dial, the BERING Time focuses on its minimalist approach with its use of polished Swarovski crystals as hour markers. The delicate pin-like hands feature a rose-gold finish as well which enhances the sophisticated aesthetic to a full-circle. As for functionality, the BERING Time uses quartz movement and even has decent 50-meter water resistance.
Michael Kors Runway Watch
Blending style with functionality, the Michael Kors Runway is a league on its own and is not merely a sizzle with no steak timepiece. Of course, the MK Runway still manages to deliver that well-designed and sophisticated flair that will surely appeal to women. Only this time, it also manages to bring in the practicality and functionality into play. With its slim design and 38mm round ceramic case, the MK Runway is a perfect timepiece for both formal and casual attire. The three sub-dials all take advantage of the high-precision quartz movement within the striking polished timepiece. In addition, the Michael Kors Runway Watch also has a 50-meter water resistance rating that allows it to withstand the occasional splash and even brief immersions underwater.
Citizen Women's Eco-Drive Chronograph Watch (FB1230-50A)
Delivering that premium luxury timepiece feel in spades, the Citizen Eco-Drive Chrono is a marvelous wristwatch that delivers a traditional aesthetic but takes advantage of some modern watch technology as well. The Citizen Eco-Drive Chrono did not waste time in showcasing its high-end build with the use of diamond accents on both the dial and bezel. It tops it off with a three-link bracelet that utilizes a white center ceramic link. In terms of functionality, the Citizen Eco-Drive Chrono also manages to deliver top marks with its use of Japanese quartz movement and analog dial (and sub-dials). This 40mm timepiece also has a 100-meter water resistance which makes it a suitable timepiece for recreational swimming and snorkeling.
Bulova Marine Star (98P172)

The Bulova Marine Star looks like it fits right in the hallowed halls of Olympus with its perfect combination of Roman numeral markers, polished silver-toned case, and a mother-of-pearl dial. It uses a white ceramic case which is accentuated by polished stainless-steel accents. There are also five diamonds that were individually handset into the mother-of-pearl dial. To improve durability, the Marine Star is equipped with sapphire glass crystal which is incredibly resistant to scratches. Other features include a date display and a water resistance rating of up to 100-meters.
Rado Women's Integral Watch (R20786152)
If there is one brand that has become synonymous with ceramic watches, it is Rado. You can never go wrong with Rado if high-quality and stylish ceramic watches are your thing. The Rado Integral features that timeless rectangle case and is as slim as they come with its 19mm diameter size. While diminutive in appearance, you can't count it out in terms of durability as it uses robust hi-tech ceramic and sapphire crystal for its dial window. The black and silver aesthetic of the Rado Integral makes it a perfect wristwatch for the modern sophisticated woman. Also, notable is its 30-meter water-resistant build.
Movado Ceramic Watch (3600536)
The Movado Ceramic Watch takes a highly refined approach with its uber-minimalistic design. This has been Movado's signature look with all of their timepiece models with the connecting thread being the classic "Movado Dot" design on the dial. There are no hour markers, no flourishes in its design – just a level of simplicity that exudes class and confidence. Movado is also not just a 'pretty face' as their level of watch craftsmanship is undeniable. Underneath the refined minimalist aesthetic is a highly accurate Swiss quartz movement and the dial window itself is made from K1 mineral crystal which is highly scratch resistant. The workmanship employed in this Movado timepiece makes it not only a visually stunning watch but also a robust and incredibly reliable timekeeper.
TAG Heuer Formula 1 Women's Watch (WAH1313.BA0868)
Time to head on over to the premium-grade timepieces with one ceramic watch entry from the well-known TAG Heuer brand. This is an entry in their Formula 1 series and takes a vastly different route from the typically sporty high-end design of its predecessors. This particular model infuses a level of sophistication and luxury that transforms this Formula 1 model into one of the most grandiose ceramic women's watches in the market today. This TAG Heuer still incorporates signature Formula 1 feature such as a rotating bezel and a robust build. It features a 37mm diameter stainless steel case with white ceramic link inserts that perfectly complements the overall aesthetic of this timepiece. In addition, this Formula 1 ceramic watch has a 200-meter water resistance making it suitable for a bunch of water activities.
Rado Hyperchrome Ceramic Ladies Watch (R32257012)
You can always expect Rado to make more than one appearance when it comes to the most stylish timepiece list, specifically if we are talking about ceramic watches. The Hyperchrome manages to blend that chic modern appeal with a luxurious twist – which is an achievement that is surprisingly easier said than done. As with all Rado ceramic watches, the Hyperchrome uses hi-tech ceramic which is considerably tougher than traditional ceramic used in watchmaking. Underneath the pure white with gold accent appearance lies a high-precision automatic movement with an analog display. The Hyperchrome also pushes the folder in terms of visual finesse with its use of a skeletal back case which complements the use of automatic movement perfectly.
Bulgari Serpenti Spiga Ceramic Watch (SPC35BGDBCGD1.1T)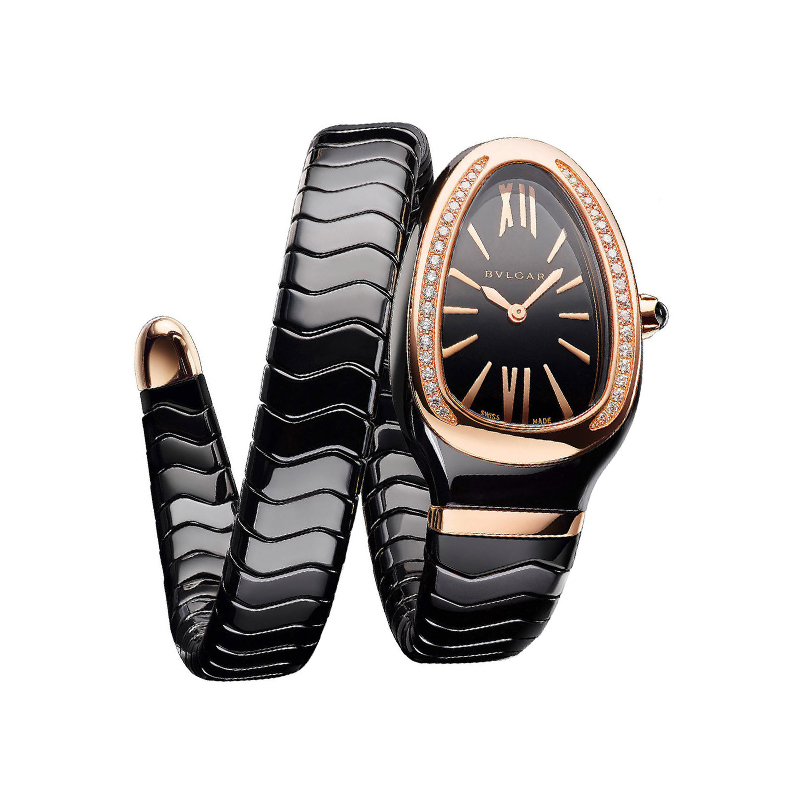 Check on Bulgari | Find on eBay
For women looking for a ceramic timepiece with a more exotic charm, the Bulgari Serpenti Spiga is definitely worth a look. Taking its moniker to heart, the Serpenti features – you guessed it, serpentine-like design. The smooth triangular case is akin to that of a snakehead while the polished black ceramic bracelet takes the appearance of its body, complete with a spiral design that looks like a snake's belly. The ceramic triangular case measures in at 32mm in diameters and also features an 18k rose gold bezel that has 38 brilliant-cut diamonds embedded into its surface. In terms of aesthetics, the Bulgari Serpenti takes the crown in this list.
Seiko Astron GPS Solar Limited Edition
Seiko enters the scene with their Astron GPS Solar Watch which brings both function and fashion into the fold. It features a rather large round 45mm diameter so take that into account if you have smaller wrists and hands. That said, that extra girth also means that the Seiko Astron GPS is packed with some nifty watch technology and functionality – which it does. The Astron GPS Solar comes with chronograph features as well as GPS that can display up to 39 different time zones. This ceramic timepiece is also equipped with Seiko's signature solar-powered technology giving it excellent longevity and reliability.
Omega Seamaster Planet Ocean Ladies 600M Watch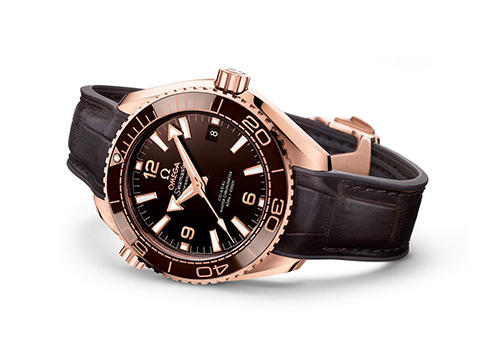 The Seamaster Planet Ocean Ladies 600M Watch brings a level of sophistication that only Omega can deliver. This time around, the Seamaster Planet Ocean features a 39mm in diameter polished ceramic case that incorporates the classic Planet Ocean design. The timepiece also features a unidirectional rotating bezel which is a staple in dive watches. What separates Omega's dive watches from the rest is its impressive 600-meter water resistance. This is a ceramic dive watch built for professional divers. Another notable feature included is the Super LumiNova technology infused into the dial that gives it a blue and green glow.
If you are interested in getting good deals on entry and high-end timepieces such as the Omega Seamaster Planet Ocean Ladies 600M watch, check out this link for a good selection of authentic pre-owned timepieces.