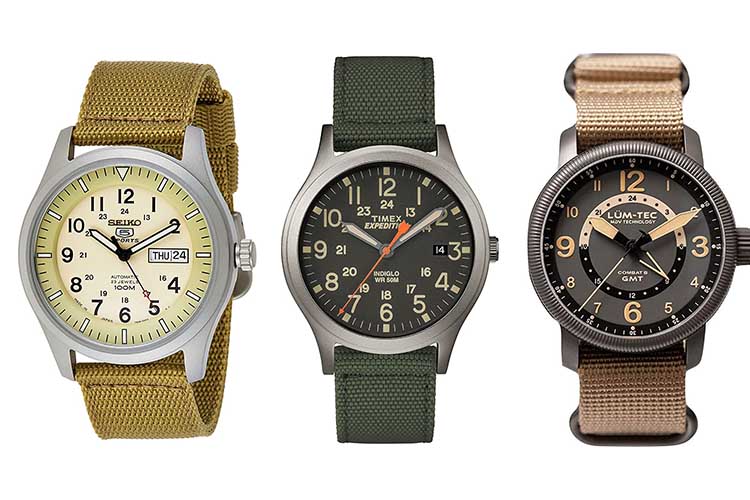 Initially designed for battle, field watches are praised for their impeccable durability and versatility. While field watches have certainly evolved their aesthetic throughout the years, one constant remains: it is still one of the most uncompromising timepieces around.
Field watches are rugged in design; they should also provide more than adequate comfort when worn outdoors. The dial must also offer excellent legibility at all times, no matter the environment. Additionally, field watches must be able to withstand extreme conditions.
While field timepieces tend to have a tactical or military-inspired design, many modern field watches today come in more variety. If you are interested to see what this type of timepiece can offer you both in function and style, then you have come to the right place.
Check out our picks below of the best field watches in the market today. You are guaranteed to get the best bang out of your buck with our selection.
Best Field Watches
Timex Expedition Scout Watch (TW4B13900)
First off, the Timex Expedition Scout comes in with a budget-friendly price tag while providing fantastic toughness. We highly recommend this timepiece as an entry-level field watch for those who are on a tight budget.
The Timex Expedition Scout also incorporates a nice blend of the rugged appearance of a military watch with a more chill casual vibe. Notable features found in this affordable field watch includes:
An Indiglo-light up the dial.

50-meter water resistance.

Easy-to-use QuickDate functionality.
The sturdy stainless-steel case measures 40mm, making it a good size for most wrists. In terms of durability and reliability out there in the field, the Expedition Scout handles rough environments efficiently.
For the price tag, we endorse the Timex Expedition Scout as delivering what is above and beyond its "pay grade".
Citizen Eco-Drive Chandler Field Watch (BM8180-03E)
With its stainless-steel case, black dial, and green nylon strap, the Citizen Eco-Drive Chandler certainly looks the part. If you are familiar with Citizen watches, you will also know that their timepieces deliver quality.
Similar to the Timex Expedition Scout, the Citizen Chandler Field Watch brings a rugged and comfortable design to the table. While the military watch inspiration is undeniable, Citizen did manage to infuse the Chandler with a more chic and casual appeal.
This field timepiece is quite sleek with its 37mm diameter stainless steel case. The round black dial helps improve overall readability as it provides excellent contrast against the bold hands and Arabic numeral hour markers. All of which have a luminous finish for that added visibility in a low-light environment.
The dial itself is well-protected underneath a tough mineral crystal with an anti-glare finish. Citizen incorporates a Japanese quartz movement with the Chandler model, and the case has decent 100-meter water resistance.
Finally, this timepiece features Citizen's Eco-Drive technology, which means it can recharge its battery on both natural and artificial light.
Seiko 5 Sports Desert Military Automatic Watch (SNZG07J1)
Another affordable entry from a well-respected and proven brand, the Seiko 5 Sports hits all the right notes as a reliable field watch. We love the all-beige design of this Seiko 5 watch as it certainly exudes that rugged charm, and it backs it up in performance as well.
The silver-tone 42mm case helps give this watch a proper balance regarding its aesthetics, while the Hardlex crystal further enhances the durability with its scratch-resistant construction. The build of the case also shows the Seiko 5 Sports a solid 100-meter water resistance.
As for its timekeeping capability, know that this watch will offer excellent precision thanks to its use of an automatic movement with its analog dial display.
The Seiko 5 Automatic is a no-frills field watch that goes straight to the point. It is incredibly tough, great accuracy, and quite affordable as well.
Hamilton Khaki Field Mechanical Watch (H69439931)
Next up, we have another outstanding entry from the always game and fantastic Hamilton brand. Hamilton built their reputation on its robust, refined, and bold timepieces with an exceedingly American charm.
The rugged and edgy appeal of the silver-tone 38mm stainless steel case and the olive-green strap is a perfect companion for adventurous souls. This Hamilton timepiece features a fairly traditional design with its three-hand analog display. However, don't let that fool you, as the Hamilton Khaki Field is incredibly sturdy.
Luminous hands and hour markers accompany the rudimentary dial encased in a scratch-resistant sapphire crystal window. The watch has a 50-meter water-resistant rating, which should cover the protection if caught in the rain.
The Hamilton Khaki Field also incorporates a mechanical movement, which is a massive plus for those who prefer traditional timepieces.
Bertucci A-3P Sportsman Vintage Field Watch (13351)
Looking for another affordable field watch that nails down a different style than the Timex Expedition Scout series? Then, you might want to check out the robust yet budget-friendly Bertucci A-3P Field Watch.
The brushed 42mm fiber-reinforced polycarbonate case exudes a tough-as-nails design, while the nylon strap keeps this watch lightweight and comfortable to wear. In addition to the rigid case design, there is also the hardened scratch-resistant mineral crystal window to top things off.
Underneath the hood of the Bertucci A-3P is a Japanese quartz movement that operates the luminous analog dial hands. Legibility is also a non-issue, thanks to the bold Arabic numeral hour markers.
Victorinox Fieldforce Quartz Watch (241848)
Refined with a rugged veteran charm, this best describes what the Victorinox Fieldforce 241848 brings to the table. The 42mm stainless steel case features a dark blue dial accentuated nicely by the fine-grain texture leather strap. The Victorinox Fieldforce is undeniable a classy field watch.
Victorinox is a Swiss brand, which means you get that impeccable Swiss level of quality. Besides the sturdy build, the Fieldforce also offers excellent functionality. This modern field watch comes with a date/date display, aluminum bezel, and stamped dial design.
Additionally, the stainless-steel material used on the construction of the case has hypoallergenic qualities for those who have sensitive skin. The Field force also has 100-meter water resistance, making it a suitable timepiece for recreational marine activities such as swimming and snorkeling.
We commend the Victorinox Fieldforce for tackling the outdoors; it is also quite stylish to boot.
Lum-Tec Combat B45 GMT Watch 
This field watch is relatively new, but it certainly more than makes up for it with its gritty construction and aesthetic. The B-45 GMT watch incorporates a military design in both appearance and functionality.
This entry from Lum-Tec's highly-rated Combat B series offers an expanded repertoire of features from your standard field watch with its GMT feature. In addition to the GMT functionality, the B45 also comes equipped with excellent MDV luminous technology for top-tier visibility.
The B-46 GMT is also quite sleek and lightweight with its 43mm surgical grade stainless-steel case. The build of the body frame also utilizes titanium carbide PVD lugs and crown. As for what makes the B-45 tick, Lum-Tec equipped this field watch with the ever-reliable Swiss Ronda caliber 515.24H movement.
Additionally, the construction of the B-45 takes advantage of an anti-shock design to deliver enhanced durability to handle rough terrains and environments.
Luminox A.1944 Atacama Field Chronograph Watch (XL.1944)
An initial impression will undoubtedly be from the stunning blue dial aesthetic of the Atacama Field. That polished and piercing blue dial is accompanied and accentuated by a more rugged brown leather strap.
As this is a chronograph timepiece, you will also have three sub-dials included in the primary dial. Fortunately, Luminox managed to dial a highly organized and legible design, despite the myriad of display information.
The Atacama Chronograph also exudes that vintage charm that will surely be a considerable part of its selling point. That said, this is not just a flashy field watch as it also has a unique build to back up its style.
The 45mm brushed stainless steel case has an impressive build and utilizes a Swiss quartz movement to provide dependable accuracy at all times.
Bulova Hack Automatic NATO Strap Watch (96A246)
Bulova delivers a classier approach to the field watch design with their Hack Automatic 961A246 model. The ivory-tone dial blends quite nicely with the luminous hands with black accents. Luminous indexes also accompany the Arabic numeral hour markers for better legibility in the dark.
Equipped with a Swiss automatic movement, the Bulova 961246 brings a level of heritage to its design. The black leather NATO strap also adds a more casual appeal to the relatively sophisticated timepiece.
With a 38mm case, this field watch from Bulova is sleek and perfect for those with smaller wrists. The 30-meter water resistance rating provides more than adequate protection from the occasional splash of water.
Overall, if you are looking for a field watch that offers a more polished aesthetic, then you should check out what Bulova has to offer.
Orient Defender 2 Watch (RA-AK0403N)
Orient's Defender watch was a surprising entry from the manufacturer into the field watch market. Well, the jury is in, and Orient indeed passed the test with flying colors. So well that we included the upgraded model, Defender 2, in this list.
In terms of design, the Orient Defender 2 follows its predecessor by fusing a casual aesthetic with the reliability of a field watch. This 42mm timepiece can withstand harsh environments and look good to it.
The Orient Defender 2 uses an automatic mechanical movement with a power reserve of up to 42-hours. The watch offers up to 100-meters of water resistance which makes it a reliable companion during certain aquatic activities.
Luminox Atacama Field Automatic Watch (XL.1907.NF)
Encapsulating that classic field watch design, the Luminox Atacama Field Watch looks and acts the part. At first glance, the Luminox Atacama Field Watch seems nice enough to be a casual or maybe even a dress watch. However, underneath its chic aesthetic is a highly robust timepiece designed for outdoor use.
The minimal design of the timepiece gives it a modern and sleek appeal while also being field-ready. The white dial and olive-green strap make the Atacama Field Watch blend nicely with your everyday attire as well as your outdoor gear.
The 44mm case comes with a relatively rudimentary design. However, underneath lies a Swiss automatic movement that operates its luminous three-hand dial with top-notch accuracy. Simple, trendy, and dependable, these words perfectly capture what the Luminox Atacama brings to the proverbial table.
Marathon GPM Military Tritium Field Watch (WW194003)
The Marathon GPM Field Watch is one of the most uncompromising mil-spec timepieces that you can get your hands on today. It also has a reasonable price tag which shouldn't burn a hole through your pocket while providing the best bang for your buck.
The subtle design of the Marathon GPM gives it more versatility in application as it fits nicely with your casual everyday attire. This timepiece also focuses on a more utilitarian design with its luminous Margalo-coated (tritium gas valve) hands and markers and a durable fiber-shell casing.
This modern field watch also utilizes a caliber NH36 24-jewel, the self-winding mechanical movement for an impressive and reliable precision.
Ball Engineer II Green Berets Chronometer Automatic Watch (NM2028C)
Another unique field watch brand that needs more attention is Ball Watches. Their Engineer II Chronometer is an outstanding example of what a complete field watch can deliver.
First of all, the Ball Engineer II offers both durability and a lightweight build thanks to its 43mm titanium case. Along with the sturdy form of the body is a sapphire crystal window known for its high scratch-resistant surface.
Inside this slick field watch is a Ball caliber RR1103 automatic movement that clocks in at 28,800VPH. The automatic movement also has a 38-hour power reserve to ensure that it will keep on ticking.
As for additional features, the Ball Engineer II is water-resistant for up to 100-meters and comes with a date display as well. Overall, the Ball Engineer II is a well-rounded, no pun intended field watch that you can depend on.  
IWC Spitfire Mechanical Watch (IW3268-01)
We are now at the luxury end of our field watch list, and the IWC Spitfire delivers a level of prestige to this otherwise rough and tumble watch type. We also like how the IWC Spitfire went with a more rugged and casual aesthetic with its khaki green strap and stainless-steel case.
While the design might seem pretty standard, it is what's inside that make the IWC Spitfire special. This high-end field watch features an automatic self-winding movement with an analog dial display that guarantees a superb level of accuracy.
The high price tag, though, means that this field watch might be too steep for most. For enthusiasts, though, the IWC Spitfire offers something that can be well worth the price of admission.
Tudor Heritage Ranger Automatic Watch (79910)
Tudor is a brand that is synonymous with heritage and prestige. Tudor brings their experience and places it within a 41mm hard steel case fortress. Of course, you can expect Tudor to throw in some visual flourishes in there as well, this time in the form of a domed sapphire crystal window.
Blending timeless aesthetics with a modern build, the Heritage Ranger is both elegant and rugged. A light brown leather strap accentuates the polished stainless-steel case. The heart of the Heritage Ranger is a self-winding mechanical movement that keeps its black dial with luminous hands and hour markers on time. The watch movement also offers a solid 38-hour power reserve.
In addition, the case has a 150-meter water resistance rating which makes it ideal for swimming and snorkeling. Overall, the Tudor Heritage Ranger Field Watch is a worthwhile investment due to its enduring design and build. You can expect this timepiece to turn heads still and be as reliable as ever decades down the road.