The Casio G-Shock watch collection is well-known for its highly robust build and multi-functional design. While G-Shock watches certainly won't win any awards in the elegance or luxury watch competitions, it will surely get the crown in terms of multi-functionality. The G-Shock watch line was introduced by the Japanese electronics company, Casio. It's exceptional shock-resistant build makes it a favorite within outdoor enthusiasts and sports aficionados. The "G" stands for gravity which is an apt moniker due to its excellent mechanical stress resistance from impacts.
What makes the G-Shock a highly sought-after and recommended outdoor watch is not just because of its 'tough as nails' construction, but also due to its wealth of features. Two of these valuable features are the compass and thermometer functionality. A lot of G-Shock watches rank up there as among the best wilderness survival tools that you can get your hands on today.
A top-notch G-Shock watch can be of great assistance during hiking, camping, hunting, and sailing, among other outdoor activities. In this article, we will be giving you 15 of the most recommended G-Shock timepieces that comes equipped with a slew of outdoor features, specifically, the compass and thermometer. Let's begin the trek.
Best G-Shock Watches with Compass and Thermometer
G-Shock Rangeman GW-9400
The G-Shock Rangeman GW-9400 comes in two variations, the sporty black with red accent and the military-style variation. This beast of a watch comes loaded for bear with its multi-display and solar-powered technology. Underneath the tank-like aesthetic is a quartz movement digital display which is encased within a tough mineral crystal window.
Features to expect with the Rangeman GW-9400 includes a digital compass, thermometer, altimeter, barometer, 5 daily alarms, 1/10-second stopwatch, countdown timer, sunrise and sunset time, day/date/month display, and an Mb6 atomic timekeeping. The Rangeman GW-9400 also has a 200-meter water resistance making it a suitable companion for recreational water activities such as swimming and snorkeling.
G-Shock Mudmaster GG-1000-15AER
One of the most impressive models in the G-Shock watch line is most definitely the Mudmaster series. Most G-Shock watches already have a pretty good and sturdy build, but the Mudmaster pushes the enveloped a few steps forwards with its extra-touch and premium-grade structure. It also brings a veritable selection of features that will be greatly appreciated when navigating the great outdoors.
While it may give the impression of being bulky and cumbersome thanks to its 56mm diameter case, it is actually surprisingly lightweight. This is due to its use of hardened resin for its case which is tough but also exceptionally lighter. The digital analog dial is well-protected within the durable mineral crystal. It comes with a highly accurate compass and thermometer along with other standard G-Shock features such as a day/date display and a water resistance rating of up to 200-meters.
G-Shock Mudman Compass G9300-1
The G-Shock Mudman is another watch line with their Twin Sensor feature (compass and thermometer) and is one of their most affordable models that have this feature. The Mudman G9300-1 will definitely give the most bang for your buck and it is also quite stylish with its black and red sports watch aesthetics.
Despite the lower price tag, the Mudman G9300-1 still packs a punch in terms of features. It comes with solar-power technology, GMT (up to 48 city time zones), tide and moon graph, and a hands-free backlight functionality. The Mudman G9300-1 uses a hard-plastic construction and a case that measures in at 56mm in diameter and has a water resistance rating of 200-meters.
G-Shock Mudman G9300GB-1
While this is a different color variant of the Mudman G9300-1, we feel that it separates itself enough to warrant its own spot in this list. Coming in with a sleeker black with gold accent color scheme, the Mudman G9300GB-1 is a far sexier alternative to its sportier sibling.
The hard-plastic 56mm case now features an all-black aesthetic and uses a negative digital screen. This design choice for the digital dial certainly has its charm by know that it will be a tad less visible under direct sunlight in comparison to an LED display. The Mudman G9300GB-1 Twin Sensor watch definitely nails that "Batman-esque" charm with its black and gold color tone.
As for features, it has everything you will need to assist you during your wilderness trip such as a compass, thermometer, a tide and moon graph, GMT world time, and a solar-powered battery.
G-Shock Rangeman GW-9400BJ-1JF Carbon Fiber
The Rangeman GW-9400BJ-1JF is the Japanese version of this popular G-Shock watch line with features that are quite similar with its international versions. The main difference is with its snazzy aesthetics that features a sleek black with red and orange accents. The digital display also incorporates a negative screen which gives it a highly tactical vibe.
Another notable difference is that this model's 54mm case uses extra-durable carbon fiber band which are virtually impossible to break. Its main selling point features include a multi-band 6 atomic timekeeping, solar-powered technology, extreme shock-resistance, and tripe sensor capability (compass, thermometer, and altimeter/barometer).
G-Shock G-Aviation Gravitymaster GA-1000-1A
The G-Aviation GravityMaster GA-1000-1A is one of G-Shock's finest entries into the pilot watch category. As this particular type of timepiece focuses on navigation, you can expect the G-Aviation GravityMaster to provide highly accurate readings with its compass and thermometer. The compass feature in this G-Shock model also comes equipped with a bearing indicator which allows users to record a specific direction.
The overall build of the G-Aviation GA-1000-1A checks out all the G-Shock standard. The 50mm diameter case is made from hard-plastic and the digital display is encased inside a durable mineral crystal window. This timepiece also comes with back light functionality for easy reading even in low-light environments. I do feel like Casio missed an opportunity by not including solar-powered batteries.
G-Shock Gulfmaster GN1000B-1A
From the vast skies to the great sea, we have the Gulfmaster GN1000B-1A. This ocean navigator digital watch packs the impressive level of durability that you would expect from a Casio G-Shock model with a marine theme aesthetic. One of the key features here is the ability to do compass readings for 60-seconds continuously which is a significant upgrade from other G-Shock model's 20-seconds. Taking its nautilus functionality to heart, the Gulfmaster also comes with a moon phase and tide graph display.
We also liked how Casio included a hand shift feature that momentarily moves the analog hands out of the way to give you a good view of the digital screen. The Gulfmaster, however, does not have solar-powered technology and is strictly standard battery operated. This is head scratching as this watch would have greatly benefitted from solar batteries being that it is design for use in the open seas. Speaking of the open seas, the Gulfmaster GN1000-1A has a 200-meter water resistance as well.
G-Shock Frogman GWF1000-1CR
Let us take a look at the high-end G-Shock models for a bit, yeah? The G-Shock Frogman GWF1000-1CR is one of the brand's more expensive models. This is a premium-grade G-Shock Triple Sensor watch and it shows at first glance. It is also an excellent dive watch with its 200-meter water resistance.
This G-Shock watch features a multi-band 6 atomic time zones, a depth gauge, hands-free back light, and a durable and scratch-resistant sapphire crystal window. In addition, it is equipped with Tough Solar technology and an equally tough carbon fiber insert band. As you would expect from an expensive G-Shock model, the Frogman GWF1000-1CR comes with prominent upgrades – specifically, with its compass.
G-Shock Rangeman GPS GPR-B1000-1JR
Another high-end entry is the G-Shock Rangeman GPS GPR-1000-1JR which is one of Casio's premier entries to the smartwatch market. This is a highly functional digital watch that provides its wearers with a depth of information with its GPS feature. You can easily track your location, elevation, point memory, distance, and other standard GPS features.
Most smartwatches require extra care, not the case with the Rangeman GPS GPR-1000-1JR as it comes with G-Shock's signature shockproof build. What's more? Casio infused the G-Shock Rangeman with some of the most advanced watch technologies that you can implement. For example, the Rangeman GPS GPR-1000-1JR comes with wireless charging support and a 200-meter water resistance. The case, which measures in at 58mm uses a 2mm thick ceramic back case for that added level of finesse. This is one of the most advanced G-Shock watches around and will certainly deliver in terms of reliability and functionality.
G-Shock Gulfmaster GWN-Q1000GB-1AJF
This is latest entry into the Gulfmaster series and is a fully upgraded version of the popular ocean navigator watch. It comes with an impressively accurate compass which can easily rival G-Shock Frogman's upgraded compass. The Gulfmaster GWN-Q1000GB-1AJF also comes with a depth tracker which makes it a great wristwear for divers as well.
Other features include a sunrise/sunset tracker, a 200-meter water-resistant build, multi-band 6 atomic timekeeping, and the Tough solar power technology. It is also visually stunning and comes in two variations: the white/blue and black/gold models. The analog and digital dial operates using quartz movement and is safely tucked within a shockproof 57mm hard-plastic case.
G-Shock Mudmaster GWG-1000-1AJF
The G-Shock Mudmaster GWG-1000-1AJF is a weather-proof watch that is designed to go through the most intense environments without breaking a sweat. Equipped with the signature shockproof G-Shock build, this watch also comes with a wide variety of features to help you keep your bearings in the great wilderness. It also combines analog and a digital dial which enhances its overall reliability. The analog dial uses Japanese quartz movement which pretty much guarantees timekeeping precision.
The 56mm diameter case is made from durable resin while the band features a synthetic cloth band cover. While it does appear rather cumbersome, the Mudmaster GWG-1000-1AJF is relatively light and provides excellent comfort. The Twin Sensor feature will give you easy access to a digital compass and a thermometer. In addition, this watch is equipped with a solar-powered battery for optimum longevity.
G-Shock G-Squad GBD-H1000-1A7JR
We have another G-Shock smartwatch makes an appearance in this list. The G-Squad GBD-H1000-1A7JR, in particular, takes a more contemporary approach with its design. Make no mistake though, while it doesn't have that tank-like appearance of traditional G-Shock watches, the G-Squad is just as tough. With its smartwatch capabilities, you can also expect this timepiece to deliver exceptional multi-functional features.
The G-Squad comes with health and fitness apps as well as GPS functionalities. Of course, it comes with a digital compass, thermometer, altimeter, barometer, heart rate monitor, and a step counter. Despite being a smartwatch, the G-Squad still managed to maintain a 200-meter water resistance making it a suitable choice for taking on several water activities. This watch is also compatible with the G-Shock Move app. If you are looking for a robust smartwatch for exercise and outdoor activities, you should definitely check out the G-Squad GNB-H1000-1A7JR.
G-Shock Mudmaster GWG-100-1A8CR
Mudmaster makes another appearance with the GWG-100-1A8CR. This particular Mudmaster model is designed for the rough outdoors and is designed to provide excellent resistance to water, shock, and dirt. If you love conquering challenging hiking trails and mountain climbing then this 'rough and tumble' watch will complement your lifestyle.
Its ability to keep mud outside of the watch is all thanks to its intricate design that incorporates shafts and buttons that are guided by gaskets and pipes to push dirt and mud out. As for other features, the Mudmaster GWG-100-1A8CR comes with a 200-meter water resistance, thermometer, digital compass, luminous hands, impressive level of shock resistance, and solar-powered battery.
G-Shock Mudmaster GG-B100-1A9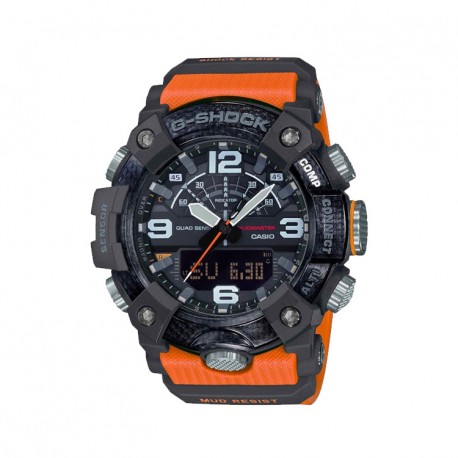 This is another impressive entry into the G-Shock Mudmaster series and is extremely reliable when it comes to taking on the harsh natural elements. The case's durability is enhanced through the use of a carbon core guard construction while the black with orange color accent gives it a modern appeal. The case measures in at around 55mm diameters and contains Quad Sensor functionalities that include a digital compass, thermometer, altitude/barometer, and an accelerometer.
As with other Mudmaster models, the GG-B100-1A9 is designed to be shock-resistant, water-resistant (200-meters), and mud-resistant. In addition, the Mudmaster GG-B100-1A9 has smartwatch capabilities as it can connect to other devices via Bluetooth and is compatible with the G-Shock app.
G-Shock Gravitymaster GA-1100
Another entry in the Gravitymaster watch line is the GA-1100 which has some distinct differences from its predecessor, the GA-1000. For example, it has a more eye-catching design which is most visible with the dial. The hands in the GA-1100 has an arrow-shaped design compared to the smoother sword tip hands of the GA-1000 models. There is also a GMT sub-dial that can display a second-time zone.
The dial of the GA-1100 also looks more organized while maintaining the same amount of information. It comes with the patented Twin Sensor feature that gives users access to a digital compass and thermometer. Additionally, the GA-1100 incorporates an LED display for better visibility.