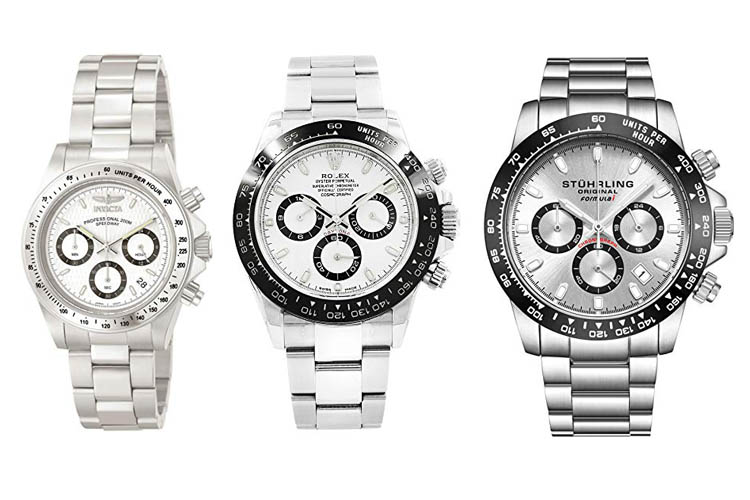 Who doesn't love pandas? Those cute, clumsy, gigantic, and cuddly ball of fluff may be bears but they sure don't strike the same level of fear as their more ferocious cousins – if at all. Well, if you like the general aesthetic of pandas (mainly their rotund black and white color) then you might enjoy panda dial watches as well.
Panda dial watches are described as timepieces that feature two specific color tones – that is, the black and white color palette, similar to the panda. This type of watch design is also commonly attributed with chronograph functionalities due to this design requiring sub-dials. Panda dial watches feature a base color of white with the sub-dial incorporating a black finish. There is also the Reverse Panda dial watch which basically flips the color scheme.
This type of watch certainly has a unique charm to it that captures the attention with its sublime and simple aesthetics. It is also quite an elegant timepiece that also exudes an air of confidence. Interestingly enough, these are traits that we don't normally attach to the lovable panda. However, one element that panda dial watches do have in common with its namesake is its charming visual design.
If you are interested in panda dial watches, then you have come to the right place. In this article, we have compiled a list of the finest panda dial watches that range from budget-friendly to high-end models. You are sure to find one that fits perfectly with your style as well as your budget.
The Rolex Cosmograph Daytona – The Pinnacle Panda Dial Watch
One of the premiere timepieces in the panda dial watch category is undoubtedly Rolex's Daytona Cosmograph timepiece. This is quite possibly one of the brand's most luxurious timepiece and certainly fits the bill of what a high-end watch should be. This is also Rolex's first ever in-house automatic chronograph watch as it features their Caliber 4130 movement.
One of the most notable elements of the Rolex Daytona (aside from the panda dial) is its incorporation of a ceramic bezel. Specifically, Rolex uses a type of ceramic called Cerachrom which is has a distinct diamond polish appearance. This ceramic bezel is virtually scratch-resistant and does not fade. The Rolex Daytona comes in with 40mm Oystersteel case.
Another notable aspect about the Caliber 4130 movement is, besides its impeccable level of precision, is its 72-hours of power reserve. This Rolex Daytona Cosmograph Watch also comes in two variations: the standard panda dial (white base with black accents) and the reverse panda dial (black base with white accents).
Best Panda Dial Watches For Every Budget
Invicta Speedway
After showcasing the premium-grade and highly expensive Rolex Daytona Cosmograph, let us slow it down with one of the most budget-friendly and stylish panda dial watches in circulation today – the Invicta Speedway. This panda dial watch from Invicta comes in at a sleek 39.5mm diameter stainless steel case. It also incorporates a stainless-steel bracelet with fold-over safety clasp.
Inside the polished appearance lies a Japanese quartz movement (Caliber VD53B-14) with analog dial display. The dial features luminous hands and markers for better visibility in low-light environments. Other notable features include a stationary bezel, chronograph sub-dials which tracks hours (24), minutes (60), and seconds (60).
The case features a mineral crystal window which provides it with excellent resistance to scratches. This panda dial also incorporates a screw-down crown which helps improve its water resistance up to 200-meters.
Stuhrling Formulai 891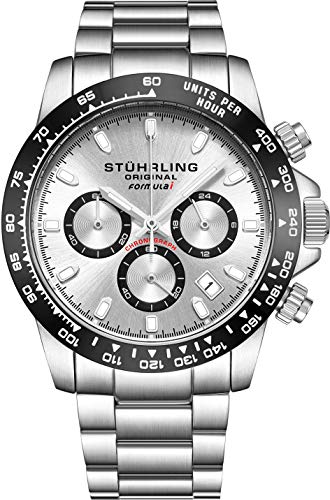 The sporty and stylish Stuhrling Formula 891 watch is certainly an eye-catcher. Staying true to its moniker, the Formulai 891 chronograph watch delivers that F1 race car appeal with its highly mechanical and powerful aesthetics. This panda dial watch from Stuhrling hits all the key notes perfectly and manages to retain a very reasonable price making it even more enticing.
The watch features a mirror-polished PVD bezel with laser-etched tachymeter to deliver and impressive level of detail. The overall aesthetic also revolves around an ergonomic design, proven by the high level of comfort that the Formulai 891 delivers with its stainless-steel bracelet and the watch itself.
As for the Formulai 891 watch's precision, it uses a Seiko chronograph movement which pretty much guarantees top marks in this area. This is an impressive chronograph watch and with its panda dial, it certainly manages to come full circle in both design and performance.
Citizen Promaster Tsuno Chronograph Racer
The Citizen Promaster Tsuno Chronograph focuses more on functionality while infusing a rather rugged charm to its aesthetics. The bold and robust appearance of the Promaster Tsuno is the proverbial icing on the cake with its fantastic horology being the main course meal.
It has a hefty 45mm silver-tone stainless steel case with a stunning ivory accented dial with black detail. The use of genuine leather further cements the Promaster Tsuno as a highly stylish chronograph timepiece – add its panda dial design and you have yourself a complete package for adventurous watch enthusiasts.
This timepiece includes an impressive array of features such as the chronograph functionality, tachymeter, alarm, date display, instantaneous fly back, and the Eco-Drive technology. The Prosmaster Tsuno also has a 200-meter water resistance that completes its 'outdoor timepiece' credentials.
Orient Neo 70 Solar Panda Watch (WV0041TX)
One of the best budget-friendly luxury panda dial watches that you can find today, the Orient Neo 70 manages to pull off an impressive feat with its fantastic watch build and stunning design. All of that with a mid-range price tag to boot.
The Orient Neo 70 features a milky white dial with black sub-dials. The aesthetic certainly feels like it is mirroring what the Rolex Daytona brings to the table – and nothing is wrong with that. In fact, this is a great alternative to the Rolex Daytona for those who simply cannot afford the latter's exuberant price.
Orient also throws in enough changes to separate itself from being just a 'budget Rolex Daytona', and to be frank, calling it that is a huge disservice to what the Orient Neo 70 has achieved. For example, the Orient Neo 70 utilizes a slick skeleton-style hands and an extra sub-dial which is its date display. We also liked the contrast that the black bezel adds to the overall design of the Neo 70.
As for the Neo 70's functionality – it uses a high-precision Seiko solar quartz movement which provides it not only with reliability, but also longevity. The Neo 70 manages to last for up to 6 months on one full charge. Seeing that its charges using light (natural and artificial), it is virtually impossible to find its battery drained.
Seiko Solar Chronograph (SSC446)
Seiko never disappoints when it comes to delivering stylish timepieces that are as equally as functional as they are stunning. One such example is the Solar Chronograph (SSC446) which fuses together that trendy charm of panda dial design with a little tweak that pushes the deluxe appeal to the max.
The Seiko Solar Chronograph Watch SSC446 manages to one-up most panda dial watch designs with a simple yet highly effective design tweak – the inclusion of gold accents. This gave the Seiko Solar Chrono SSC446 a luxury charm that makes it certifiable head turner.
Besides its stunning aesthetics, the Seiko SSC446 also has a solid build that further cements its place in this list. It features a high-precision and reliable Japanese quartz movement with analog dial display, chronograph functionality, and a water resistance of up to 200-meters. In addition, it has a 24-hour indicator and a 6-month power reserve when fully charged.
Bulova Marine Star (96B255)
The Bulova Marine Star 96B255 is a classy timepiece that touches upon the panda dial aesthetic a bit. While not very prominent, the Marine Star 96B255 does incorporate the panda dial design but at a more subdued approach. It features a stainless-steel build with silver-tone accent complementing the white dial base.
The Marine Star 96B255's dial has a lot going for it with its chronograph design giving it up to six hands in display. The Marine Star 96B255 Watch comes in with a 43mm stainless steel case and has a water resistance of up to 100-meters.
Underneath the hood of its efficient dial and case lies a quartz movement that imbues this Bulova panda dial watch with dependability when it comes to timekeeping. The Bulova Marine Star 96B255 exudes an air of confidence and class that will surely appeal to professionals and executives.
Bremont ALT1-C Watch
Up until now, most of our entries where panda dial watches that merely used the cuddly mammal's color scheme. Not the case with the Bremont ALT1-C as this watch definitely captured the look as well. The dial features a white base and utilizes two black sub-dials, giving it the appearance of a literal panda.
The dial legit looks like a panda's face with its signature two black round patches that substitutes for the eyes. Also, of note is that the Bremont ALT1-C is one of the finest luxury watches around that perfectly encapsulates the charm of a panda dial timepiece.
The Bremont ALT1-C utilizes the Caliber 13 BE-50AE automatic with 25-jewel insets that clocks in at an impressive 28,800VPH. This watch movement also has a 42-hour power reserve and utilizes a Nivaflex 1 mainspring. As for functionality, the ALT1-C features two sub-dials that tracks hours and minutes. There is also a date display over at the 6 o'clock position.
The case is made from hardened stainless steel and a scratch-resistant DLC treated case barrel. The case measures in at 43mm in diameter and a thickness of 16mm. Other notable features include the Super-LumiNova C1 hands and markers.
Longines HydroConquest Automatic Chronograph
Longines HydroConquest is one of the most impressive dive watches in the market and it manages to compete on the aesthetic side of things fairly well, too. This HydroConquest (L36964136) features a fairly traditional design but with a subtle nod to the panda dial color palette. Considering the overall physical build of the watch, it pretty much goes through the key dive watch features.
It uses a stainless-steel case which measures in at 41mm in diameter and comes with the mandatory unidirectional bezel which is ever present in all dive watches. This Longines dive panda dial watch is also quite durable which is further enhanced by the sapphire crystal window. It also has an impressive 300-meter water resistance, as is expected from a top-tier dive watch series.
Zenith Defy El Primero 21 Panda Dial Watch
The Zenith Defy El Primero comes in two variations: the panda dial and the reverse panda dial. This is the manufacturer's flagship watch series and is also one of the most stunning timepieces that we have come across. This timepiece is another high-end luxury watch and features an impeccable watch design that is accompanied by premium-grade materials as well.
The 44mm diameter case is made from brushed black PVD titanium steel which is partnered up with a sturdy and comfortable rubber band with deployment clasp. The dial is well-protected within a scratch-resistant sapphire glass window with anti-glare finish. The handsome dial features a silver-toned sunray design that showcases the timepiece's finesse. This is a high-end panda dial watch that delivers a more laid-back appeal compared to other luxury watches that we have included in this list.
IWC Ingenieur Chronograph Automatic (IW380801)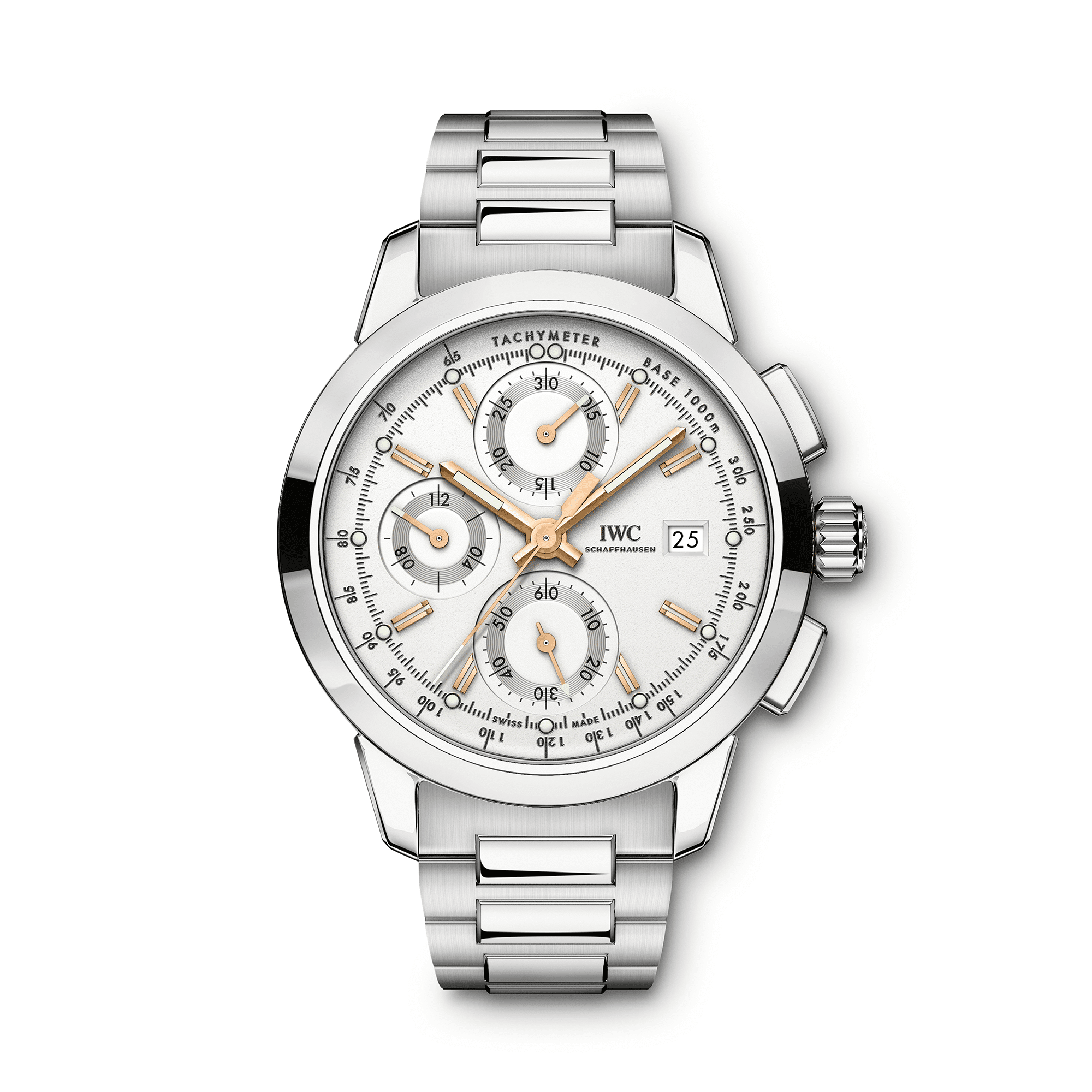 Let us go to another eye-candy luxury timepiece, this time in the form of the IWC Ingenieur (IW380801) Chronograph Watch. This particular panda dial watch is a true-blue racing watch and is part of the IWC Racing Team series. It takes a more classic take in regards to its sports watch design and is one of the most sought-after by collectors as there are only 176 models that were put into production and sold around the world.
Besides the panda dial color tone, the Ingenieur also has unique back case whose lower half is transparent, taking the appearance of a brake disc. The silverplated dial incorporates black colored sub-dials and a tachymeter scale that you can find on the bezel. This particular model also has gold accents that further blurs the line between a luxury and a sports watch.
Montblanc Timewalker Chronograph (118489)
Here we have the panda dial variation of the excellent Montblanc Timewalker Chronograph series. The Timewalker was already quite a looker, and now it has that distinct duality charm that panda dial watches enjoy. This is another high-end luxury timepiece that focuses more on delivering a more robust appearance than the typical elegant aesthetics of a luxury watch.
While the Timewalker Chrono did utilize a different approach with its design, within is still the same exceptional watch build. It features a caliber MB 25.10 movement within the durable 43mm steel watch. Most of its impressive features are related to its construction. For example, this timepiece incorporates a monobloc oscillating weight which is made from rhodium-plated tungsten. The dial itself is rather disciplined in its design. This is a highly professional-looking watch that comes with a modern twist.
TAG Heuer Heritage Chronograph Watch (CBE2110.FC8226)
The Heritage collection is TAG Heuer's premiere watch series, so expect this to have top-notch build, material, and design. This particular Heritage watch incorporates the popular and stylish panda dial design and it certainly accentuated all the positives of the already impressive TAG Heuer Heritage Chronograph Watch.
As with all Heritage timepieces, this model takes the traditional route with its self-winding automatic movement. The TAG Heuer Heritage features a 42mm polished stainless-steel case and use genuine brown calfskin leather strap for that added rugged charm. As for performance, expect top marks as this timepiece uses the brand's signature Caliber Heuer 02 chronograph movement which has an accuracy rating of 28,800VPH.
Omega Speedmaster Tachymeter Watch
Omega is well-known for its incredibly stylish and suave collection of timepieces and it has yet to disappoint in this regard. The Speedmaster Tachymeter watch is a sleek luxury timepiece that focuses on the panda dial design's black and white color scheme and perfectly utilizes this design to its fullest.
One of the most notable aspect about this Omega chronograph timepiece is with its uses of a pulsometer bezel. This is a more vintage take to the Speedmaster watch model and features prominent Alpha-shaped hands and a sleek 39.7mm in diameter steel case. The case itself delivers on the visual side of things with its alternating brushed and polished finish.
The Omega Speedmaster Tachymeter is also equipped with a highly accurate automatic movement. To help retain a pristine appearance, the window is made from scratch-resistant sapphire crystal. The watch also has a decent 100-meter water resistance which makes it a plausible wristwear for quick dips and swimming.
Breitling Superocean HERITAGE II Watch
This might be the most durable and functional timepiece in this list. Which is pretty much the case whenever Breitling bursts into the scene. The Superocean Heritage II is one of the watchmaker's premier models. This time around, the outstanding dive watch utilizes a panda dial color scheme. Of course, Breitling threw in a curveball in there with its use of silver and black, instead of the usual black and white.
This is quite an impressive timepiece and uses the 3-6-9 tri-compax design for its three sub-dials. The watch movement found inside is a Breitling exclusive and is one that has garnered dozens of awards and praises in the industry – the Caliber B01. This watch movement also packs a 70-hour power reserve. Breitling watches are known for their durability, and this claim holds true with the Superocean Heritage II.
Audemars Piguet AP Royal Oak Chronograph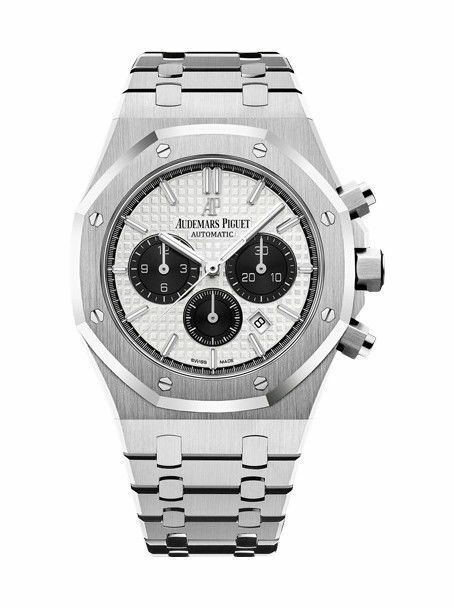 The Audemars Piguet AP Royal Oak Chronograph watch is the brand's way of celebrating their 20th anniversary in the industry and it is definitely a stunning timepiece. This one is the panda dial variation as seen by its two-tone silver and black color palette. What is fascinating about the Royal Oak's design is how it is basically a 'Greatest Hits' of Audemars Piguet watches. It features vintage design tweaks that encompass the company's classic collection from the 1930s to the 1960s.
Inside the Royal Oak Chronograph is the brand's proprietary Caliber 2385 which features a 37-jewel construction and a rating of 21,600VPH. The watch movement also offers a power reserve that can last for up to 40-hours. This is a stunning panda dial watch that is a must for collectors.