Understandably, triathlon racers want to find the best sports watch for the budget that offers the most features This is where the multi-sports smartwatch comes into play. These feature-packed watches allow you to keep track of your progress during the triathlon, but it also comes with several helpful features that help track recovery time, pulse ox and even hydration alerts.
In this list, we cover the most basic but reliable watches like the ever-popular (and aptly named) Timex Ironman that provides 30 lap memory, workout timer, 100-meter water Resistance your swim workouts, and an Indiglo® backlight for evening runs.
On the other end of the spectrum, we've covered some of the best high-end sports smartwatches on the market, such as the Garmin Fenix 6 Pro Solar with its built-in full-color topo maps, wrist-based heart rate, and optional Pulse Ox Acclimation feature to monitor blood oxygen saturation levels.
Quick Picks

Whether you're looking for a basic watch under $50 or are willing to invest in the latest and greatest smartwatch will the latest performance metrics available on the market, we've got you covered.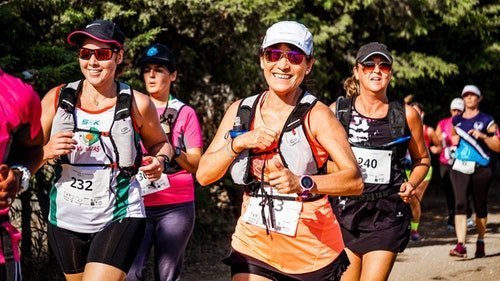 Have I piqued your interest? Well, then let us head on straight to our list of the best triathlon watches available in the market today.
Best Triathlon Watches
Timex Ironman Classic 30 – Budget Pick
Check Price on Amazon | See on Timex
If you are looking for an affordable yet top-notch triathlon watch, then look no further than the Timex Ironman Classic. At a very affordable entry-level price, it still delivers several features that will be of great help during triathlons.
The Timex Ironman Classic is designed to be as user-friendly as possible. Learning how to navigate its features is intuitive. The watch comes with a 30-lap memory, which gives you more than enough space to store data regarding your performance.
Note that the incredibly affordable price tags mean that you won't be able to take advantage of other modern features. The Timex Ironman Classic is primarily for tracking your performance. It does not connect to apps, and it does not feature heart rate monitors.
All in all, the Timex Ironman Classic is a great beginner triathlon watch that allows you to keep track of the basics. It is affordable, well-made, and reliable when it comes to assisting with your performance during such events: no fancy bells and whistles, just the bare essentials.
Click here to see the full line of Ironman watches on Timex.com including sleek, mid-sized, full, and oversized styles depending on your personal taste. If you're looking for more features and GPS, you could also upgrade to the Ironman GPS watch which is still very affordable compared to other GPS watches.
Pros:
Extensive 30-lap memory.
Water-resistant and shock-resistant.
Battery life can last up to a full decade.
Extremely affordable price tag.
Cons:
Garmin Fenix 6 Pro Solar – High-End Pick
Garmin is a market leader in multi-sports smartwatches and the newest Fenix 6X Pro Solar is the latest and greatest.
In 2020, Garmin launched a new solar-powered line of smartwatches, including this newest generation of the Fenix.
The new solar power is a game-changer when it comes to battery life, the Fenix 6X Pro Solar can last up to three days with adequate solar charging.
Pulse OX monitor, altitude acclimation, and heart rate are just some of the features that triathletes will find useful apart from the fact that there is a dedicated Triathlon Training mode on the watch
You can also use Garmin's PacePro training program that analyzes elevation changes along the course to adjust calculations and pace strategy to increase or decrease pace based on your current altitude.
You'll also get top-notch navigational capabilities thanks to its GPS that utilizes GLONASS, Galileo, and GPS satellites and topographical maps built into its memory The navigational system comes with a barometer, altimeter, gyroscope, and 3-axis compass.
The build quality is rugged with a stainless steel bezel and watch specs that meet U.S. military standards for thermal, shock and water resistance.
Additional everyday features such as the Garmin Pay contactless payment and compatibility with popular music streaming services make this a great all-around smartwatch even when you're not training.
The Fenix 6X Pro is too rich for your budget, check out the previous model, the Fenix 5X Plus. Although it lacks the battery life that the new solar version offers, it does deliver similar features at a more affordable price point, especially now that it's no longer the flagship model.
Garmin Forerunner 735XT – Best Overall Value
Check Price on Amazon | Buy on Garmin.com
Garmin Forerunner 735XT offers the best value for money with its budget-friendly price tag and an impressive array of features. The 735XT comes in two variants: the stand-alone unit and the tri-bundle that includes a chest strap and the HRM-Swim accessory.
The HRM-Swim variant is designed to be used for swimming and is constructed to be resistant to chemical damage. While the Tri-bundle improves the 735XT, this does not mean that the stand-alone version is lackluster. Far from it. The 735XT is already a solid triathlon sports watch on its own and will be able to provide an excellent and reliable experience in this area, even without the additional accessories.
The watch also comes in with a water-resistant ATM rating of 50 meters, a good number for those who will be using it for swimming. It comes with a variety of modes designed to accommodate you during specific activities such as running, cycling, and swimming. The running mode is excellent for tracking progress, while the cycling mode can monitor distance. The cycling mode is also compatible with the Vector app.
The 735XT is a sleek and lightweight sports and tracking watch that is as well-rounded as they come in this category. There is an issue with its battery life though, as utilizing every available feature can quickly drain the power within hours of use. Other than that, the Garmin Forerunner 735XT is a solid choice for individuals looking for a reliable fitness tracking, and sports watch to accompany them when participating in a triathlon.
See Full Specs of the Forerunner 735XT on Garmin.com
Pros:
It offers impressive versatility with the Tri-bundle version.
It is lightweight and compact.
Solid construction.
Reliable tracking capabilities.
Cons:
Battery life is disappointingly short if you turn on all features simultaneously.
Polar Vantage V
Check Price on Amazon | See on Polar.com
Another high-end fitness and sports watch that is among the most popular in the market today; the Polar Vantage V is a slightly more substantial variation of the Vantage M. However, this added weight should not be considered as a downside. In exchange for this heavier design are additional and improved features that make the Vantage V into a veritable powerhouse.
When it comes to features, the Vantage V has the standard GPS and GPS tracking functionality. Additional features include a heart rate monitor powered by precision prime technology for higher accuracy. It also comes with a barometric measurement function and an easy-to-use touchscreen control configuration.
A unique feature that it has is the Recovery Pro. What this feature does is help you get the proper recovery period in between each exercise or activity. A nice feature to have to prevent injuries due to over-exercising your body.
Surprisingly enough, it still has one more trick up its sleeves in the form of the Running Power Meter feature. This mode helps track in great detail how the users exert energy during activities from running to biking. This is a new tracking feature that can help deliver valuable data to triathlon participants on how they should conduct their training to optimize results.
See more details about the Vantage V on Polar.com
Pros:
Highly durable construction with a touchscreen made from Gorilla glass.
Accurate H10 Bluetooth heart rate monitor.
Unique running power meter feature.
Cons:
The screen display can sometimes get unreadable when under bright lights.
Garmin Forerunner 935 Running GPS
Check Price on Amazon |See on Garmin
The Forerunner 935 is undoubtedly one of Garmin's top releases. From its sleek and unassuming design to its multitude of features, the Forerunner 935 is among the best triathlon watches that you can get your hands on.
The battery life of the Forerunner 935 clocks in at an impressive 24-hours with GPS navigation turned on. The Forerunner 935 comes with features that allow you to track your performance during physical activities.
It can help track your pace during running and can count the number of strokes you perform during a swim. It offers wearers in-depth data about their performance during such activities to assist in developing the best possible pace.
The Forerunner 935 is also compatible with chest strap heart rate monitors. It also covers a variety of sports when it comes to its ability to track performance, not just for running, cycling, and swimming.
The Forerunner 935 can also connect to your Wi-Fi to download more features/fitness programs to help you develop your training regimen.
See more details about the Forerunner 935 on Garmin.com
Pros:
It has a highly accurate GPS navigation system.
You can use a variety of training programs.
Sleek and lightweight design.
Compatible with third-party apps and accessories.
Cons:
It only comes in one size.
Suunto Spartan Sports Wrist HR
Check Price on Amazon | See on eBay
As you would expect from a high-end Suunto sports watch, the Spartan comes with top-of-the-line battery life and a robust built-in monitor. But what else does it have under the hood? First off, the overall appearance of the Spartan makes it ideal for casual wear as well. Tough as nails and design for the outdoors, the Spartan lives up to its name.
It has a GPS navigation system that is quite fast to connect and provide real-time updates. It also comes with a bezel, which is not a standard feature you will find in a smartwatch but is a welcome inclusion.
The battery life of the Spartan is currently clocked in at 12-hours in training mode. That is a pretty substantial number for a triathlon watch. It also has a 100-meter water resistance making it an excellent watch for a variety of water sports.
The training mode we pointed out earlier can also accommodate up to 80 activities. That amount pretty much covers every single outdoor sport and exercise you can shake a stick at. The Spartan does look more massive than its competitors, but it is surprisingly lighter. All in all, this is another solid triathlon watch from Suunto.
Pros:
Excellent and accurate fitness tracking program.
It can connect to your smartphone and provide smart notifications on the fly.
Users get a selection of up to 80 sports mode.
Cons:
The display screen might be too small for other's liking.
Garmin Vivoactive 3, GPS Watch
Check Price on Amazon | See on Garmin
For those looking for another budget-friendly option, the Garmin Vivoactive 3 is also a good option that you should check out. Not only is the Vivoactive 3 one of the more affordable fitness tracking sports watch, but it is also incredibly easy to use. Navigating through the built-in apps is a breeze.
Garmin also allows users to fully customize what apps are installed as well the having near countless options for the face watch. This high level of customization is great for people like me who enjoy personalizing different kinds of stuff.
The Vivoactive3 comes with 15 pre-installed programs for a variety of sports and physical activities such as running, biking, and swimming. It has the VO2 app that helps track your fitness training progress accurately. It also comes with the Optical Heart Rate monitor program.
Another convenient feature included in the Vivoactive3 watch is its Garmin Pay functionality. This feature allows users to pay for items with their Vivoactive three instead of cash. This can make outdoor activities significantly more convenient.
See Full Specs of the Vivoactive3 on Garmin.com
Pros:
Comes ready with the Garmin Pay App.
Well-made fitness watch.
Fully customizable apps and face watch.
Cons:
Not all credit cards can be linked to the Garmin Pay app.
Suunto Ambit3 Peak HR Running GPS
Check Price on Amazon | See on eBay
Suunto is another famous sports watchmaker, and it is clear they brought their A-game with the Ambit3 Peak. It comes with a built-in heart rate monitor, which helps track your ideal pace and gives an accurate display of your BPM. It is packed with features, and while the design of the watch itself is rather bulky, it more than makes up for it with its features.
The Ambit3 Peak is water-resistant for up to 100-meters. It also has an internal compass, which will be of excellent service when participating in triathlons. It is also Bluetooth-ready and can connect to your smartphone without issue. The Ambit3 Peak is also known for having one of the best batteries for a sports watch clocking in at 200-hours.
It also displays current and future weather forecasts, a great feature to have when camping. Additional features include a barometer and an altimeter.
Pros:
Durable design thanks to the steel bezel and scratch-resistant mineral crystal glass.
Bluetooth connection capability is top-notch.
The Suunto Movescount app has voice guidance features.
Cons:
It has a rather large design.
Coros Apex Premium Multisport Watch Trainer
The Coros APEX may not be as well-known as the other watches in this list but consider it as a hidden gem. This sports watch is designed to provide convenience for both veteran and beginner marathon/triathlon runners alike. The APEX watch trainer is available in two sizes as well for those who prefer a smaller or larger sports watch.
The features that come with the APEX are top-tier stuff. Users will get the standard GPS navigation system along with a heart rate monitor, compass, and altimeter. It utilizes satellite technology to provide an accurate location in a matter of seconds.
One of the unique features found in APEX is the Coros' Intelligent Stride Algorithm. This program helps to track every detail of your run. This algorithm helps keep track of your movement even if you go through an area with a weak internet connection.
For runners who want to get every necessary detail simultaneously, you will be happy to learn that the APEX features a 5-in1 display screen. The screen will be able to display all the information required during your jog or run at the same time from heart rate to lap time.
Connecting the APEX to your smartphone via the Coros app will also allow you to check any progress you are getting from your exercise. You can also join the APEX to third-party fitness apps like Strava.
Pros:
Impressive battery life.
Built-in heart rate monitor.
It comes with a slew of programs and other sports/fitness tracking apps.
Utilizes user-friendly UI.
Cons:
Reasonably limited in terms of activities supported. It is restricted to running, cycling, and swimming.
It does not have a web platform.
TomTom Multisport GPS Watch and Heart Rate Monitor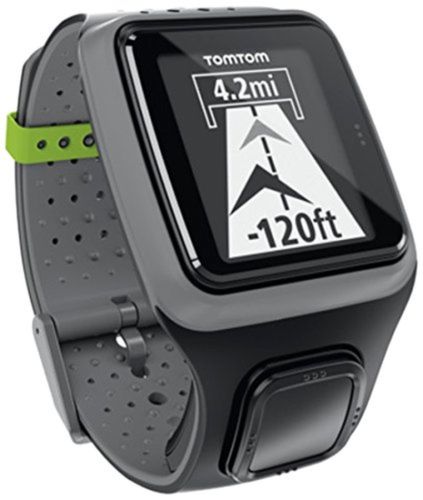 The TomTom Multisport GPS Watch is an excellent choice for beginners who are still not quite sure with a triathlon watch. This sports watch comes with all the standard triathlon watch features, such as progress tracking. It also comes with a Virtual Companion app that helps you develop the right training routine.
This sports watch comes with GPS navigating technology and a one-button control that should prevent accidentally pressing the wrong button when navigating the programs. This watch also comes with smart connectivity and is compatible with different platforms.
The large screen of the TomTom Multisport GPS also allows for easily readable displays. This is a pretty straightforward fitness tracking, and sports watch, a good choice for those who prefer a simple companion during training.
Pros:
It uses simple and easy one-button control.
It comes with vibration notification capability.
The slim and lightweight design makes it ideal for runners.
Cons:
Has issues tracking data when swimming.
Polar V800 GPS Sports Watch
The Polar V800 is designed to handle the roughest of activities that triathlon can throw at you. The glass is durable and scratch-resistant material with a high-contrast display, which helps improve visibility even under sunlight.
It comes with a standard GPS navigation system that incorporates a barometric altimeter that helps track your location during uphill and downhill hikes. The GPS navigation system comes with everything you need to help plan out your route, track your progress (steps and speed), and show you an updated distance between your current location and the checkpoint.
You can also fully customize your profile in the V800. You can customize three profiles to cover every three laps in a triathlon, a nifty feature to help you keep track of your progress during this event. This feature alone makes the V800 an excellent choice for both beginners and veteran participants of triathlons.
As for additional features, the V800 comes with the Bluetooth H7 heart monitor. This feature can help track your BPM during physically strenuous activities and assist you in developing a good pace. It is also water-resistant for up to 30-meters.
Pros:
It comes with three customizable profiles for use during triathlons.
Bluetooth H7 heart rate monitor.
Sturdy scratch-resistant glass.
Cons:
It does not have a wrist heart monitor.
This is one of the older models out there.
Buyer's Guide for Triathlon Watches
Taking part in a triathlon is no simple feat. You will need to be physically and mentally prepared before the event. That means months of intense training to ensure your body will be up to the task. Whether you're racing in a Sprint distance triathlon, Olympic, or the coveted full Ironman, the distances and level of fitness required to complete one of these events are daunting.
Apart from the physical abuse that you're body goes through while training for one of these races, the damage to your wallet can also be quite painful. Not only do the registration fees for events continue to rise, but the total cost of preparing for a triathlon (running shoes, a quality road bike, nutrition, etc) can also require some smart budgeting.
Faced with all those costs, u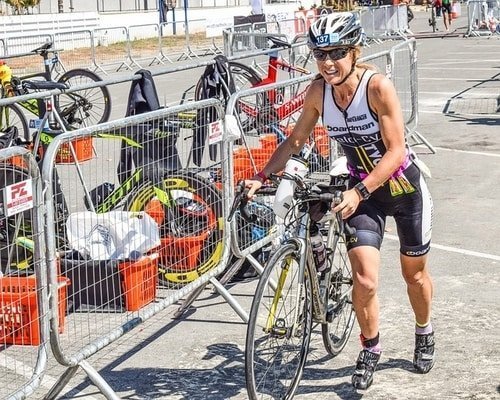 If you are planning on participating in triathlon and want to use triathlon watches, there are several features that it must include. Why leave anything to chance when there is a reliable device that can help you through the event, a device that is exceptionally lightweight and compact and will not hinder your performance but help optimize it? We will be listing essential functions that a triathlon watch must have down below: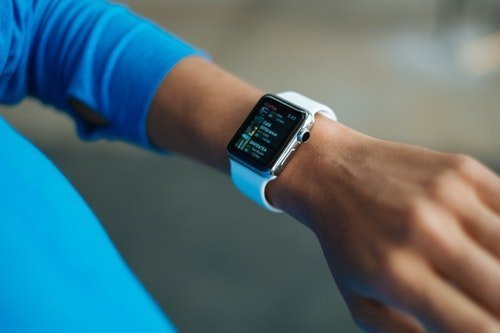 GPS Navigating System
This feature is one of the key features that any good triathlon watch has. By having a reliable and accurate GPS, you can easily track your current progress and adjust your pace to optimize your energy during the triathlon, helping prevent you from expending too much power at an inopportune moment of the race.
Durability and Water Resistance
Triathlons can be quite a physically taxing event. You will be pushed to your absolute limit as you make your way through challenging terrain. Having a triathlon watch that can withstand such abuse is a no-brainer.
You will need a sturdy watch to conquer such a tough event. Sports watches with bezels, scratch-resistant and anti-glare glass, and high water resistance are all essential characteristics to have.
Battery Life
Triathlons usually take up to 12 hours to complete; as such, you need a triathlon watch that can survive that long on a single charge. Make sure that the sports watch can deliver the maximum amount of battery life even with several features such as GPS tracking is turned on.
Some smartwatches will see a considerable drop in battery life; the more apps are used. Fortunately, this is not the case with all sports smartwatches in the market.
Connectivity with Triathlon Apps
Check for multisport features. If the triathlon watch is compatible with third-party workout apps, then that is a better choice. Triathlon and workout apps are invaluable when it comes to their ability to offer improved convenience during these sorts of events. You can easily pace yourself properly with the right triathlon app by your side. Some of the most common apps include Strava and the Swim.com app.
How much to spend on a good triathlon watch?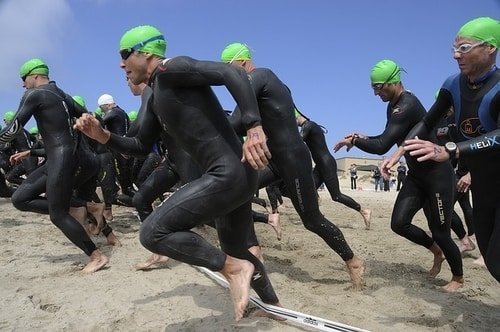 Many outsiders think that an event that is "just" running, swimming, and biking would be cheap. But anyone that has actually participated in a race knows that gear adds up: ever-increasing cost of registration entry fees, running shoes, and a decent road bike, not to mention travel costs to and from the event and more hidden costs such as nutrition, supplements, personal training, and gym fees.
So with all that in mind, many triathletes hesitate to drop a bunch of cash on a high-end smartwatch. However, given the useful info, you can get from a top watch such as GPS tracking, heart rate monitoring, or more advanced features like pulse-ox readings, the value is more evident. However, the price on some of these watches can be prohibitive ($500+ range)and we understand that not all racers are willing to spend that much or may not see the value in having all the latest and greatest features. Because of that, we've included everything from the most basic (and reliable) Timex that you can get for around $35 to the top-of-the-line smartwatches from brands including Suunto, Garmin, and Polar.
Conclusion
Triathlon is designed to push the physical body to its limits; having a triathlon watch along with you can help optimize your run and improve your chances of finishing such a challenging event. Hopefully, this list has helped you in choosing the best triathlon watch that suits your needs and is within your budget.