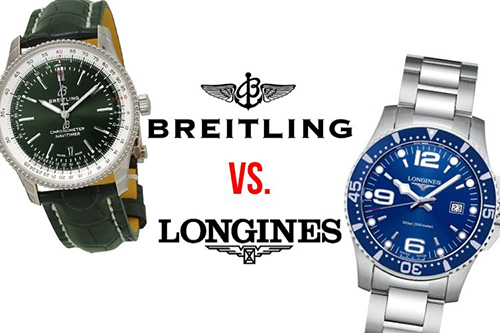 Both Breitling and Longines are rooted in heritage and their strict accordance with tradition is quite evident from their watch collections. Both offer stunningly beautiful timepieces that radiate class. However, we are not here just to highlight the two brands, we are here to figure out which of the two is the better watchmaker.
In this article, we will take a closer look at both the watch brand's history and their best collections to determine which is the superior watch brand. For watch enthusiasts, the answer might already be clear. As for those who are new to luxury timepieces, let us guide you through your first steps.

Breitling Brand Overview



Breitling was founded by a young German watchmaker, Leon Breitling in Bern, St. Imier. This Swiss watch brand was well-known for its timepiece craftsmanship, but more importantly, it built a reputation with its focus on developing high-quality chronographs. While watchmakers back then primarily developed mechanical timepieces, Breitling was one of the few that focused on the more challenging chronograph timepiece. Breitling honed their skills in this particular category which resulted in their reputation today as one of the premier chronograph watch manufacturers in the world.
By the early 1900s, Breitling already shifted the company's focus from pocket watches to wristwatches. This is when Breitling started innovating the standard chronograph design and wristwatches, in general. One good example of Breitling's innovation came in the form of their introduction of the push-piece crown. Back then, operating a timepiece was all shouldered by a single crown. This made operating multi-function timepieces like chronographs to be a bit complicated. With the introduction of the push-piece, chronographs became considerably easy to operate.
Breitling also added to their impressive repertoire when they once again pushed the limits of timepiece design with the start/stop and reset functionality that they included in the chronograph watches in 1923. Throughout the years, Breitling expanded their catalogue not just in the chronograph category but over the full spectrum of timepiece types. From dive watches to aviation timepieces, Breitling has proven to be one of the finest luxury watchmakers in the market today.
Longines Brand Overview


Longines is another Swiss watch brand that also began in St. Imier in Switzerland. The company was founded back in 1832 and was known for its luxury style watches, a reputation that they still hold to this day. While the company did begin in the 1830s, it wasn't named Longines until 1867. The company took the name from Les Longines, St. Imier which is was the new location of the company's headquarters. Longines is also a member of the Swatch Group.
There is one fascinating tidbit about how the company operates their business – and that is that they have a record of every serial number of every watch that they developed dating back to 1867. What this means is that Longines watch owners can request special services such as authentication certificates and other model-specific information.
Longines also has a rich history in the industry and they are known as one of the official partners of major sporting events such as Formula One Racing and Archery World Cup, to name a few. Their presence in these sporting events began when they released their brand of chronographs back in the late 1870s. As for Longines' reputation, they are considered as an entry-level luxury watch brand. While Longines are not on the same level as Rolex or Tag Heuer, they do manage to bring their unique brand of charm at a considerably lower price tag.
Overall, Longines is another noteworthy timepiece that has undeniably earned its spot in reputation. However, most watch enthusiasts tend to favor Longines' older models to their newer ones. Their classic collection still holds up to this day and many consider the older Longines watches to be superior both in construction and design. Longines is still a highly reputable watch brand and their timepiece collection (both classic and modern) is worthwhile to check out.
Breitling and Longines Watch Comparisons
Dive Watches
Breitling Aeromarine Superocean Heritage 42 Watch Review
Breitling is a premium watch brand and the cost of their timepieces simply can't compare to Longines, keep that in mind during these comparisons. With that out of the way, let us take a look at Breitling's entry into the dive watch category – the Aeromarine Superocean Heritage 42. The Breitling Superocean 42 takes a tried and tested approach to its design with its polished stainless-steel case and a beautiful blue dial to complete the classic dive watch aesthetics.
In terms of timekeeping precision, you can rest easy that the Breitling Superocean 42 incorporates a COSC-certified calibre 17 self-winding automatic chronometer movement with 25 jewels which also clocks in a fantastic 28,800VPH. In addition to its already impressive COSC credentials, the calibre watch movement also provides up to 40-hours of power reserve. This Breitling aquatic timepiece also comes with a prominent large crown with excellent grooves for better grip.
As for its key physical appearance, the Breitling Superocean 42 comes in at 42mm and utilizes top-notch construction techniques – as is expected from a Breitling watch. This timepiece features sapphire crystal material for its window which is known for its high level of scratch resistance and durability. The Breitling Superocean 42 also offers up to 200-meters of water resistance making it suitable for swimming and snorkeling.
Longines Hydroconquest Automatic Watch Review
Affordable, stylish, and reliable – these are the words I would use to describe Longines dive watches. The Longines Hydroquest is a perfect example as it is both reliable underwater and stylish enough to fit into any formal gatherings. That said, the Longines Hydroconquest manages to include some excellent modern features while keeping the cost relatively low.
The Hydroconquest takes the traditional dive watch aesthetic route with its design. This timepiece features the classic polished stainless-steel case and blue dial combination. One mandatory factor concerning dive watches is that it should be legible. The Hydroconquest achieves this perfectly well with its large Arabic numeral hour markers with luminous finish compliments by the Super LumiNova coating. Of course, it is what powers the watch which is most important, and in that regard – the Longines Hydroconquest delivers.
The Hydroconquest features the Longines calibre L888 automatic movement with analog display. It also has a date display located over at the 3 o'clock position. In addition to the accuracy that the calibre L888 automatic movement can offer, it also manages to provide around 62-hours of power reserve. The timepiece comes at a relatively compact 41mm case and is also water-resistant for up to 300-meters.
Pilot Watches
Breitling Aerospace Evo Watch Review
During the quartz watch revolution of the 70s, a lot of traditional watch brands took a considerable hit in terms of sales – with some companies being forced to close down. Breitling's answer to the quartz revolution was obvious to anyone who knows the history of the company – and that is to improve upon the technology with their version. Thus, the Breitling SuperQuartz watch movement was born.
Breitling first unveiled their entry into this watch movement category with their Aerospace series. This particular Breitling watch series incorporates their patented SuperQuartz watch movement which pushes the accuracy of the Aerospace watch model up to ten times that of standard quartz watches.
Innovation is the name of the game when it comes to Breitling and their Aerospace series certainly is testament to this claim. The Aerospace comes packed with features and functionalities from a countdown timer, 1,100th of a second chronograph, dual time zones, alarm, and calendar display. The watch also has an impressive backlight technology that is compatible with night vision goggles.
The Breitling Aerospace is also impeccably designed with a focus on convenience and comfort. It features a titanium case (measuring it at 43mm) which gives it a lightweight yet sturdy structure. The design also gives the Aerospace a water resistance rating of up to 100-meter. Another notable feature is the conversion scale that is found on the back case of the watch.
Longines Avigation Bigeye Watch Review
The Longines Avigation is another noteworthy timepiece collection from the Swiss watchmaker. In terms of watch technology, the Avigation can keep up with the best of them. First off is its oscillator which is the Longines calibre 688 automatic self-winding mechanical movements with a beat of 28,800VPH. Also, the watch movement packs a 56-hour power reserve.
As you will undoubtedly notice, the Avigation also features chronograph functionalities. It has three sub-dials that tracks seconds (60), minutes (30), and hours (12). The Avigation also utilizes three distinct crowns that operate all the features found in the Avigation. The timepiece is also quite sleek and comfortable with its combination of polished 41mm stainless steel case and genuine leather straps.
The Longines Avigation is a classy pilot watch that also strides around with a casual charm making it an excellent everyday timepiece. It's reliability, accuracy, and functionalities complete the trifecta of this fantastic pilot chronograph watch from Longines.
Conclusion: Breitling vs Longines – Which is Better?
Breitling and Longines occupy two widely different watch markets. Price-wise Breitling is more expensive with some of the watches above being roughly four times the costs of Longines. Breitling's stomping grounds are on the high-end luxury bracket while Longines is considered the entry-level luxury category by most.
That said, both have their charm. Longines is an excellent choice for entry-level luxury watch aficionados who are not financially ready to invest in high-end expensive models. If you're looking for top-quality luxury watch brands – Breitling should be among your list of choices. So, which is the better watch brand? That depends on your personal preference – overall though, based on several factors most watch aficionados would agree that Breitling comes out on top.