Charriol is a Swiss luxury brand established by a French entrepreneur, Philippe Charriol. This Geneva-based brand has already formed a global network with more than 280 boutiques and almost 4,000 authorized retailers. Charriol produces not just stylish timepieces but also jewelry, accessories, even fragrances, eyewear, and leather goods. Yet, the company is primarily known for its use of steel cable in the majority of its products.
Read on to know more about this prestigious brand.
Charriol Brand History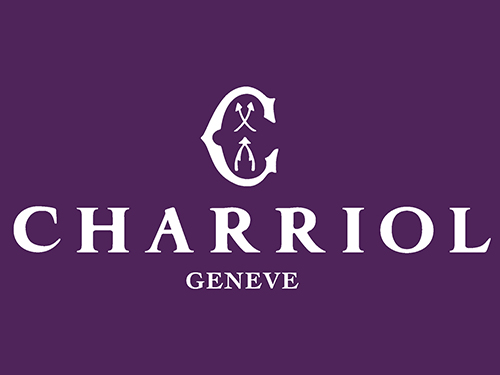 Charriol started back in 1983 by one Philippe Charriol. Then, he established that the one recognizable element of the brand is the steel cable. Charriol's steel cable is the modernized version of the "torque" necklaces and bracelets made of coiled gold threads that root back to the Celts.
The company's first product was a piece of Celtic jewelry, created in 1984. That same year, a Celtic belt was also launched. Even in the succeeding years, Charriol has been very productive. It introduced the Alexandre watch in 1985 and that same year, the company already founded its Swiss and Hong Kong offices.
Moreover, the brand kept introducing more watch collections – the Christopher Columbus in 1988, the St-Tropez in 1989, large Celtic and automatic Yucatan in 1990.
1990 was also a year of expansion for the company as it opened its first boutiques in Hong Kong and Singapore. This was followed by 10 more boutique openings in 1992 located in Asia, the Middle East, and even in the US. At this point, Charriol has already reached almost 60 countries.
Throughout the years, Charriol continued to expand geographically and widened its product range. More watch collections were launched, more jewelry and other accessories were introduced. Some of these collections have even stepped beyond the brand's cable design.
Philippe Charriol remained to be the brand's president until his death in February 2019 after a tragic racing accident in France. His daughter Coralie Charriol Paul, then Vice President and Creative Director of the company, succeeded as the company's President.
Charriol Watch Collections
Alexandre C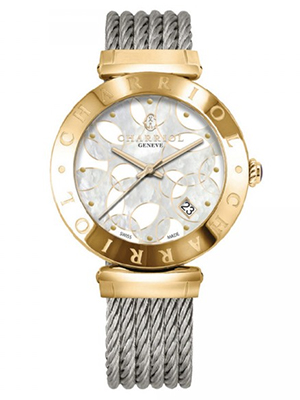 See on Charriol | Check on eBay
Charriol Alexandre C collection offers quite a wide range of stylish timepieces compared to other collections. It has models for both men and women; some come with the traditional stainless steel case and bracelet, while others have the Celtic-inspired cable bracelets. There are also models that have quite a simple case and dial, while others are adorned with diamonds. More so, its Alexandre C timepieces cost quite less compared to other Charriol collections.
Celtic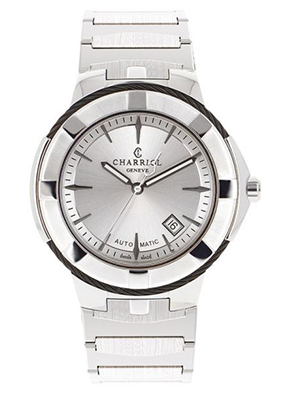 See on Charriol | Check on eBay
Celtic is one of the most popular collections of Charriol. The collection offers a wide range of watches for both men and women. As the name of the collection implies, its watches pay tribute to the Celtic traditions that have inspired the brand from the start.
The straps use the durable and stylish cable design that you would also find in most other Charriol bracelets and other accessories. Even the case is encircled by this cable design.
Celtica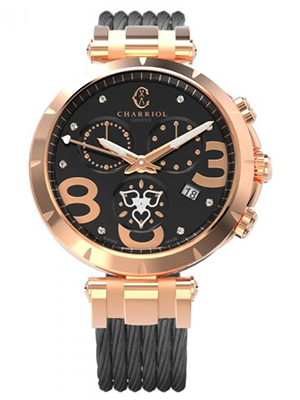 See on Charriol | Check on eBay
The Celtica collection is quite different from the above-mentioned Celtic collection. Celtica is your go-to Charriol collection is you have an active lifestyle and are looking for a sports watch. Celtica models are tough chronographs as they are made of premium durable materials. They also pack a powerful performance to match your lifestyle.
St-Tropez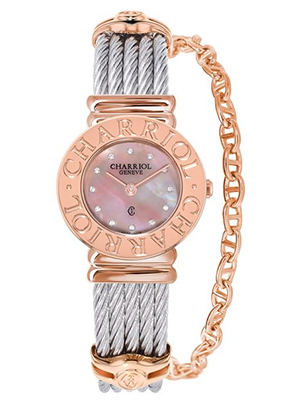 See on Charriol | Check on eBay
St-Tropez collection offers accessories that fuse timekeeping and jewelry, so mainly they are created for women customers. St-Tropez jewelry watches come with the cable strap and affixed chain bracelet. The models are very similar to one another, varying only in the color of the cable, bracelet, and accents, and case size. A few models also come with illuminating text on the dial.
Colvmbvs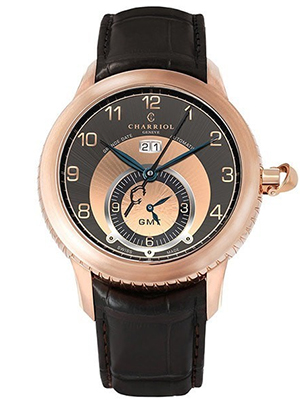 See on Charriol | Check on eBay
The Colvmbvs collection is created for both men and women, and all models are driven by an automatic movement. In terms of style, the Colvmbvs is mainly inspired by sea-faring, "from the clevis crown to the etching of Columbus on the case back".
This collection is also one of the very few that doesn't use the cable design for its straps. Instead, the majority of Colvmbvs models come with calfskin leather strap; although, there's also the Grande Date GMT Watch 46mm that has a stainless steel bracelet.
Forever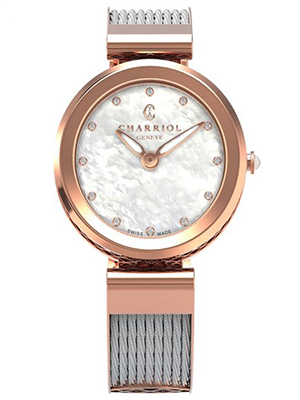 See on Charriol | Check on eBay
The Forever collection is easily identifiable with its slim cable bracelet and Eastern-inspired lattice design. As such, this collection mainly caters to women and is suitable for both casual and formal wear, depending on the particular model.
Marie-Olga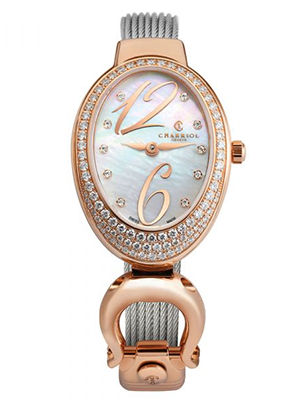 See on Charriol | Check on eBay
In addition to the Forever collection, the Marie-Olga collection is another collection of stylish timepieces for women. In addition to the cable bracelets, the Marie-Olga watches have a diamond-embellished dial and case. More so, instead of the classic round case and face, they have an oval one with a horseshoe-like lug. These details add more artistry to the watches, making them great for evening wear.
Parisii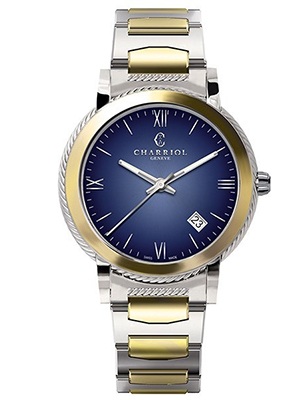 See on Charriol | Check on eBay
Charriol's Parisii collection is made for both men and women. This collection may be distinguished through the twisted cable around the case, which may be in gold, steel, or black. As such, the straps forego of the cable and are instead made of classic stainless steel. Overall, Parisii watches have that sleek and elegant style.
Slim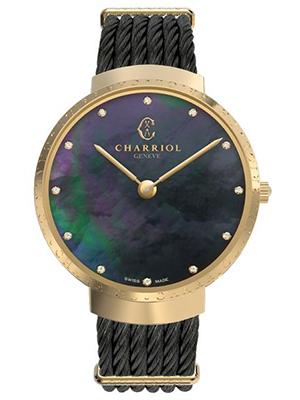 See on Charriol | Check on eBay
The Charriol Slim collection is characterized by the slim bezel and a 34mm round watch case, along with the cable bracelet. This combination of elements thus results in a clean and modern look for the watches, suitable for young ladies. Slim watches only differ in the color of the dial, case, and bracelet.
Twist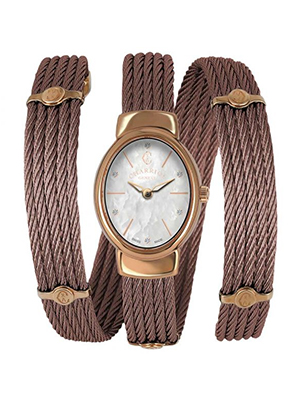 See on Charriol | Check on eBay
The Twist collection showcases the brand's craftsmanship. Its models are bracelet-timepiece-in-one with their extended cable twisted bracelets. The oval watch face is simple and sleek and the models vary primarily in the color of the bracelet.
Charriol Brand Reputation
As mentioned above, Charriol is primarily known for its use of cable design in its accessories, especially for bangles, bracelets, and watches. The brand takes pride in its use of cable as it is said to be a symbol of "strength and courage".
Its style and most of its products are also designed for women, although there are also few items for men. The designs are also very similar to one another – conforming to the brand's traditional style. However, you may also occasionally see some limited models and pieces that stand out from the rest.
Despite its unique yet fashionable style, Charriol is not very popular in the US. But it doesn't mean that there's a problem with its quality. Rather, this may be due to the brand's limited distribution especially in physical stores and retail outlets, which is intentional to preserve its "luxury image".
Is Charriol A Good Watch Brand?
As a luxury Swiss brand, Charriol watches are of good quality with distinctive style. The materials used are of high quality to make sure that the timepieces are not just stylish but also durable. Among the materials frequently used are stainless steel, high-tech ceramics, gold, and scratch-resistant sapphire crystal.
The water resistance may not be as high as those of other brands, especially those of diver watches. Most still come with at least 30 meters of resistance, but some models have higher. In terms of movements, the majority of Charriol timepieces are driven by a quartz movement; but there are also some with automatic and very few mechanical movements. In general, you can expect Charriol watches to last long with proper care and maintenance. If you're doubtful about it, this forum shows testimonies of how durable Charriol timepieces (and bangles) are.
The only concern you might have is regarding its price. As a luxury brand, a timepiece is worth at least a thousand to five thousand dollars. Some limited-edition models are even priced way beyond that. Yet, with such a unique style and impressive build, such price points for a Charriol timepiece is sure worth it.
Where To Buy Charriol Watches?
You may visit this link to see the list of Charriol stores worldwide. It also has a Store Locator to help you find the one nearest you. You may also find Charriol watches in some select retailers, mainly in high-end department stores and jewelers. Although, retailers may be quite limited so as to maintain the public perception that it is a rare and unusual brand.
Online, you may visit Charriol's official website the brand's watch collections.
You may also purchase from JomaShop, Overstock and Walmart
You can also find new and pre-owned Charriol watches on eBay.
Where Are Charriol Made?
Charriol watches and other accessories are all Swiss-made. In particular, they are sourced from the company's headquarters in Geneva, Switzerland.
Charriol Watch Warranty
Each Charriol timepiece is covered by a two-year limited international warranty for all defects in workmanship and materials; provided, however, that the said timepiece was purchased from an authorized dealer and that the Guarantee booklet was accordingly filled out by the said dealer. For the complete details of the said warranty, you may continue reading here.
More so, the brand offers an additional one-year warranty if the watch is registered here.
Further, you may visit this link to know the details of the company's worldwide shipping.