Founded in 2014 by two brothers, Ary and Bob, Ferro & Company sought to make luxury watches at accessible prices for all. Influenced by vintage cars and planes, Ferro & Company builds retro-style watches with high-quality material and top-notch technology. The innovative Distinct Collection is designed with a single-hand dial inspired by tachometers used in sports cars.
Appealing to the inner child in you, Ferro & Company stands out for its sophistication in design and passion for cars. The watches are inspired by some of the most historic cars ever made and iconic racing events. Given the vast range of cars inspired watches, Ferro & Company is your one-stop shop to combine both passions in one place.
Ferro Watches, Where Love for Watches And Cars Meet As One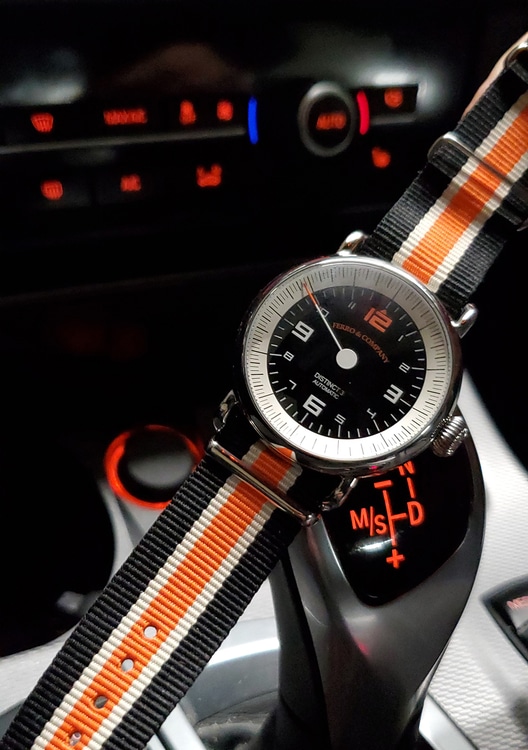 As children, the founders of Ferro & Company shared their interest in cars and planes. When starting their watch company, they took inspiration from different vintage automobile parts while designing retro-style watches. More particularly, the Porsche tachometer heavily influenced Ferro & Company's single-hand watch editions back in 2014. Seeing how this edition became a huge success, the brand sought to make more single-hand watch models each with a unique design, taking inspiration from trailblazers in the field of motorsports.
Based in Vancouver, Canada, the brand uses Swiss or Japanese movements in all their watches and high-grade metals. Ensuring high standards, each watch begins its story with a hand-drawn design, carefully tested to ensure each piece is perfect and flawless. The brand also takes pride in the fact that each design gets multiple prototypes and goes through rigorous assessment and evaluation with the manufacturers. The utmost attention to detail given to each timepiece ensures its high quality and durability.
Single Hand Watches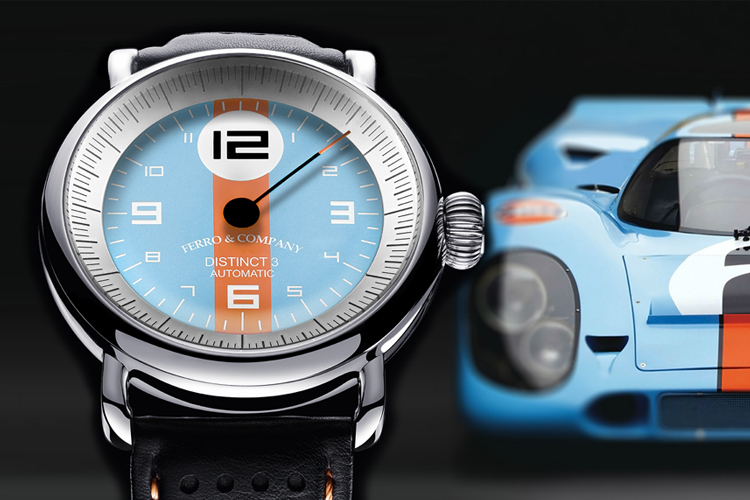 Ferro & Company has close to ten different styles of single-hand watches on its website. The dial on these single-hand watches takes inspiration from a sports car tachometer. Much like how the tachometer works, reading time on a single-hand watch is not that difficult once you get the hand of it.
So, how do you read time in a single-hand watch? For Ferro & Company watches, the dial is marked up for 12 hours and rotates twice a day. Some brands also use a 24-hour format for single-hand watches, rotating just once a day. The 12-hour marking in the Ferro watches comes with 144 markers and each marker is a 5-minute denotation. You will also see that 15, 30, and 45-minute markers have bold highlights, making it easy to mark time.
It is noteworthy to mention that, with single-hand watches, you may not able to tell the time accurately to the second. However, if you do not need reading time to the dot and don't mind a difference of 2 to 5 minutes, single-hand watches will suit you well.
Distinct 3.0 Collection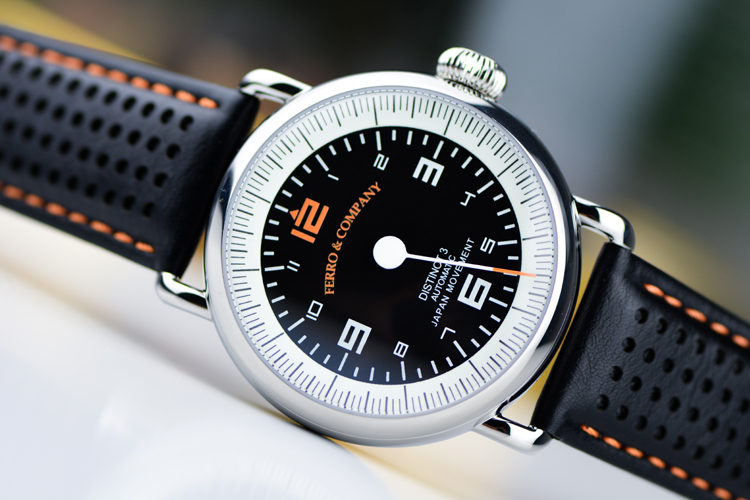 Inspired by Le Mans, the Distinct 3.0 collection honors the legacy and heritage of the prestigious 24-hour racing event. Does the excitement of speed pump your adrenaline? Does the smell of gasoline and burning tires fill you with unwavering excitement? If yes, then the Distinct 3.0 Collection will kindle your passion. Ferro & Company stepped up their watch game, to give you only the best design with unparalleled aesthetics.
To date, Le Mans remains one of the most celebrated racing events of all time. This is mainly due to the fact that Le Mans is a true test of endurance; for the drivers and for the cars. Reliability, efficiency, and stability underscore the success of the race. In the same vein, Ferro & Company's Distinct 3.0 Collection is designed to stand the test of time.
This collection, as evidently noticeable, tells more than just time. It tells the tales from the racing tracks, from the pits, and from the engineers of the race. It tells the story of striving for excellence, endurance, and prestige.  To this effect, let's look at some watches under this collection to understand what makes them so flawless.

Distinct 3.0 GLF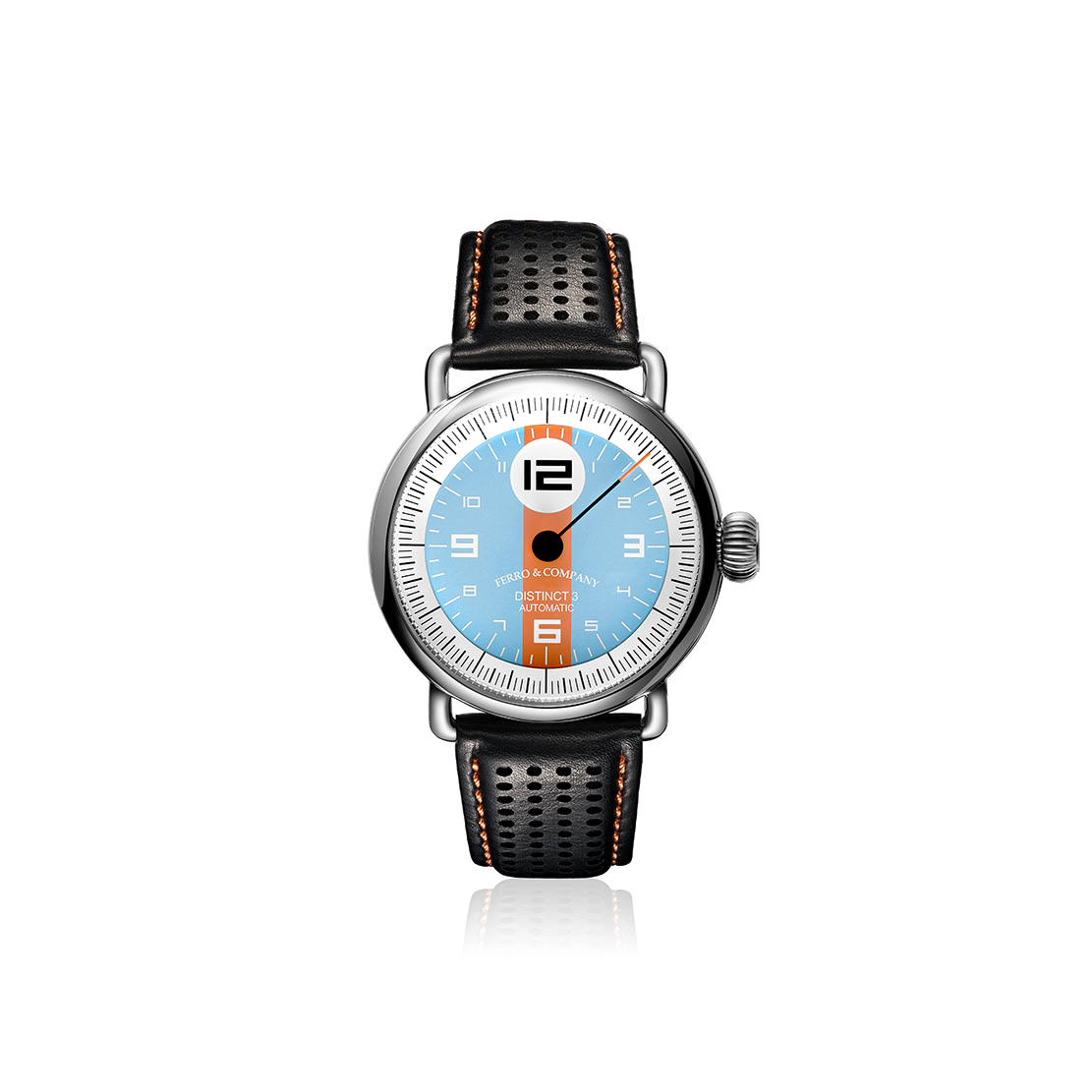 One quick look at the watch will make you think of a racing car from Le Mans. The blue dial with an orange stripe running at the center adapts after the sleek designs of the racing cars. The infamous single-hand dial prominently stands up with the complimenting shades on the face of the dial.
The brand gives you an option to pick your movement between Swiss ETA caliber 2824 or Japanese Miyota caliber 9015 or Swiss quartz. Either of these three movements provides precision time for many generations. The timepiece encased in a 42 mm case diameter comes paired with an Italian Calf Leather strap and 330 feet of water resistance.
Distinct 3.0 Petrol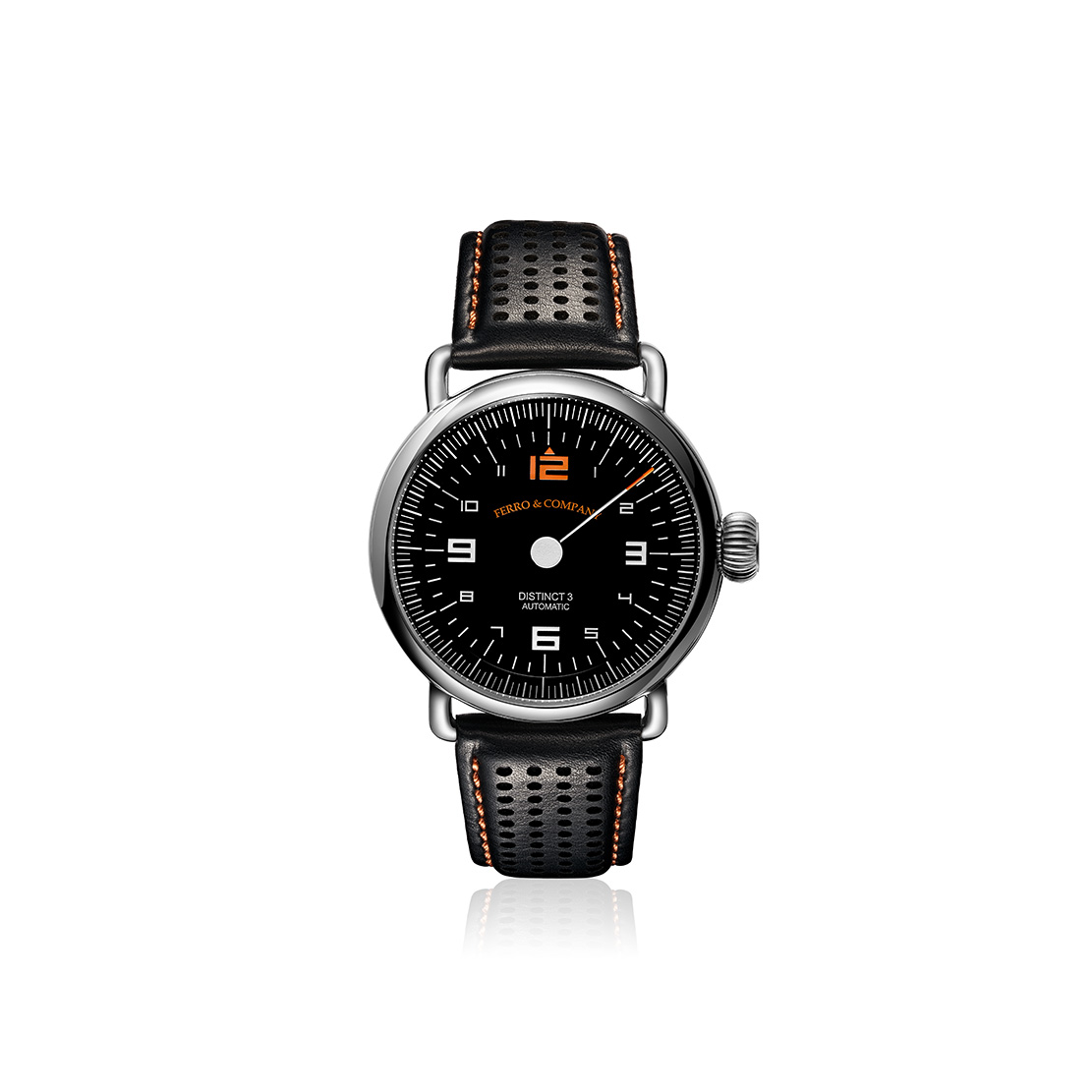 In a full black dial and black leather strap, with contrasting orange markings on the face of the dial, the Distinct 3.0 Petrol offers a timeless unique look. In a similar 42 mm case like the GLF, the Petrol edition makes a solid case for endurance and durability through generations to come. Given the versatility of the design, you can wear the Distinct 3.0 Petrol watch for any occasion. This timepiece, too, gives you the option to equip any one of the three movements provided by the brand. Embodying the namesake of the collection, the Petrol edition is a truly distinct piece.
The Distinct 3.0 Grand Prix is another edition under this collection. Much similar to Distinct 3.0 Petrol's features, the Grand Prix's dial comes with a slightly different dial shade, giving a pop of white on the face of the watch.
Distinct 3.0 Gold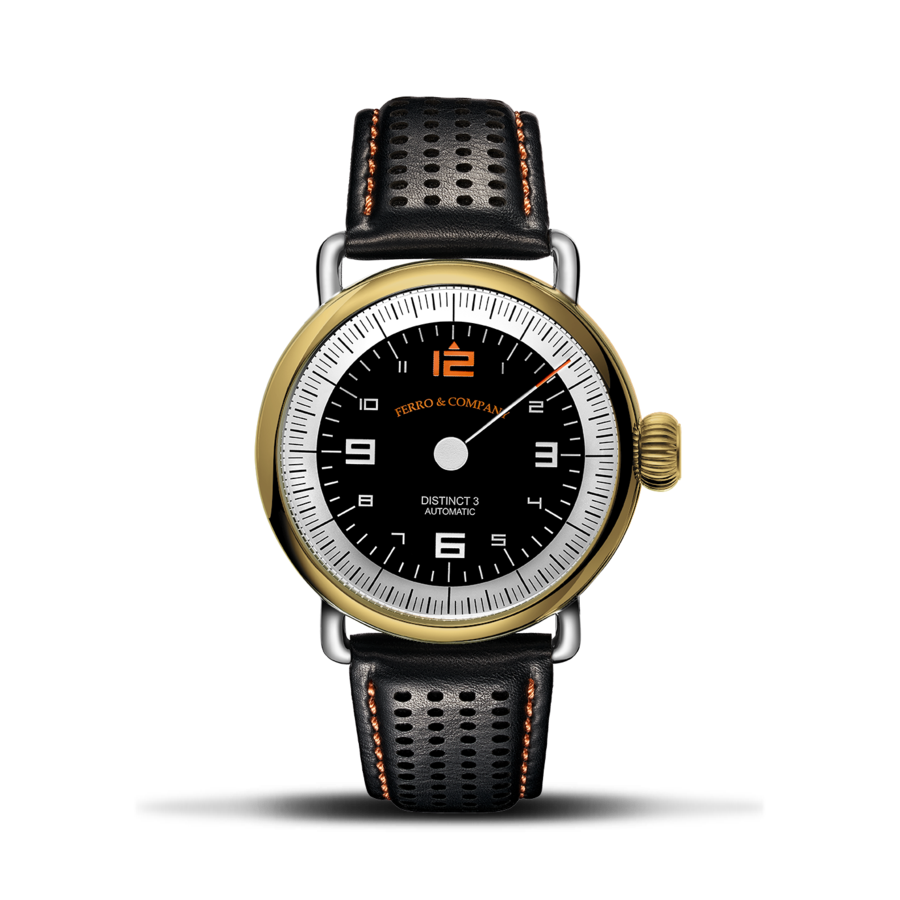 A more premium watch on their list, the District 3.0 Gold, features an 18K solid gold bezel and crown. The brand gives you the option to choose either of the three watches – GLF, Petrol, or Grand Prix – to have the gold bezel finishing. This edition is only available in the Swiss ETA 2824 movement with a self-winding mechanism. This is a very exclusive limited-edition watch with just 11 pieces made.
In conclusion, Ferro & Company makes for a trustworthy brand if you are looking for motorsports-inspired watches. Yes, there are several brands that take inspiration from cars. However, with Ferro & Company, you are guaranteed the extra care that goes into each individual piece, lasting a lifetime. And above all, all this at an affordable price.
---
~ Find out more about Ferro & Company watches here ~
---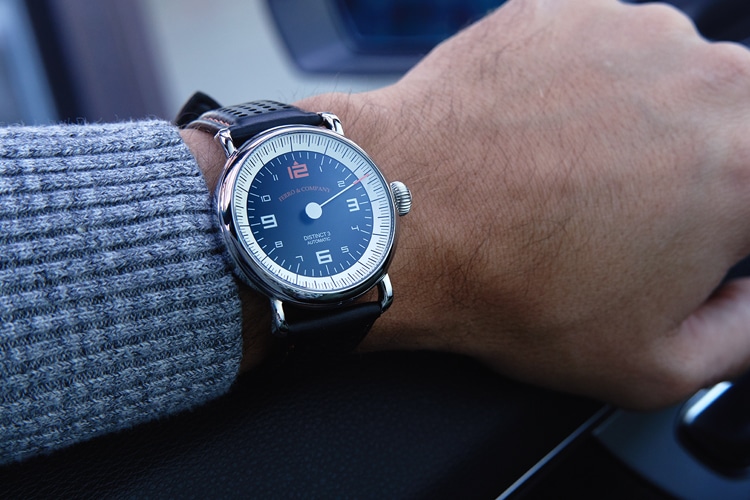 ---
Disclaimer: Sponsored Posts are a form of advertising that allows sponsors to share useful content, press releases, and offers to WatchRanker readers. The viewpoints and opinions expressed are those of the advertiser and not necessarily those of WatchRanker or its writers.