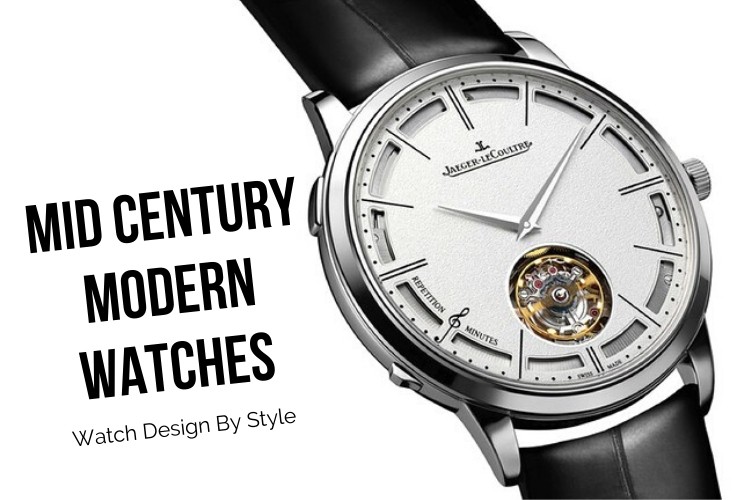 Mid-century modern is a design movement—a general term for different subjects such as architecture, furniture, fashion, graphic design, urban planning, and typography—that became popular from the 1950s to the 1970s, but remains relevant and popular today.
The popularity of mid-century modern design in furniture, for instance, has not died down: people still want the clean, classic shapes, as well as the undeniable functionality. Not only are these designs attractive; they're very practical as well. For instance, while there are currently many expensive pieces of mid-century modern style furniture, there's also affordable Swedish furniture giant IKEA whose product line is heavily influenced by the design movement.
In this article, we'll talk about the history of mid-century modern design in different forms (ie. architecture, furniture). Because this is a watch website, we'll also zero in on how mid-century modern design influenced fashion and watchmaking. Below, we'll feature watches with this aesthetic, and talk about their history. There will be some discussion on pop culture references as well.
Mid-century Modern Design: A History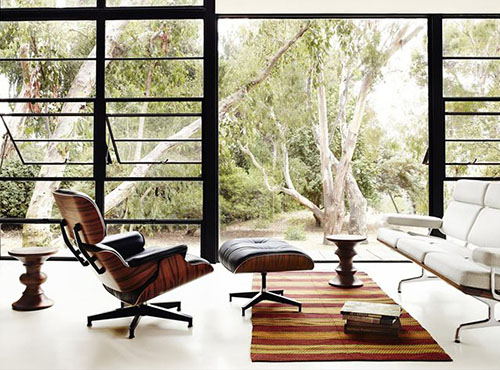 The mid-century modern design period took place in the late 1940s, after World War II. Like other design movements, the term did was only named much later, after it ended around the '60s.
The term "mid-century modern" was coined by art historian and writer Cara Greenberg in 1984. The movement reflected other previous movements like Bauhaus and modern architecture International style. (read more about Bauhaus watches)
The movement took place after Art Deco, which was popular in the 1920s. This period focused on intricate designs and meticulous décor, so one could say that the general mid-century modern aesthetic is almost the opposite, as mid-century concentrated more on a minimalist style rather than ornate and excessive styles present during the pre-war era. Click here to see Art Deco watches.
One of the design philosophies of this period is functionality and beauty, and it reflected greatly in architecture. The post-war economy allowed for a rise in home purchases, and during this period, one did not need to spend a huge amount to have a tastefully-designed home. During this period, more families bought houses and apartments, and the designers and architects during this period created furniture and homes that were classy inexpensive.
This article pointed out that aside from the minimalist design, flat planes, and angular structures, one of the common styles of homes during this period emphasized "bringing the outdoors in." Thus, large windows allowed plenty of natural light, as well as scenic views.
What is Mid-century Modern Style?
Some of the defining features of mid-century design are functionality, simplicity, and comfort. Whether it's a piece of furniture, a house, or a timepiece, these qualities apply to its general philosophy.
The movement also focused greatly on industrial design such as furniture, lighting, and glassware. One of the most influential is the Scandinavian design, which is composed of clean and minimalist designs, as well as natural shapes.
One of the reasons why this aesthetic stood the test of time is the versatility. It's neat and stylish and highlighted function over form. They're easy on the eye and practical, allowing people to easily match it with different styles.
It's not easy
Mid-century Design Artists
Ray and Charles Eames are two of the biggest names of this movement. Considered two of the most influential designers of the 20th century, the American couple contributed to the period's furniture design and architecture. One of their most notable works is the Eames chairs, comfortable pieces of furniture with unique and groundbreaking designs (one of the most popular ones, the Eames Lounge Chair, continues to be produced and sold today).
One of the names that must be noted when talking about mid-century modern design is Frank Lloyd Wright, a multi-hyphenated artist/architect who was the pioneer of the Prairie School movement, an architectural style in the US Midwest which is characterized by styles like flat roofs, horizontal lines, open spaces, overhanging eaves. The Prairie form of architecture is one of the things that inspired mid-century modern and contemporary homes. Below, we'll talk more about Wright (and his relevance to a watch company even after his death).
Other important names that defined the era in design is Danish designer Arne Jacobsen, who invented the famous Egg Chair; Irish Designer Eileen Gray, wh invented the Le Corbusier chair; American Architect Florence Knoll, who made designs for the revolutionary furniture company Knoll in the '50s; and George Nelson, who is not only known for the iconic Bubble Lamo and Marshmallow sofa but his work at Herman Miller, where he recruited Charles and Ray Eames.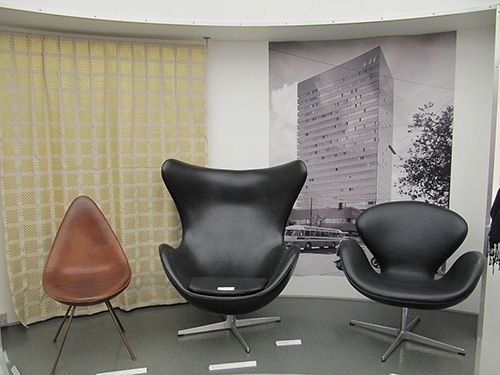 Mid-century modern design in fashion also followed a similar philosophy. Clothing during this period also put simplicity and functionality front and center. This article, which talks about fashion between the '50s and '60s, cites Claire McCardell, a designed who created ready to wear outfits that are both stylish and practical, like pockets in skirts. The article also mentions designers such as Coco Chanel and Christian Dior, both of whom rose to popularity during the period.
Mid-century design was huge in both the United States and Europe. It was (and continues to be), for instance, highly present in Palm Springs, California, where mid-century modern architecture could be seen in designs of houses, hotels, shopping centers, and restaurants like the Miller House by Richard Neutra, Frank Lloyd Wright, Eichler Homes in Granada Hills, and William Krisel's Ocotillo Lodge.
Mid-century Design in Watches
Read Amazon Reviews | See on Timex.com
Timex
American watch brand Timex's interpretation of mid-century design in its watches traces back to the post-war period. Aiming to combine simplicity, function, style, and accurate timekeeping, the company released Model 22 in the late 1950s, and then the Marlin in the 1960s.
Timex calls the Marlin the watch that defined their "shift towards mid-century design." Released in the 1960s, this watch continues to be part of the brand's collections. The new edition still has the classic marlin 60s design with its domes liens and the original mechanical movement.
There are two versions: the Marlin Automatic, and the Gentleman's and the Lady's Hand-Wound (check them out here). The Marlin Automatic moves as the wearer moves—the Marlin Automatic 40mm Leather Strap Watch, for instance, is powered by motion, with a maximum of 40 hours of energy stored. This model is a classic and stays true to the 1960s design: a stainless steel case, sleek gold-tone markers, and a navy dial and leather strap. It's also worth noting that the leather is made by S.B. Foot Tanning Company (owned by Red Wing Shoes), which has been around since 1872.
The Marlin Gentleman's Hand Wound, on the other hand, has a mechanical movement. It's advised to wind the crown daily at the same time each day to allow the watch to run continually.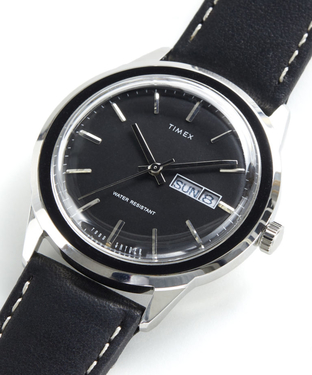 Timex also released what it calls the Mid Century Watch, which is a collaboration with fashion brand Todd Snyder. This is an homage to a simple, vintage design. A practical watch that has a minimalist design: black or silver dial, index markers, baton hands, and a day/date feature at 3 o'clock. This watch has received many positive reviews, with experts praising its excellent construction and affordable price tag—a watch that can be worn as an everyday piece or dress piece.

Read Amazon Reviews | See on Timex.com
One of the brand's most recent release that pays homage to this design philosophy and aesthetic is the Timex Fairfield collection, which the brand says is a "contemporary take on mid-century modern design." Also inspired by the Bauhaus movement, these watches are simple, functional, and stylish—simple index markers with hour, minute, and seconds hands. There are also chronograph versions with a date window at 4 o'clock. See the different Fairfield versions here.
Bulova and Frank Lloyd Wright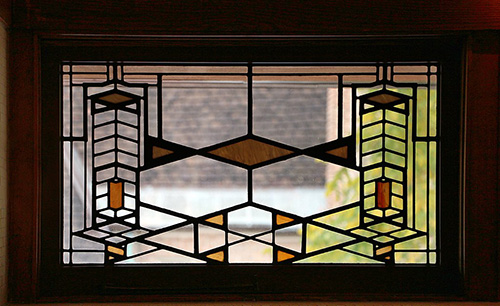 Bulova is another American company that made sure the mid-century design lives on. The brand collaborated with the Frank Lloyd Wright Foundation to design clocks and watches inspired by his creations (we talked about this in our Best Gift Watches for Architects article).
Bulova released a number of unique models that pay homage to Wright's designs. The sizes are for both men and women, all unique styles based on Wright's career.

Read Amazon Reviews | See on eBay
One of the arguably most creative watches is the 96L63 Frank Lloyd Wright Women's Watch, a rectangular-shaped watch that was based on wright's Ward W. Willits House window. Designed in 1902, the Ward Willits house is one of Wright's prairie-style homes. According to Wright, the plan for this house "was arranged to offer the least resistance to a simple mode of living, in keeping with the high ideal of family life together." To learn more about this design, you can also check out the Frank Lloyd Wright Trust website, which provides comprehensive information on the artist's creations.
There's also the 98A103 Frank Lloyd Wright Men's Watch—the Exhibition watch, which pays homage to Wright's Exhibition typeface that was created in the 1930s for his drawings.

Read Amazon Reviews | See on eBay
There's also the 98L216 Frank Lloyd Wright Women's Watch, which has a striking rose gold-tone case and a design adapted from Wright's design of the famous SC Johnson Administrative Building, which is considered as one of the best buildings of the 20th century (you can read more about its history here).

Read Amazon Reviews | See on eBay
Check out all of the Bulova designs here.
Jaeger-LeCoultre, Omega, and Mad Men
The mid-century style is also present in pop culture. One of the most notable shows that made excellent use of the era in the costumes and set design of Mad Men, a series set in the 1960s. The show was lauded for its excellent depiction of the era—especially in terms of furniture, clothing, and architecture.
The watches that were worn by the characters in the show also caught the attention of watch aficionados. This part of the show's costume design gave a glimpse of popular models of the era. One of the watches to appear on the show is the Jaeger-LeCoultre, which lead character Don Draper (Jon Hamm) wore in the first season (he first wore the Memovox in season 1, and then the Reverso in season 2).

Read Amazon Reviews | See on eBay
Released in 1856, the Memovox was the first automatic model that had an alarm. You can still purchase a new Memovox today—the Master Memovox is a new take on the classic. There's also the limited edition Jaeger-Lecoultre Polaris Memovox, which is a contemporary design of the Grande Maison classic created in 1968.

Read Amazon Reviews | See on eBay
Later in the show, Hamm's character also wore a Rolex Explorer and the Omega Seamaster De Ville, which were both popular in the 1960s. These luxury watches, which appear in the fourth and fifth seasons, signifies Don Draper's success.
Other cast members of the show were also seen wearing '60s watches. According to a WatchTime article, characters like Pete Campbell (Vincent Kartheiser) wore a Hamilton Sputnik. Character Ken Cosgrove (Aaron Staton) wearing what fans think is a Hamilton Ventura, which was popular around the late '50s to the late '60s.

Read Amazon Reviews | See on eBay
The show was so popular that Jaeger-LeCoultre Reverso produced a limited 25 pieces of the Reverso in 2012. The Reverso Ultra-Thing version is a tribute to the show. The caseback has a hand-engraved "Sterling Cooper Draper Pryce" (SCDP) logo. The box included a personalized letter from Roger Sterling, a copy of Sterling's book autographed by the show's creator Matthew Weiner. The 27.5mm watch has a manually-would Calibre 822 movement and retailed for around $8,450.
The Future of Mid-Century Design
The Mid-century modern design movement that gained popularity in the '50s continues to be sought-after today because of its practicality, timeless, and tasteful style. It shows no sign of slowing down, and more designs and homage pieces will most likely appear in the years to come.
If you'd like to know more about other design movements and their relation to watches, you can check out our website for more articles, such as those about Bauhaus watches and Art Deco watches.

Featured Image: Mariya Butd