Motorcycles have this notable reputation with thrill-seekers, and it is pretty understandable. If ever a vehicle exudes an air of confidence and freedom, the motorcycle is it. The motorcycle perfectly fits that image of liberation and freedom that appeals to free-spirited souls.
Watches can also share some similarities with motorcycles. Both appreciate the intricacy of moving parts, mechanism, and precision. First, of course, you want a watch that accentuates your passion for motorcycles. This list of motorcycle-inspired watches is dedicated to the designers who are able to express the connection between bikes and watchmaking and the to bikers who appreciate fine watchmaking.
Best Motorcycle Themed Watches for Bikers
Seiko Spirit Giugiaro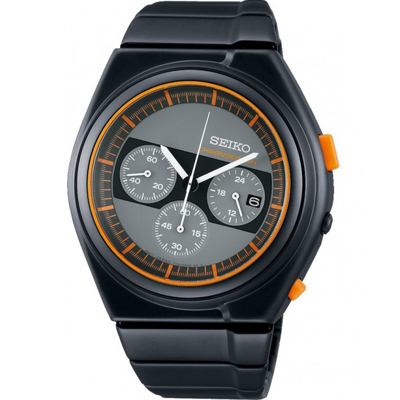 Designed in partnership with Guigiaro, a well-known automobile designer, the Seiko Spirit Guigiaro features a sleek and retro timepiece. The watch face incorporates a similar design to a motorcycle gauge cluster. There are five different Seiko Spirit Guigiaro: black and red, black and orange, black and yellow, black and blue, and gray and orange. As you would have guessed, this is a limited-edition timepiece.
This is a fairly decently sized timepiece with its 43mm case. The band also features flush lugs and is designed so that it can slide in perfectly underneath your motorcycle jacket. Over on the dial, three sub-dials are incorporated, and a small date is displayed inside the sub-dial over at the 3 o'clock position.
We also love how the dial is slightly rotated to the right, making it easy to read when your hands are at the handlebar. The Seiko Spirit Giugiaro is a sleek retro-inspired timepiece that features a distinct design to accommodate bikers.
Casio G-Shock G-Steel (GST-S110-1ACR)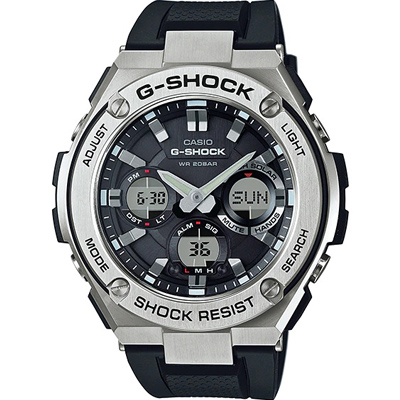 We can't ignore G-Shock watches in this list, especially their impressive G-Steel series. The G-Shock G-Steel comes with an added defense layer and drops the resin case built-in in favor of an all-stainless steel shell. Additionally, the G-Steel series comes with all the bells and whistles of a modern G-Shock watch, such as Tough Solar technology, 200-meter water resistance, and double LED backlight.
As for the design of the G-Steel, it sure seems to take some inspiration from automobiles with its highly industrial aesthetic. This is a timepiece that I also recommend to fellow bikers precisely due to its functionalities offered to the wearer.
Tissot T-Race MotoGP Special Edition (T1154173706104)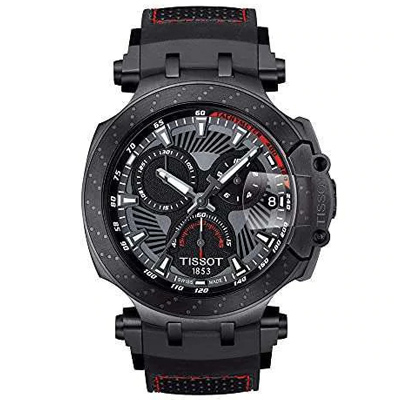 Another watch brand that is pretty much a shoo-in to make an appearance in this list is Tissot. This Swiss manufacturer has a watch line exclusively about the MotoGP, the T-Race. So, it makes sense that the Tissot T-Race will appear in this list.
The Tissot T-Race MotoGP watch is one cool wristwear with its sleek black and red aesthetic and dial with striped diagonal patterns. In addition, three sub-dials feature a gradient finish to add some ruggedness to the timepiece's charm.
This timepiece incorporates Swiss quartz movement with an analog dial and a durable sapphire crystal window. Overall, the Tissot T-Race MotoGP will complement the style of motorcycle racers and speed demon bikers.
Lotus Marc Marquez World Champion Moto2 (15836)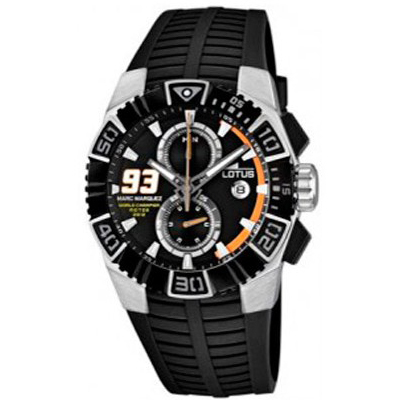 Of course, we will include a MotoGP-inspired timepiece in this list. We chose the Lotus Marc Marquez Moto2 with its striking polished stainless-steel case and silver, black, and orange dial aesthetic. This is quite simply a stunning timepiece with a design that celebrates the crotch rockets in MotoGP.
The black dial with an orange accent features two sub-dials and luminous hands. Simply looking at this limited-edition Lotus MotoGP timepiece makes you feel like a speed demon. This is undoubtedly one of those special edition watches worth the time to hunt for in the market for bikers.
Bulova Curv (96A185)

The Bulova Curv is one sleek timepiece that visually captures the sense of speed of motorcycles. Visibility is a crucial point feature in the Bulova Curv with its visible 5-minute mark scales. There are also three sub-dials at the 3, 6, and 9 o'clock positions. The blue dial complements the silver-tone case and bracelet quite well and adds a touch of sophistication to the Bulova Curv.
Within the Curv is a Japanese quartz movement that delivers excellent accuracy and will do well in reliability. However, please take note that the watch only comes with a 30-meter water resistance rating, so be careful not to submerge it in water.
Overall, the Bulova Curv is a stylish timepiece with a highly legible dial making it a great option for motorcycle riders.
Wryst Isle of Man TT Watch Special Edition (WATCH-TTW-02SBY10)

The Isle of Man TT (Tourist Trophy) is one of the most challenging and dangerous motorcycle races globally. Held annually in The Isle of Man in Europe, this race is one that only the best bikers in the world compete in, with the fastest speed recorded is 135mph!
The Wryst Isle of Man TT also captures the high-octane spirit of the race with its curved rectangular case. Durability is met with its 50mm stainless steel case with black PVD coating and sapphire crystal glass. Functionality includes three chronograph sub-dials and a black and yellow aesthetic for better readability.
This timepiece perfectly encapsulates the spirit of one of the most dangerous motorbike races in the world. That recognition alone makes the Wryst Isle of Man TT a beautiful watch to add to any biker's collection.
Zenith Heritage Pilot Type 20 Chronograph (11.2430.4069)

The Zenith Heritage Pilot Type 20 Chronograph is a timepiece released back in 2018, making it a still relatively new model. It was also a commemorative timepiece to celebrate the Distinguished Gentleman's Ride biker's community, aka the Ton-Up Boys.
The aesthetics land that elegant vintage visuals perfectly, and this timepiece looks quite impressive even if you are not a motorcycle enthusiast. However, for bikers, the Zenith Heritage Pilot Type 20 is a true marvel in its design both inside and outside.
We love the 45mm case made from aged steel, giving it a rugged charm while still being classy. There is also a notable oversized onion-style crown practical for bikers who wear gloves. Sticking with the rugged appeal, the strap is made from oily nubuck leather that complements a leather jacket exceptionally well.
Additionally, the dial features extra-large Arabic numeral hour markers for optimum readability. All in all, this is a classy-looking timepiece with a significant connection to the biker community.
Graham Silverstone Endurance (2STCB.B03A.K89)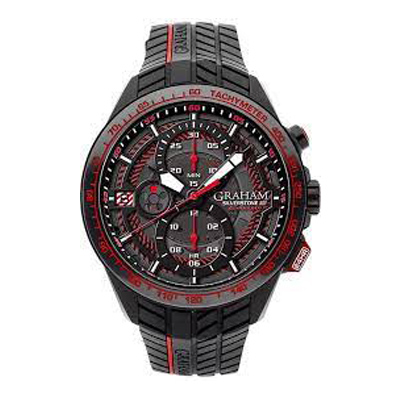 If we talk about a timepiece that is pretty much an homage to motorcycle racing, then the Graham Silverstone Endurance takes the proverbial cake. Besides the 46mm case with features reminiscent of a disc brake, the rubber band utilizes race tire patterns to complete the look.
If you are looking for the premier motorcycle-inspired timepiece, this is the watch you should look for. As for its horological features, the Graham Silverstone Endurance has a double chronograph functionality designed to measure 24-hour races.
This deluxe timepiece is quite fantastic not only with its design but also with its intricate mechanism within. The Graham Silverstone Endurance is a high-end timepiece that will enhance a watch collector's display case.
Omega Speedmaster Racing Automatic Chronograph (329.32.44.51.01)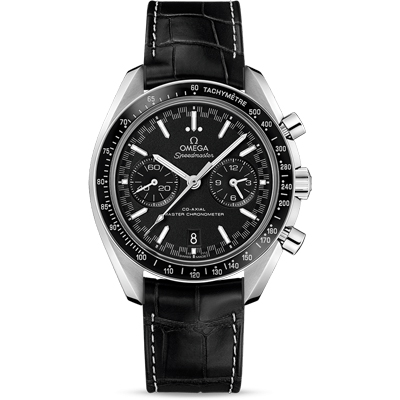 Omega always delivers precision and style with their timepieces, and the Speedmaster is definitely at the forefront of their catalog. Specifically, I would like to spotlight the Speedmaster Racing Automatic Chronograph with its impeccable horological construction. Along with its motorsports-inspired design, this is one luxury timepiece that bikers will surely appreciate.
The Omega Speedmaster Racing Automatic Chronograph focuses on finesse for its design and performance. From the impeccable Omega Caliber 9900 movement, COSC chronometer-certified, might I add to its racing style case and dial design? Everything about this timepiece exudes class and dependability. These are two aspects that are always welcome in a watch.
CT Scuderia Bullet Head Dashboard (CWEK00219)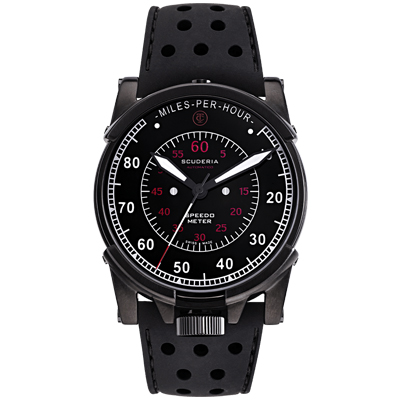 The CT Scuderia Bullet Head Dashboard is a timepiece dedicated to British café racers. These adrenaline junkies are all about speed and would regularly race around the different coffee shops in their respective towns. Enrico Margaritelli designed the CT Scuderia Bullet Head, and the dial certainly takes its motorcycle roots to heart with a cheeky "miles-per-hour" label over on the upper section.
The CT Scuderia comes in with a 44mm black stainless steel case with an exhibition back case in terms of specs. A Swiss automatic movement with a 40-hour power reserve for excellent reliability and accuracy is within the sleek design. The watch also has a 100-meter water resistance rating, allowing it to withstand splashes of water or rainfall.
Overall, the CT Scuderia is a highly functional gentleman's timepiece that wears its biker-inspired spirit on its sleeves.
Bulova Harley-Davidson Collection (98A252)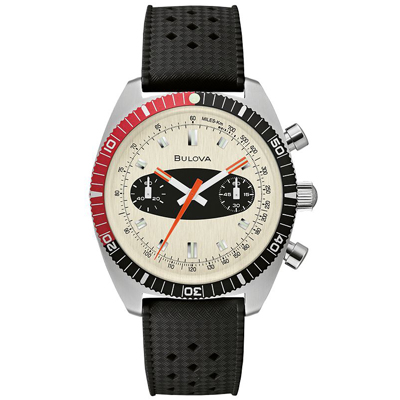 Bulova has an excellent selection of Harley-Davidson-style timepieces for bikers. One particular model that we will showcase is the 98A252. Bulova's Harley-Davidson collection model features a classic 1970s design with its more laidback appeal.
The rugged charm of the Harley-Davidson motorcycle is well-represented in this timepiece. It features a stainless steel case with cool black and red accents complemented by the off-white dial. The orange-tipped analog hands add legibility to the watch along with a luminous finish.
We also love the domed sapphire crystal glass, which adds a touch of class to this relatively casual timepiece. Additionally, the Bulova Harley-Davidson 98A252 has a solid 200-meter water resistance, which allows it to withstand getting submerged without any issues.
Baume & Mercier Clifton Club (10402)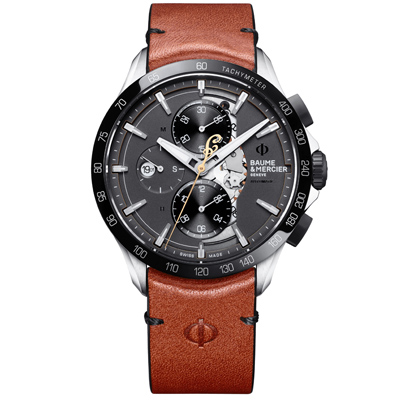 We have a stunning limited edition timepiece from Baume & Mercier in the form of the Clifton Club 10402. This particular timepiece is an homage to the Indian Motorcycle Company and features some classic callbacks to the highly industrialized motorcycle design of the early 1900s.
The Clifton Club utilizes an automatic Swiss movement, the caliber Valioux 7750. The black dial takes inspiration from the classic racing bikes' slate-gray aesthetic. Besides having a pretty groovy look, the Clifton Club also delivers on the performance side with its tachymeter, chronograph, and date display.
The 44mm polishes with satin-finished case give off a rugged charm. The dial also features Rhodium-plated C1 Super-Luminova analog hands for outstanding legibility even in low-light environments.
Breitling Top Time Triumph (A23311121C1X1)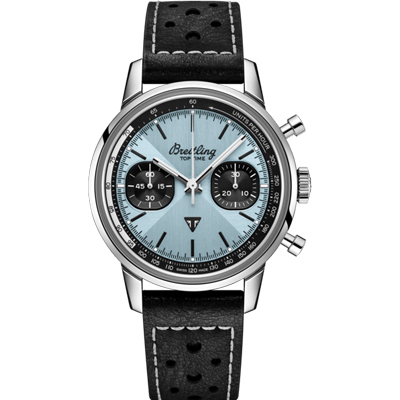 This "cool as ice" timepiece comes from a collaboration project between Breitling and motorcycle manufacturer, Triumph. Incorporating a sleek ice-blue dial, the Top Time Triumph certainly captures a unique blend of outstanding durability and soothing tranquility with its design. Also, it has an attractive design that can be found at the back case, which has a bike engine pattern engraving.
Within this stylish motorcycle-inspired timepiece is a Swiss automatic Breitling caliber 23. Encased within the 41mm stainless steel body is outstanding precision. Additional protection comes in the form of a scratch-resistant sapphire crystal window. As for the dial comes with two sub-dials (minutes and hours) and luminous analog hands.
Bell & Ross BR 01-94 B-Rocket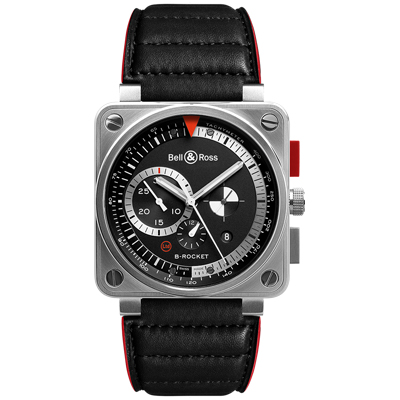 The Bell & Ross BR 01-94 B-Rocket watch was designed in collaboration with Shaw Harley-Davidson. This timepiece is one of the best motorcycle-themed watches with its sleek and powerful appearance. Taking visual cues from motorcycles and jet engines from the 60s, the 01-94 B-Rocket is undoubtedly one of the most eye-catching entries in this list.
There are only 500 pieces made of this limited-edition timepiece, making it a pretty sought-after collectible. In addition to its impressive build and appearance, the B-Rocket also utilizes some excellent internal mechanisms.
The 46mm satin-polished steel case is quite durable and robust. We also love the luminous skeleton metallic hours and minutes hands, which gives it that hardline industrial look. Underneath the hood of this timepiece is an automatic mechanical movement for its primary and sub-dials. The Bell & Ross BR 01-94 B-Rocket is one of the best motorcycle-inspired timepieces in the market today.
Bremont Special Edition Norton V4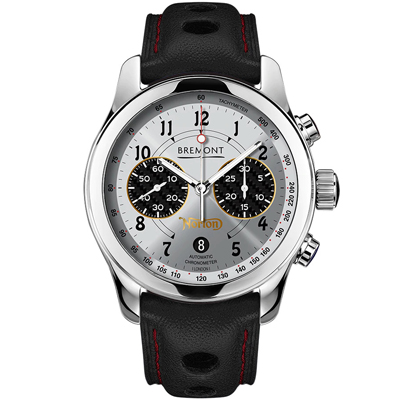 Bremont and British motorcycle manufacturer Norton teams up to deliver this spectacular wristwear inspired by the quick grit of the biker lifestyle, the Norton V4. This special edition Bremont timepiece is part of their chronograph series and features a highly stylish design that evokes the chrome-focused biker aesthetic.
Underneath the sleek exterior of the Norton V4 lies a modified caliber 13 ¼ BE-50AE automatic chronometer movement. In addition, the clock mechanism has a unique component: the Norton VR Rim-inspired decorated rotor. Despite straying from the standard horological design, the Bremont Norton V4 still clocks in at 28,800 VPH and a 42-hour power reserve.
As for the dial, this Bremont timepiece incorporates a tachymeter dial ring, Super-Luminova coated hour markers and analog hands. The 43mm stainless steel case also utilizes the patented Bremont Trip-Trick coating, which gives it excellent scratch resistance.