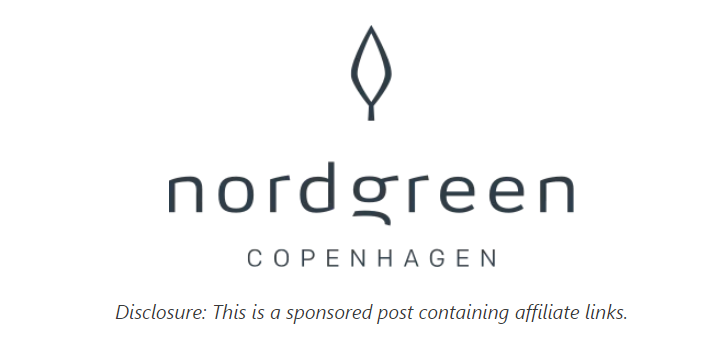 These days, more and more people are supporting brands that do more than help us look good. Instead, they also want to know that something good is going back into the community, or maybe that they're contributing to a reforestation effort.
A Designer Watch With A Vision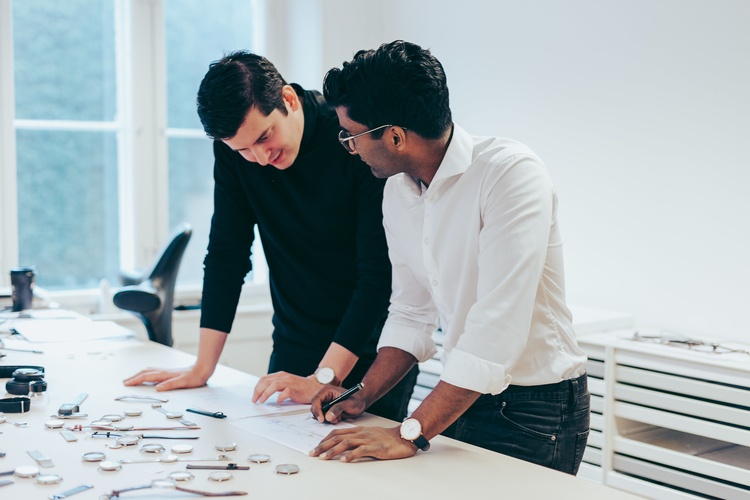 Pascar Sivam and Vasilij Brandt started Nordgreen with the vision to create a designer watch brand that was both aesthetically pleasing and sustainable in both its material sourcing and their giving back initiatives.
Teaming up with Jakob Wagner, Nordgreen's Chief Designer, and world-acclaimed designer for Bang & Olufsen, Hay, B&B Italia, and Cappellini, to name a few, they work toward their sustainable vision, one watch at a time.
The Nordgreen Collection
Nordgreen is a Danish watch brand located in the heart of Copenhagen that is making its mark on the watch industry with its Nordic designer watch collection and a flair for giving back.
The Nordgreen collection is known for its minimal dials placed in a brushed stainless-steel case, kept in motion by Quartz Movement function.
PIONEER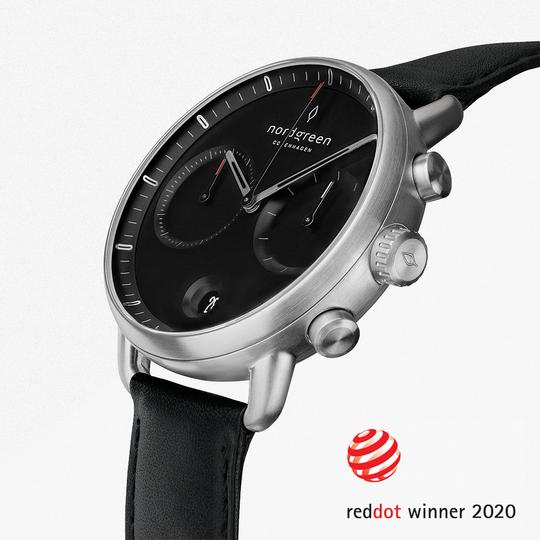 DESIGN
The Pioneer is Nordgreen's take on a Chronograph, celebrating the Danish tradition of Science for Humanity, which aims to create positive change for humankind, thus working towards a greener future. Denmark is a global pioneer in green technology advancements, driving change, and inspiring nations across the globe to do the same.
The Pioneer's makeup is striking in its simplistic design. We rounded and softened its edges, for a sophisticated take on a classic timepiece. Combined, the sub-dials, the stainless steel case, and the domed sapphire crystal embody the resilience of Danish innovation.
The minimalist, clean dial is synonymous with the sustainable environment that we strive to live in. The Chronograph second and minute hand indicated by the red tips are representative of those found on wind-turbines, reminding us of the bond between Nordgreen and the sustainable outlook of its homeland.
NATIVE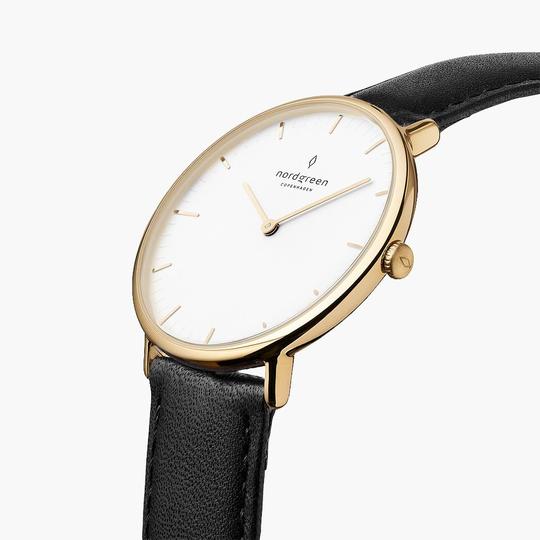 DESIGN
The Native is a timeless design meant to reinforce the relationship between the timepiece, the user, and the enduring aesthetics of its vibrant capital, Copenhagen. With its intention designed against the balanced image of the city, this timepiece is stative of a work-life balance, a balance for sustainability, and a balance between aesthetics and functionality.
Up close, the Native's design reveals a rounded appearance from the hour and minute hands, hour marks, watch case, to the lugs all highlighted by a clean dial.
The transparent minute marks appear under direct light but are otherwise less evident because, in Copenhagen, we don't count the minutes; we enjoy the moment.
INFINITY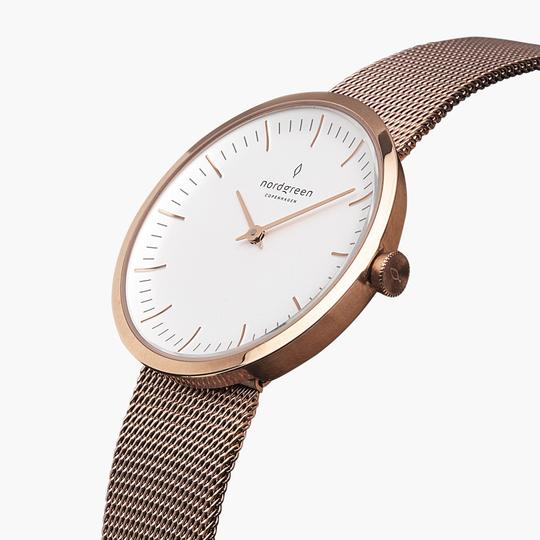 DESIGN
The Infinity watch embodies pure Scandinavian minimalism. The Infinity has been completely stripped back to its essentials, resulting in a designer watch for all occasions. Jakob's inspiration for the Infinity is nature. He wanted to connect the Infinity with the evolution of nature, removing the complexities of our modern life.
The deep curvature of the bowl-shaped watch dial reminds us of infinite time and space, affirmed by the extended hourly marks that glide up to the edge of the dial as if reaching into endless possibilities.
The lugs, the date, and the fine detail of the hourly marks have all been removed to bring you a raw and simplistic timepiece that naturally suits any style.
PHILOSOPHER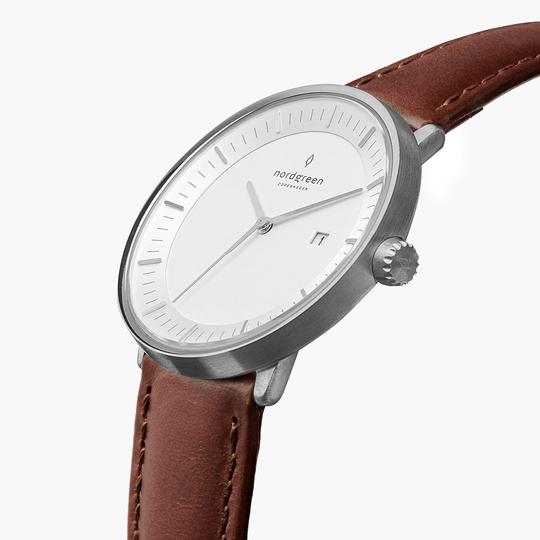 DESIGN
Nordgreen's Philosopher design tributes humanity's ability to learn from the past, act in the now, and continuously strive for progressive thought.
The Philosopher's conically shaped case is broader at its base as it rests elevated on its lugs. This impressive design draws the eyes center into a two-piece dial, which is remnant of times most captivating moments.
The Philosopher's asymmetrical second hand appears to slice continuously through time, as a statement of resilience over any challenge.
Revitalize your everyday style with interchangeable straps to put the final touches on your classic or modern attire.
Giving Back, One Watch At A Time


The Nordic watch designer encourages customers to participate in social and environmental initiatives with their 'Giving Back Program,' which lets customers choose between three NGO partners to donate a portion of their watch purchase.
Choose between education, health, or environment, which are core values of their Danish heritage. Donate two months of school to children in India, provide two months of clean water to a person in Central Africa, or preserve 200sqft of Latin American rainforests.
The Nordic watch company doesn't wait for its watches to sell to give back and joins forces with several NGOs to support urgent global causes. Nordgreen partners with the UK based Social Bite and Second Harvest, a Japanese based NGO, to provide meals to homeless people.
In South Korea, Nordgreen works with ThanksGive to donate books to underprivileged children, and with ONETREEPLANTED to plant trees after the recent Australian bushfires.
Style Sustainably
If you're one to be sensible about your style and love giving back to social and environmental causes, then go check out Nordgreen's collection and support a good cause.

Sponsored Posts are a form of advertising that allows sponsors to share useful content, press releases and offers to WatchRanker readers. The viewpoints and opinions expressed in Sponsored Posts are those of the advertiser and not necessarily those of WatchRanker or its writers.