While the Omega Seamaster Aqua Terra has been one of the luxury brand's premier watch models, it did not see its peak in popularity up until the release of the James Bond film, Skyfall. It was in this film that the Omega Aqua Terra truly came into its own and cemented its place in pop culture history. While the Aqua Terra has gone through some revisions throughout the years, most still prefer the original iteration. This can be attributed to the fact that the original Aqua Terra model was used by Daniel Craig's James Bond in Skyfall – but truth is that the OG Aqua Terra is on a league of its own, aesthetically speaking.
A Quick History of the Omega Seamaster Aqua Terra

The Omega Seamaster series debuted as a diver's watch that can easily pass for a dress watch as well. Functional and fashionable, the Omega Seamaster focuses on a more traditional and rudimentary design. It was first introduced in 1957 by Omega and managed to deliver a water resistance of up to 300-meters. There are two Seamaster categories currently available in the market, the highly functional 'Professional' models and the stylish 'Dress' series.
The Seamaster Aqua Terra first made its mark in pop culture during the Pierce Brosnan era of the 007 franchise back in 1995. It was the official timepiece of the suave superspy in the film 007: GoldenEye. While it was stated by the 007 author himself, Ian Flemming, that James Bond wore a Rolex, costumer designer for the GoldenEye film, Lindy Hemming, respectfully thought differently. In hindsight, Omega's overall style does fit the character of a military superspy with its lean towards a functional yet sleek aesthetic.
After the GoldenEye movie was released, James Bond and Omega watches have been linked ever since. As for the Aqua Terra model, it debuted back in 2003 and leaned towards style, more so than marine capabilities. It was still one of the more impressive dive watches in the market, but what separated the first gen Aqua Terra from its competition was the 'teak' style dial.


2012 was when the Aqua Terra hit its peak in popularity when it was used as the official timepiece of James Bond in the 23rd 007 film, Skyfall. Specifically, it was the Omega Seamaster Aqua Terra 150M Chronometer that took center stage. The next 007 film, SPECTRE also showcased another Aqua Terra watch, the Master Co-Axial model.

The Aqua Terra features the in-house watch movement, Omega Master Chronometer Caliber 8900 which is one of the most precise, reliable, and robust in the industry. This is, as you would expect, a premium-grade luxury timepiece that delivers that signature Omega charm. The Omega Terra is one of the most sought-after timepieces in the market, for obvious reason. Prices can range anywhere from $4,000 to $6,000. Here is a more comprehensive list of Omega Aqua Terra watches that you can check out.
That said, with its fairly steep price, it is understandable that customers are looking for viable alternatives. In this article, we compiled a list of the best Omega Aqua Terra homage watches and alternatives.
Best Omega Seamaster Aqua Terra Alternatives
SKMEI Dress Watch
This is possibly the most affordable Aqua Terra homage timepiece that you will find in the market today. However, despite its extremely low-price tag, this is still a pretty well-rounded watch. SKMEI is a Chinese watch brand that has made a reputation of doing homage watches of other popular brands.
It is actually quite surprising how SKMEI managed to pull off a rather elegant aesthetic for this timepiece. It features sword-shaped hands and hour markers that have a polished blue finish. There are also crystals embedded along with the hour markers for that added visual flourish.
This timepiece is equipped with a Japanese quartz movement with an analog dial display. It also comes in a relatively compact stainless-steel case that measures 37mm in diameter. The case comes with a mineral crystal window and as for extra features, the SKMEI Dress Watch also has a date display on the 6 o'clock position.
Casio General Men's Metal Fashion MTP-1183A-2ADF
Another affordable alternative to the Omega Aqua Terra comes from the always reliable and popular Casio brand. While the Casio MTP-1183A-2ADF does not have the 'teak' patter on its dial, it does capture that polished blue sheen. It features a quartz movement and comes in a rather sleek 36mm diameter stainless steel case.
Take note that the Casio MTP-1183A-2ADF feels lightweight and lacks that robust heft. Of course, with its low-price tag this is to be expected.
Stuhrling Stainless Steel 3953 Watch
Stuhrling is a well-known entry-level watch brand so you can expect their watches to deliver in regards to quality. The Stuhrling 3953 features a nigh-identical appearance to the Omega Seamaster Aqua Terra with its polished stainless-steel case, blue dial, and vertical teak-style pattern design.
Performance-wise, do not expect this entry-level Stuhrling watch to come close. However, in terms of appearance, it is a good alternative and with its incredibly affordable price tag, you won't even need to burn a hole in your pocket.
The Stuhrling 3953 watch utilizes Japanese quartz movement with its analog dial display. There is also a date display over on the 3 o'clock position. As for its marine capabilities, the Stuhrling 3953 delivers a 100-meter water resistance rating.
Hugo Boss The James 1513533 Watch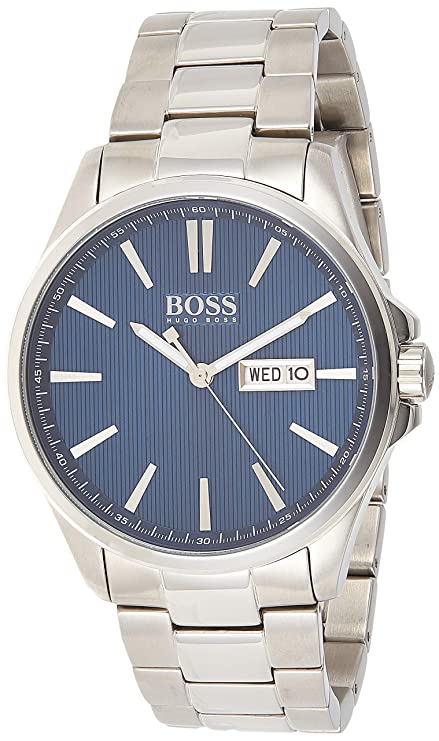 The James watch by Hugo Boss features a similarly sized stainless steel case which measures 42mm compared to the 41.5mm Aqua Terra. Both also utilizes a blue vertical line teal dial. Of course, the Hugo Boss The James timepiece don't have access to a top-tier chronometer movement.
It does have a pretty well-rounded quartz movement and a day/date display as opposed to the Aqua Terra that only features a date display. Visually, the Hugo Boss The James watch is quite similar to the Aqua Terra.
Festina Classic F20357/3
The Festina is a lesser-known brand but should definitely be on your radar. The Festina Classic F20357/3 timepiece features a polished 41mm stainless-steel case and stunning blue dial. It also has a more prominently displayed crown as compared to the Aqua Terra's more subdued design.
As a dive watch, the Festina Classic delivers a 100-meter water resistance. While it is an excellent dive watch, the overall build of this timepiece won't hold up to significant impacts so take extra care of it when outdoors. Overall, the Festina Classic should be on your watchlist if you are looking for an affordable yet quality Aqua Terra alternative.
Rotary Havana Automatic GB05077/05 Watch
Rotary is one of the most popular brands when it comes to homage timepieces. The Rotary Havana takes on several visual cues from Omega's Aqua Terra but throws in some twists in there to mold it into their own. It features a stainless-steel case that measures in at 40mm in diameter. The dial utilizes an exquisite blue finish to enhance the overall polished look of its exterior and bracelet.
Within the Rotary Havana timepiece is an automatic movement that operates its analog dial. The dauphine-shaped hands operate via your hand movement thanks to its self-winding mechanism. As for its aquatic uses, the Rotary Havana comes with a Dolphin Standard certification which means you can use it to swim all day. As for its water resistance ratings specifically, it has a 5-bar (50-meters) rating. So, it won't be suitable for any diving or snorkeling, only for recreational swimming.
Seiko PRESAGE SARX015 Watch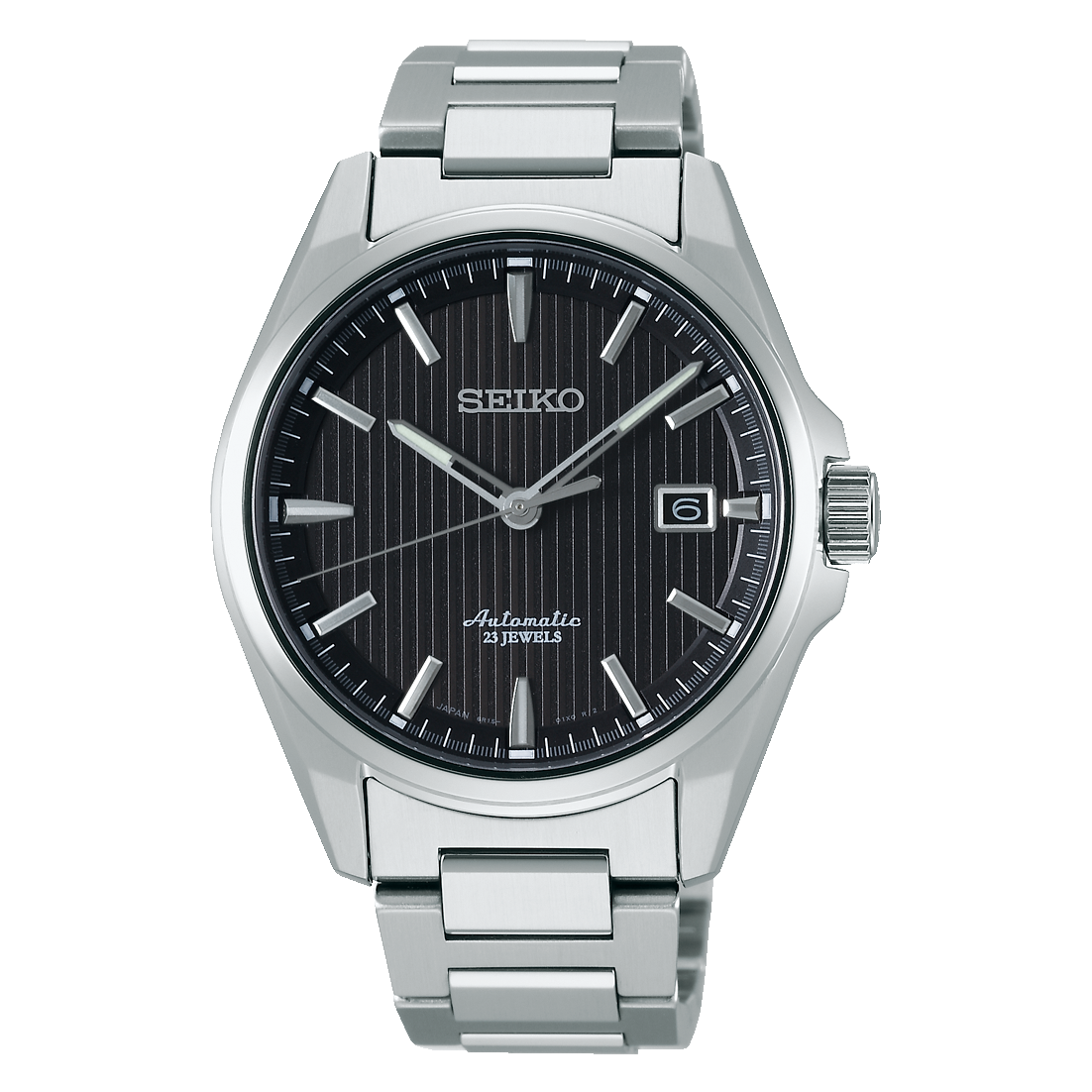 Another excellent Omega Aqua Terra homage watch from Seiko. The PRESAGE SARX015 also features a vertical teak pattern on its dial. However, rather than using a polished blue finish, Seiko opted for the more rugged black color finish. It is actually pretty hard to get a hold of this particular PRESAGE model online, which makes it more appealing for collectors of Seiko timepieces.
This timepiece features an in-house Seiko automatic self-winding movement, the caliber 6R15, to be precise. This watch movement packs an impressive 50-hour power reserve. The black dial is well-protected underneath a durable and scratch-resistant sapphire crystal window. This watch also offers 100-meter water resistance and a date display that is located in between the four and five o'clock position.
Seiko Automatic SARB035
The Seiko Automatic SARB035 is a Japanese exclusive model which makes it even more valued outside of Japan. Fortunately, finding these 'domestic-only' models have gotten easier than ever thanks to online stores such as Amazon and eBay. The Seiko SARB035 is smaller than most Aqua Terra homage watches with its 38mm diameter stainless steel case build. That said, it brings a lot of flair that helps this timepiece to separate itself from the pack.
The Seiko SARB035 watch is pretty impressive in its own right as well. It features a sapphire crystal window which is known for its high scratch-resistance and durability. To boost the overall elegance of the SARB035, Seiko decided to utilize an ivory dial which definitely adds a level of class to this already visually impressive timepiece.
In addition, the SARB035 has a 100-meter water resistance which makes it ideal for recreational swimming. There is also a prominent date display on the 3 o'clock position to add to its overall functionality.
Seiko PRESAGE SRPB41J1 Watch
Let us go upwards the price range ladder with the Seiko PRESAGE SRPB41J1 watch. This is an entry-level to the mid-range timepiece that is no slouch when it comes to performance and accuracy. Underneath its 40mm stainless-steel case is a caliber 4R35 with 23 jewel movement. This is quite an incredible watch movement, to say the least, as it has a 21,600VPH rating. The watch movement has a power reserve of up to 41 hours in a single full charge. The Seiko PRESAGE also has a magnetic resistance of 4,800 A/m.
As for other notable features, the Seiko PRESAGE utilizes a durable Hardlex crystal window and comes with a date display over on the 3 o'clock position. The dial features a gradient sunburst pattern which is visually pleasing. The Seiko PRESAGE certainly brings its own charm to the table.
Lew and Huey Cerberus Watch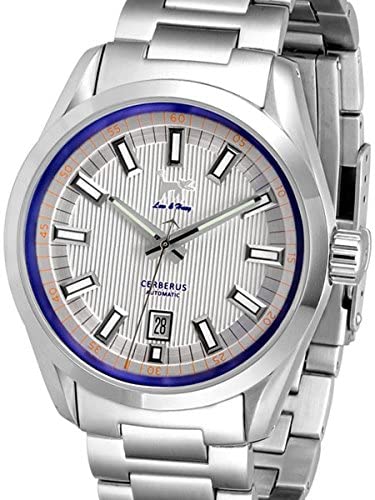 The Lew and Huey Cerberus has some slight similarities with the Omega Aqua Terra, such as the teak pattern on the dial, but it definitely went in a different direction overall. This is a perfect example of a homage watch. It takes some signature look from Aqua Terra, while infusing it with enough visual changes to truly turn it into their own.
One of the more notable differences are the color variants. The Lew and Huey comes in three variations: Blue/Orange, Gray/Red, and White/Blue. While the Aqua Terra has a more conservative design, the Lew and Huey Cerberus embraces the spotlight with its striking aesthetic. This timepiece comes in with a 42mm stainless-steel case and is quite robust in its structure.
Inside the stunning design lies a Miyota Caliber 9015 automatic movement. The beautiful dial is well-protected inside a domed sapphire crystal glass which expands on its sophisticated charm. As for additional features, this timepiece comes with a 100-meter water resistance and date display that is neatly positioned over at the 3 o'clock marker.
Orient Star Standard Date Watch
Orient is well-known for their in-house watch movements and high-quality timepieces. In particular, the Orient Star Standard Date Watch takes some visual cues from the Omega Aqua Terra in the form of the vertical teak patters on the dial. However, Orient focused on delivering a more elegant and traditional aesthetic to the Star Standard Date Watch.
Rather than a stunning blue dial, the Orient Star Standard Date Watch incorporates a more conservative white dial. Orient also utilized some of their tried, tested, and fantastic craftsmanship into this timepiece. It comes with Super Anti-Reflective finish (SAR) which gives the sapphire crystal glass a level of clarity that is unmatched.
The Orient Star features an in-house Caliber 40751 with 22-jewel automatic movement. In addition, the it features an exhibition back case that fully displays the intricate mechanism of an Orient watch movement.
Citizen CTQ57-0955 Chronomaster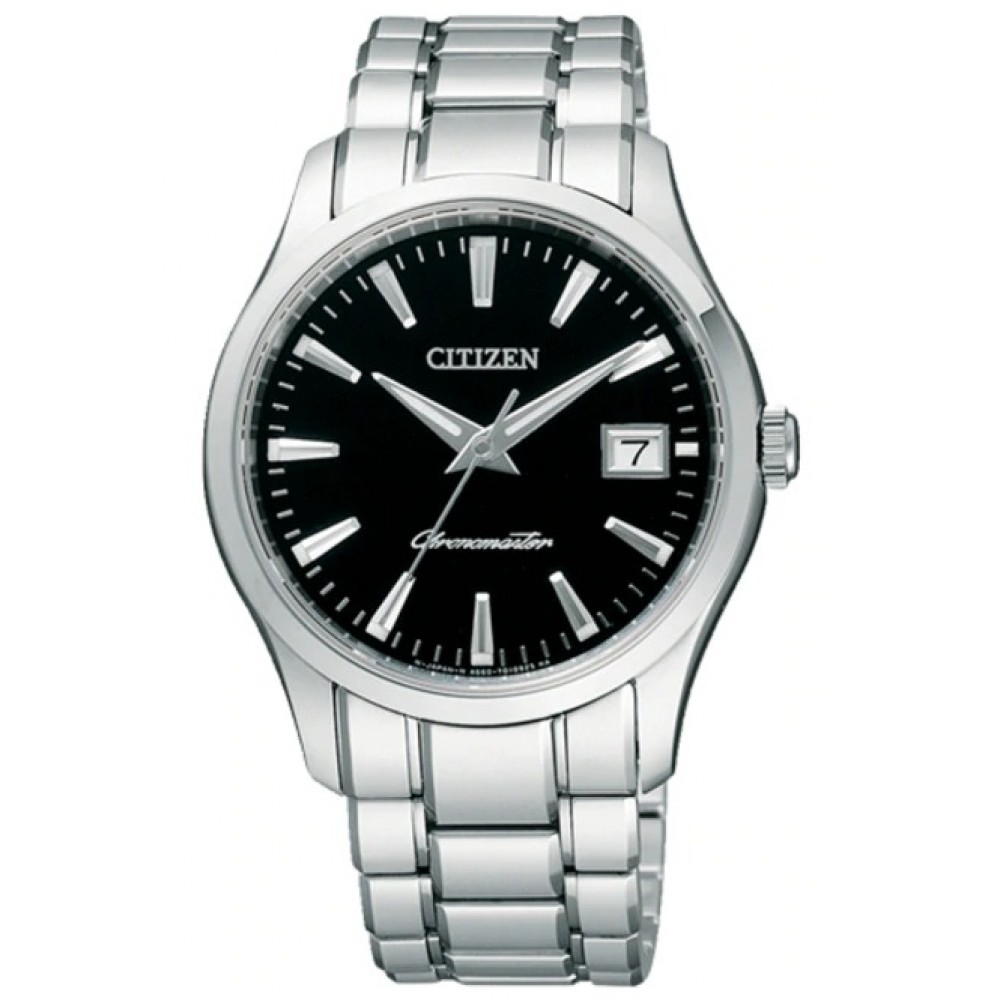 Citizen is another well-renowned watch brand that caters to the mid-range watch market. However, they do have a slew of luxury watches in their catalogue as well. One such example is the Citizen CTQ57-0955 Chronomaster. With some similarities to the Omega Aqua Terra but with a more traditionalist charm, the Citizen Chronomaster is one that excels in delivering a refined watch craftsmanship experience.
While the Citizen CTQ57-0955 Chronomaster is not cheap, it is well worth the price due to its impressive construction. It is sleeker than the other entries in this list as well with a 38mm stainless steel case. Rather than having a teak patter dial, the CTQ57-0955's dial is completely smooth. It does incorporate tapered indices which gives it character.
As for performance, this Citizen timepiece is equipped with their Miyota caliber A660 movement which is categorized as a High Accuracy Quartz (HAQ). This makes the Citizen CTQ57-0955 Chronomaster one of the most accurate quartz watch in the market today. Other than its impressive watch movement, this Citizen watch also features a scratch-resistant sapphire crystal which has an anti-glare finish. The watch also features a perpetual calendar date display for added measure.