Panerai and Breitling both have an impressive repertoire with a slew of fantastic timepieces in their impressive library. Both are luxury brands that are not only known for their impeccably designed watches, premium-grade material and build, but also for the brilliant calibre or watch movements that each of their timepieces offers. There is a reason why Panerai and Breitling are both considered among the top-tier watchmakers in the industry. A reason which we will be taking a closer gander at and analyze. There are some noticeable differences between these brands, most obvious is the price difference but the brands' history makes this a worthwhile comparison.
This will be a genuinely fun comparison piece as both luxury brands have some of the best-looking watches in the market today. If you are an enthusiast in horology, the high-end timepieces within this article will be a treat.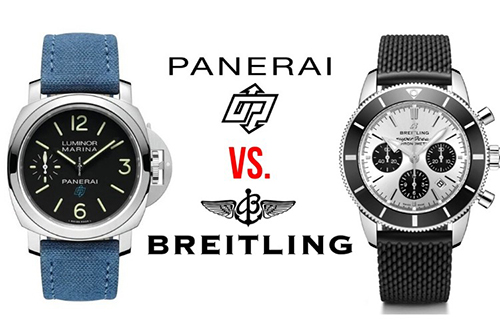 Panerai Brand Overview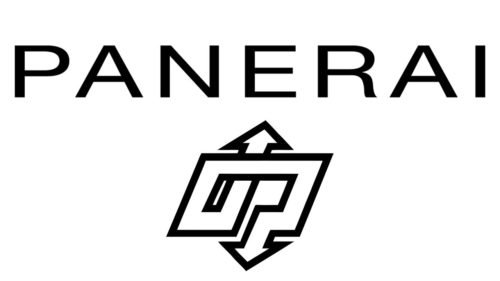 Founded in 1860 by Giovanni Panerai, Officine Panerai, which took the namesake of its founder began as a simple watch shop located nearby the picturesque Ponte alle Grazie bridge in Florence, Italy. The watch shop also functioned as a watch showroom, workshop, and a watchmaking school. Officine Panerai was the first watchmaking school in Florence, making it an essential piece of horology history in Italy. Officine Panerai, or more popularly known as Panerai, is a watchmaker that is steep in Italy's timepiece history.
Panerai's central hub was relocated to Piazza San Giovanni in 1890 when Giovanni's grandson, Guido Panerai, who also expanded the company to new horizons with the "Orologeria Svizzera" branch. This is also the period wherein Panerai managed to land a contract with the Royal Italian Navy for which the company became the official supplier.
It was during this prosperous era that Panerai started releasing some of their most iconic watch lines, such as the Radiomir series. Panerai further elevated their brand and reputation with their many collaborations with other well-known Italian companies; one such partnership example was with automobile giant, Ferrari.
Panerai continued their steady growth in the market with its fantastic luxury timepieces. By 1997, Panerai was purchased by the Vendome Group which saw the company's primary headquarters head over to Switzerland. Panerai further expanded their repertoire when they started developing and manufacturing in-house watch movements.
Nowadays, Panerai is among the most highly-regarded fashion watch brands in the industry. Their style and finesse in watchmaking are unquestionable.
Breitling Brand Overview



Breitling is a veteran in the industry of horology. Founded back in 1884, the company was spearheaded by a young German watchmaker named Leon Breitling. Opening up shop in St. Imier, Switzerland, Breitling focused on showcasing stunning watches using a mechanism deemed to be far more complicated than standard watch calibres, the chronometer movement.
What helped separate Breitling from the pack is the company's focus on utilizing chronometer movements with their watches. As you would expect, chronometer watches are far more complex to assemble than standard watch calibres. Breitling continued to incorporate chronometer movements primarily into their watches; this gave the brand a signature trait that stayed with it to this day. Undoubtedly, Breitling's insistence on crafting chronograph movements exclusively was one of the brand's strong suits.
Initially, Breitling manufactured pocket watches but shifted to wristwatches when the forthcoming revolution started sweeping the industry. Of course, they brought their skills in crafting top-tier chronometer movements into wristwatches as well. Other notable innovations that Breitling attained includes the integration of the push-piece crown design as well as start/stop and reset functionalities.
At present, Breitling is considered as among the pinnacle of top-notch mechanical grade watches. For example, their Caliber 01 watch movement is one of the highest-rated in the world, and all of their timepieces come with a COSC certification which is only given to watches with impeccable levels of precision.
Panerai and Breitling Watch Comparisons
GMT Watches:
Panerai Luminor 8-Days GMT 44mm Watch Review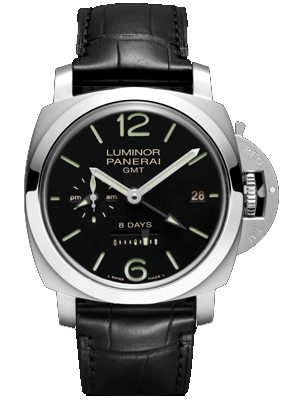 The Panerai Luminor 8-Days GMT (model #PAM00233) is a stunning timepiece that features a mixture of modern functionality within a timeless case design. The Luminor 8-Days GMT utilizes a polished stainless-steel case that comes with a crown shield that is both practical and visually splendid and cool. True to its moniker, the Luminor uses large Arabic numeral markers that have a luminescent finish for enhanced legibility and visibility even in low-light environments.
As Panerai is primarily known as a fashion watch brand, don't expect too much in the way of functionality. This Panerai watch does come with a date display over at the 3 o'clock position. There is also a 24-hour indicator that is located on the opposite side (9 o'clock). The Luminor is relatively stacked in regards to its size as it features a 44mm stainless steel case.
While Panerai is primarily known for its luxurious high-end watches, the brand went above and beyond with the Luminor 8-Days GMT watch's features. It comes with the GMT second time zone display, a 24-hour indicator, and even a power reserve gauge. In terms of durability, the Luminor 8-Days feature durable and scratch-resistant sapphire crystal window.
Breitling Cockpit B50 Review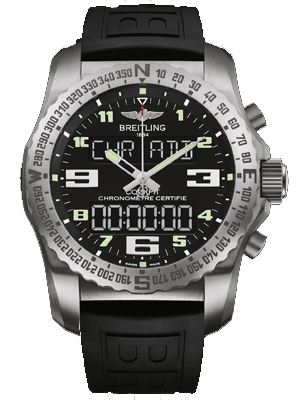 See on Breitling | See on eBay
Breitling is known for manufacturing premium timepieces that are packed with features, and the Cockpit B50 is one such example of this claim. Breitling is known to be an innovator in the industry, and that reputation is in full display here. The combination of a multitude of features and functionality manages to avoid overlapping with each other. While the watch may look complicated, it is most certainly not.
The design on the dial is vibrant and embraces the modern watch design with enthusiasm. While it does appear tank-like at first glance, this rather bulky design gives the various details on the dial more than ample room to breathe. The information on display within the Cockpit B50's dial is quite impressive. Breitling managed to maximize the use of both traditional analog dial and digital screen display.
Some of the most notable aspects about the Cockpit B50 includes the split-time, GMT, and flyback functionalities. Take note that the Breitling Cockpit B50 uses a brushed black finish titanium case and bracelet. This gives the watch a surprisingly lighter weight. However, titanium is slightly less durable than a stainless-steel case. Don't get me wrong; it's still a sturdy and robust watch that you can rely on.
As with all Breitling watches, the Cockpit B50's watch movement comes with a COSC certification, which means that this watch contains one of the best and most precise calibres in the world today. If you are looking for a highly functional timepiece with GMT features and blends a unique combination of modern watch technology and traditional construction, Breitling is as good as choice as any.
Dive Watches:
Panerai Submersible Chrono Review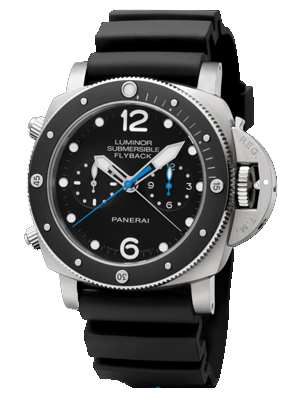 The Panerai Submersible Chrono is a dive watch that looks the part as well. The case measures in at 47mm so expect it to take up a considerable amount of space on your wrist. However, it does manage to balance out its rather cumbersome design by using a significantly lighter titanium case. While not as sturdy as stainless steel, titanium will be able to do just fine under most circumstances.
The Submersible Chrono is also steep in tradition as Panerai utilizes their iconic Radiomir design into this model. The watch also utilizes the P.9100 movement for the dial and sub-dials. This chronometer movement is operated by using two pushers on the left side of the case along with the crown. The Submersible Chrono is also designed to provide optimum legibility. While the black dial helps distinguish the hour markers and hands. These hands and markers are also coated in a luminescent finish for better visibility under low-light environments.
Another notable feature of the Submersible Chrono includes its Incabloc shock-resistant build. This guarantees that you can rely on the Submersible Chrono no matter how uneven the terrain or rough the waters. It is also designed to provide up to 300-meters of water resistance. Thinking that Panerai is merely a fashion watch brand is a massive disservice to the company. True, it is a fashion brand, but it is also more than that.
Breitling Superocean II Review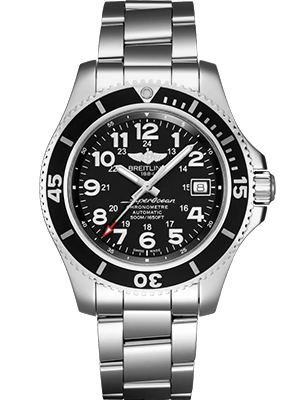 See on Breitling | See on eBay
Expect top-tier functionality whenever a Breitling watch is introduced into a list. This time around, we have the Breitling Superocean II Heritage, which is a remarkable dive watch that is highly sought after by professional divers and swimmers. With a stainless-steel case measuring in at 42mm, the Superocean II Heritage is relatively sleek and compact. Don't let this modest size and appearance fool you though; the Superocean II is a beast when it comes to its build and features.
What's terrific about the Superocean II is that it goes above and beyond just being an excellent dive watch. It features a unidirectional bezel with threaded design so that rotating it will be secure even if you are wearing gloves underwater. It also features a well-designed dial that incorporates black dial with bold luminous white markers and hands. The design of the Superocean II is as traditional as they come, but Breitling smoothened out all the rough edges in this type of watch build. And lest we forget, the Breitling Superocean II Heritage delivers an astounding 500-meters of water resistance. Thus, making it ideal for any water-based activity that you have in mind.
Conclusion: Panerai and Breitling – Which is Better?
This is a tough one as both watch brands are amazing in their own right. Panerai and Breitling are also two longstanding watchmakers that have a rich history behind them. That said, take note that Panerai comes with two particular models: the Radiomir and Luminor. Which means Panerai does lack in variety. Panerai is also an excellent brand if you are looking for dive watches as their history is interconnected with the Italian Navy.
As for Breitling, they excel in innovation as well as in GMT and aviation watches. Breitling also offers a more flexible selection of timepieces that range from traditional to modern clocks. Breitling is also known for its COSC certificated in-house movements. Personally, Breitling has my vote as they do offer more functionality and their designs are far more innovative compared to Panerai's traditional mindset in manufacturing timepieces.