If your parents or grandparents are anything like mine, technology is not their forte. It takes thirty minutes to help them pull up email attachments or change the ringer on their phones. And I can't tell you how many times I've heard "kids with your fancy phones these days. Back in my day . . ."
So, why then, if the older generation often struggles to answer a video call on their phone, would you consider buying a smartwatch for them?
Plenty of reasons.
Reasons To Buy Smartwatch for Elderly
Independence

As we age, our bodies may begin to weaken, but most times, our resolve to remain independent doesn't. For seniors, losing their independence is a common concern. A loss of independence can lead to feelings of frustration, shame, sadness, and even depression.
With help, most seniors can enjoy varied levels of independence in their later lives, bringing a sense of accomplishment, confidence, and joy.
That help can come in the form of a simple helping hand, relying on family or friends, living in an assisted care facility, or even a smartwatch.
Smartwatches created for seniors in mind have options like reminders, alerts, and easy-to-use interfaces that allow seniors to stay on task and stay in touch and retain some of their independence.
Staying Connected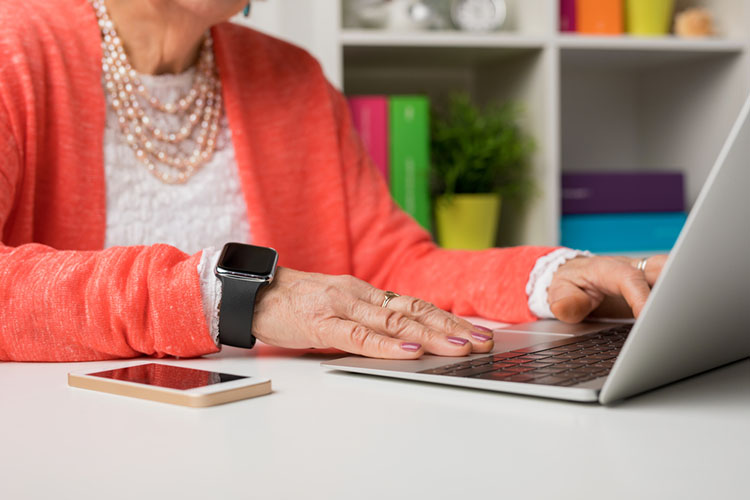 Enjoying a healthy social life provides many benefits for the hearts and minds of seniors. Making and keeping strong social connections can decrease loneliness and depression. It can also increase a sense of belonging and joy.
Smartwatches can help seniors stay and feel connected with easy-to-use calling, texting, and even emailing features. No more fumbling with a complicated smartphone. With a smartwatch for seniors, text and voice alerts come right their wrist.
Audio assistance allows seniors to hear texts, emails, and voicemails. And voice control lets seniors easily make calls and answer text. No more missed calls and messages brings peace of mind to seniors and those that love them.
General Health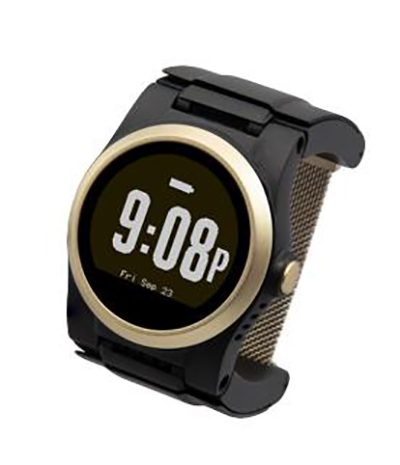 Seniors can truly benefit from maintaining an active lifestyle, and a smartwatch can help! Exercise helps to fight and prevent disease, strengthens lungs and other body systems, can decrease the risk of falls, and improve cognitive abilities.
With features like a reminder to get up and walk after long periods of rest, smartwatches can help remind seniors to keep moving. And when they're up and about, they can track their steps and goals on the pedometer. Some watches even come with GPS to map out walking routes.
Watches like the Unaliwear Kanega watch can even connect with their hearing aids.
A Matter of the Heart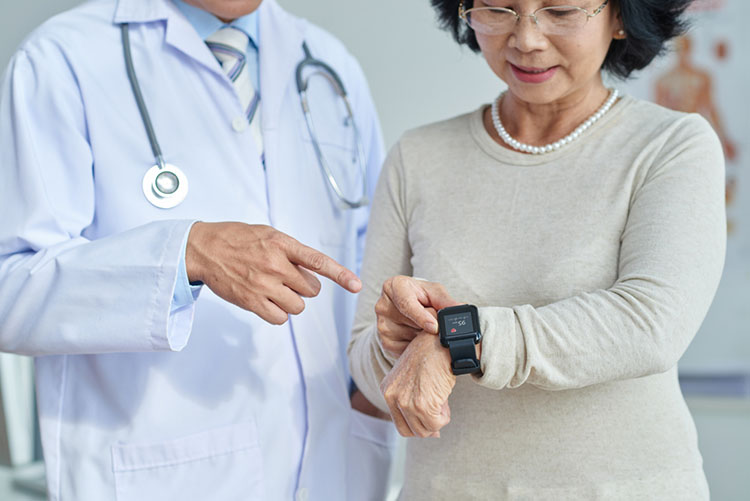 Heart issues for the elderly are at the forefront of everyone's minds. As our years increase, so does the risk of heart failure, which affects millions of older adults around the world.
The heart benefits of exercise for seniors are no secret. In fact, one study has shown that age is not a limiting factor in the positive physical and even psychological effects of exercise on the human heart.
Smartwatches can help seniors strengthen and monitor their heart by checking their blood pressure and heart rate right from their wrist, sending alerts when heart functions appear off. This feature even saved a 76-year-old man from having a heart attack.
Emergency Aid

No one likes to think their senior loved ones are at higher risk for medical or other emergencies. Having a smartwatch can help ease our and their concerns.
Many smartwatches can install third-party apps created by companies that specialize in medical monitoring. They connect the watch to the company who, for a fee, can offer health monitoring services and alerts when needed. Some watches are created by such companies and are specifically designed for medical alert purposes.
Many smartwatches, along with 24/7 health monitoring, are equipped with fall detection and an SOS button for added safety and peace of mind.
Moving Peace of Mind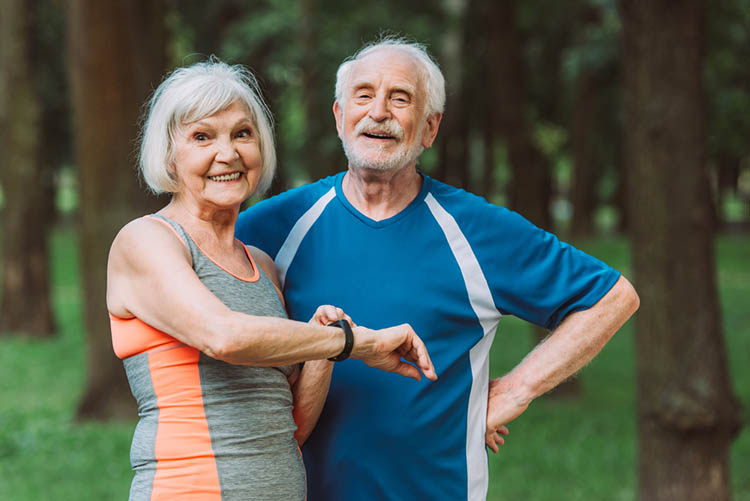 Seniors often take their active lifestyles outside. With GPS tracking on their smartwatches, they can take an afternoon stroll knowing they'll never get lost. They can even track their step count, routes they've taken, and routes as they go.
For seniors with memory issues, wandering is a very real concern. With GPS-enabled smartwatches, family members can have peace of mind with real-time GPS tracking and location.
Some smartwatches can even create a geofence, a "safe perimeter", and will notify you in real-time when the wearer steps beyond that area.
Cons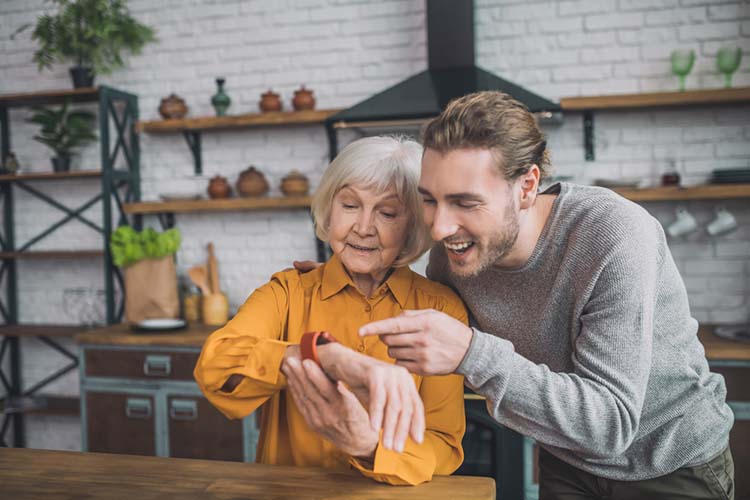 There are a few cons when it comes to smartwatches for the elderly. They can be expensive. Some medical services incur extra fees. Some features on certain smartwatches can be challenging for shaky hands.
And smartwatches only work if they are worn. Sometimes seniors can forget to charge their watch or put it back on charging or bathing.
However, the pros in our book far outweigh the cons. Smartwatches for the elderly can bring a ray of light and sigh of relief to both seniors and their families alike.
So, which watch do you choose?
That's a great question.
There are three types of smartwatches you can get for the senior in your life.
The first is a general-use watch. These are watches like the Apple Watch or the Samsung Galaxy Watch that aren't created for any specific age group but are powerful enough to house applications that make them easily a benefit in a senior's life.
For example, the Lively Mobile app can turn a smartwatch into an urgent response device.
Then there specific-use watches like the FitBit Blaze. These are watches for seniors who are simply looking for ways to augment their fitness routine without the bells and whistles of emergency and other features of other watches.
The third type of smartwatch is the smartwatch made by a specific company to go with their particular monitoring service. There are created with the elderly in mind and usually come with a monthly fee.
The following are a few highly rated watches that fall into this category:
There is even wearable technology that aren't watches, like the Tempo by CarePredict, which is a simple wrist sensor, for those who want an added measure of safety without all the other features.
In your research, be sure to honestly look at the needs and wants of the potential elderly watch wearer. Do they need extra health monitoring? Do they wander? Do they need extra connection? Do they want motivation to stay active? Do they long to hold onto their independence?
Thankfully, smartwatch technology is growing, and so are the options for the older ones you love.