In 1961, a flight instructor and former World War II pilot, Mr. Helmut Sinn founded 'Helmut Sinn Spezialuhren'. During Sinn's founding year, the company focused on pilot chronographs and navigation cockpit clocks. Later in 1994, Lothar Schmidt took over Sinn, thereby, ushering a new era of watching making and technological advancements. In addition to spearheading Sinn, Schmidt also oversaw the development of production and logistics of the International Watch Company's then subsidiary, A. Lange & Söhne, another premium watchmaker from Germany.
It was during this time, Schmidt changed the name of the company to Sinn Spezialuhren. Schmidt was highly instrumental in the development of new watch models and innovative technological advancements. His ideas and vision for unparalleled success took Sinn to the top of the market as the makers of tool watches for professionals like military forces, pilots and fire brigade in Germany.
Over its 60 years, Sinn's philosophy remains the same – fine traditional craftsmanship, maximum functionality and ultimate precision watchmaking under extreme conditions. Currently, Sinn sells over 12,000 watches every year.
Sinn History


Helmut Sinn founded the company with one mission – to manufacture watches durable in extreme conditions. Staying true to his words, Sinn created the 140S. Worn by the astronaut Reinhard Furrer for his space lab mission in 1985, Sinn proved that the self-winding mechanism of a mechanical watch can even survive zero gravity. Subsequently, other astronauts went on to take the 142S and 142 space chronograph timepieces to space as well. The 142 space chronograph accompanied the astronauts for ten days in space, traveling about 7 million kilometers from earth and 160 orbits around the earth.
As the company changed hands in 1994, Sinn engineered top-notch technological upgrades in the years to come.
1994: New Era and New Beginnings
The strategic reorganization by Schmidt after his take over led him to chase after new and innovative technological expertise. The "new" company launched the Sinn 244 model made from titanium. This timepiece came with Sinn's upgraded technology – magnetic field protection. This was primarily to minimize magnetic disruption in extreme conditions. Sinn explains on their website that titanium is best for watches as it absorbs body temperature and also reduces electric voltage compensation between the skin that causes static shock. Therefore, when paired with the magnetic field protection, these timepieces are ideal for pilots and armed officials. Mainly because it negates all magnetic disruption caused while flying.
1995: Ar-Dehumidifying Technology
In the year 1995, Sinn yet again stunned the world with the 203 Ti Ar diving watch. Ar-Dehumidifying Technology was introduced for the first time ever, engineered by Sinn, effectively addressing two problems of mechanical watches. One, it prevents the fogging up of crystals in the timepiece when there is a sudden change/drop in temperature. Two, it solved the problem of aging of oils due to air moisture getting into the timepiece. Resultantly, this extended the life of the watches due to the anti-aging effects.
1996: HYDRO Technology
Sinn's new HYDRO technology in 1996 provided three main advantages, making it perfect for deep-sea divers.
It guaranteed absolute freedom from fogging, even under deep waters.
The technology-enabled 'reflection-free' underwater readability even from any highly oblique angles.
Pressure-resistants denaturalized the internal assembly pressure even at considerable underwater depths.
1997: Mission Timers
Marking the dawn of further innovation, Sinn launched the EZM1 and EZM2 mission timers in 1997, specially crafted for the German Police force and the Border Protection Group. These timepieces focused on perfect measurement of time and optimal reading. As a result, mission timers eventually grew to become the face of reliability and precision. The timepieces have a minimal design on its face so as to ensure accurate time readability. Over the years, Sinn braced for many more technological upgrades. Resultantly, designing a host of mission timers specially developed to meet the requirements of pilots, doctors, divers, firefighters, and rescue workers.
1998: Temperature Resistance Technology
Sinn set on a mission to perfect the existing technology, whilst also innovating for newer ones, it engineered the Temperature Resistance Technology. Through this technology, Sinn developed special oils to prolong the lubrication of the internal components which in turn, negates its aging. This enabled watches to work more accurately and read the perfect time between temperatures of –45 °C up to +80 °C. Furthermore, to test the technology the 303 chronograph KRISTALL timepiece featured at the Yukon Quest where it won with flying colors. This further reinstated Sinn's steady achievement with master craftsmanship and watchmaking know-how.
1999: Year of Multiple Achievements
The year 1999 marked a milestone for Sinn's achievements.
Firstly, it started with the launch of the prototype 203 ARKITS meant for extreme diving conditions. Frankfurt-based extreme diver Mario M. Weidner wore the 203 ARKITS as he dove deep into the Arctic Sea with a team of Sinn engineers. The team of researchers and divers tested the prototype way beyond the north most point of civilization. The test spot was so extreme that it would have taken five hours for the nearest helicopter to reach them in case of any emergency. This only meant that the reliability of the equipment was of utmost importance. At depth of 64.5 meters, the deepest ever gone by any diver at that spot, the 203 ARKITS worked perfectly and remained reliably watertight. Further tests after the dive also showed that not a single drop of Arctic water seeped inside and there was no sign of deviation within the prototype.
Secondly, Sinn founded the Sächsische Uhrentechnologie GmbH in Glashütte, Saxony, (SUG) to manufacture technologically advanced watches for Sinn. The setting up of SUG played a very important role for Sinn. SUG was the first-ever manufacturer to get the DIN EN ISO 9002 certification and to date, remains the only German watchmaker to bag this achievement.
Finally, Sinn closed the year with the launch of the Frankfurt Financial District Watch collection. For the first time in Sinn's history, the watches came with the words 'Frankfurt am Main'.
2000 – 2011: Pushing Further Boundaries
With every successful launch of new technological innovations, Sinn tirelessly worked to upgrade its own technology to keep pace with modern engineering. Consequently, Sinn developed:
DIAPAL technology: In 2001, Sinn took the Ar-Dehumidifying Technology to a further level with DIAPAL; where select internal components that worked without lubrication would enhance the life of the timepiece.
2003 saw the development of TEGIMENT technology which provided effective protection for stainless steel cases from scratches.
In 2004, Sinn tested the Limited-edition chronograph 958 at The Fulda Challenge, an extreme sporting event, and at the 24-hour-race at the Nürburgring race. Unsurprisingly, it worked flawlessly at both events.
In 2005, Sinn for the first time used submarine steel as the case for its diving watches. These watches also got certified by Germanischer Lloyd of Hamburg for compliance with European standards for diving equipment.
In 2006, Sinn tested the 756 and 900 models at the DEKRA Technology Center, used for the international automotive industry. Sinn passed the test seamlessly.
In 2009, the wining drives of the Costa Brava Rally for historical racecars wore Sinn watches further spreading Sinn's wings into the racing industry.
Commemorating Sinn's 50th anniversary in 2011, they released a limited edition watches with its own SZ05 movement which sold out in a few weeks.
2012-13: Venturing into Testing Standards
In partnership with Aachen University of Applied Sciences, Sinn produced the Technischer Standard Fliegeruhren – TESTAF, technical standards for pilot watches to meet the measurement requirements during flight operations. Subsequently, the EZM 10 TESTAF, 103 Ti UTC TESTAF, and 103 Ti TESTAF passed the test, yet again with flying colors. Later in 2016, the German Institute for Standardisation (DIN) adapted the TESTAF with more stringent test criteria of certification. The upgraded test closely tested readability, resistance to liquids found in aircraft, and vibration stresses.
2014 – Present: Chasing Heights After Conquering Depths
Through the years, Sinn watches have featured in the 24-hour long endurance race, extreme sporting events and even extreme deep water diving. Sinn didn't stop here. In 2014, American Robert Alan Eustace wore the 857 UTC TESTAF as he set a new record as he parachuted 41,419 meters. Tests concluded that before, during and after the jump, the timepiece gave an unimpaired performance at low pressure, –77°C cold and a free-fall speed of 1,322.9 km/h. Following the extraordinary performance, the timepiece found its place with the suit in the National Air and Space Museum in Washington DC.
The steady success of Sinn paved the way for further development and innovation.

Sinn Watch Collections
Sinn Spezialuhren has steadily gained the attention of watch aficionados over its past fifty-nine years. Staying true to the words of Mr. Helmut Sinn, with every timepiece, Sinn delivers to withstand extreme and severe conditions to perfect precision. Let's take a look at some of Sinn's top collection available as of date.
Instrument Chronographs
Ever since Sinn's inception, the watchmakers have mastered the craft of making precision chronographs. The idea of such a timepiece is to serve a multi-functional purpose of stop-watch along with time display.
Traditional Pilot Chronograph: 103 St
Read Amazon Reviews | See on eBay
103 St timepiece is one to take note of. The acrylic glass is built-in for shock resistance and the design mirrors the components of a cockpit. At an extra charge, you can upgrade to sapphire glass for high-domed scratch resistance and anti-reflective coating. In addition to customizing functionality. 103 St comes in three strap styles, leather, solid bracelet, and silicon. This timepiece currently retails at around $2057.
The Large Pilot chronograph: 900 Pilot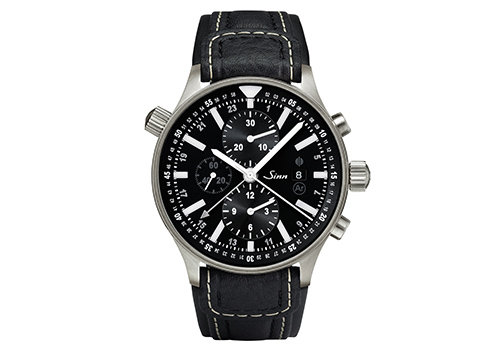 Sinn's watches go through rigorous tests to withstand extreme conditions. This led the brand towards precision pilot watchmaking methods. The pilot watches have black and white dial with a triangular design at 12. With 44mm case diameter, the 900 Pilot promises perfect readability at complete darkness, given its luminous coating. 900 Pilot also comes with Ar-Dehumidifying Technology and Magnetic Field Protection up to 80,000 A/m. This timepiece currently retails at about $4200.
The Chronograph with Split Second Function: 910 Anniversary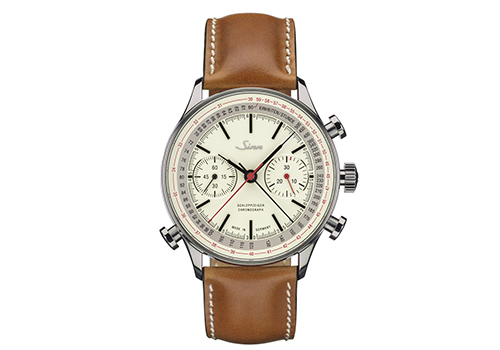 To mark the company's 55th anniversary, Sinn unveiled the 910 Anniversary in 2016. Limited to just 300 pieces, the 910 Anniversary boasts of special features. First, is the split-second function that records intermediate time. The description of the watch on the website details how the components work to make this possible. Next, the column-wheel chronograph is an ode to traditional ways of watchmaking. The 910 Anniversary currently retails around $6200.
Instrument Watches
In order to maintain the original cockpit navigation clocks, Sinn offers classic instrument watches for perfect readability and highest accuracy under any extreme conditions.
EZM 12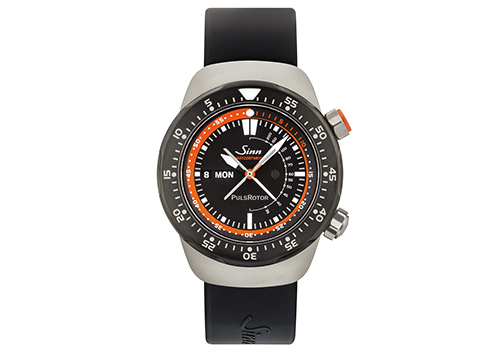 Keeping in mind the needs of air rescue service needs, Sinn pioneered the technology to provide sturdy and reliable watches. The EZM 12 is a super upgrade from the original EZM1 and EZM2 mission timers.
The EZM12 has numerous special features. One mainly being the design of the second's hand with an integrated pulse scale to easily record heart rate every 15 seconds. Second, is the count-up inner rotating bezel to help doctors keep an eye on specific time frames. Lastly, the countdown outer rotating bezel to help doctors note the exact time for administering medication.
In addition to these features, the EMZ 12 also comes equipped with Ar-Dehumidifying Technology, Magnetic Field Protection, and h TEGIMENT Technology. The much-boasted EMZ 12 retails at about $4000.
Newest Collection
With six new timepieces launched recently, Sinn reaches for further innovation while also maintaining ingenuity.
206 ARKTIS II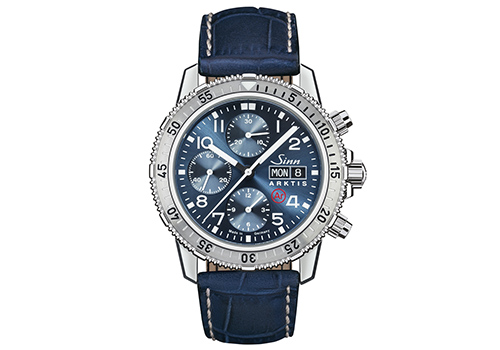 Celebrating the 20th anniversary, Sinn launched the 206 ARKTIS II with Temperature Resistance Technology. This followed the success of the 203 ARKTIS launched in 1999. The watchmakers guarantee unparalleled and reliable readability between temperature –45°C to +80°C. Certified by DNV GL to be in par with European diving standards, the 206 ARKTIS II also comes equipped with Ar-Dehumidifying Technology. It currently retails at about $4000.
206 St Ar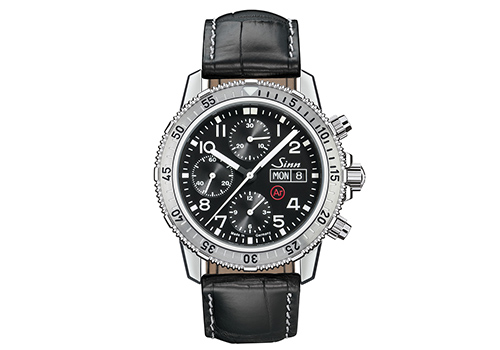 In this contemporary take on the traditional chronographs, 206 St Ar is an upgraded version of the historic 203 St and 203 Ti Ar. The black dial ensures optimum readability that also provides an instrumental look. It is also pressure-resistant to 300 m diving depth and tested on par with European diving standards. Currently, the 206 St Ar retails at about $4000.
6012 Rose Gold Anniversary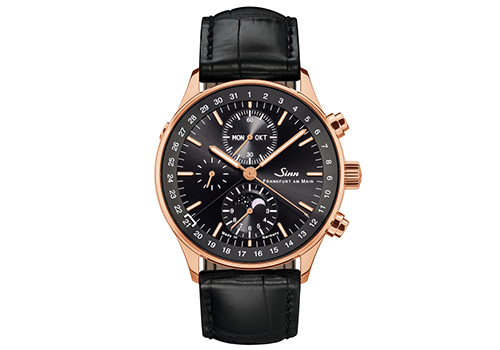 In 1999, the words 'Frankfurt am Main' appear for the first time on Sinn's Frankfurt Financial District Watch collection. The 6012 Rose Gold Anniversary marked the company's 20th anniversary and the success of the Frankfurt Financial District Watches. Equipped with DIAPAL Technology, the timepiece comes with an off-center stopwatch minute counter, a full calendar display, and a moon phase indicator. It currently retails at about $17000.

Sinn Brand Reputation
An Arctic explorer, Mr. Arved Fuchs relied on Sinn's U2 timepiece for his expedition in 2009. He quotes, "On my expeditions, I can't worry about handling a watch carefully…I need reliable equipment – a watch that works perfectly underwater, on land and in sub-zero temperatures….that gives me the exact time under any circumstances and all climatic conditions. And I have all that with the U2."
Sinn started with an intention to make ultimate functional watches that can withstand any climate or pressure and it has stayed true to its name. Over the years, Sinn has engineered some of the finest technologies to withstand extreme temperatures, unlike its competitors. Mr. Sinn initially engaged in direct selling followed by Schmidt's new business models using partners and distributors. Therefore, Sinn could retail at much lower prices in comparison to other luxury watches.
Regardless of all reviews, Sinn holds its head high for accompanying record-breakers in achieving their feat, be it deep in the sea or high above in the air.

Is Sinn A Good Brand?
Watch enthusiasts appreciate the brand for what it is – affordable, sturdy, and improved durability. But despite being priced on the lower side of luxury watches, many believe Sinn to be heavy on their wallets. If you are in the market for reliable readability at any given condition, precision design and intricate attention to detail, then Sinn is worth considering.
Most importantly, many watch lovers notice that Sinn does not appeal to masses unlike their competitors but instead lets' their watches do the appealing. By sticking to innovative and highly-engineered timepieces, Sinn has managed to build a loyal customer base over the years. Although, there is also a common consensus that no other brand delivers like Sinn, regardless of their fluctuating prices every year. As a result, Sinn customers swear by their watchmaker due to its distinctively contemporary design and interesting technology.
However, in order to choose the right watch, it is essential to compare budgets, purpose, history of brands, and watchmaking technology between brands. In comparison with Damasko, Sinn wins over for its finishing, mirror-like polish and unidirectional bezel. Sinn is also in direct competition with Oris. Aesthetically speaking, Oris might take the lead but in terms of a precision tool watch, Sinn is clearly a winner.

Sinn Watch Warranty
Each timepiece by Sinn fulfills the company's promise to manufacture long-lasting sturdy watches. Sinn gives a warranty card with every timepiece at the time of purchase. Unless otherwise explicitly mentioned on the invoice, all the products by Sinn cover a warranty of two years from the date of purchase.
Furthermore, in the vent of a warranty claim, the engineers will inspect for the cause of damage and estimate if the warranty applies or not. In the event of manufacturing damage, Sinn will attempt to repair the timepiece twice. However, Sinn will replace your watch for free if the repairs are unsuccessful after two tries.
In the event of defect or damage, Sinn will bear all transportation risk and the return cost. However, customers based outside Europe will have to bear customs duty, if imposed.
The warranty will not cover:
Damage caused by improper use or negligence;
Repair damage by non-authorized persons;
Normal wear and tear over time;
In the case of water-resistance watches, the warranty shall not apply for loss of resistance after 24 months.
In the event of an inspection or repair, the international partners of Sinn offer on-site service. Else, the partners will safely transport it to the Sinn factory in Germany. Please go through the customer service details on the website to learn the process.

Where to Buy Sinn Watches?
Sinn official website retails watches, shipped within Germany and internationally.
If you are based in the USA, check out WatchBuys. For UK based purchase, check out Page&Cooper. To buy in Australia or New Zealand, visit DefineWatches.
You can also find new or refurbished watched on eBay.