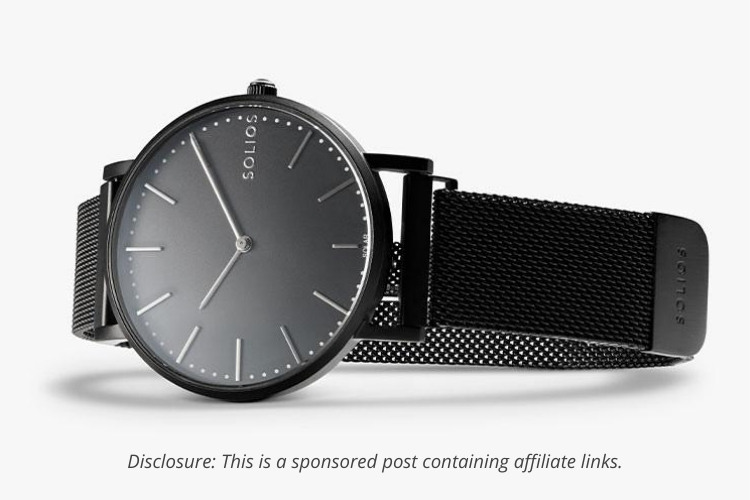 Solios Watches was founded in Montreal by two eager entrepreneurs, Sam and Alex, with the ambition of offering a brand-new timepiece alternative that would represent the brand's vision and social ideals. Their goal was to encourage and offer everyone an alternative option to be able to consume responsibly, without having to compromise on the style. This means that from the start, Solios had to produce a timepiece that met all the purchasing criteria of consumers at the same time, while optimizing the design and minimizing the environmental impact, and they responded to the challenge beautifully.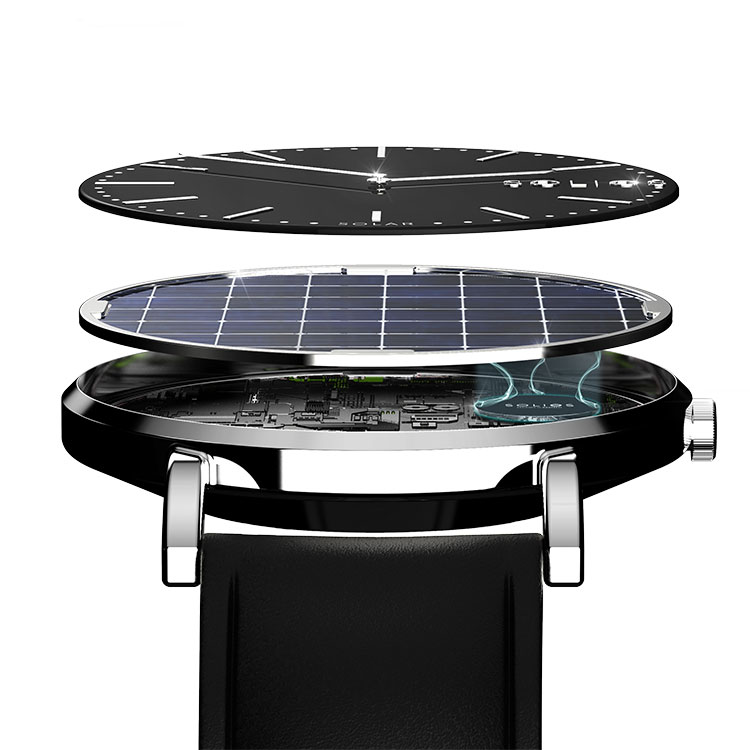 How Solios revolutionized the basic watch to incorporate renewable energy 
The solar technology included in the Solios watch is just one of the many aspects of the watch as a whole that makes this product unique. Not only is the battery rechargeable for life – only 2 hours of exposure to natural or artificial light will convert 6-months-worth of energy – but the company succeeded in developing their own case dial that would hide the solar panel completely without reducing the charging capacity. Achieving this goal allowed them to offer a product with a minimalist design that will stay fashionable through time and make the visual aspect of the watch as lasting as its technology. The result is an elegant thin case, without any unnecessary artifice or texture. 
Approximately 300 million batteries per year could be saved if all watches ran on solar energy. Add to this that dead batteries are one of the main reasons for overconsumption in the watch market, and you realize that solar technology really is the future of the quartz movement in the watch industry. But any product with such a long lifecycle needs to be built accordingly, as it is only as durable as the materials it is composed of. Its production process had to be overhauled in order to adapt the whole conception of the product to be aligned with the company's standards.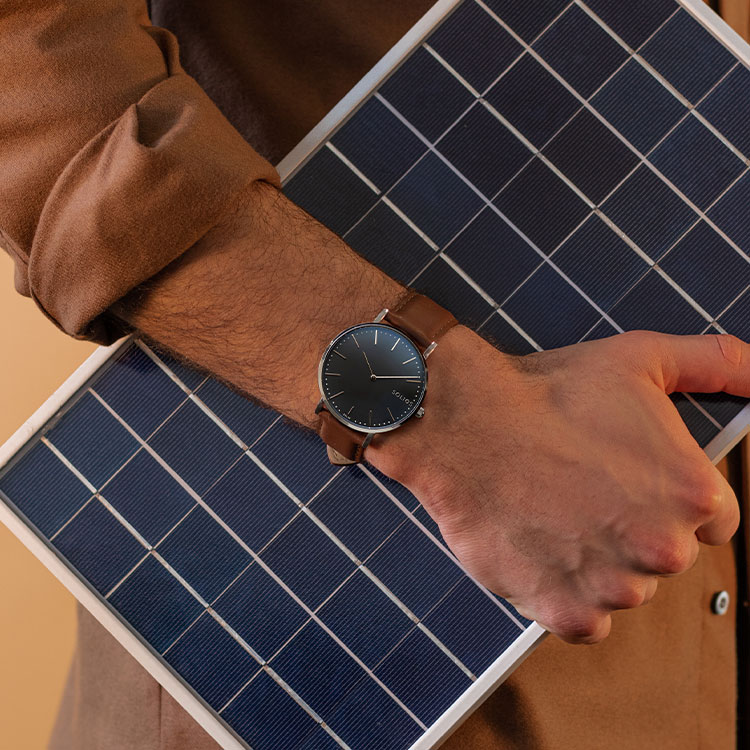 An eco-friendly product is only as green as the way it is produced 
If you have already heard of Solios before, you know that the environmental challenges of our planet are at the center of the company's vision. A Solios watch plays a major role in helping promote your environmental values. Its simple but sophisticated look will attract people's eye, giving you an opportunity to brag a bit about all the extra values you chose to promote by acquiring this specific item. This small accessory with a big impact will be a constant reminder of how we can all improve the world we live in if we make conscious sustainable buying choices. 
But what does this mean exactly? While the green characteristics of the watch are pretty obvious by now, it is important to mention that Solios has also gone out of their way to optimize their supply chain. The two founders have personally visited their suppliers around the world to check for themselves that the production chain and work ethics of their partners were of the highest standards, both socially and environmentally. They also completely redesigned their packaging after only one year of business, to have it produced locally with 100% recycled and recyclable cardboard, thus eliminating disposable plastic wrapping in their shipping and transportation.
As if this wasn't enough, the company is committed to giving back to help complementary initiatives around the world to protect our environment. Their Give-Back program was launched in their first year of business, and they are now dedicated in saving one acre of tropical forest per watch sold, through their partnership with the Rainforest Trust. Their previous initiatives also included campaigns to support organizations like the David Suzuki Foundation and the Make-a-Wish Foundation, although they have recently decided to realign their engagement to focus on a single cause to maximize their impact.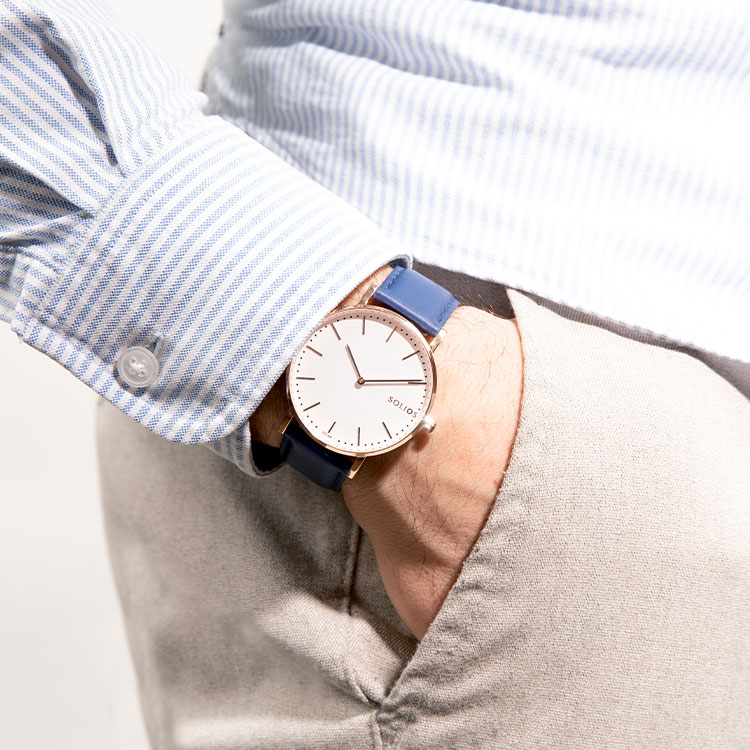 An elegant design that fits your everyday life
The watch comes in two sizes – 36 mm and 40 mm – both available for men and women. You can choose between a white or black dial, paired with the rose-gold, silver or black case. Their variety of interchangeable straps lets you truly personalize your watch to fit your own style. Choose between the eco leather, magnetic mesh metal or hemp bracelets to perfectly complement your accessory to match your look of the day. 
Made of 316L stainless steel, the Solios watch really is a high quality, long-lasting piece. The scratch-resistant sapphire coating and the water resistance (3 ATM) also makes it safe for you to wear your watch in your everyday life without the fear of damaging it. You'll most likely never need to use the 3-year warranty offered by the company.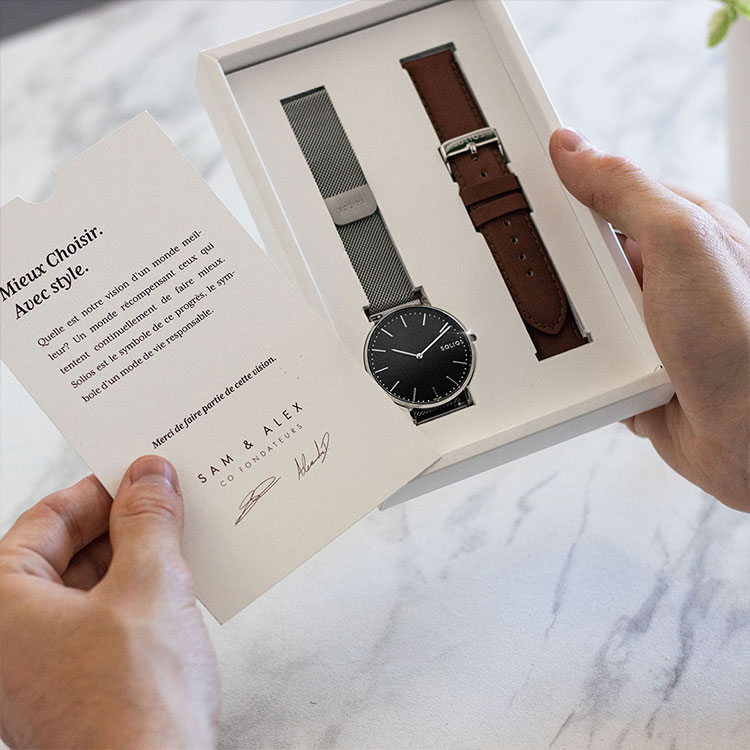 Solios is set to become the solar watch industry leader
Solios is looking forward to diversifying their offer and launching a variety of new products in the future (stay tuned for their blue dial limited edition coming out in the fall)! But one thing is for sure, all their watches will be solar-powered, as the renewable energy aspect is at the core of the company's vision.


Needless to say, the founders really went out of their way to optimize their product as much as they could, and are constantly looking to improve.
The solar-powered timepieces act as a symbol of what we want for our future: renewable energies, well-thought products, sustainable materials, and fashionable long-lasting designs. 
Solios, a watch with a purpose, to be worn proudly everyday with style. 
Sponsored Posts are a form of advertising that allows sponsors to share useful content, press releases, and offers to WatchRanker readers. The viewpoints and opinions expressed in Sponsored Posts are those of the advertiser and not necessarily those of WatchRanker or its writers.