Born in 2017, SVENN watch company manufactures wooden watches with eco-friendly materials. Offering a fresh take on sustainable fashion, SVENN watches use recyclable wood and nature-friendly materials to built quality watches. The materials used in the process of developing SVENN watches ensure their longevity and durability for many years to come!

The founders of the brand source materials from all over the world in manufacturing their watches. The wood comes from different African regions, Eastern Europe, Mexico, and Brazil, and the movements are Swiss. Both these elements combined with the European essence of watchmaking make SVENN unique from the rest of the brands. The final product looks luxurious, making it a perfect addition to your watch collection.
Environmentally Conscious Watches, Giving Back To Nature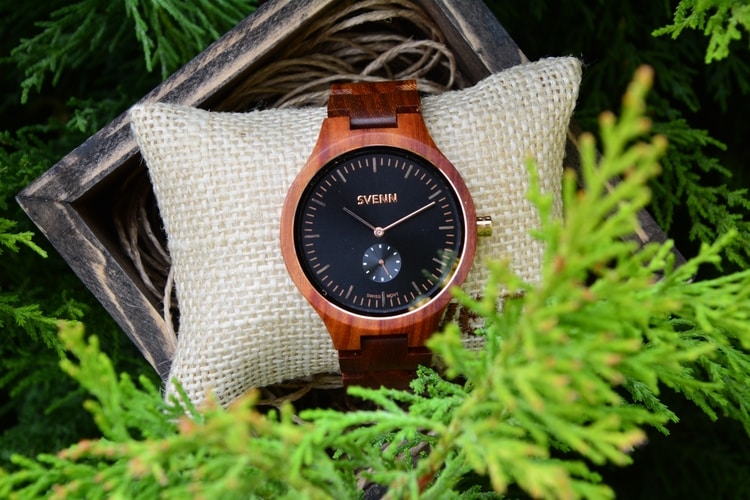 The journey of SVENN wood watches stems from its vision to build environmentally conscious watches. That is, to give back to nature without comprising the quality of the watches. Founded by four friends, bound by their love for traveling, pooled in their passion together to build high-quality wood watches. The underlying vision, to redefine environmental consciousness with fashion watches.
The strap, dial, hands, and lock mechanism, all use sustainable materials. By virtue of this, all SVENN wood watches are super light and hypoallergenic. Particularly, if you are sensitive to stainless steel or other synthetic materials, you can bid goodbye to allergies with the SVENN wood watch.
To ensure a holistic approach to sustainable and eco-friendly manufacturing and production of their watches, SVENN watches comes packaged in a fully wooden box. Reiterating that the brand purely focuses on recyclable materials even as part of their packaging. That's not all, for every SVENN wood watch you buy, the brand promises to plant a tree in return.
Swiss Movement And Wood Grain Watches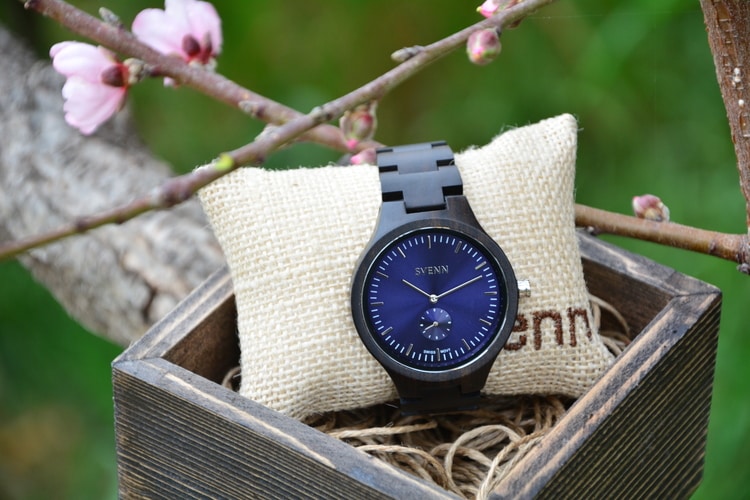 Without compromising the brand's promise of protecting nature and giving back to the world, the timepieces go through rigorous tests and minimalist design studies to maintains their quality and build. The brand uses various wood types including Sandalwood, Ebony, Teak, Zebrawood, Walnut, and Purpleheart, all sources from different parts of the world. Given that different types of wood give out unique shades, SVENN watches come in interesting colors and dial combinations. Currently, SVENN makes men's, women's, and couples' watches.
SVENN wood watches use either the Swiss Ronda 1069 Movement or the Swiss Ronda 763 Movement in their collections. Along with this, all their watches come with scratch-proof sapphire crystal and 100% tempered wood to ensure durability across all seasons. This also makes the watch ultra-lightweight. The men's watches are available in 41 mm case and 45 mm case diameter, whereas, the women's watches come in 36 mm and 45 mm case diameter. Some timepieces come with a secondary dial, working independently above 6 o'clock, giving the watch an intriguing visual appeal.
All SVENN watches have up to 100 feet of water resistance. Given that the brand uses 100% tempered wood, they are resistant to some water and splashes. But, don't forget that wood isn't naturally durable with water and must not be used for underwater activities. However, above all, SVENN also offers a one-year warranty on all manufacturing defects. The brand takes pride in knowing that their customers come back a second and third time to buy another SVENN timepiece. This stands as a testament to the brand's quality and promise. To that extent, the brand highlights that the repair rate for their watches is well below the industry average.
Click here to discover and buy a SVENN wood watch suitable for you.
Get Your Own Handwritten Message Engraved On SVENN Watches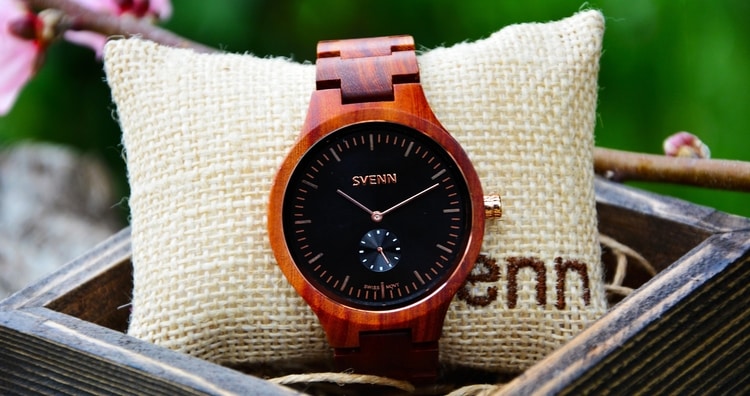 SVENN offers personalization of the timepieces with your handwritten messages on the back of the watch. Yes, you read that right! To avail of this benefit, all you need to do is write your handwritten note on a piece of white paper, take a photo of the note and add it to the product page when you decide which watch to buy.
It could be a special date, or initials, or your intimate message to your partner, and this handwritten message will be engraved on the back panel of the watch. Although many brands offer engraving options, no brand gives you the chance to engrave your own handwriting. This is what sets SVENN apart from other brands.
Match Your Partner Timepiece With SVENN's Couple Series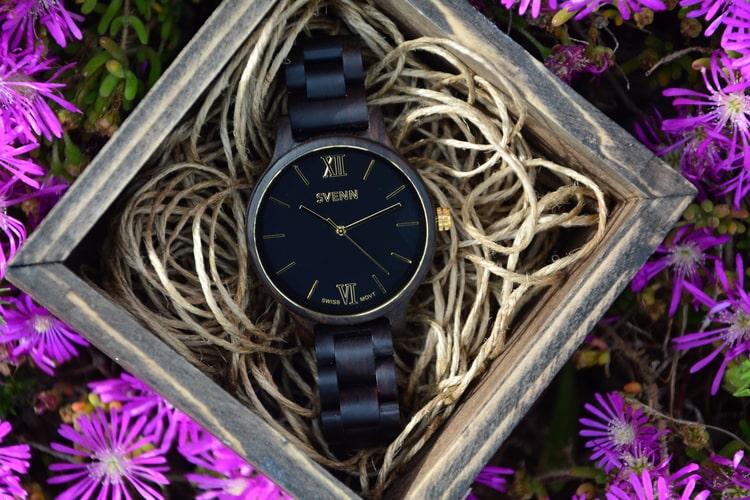 If you are looking for matching watches for you and your partner, look no more! For, SVENN's couple series showcases remarkable combinations of their watches at a price advantage. As part of the couple series, you can either pick matching watches or mix them up to complement each other.
Given that SVENN's watches promise long life, the couple series can be your relationship companion all along the way. Discover which pair under the couple series best suits you here!
SVENN Wood Watches Make For a Perfect Gift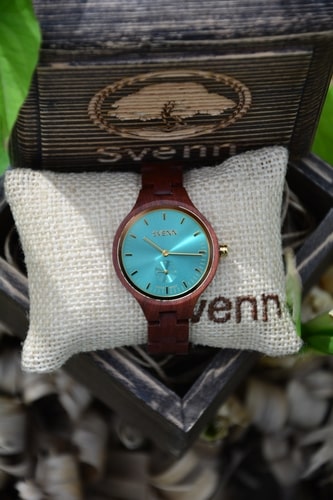 Every year brings forth many days of celebration. Be it anniversaries, birthdays, or special occasions; gifting your loved ones shows how you feel about them. For generations now, gifting a watch has been a symbol of love and affection. In this same vein, SVENN wood watches make for a unique gift for your parent, mother, father, or friend.
By engraving your handwritten personalized message on the back of the watch, the SVENN wood watch will make for an unforgettable gift. With bold and modest designs, you can choose what best fits the occasion or the person receiving the gift. Not just that, the gift of a SVENN watch becomes extra special knowing that a new tree gets planted on their behalf.
If you are looking to leave the world a little better than what is it, invest in SVENN and reclaim eco-consciousness with the brand!
---
Disclaimer:
Sponsored Posts are a form of advertising that allows sponsors to share useful content, press releases, and offers to WatchRanker readers. The viewpoints and opinions expressed in Sponsored Posts are those of the advertiser and not necessarily those of WatchRanker or its writers.