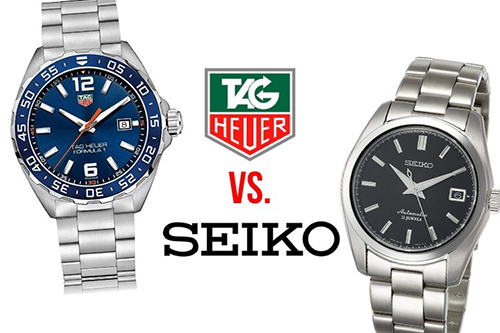 While many of our readers enjoy these brand comparisons, a more serious watch collector recently told us that they find some of these matchups very odd and even pointless, saynig that a comparison of Tag and Seiko is "no even in the same league" and that they don't even compete- so why compare them? While this is true in many regards, we think it's a useful tool for new watch buyers to get a balanced overview of the two brands and point out the main factors that separate the two – before they spend hundreds or thousands on their next watch.
While Tag Heuer and Seiko do occupy very different watch price ranges – Tag Heuer in the luxury timepieces and Seiko in the mid-range market, both have a nigh similar reputation among consumers. Both watch brands are household names, and both are synonymous with the watch market. It also should be noted that that parent company Seiko also produced Gran Seiko which does compete is an entry level luxury brand.



In terms of status, Tag Heuer and Seiko's high-end lines do compete but it's a rare match up since many would not consider them equals – why this particular matchup is fascinating.
While Tag Heuer certainly has an edge when it comes to prestige, Seiko is undoubtedly far more accessible to the general public with its broad selection of watches and different price tags. So, when it comes down to it, can Seiko hang with the high-end models or can Tag Heuer run over Seiko with brute force? Let's find out.
Tag Heuer Brand Overview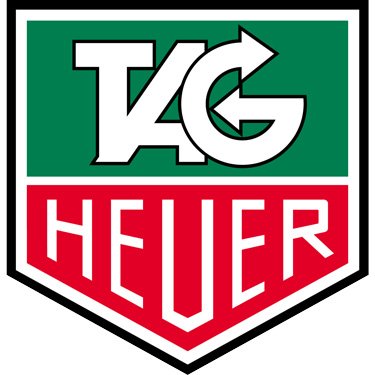 Founded in 1860, Tag Heuer, then known only as Heuer Watch Company quickly rose through the ranks thanks to their outstanding watch movements. Right from the start, Heuer Watch Company focused on one particular market – the sports industry. This was a smart move in the long run as being regularly part of sporting events help engrain the brand into people's minds. Plus, the fact that they are often contracted to be the official timekeeper of a sporting event lends credence to the quality and precision of their timepieces.
The Heuer Watch Company hit a milestone in their history when the company landed a partnership deal to be the official timekeepers of the 1920s Olympics. A huge factor that leads to this signing was undoubtedly the Heuer Mikrograph which managed to clock 360,000VPH – ten times the standard VPH of the top timepieces at the time.
Their affinity to the sports industry also leads to another innovative model, the Heuer Autavia. The Autavia was the first dashboard stopwatch and was designed for professional race car drivers. Of course, Tag Heuer won't get to where it is at today by staying on the ground, both literally and figuratively. During the Space Race in the 60s, astronaut John Glenn wore a Heuer 2915A watch during the Friendship 7 mission.
At around 1985, Heuer Watch Company was finally purchased by the Tag Group Holdings. Soon after, the company was rebranded to TAG Heuer, a combination of the two companies' name. To this day, Tag Heuer has maintained a solid standing in the market with its perfect sports watch design and build that blurs the line between functionality and luxury.
Seiko Brand Overview


Seiko is a world-renowned Japanese watch brand that pretty much everyone is familiar with. The chances are that even the most casual watch customer is well aware of Seiko. Seiko is, in fact, one of the most innovative watch companies in the world with a slew of achievements that have cemented their legacy in the watch industry.
In regards to Seiko's reputation, the company is well-known for its highly innovative watch technologies that have effectively changed the course of the industry. Quite possibly the one of Seiko's most significant achievements is the introduction of the quartz movement in 1969. This movement which proved to incredibly precise quickly overtook the mechanical movement as the standard in watchmaking. Hence, the Quartz Revolution of the 70s.
Among the flagship quartz watch of that period was the Seiko Aston, the first timepiece to utilize quartz movement. This further pushed Seiko ahead of the curve, and soon enough, the company was spearheading the quartz watch revolution. Of course, the quartz watch movement is not the only innovation that Seiko developed.
By 1977, Seiko also unveiled the first solar-powered watch. This revolutionary technology, combined with their quartz movement once again pushed the company past the glass ceiling. By the 90s, Seiko once again showcased their watchmaking skills with the introduction of the Spring Drive movement. The Spring Drive movement was explicitly designed for space travel and the first real cutting-edge watch technology of the century.
To this day, Seiko continues to reinvent the wheel with their watches. Seiko's talent in innovating the business will surely land them on the front page sooner rather than later.
Tag Heuer and Seiko Watch Comparisons
Dive Watches:
While many Tag watches sell for several times more than Seiko, to make things interesting, we picked a pair of watches from these brands that sell in a very similar price range.
Tag Heuer Aquaracer Review
Tag Heuer's Aquaracer series is relatively new with its debut in 2003. It was marketed as a reliable and professional dive watch with a style that can make it fit alongside a formal attire as well. The Aquaracer quickly grew in popularity thanks to its chic style and an impeccable level of precision and build. Soon after its release, the Tag Heuer Aquaracer became a highly sought-after dive watch by both casual and professional swimmers and divers.
What makes the Aquaracer an excellent dive watch is its adherence to the tenets of what a dive watch must be able to offer. In terms of legibility, the Aquaracer utilizes SuperLuminova coating with its striking white dial and hands. This technology significantly boosts the timepiece's visibility in low-light environments, namely, underwater.
As with all Tag Heuer watches, the Aquaracer also provides excellent accuracy and precision when it comes to its timekeeping capabilities. This is thanks to the Swiss-made quartz movement that powers its analog dial display. The Aquaracer also stays within the 'sweet spot' when it comes to its size with its 41mm stainless-steel case. This is one dive watch that you can wear underwater and during a stylish gala event.
Seiko Prospex Mechanical Dive Watch Review
The Seiko Prospex Mechanical Dive Watch is considerably more significant than the Tag Heuer Aquaracer. This beast is designed to be tough both above and underwater. The Seiko Prospex Mechanical features a 44.5mm diameter stainless steel case, and it is easy to see why it got the nickname of "Sumo". This Seiko dive watch utilizes a full stainless-steel construction.
Seiko is an innovator in this industry, and that is further cemented with the Prospex series. This mechanical self-winding dive watch provides water resistance for up to 200m. This makes it suitable for most recreational water activities such as swimming, snorkeling, and even diving.
The Seiko Prospex is also designed for optimum legibility with its blue dial and contrasting white hands. Readability is unquestionable with the Seiko Prospex with its easy-to-read numerals and luminescent coated markers and hands. Additionally, the Prospex incorporates a date display located at the 3 o'clock position and an automatic mechanical self-winding movement with a power reserve of up to 50-hours.
Skeleton Watches:
Tag Heuer Carrera Calibre 01 Review
Tag Heuer threw a curveball when they unveiled this Carrera Calibre 01 model which incorporates a skeletal dial design. While it was undoubtedly a step in a different direction aesthetically-speaking, the Carrera Calibre 01 Skeleton Dial still utilizes Tag Heuer's signature precision and high-performance level that is designed to keep up with race cars.
What makes skeletal dials so appealing is that it displays the inner workings of the timepiece. This aspect is nowhere as welcome than with watches known for their impeccable mechanisms, Tag Heuer, is a good example. Enthusiasts will surely enjoy the display of complex watch mechanism offered by the Calibre 01 movement.
The Calibre 01 watch movement by Tag Heuer utilizes 39-jewel construction. The internal mechanism also takes full advantage of using colors to bring life and character to the intricate structure and fantastic attention to detail in the display. The Tag Heuer Carrera Calibre 01 is truly a marvel in watchmaking. It comes with an excellent design and outstanding precision that only the most beautiful watch brands can deliver.
Seiko Presage Automatic Dress Watch Review
Seiko is always known for blending tradition and contemporary with absolute finesse and grace. The Seiko Presage highlights this quality and wears it proudly on its sleeves. Seiko went full steam ahead with creativity in regard to the Presage's aesthetics. With its black and silver-toned look, it truly captures that classic and sophisticated charm. The dial, though, is where Seiko truly struts their stuff.
In what can be best described as hypermodern aesthetic, the Seiko Presage exudes impeccable flair in terms of luxury and sophistication. With the popular Japanese quality watch movement in tow, the Presage certainly brings the sizzle, as well as the steak. The Japanese-quartz movement employs 23-jewels for optimum precision.
The dial showcases a stunning sunray design with an 'open-heart' skeletal window on the left side of the timepiece. Other notable aspects about the watch are its use of Hardlex mineral crystal which provides excellent durability and protection to the complicated dial within.
Conclusion: Tag Heuer vs Seiko – Which is Better?
If we are going with prestige, Tag Heuer is undoubtedly the clear winner as it is one of the top watch brands on the luxury category. However, you can't count out Seiko, especially if we take into account their contribution to the industry. Seiko revolutionized the watch market with its quartz movement as well as solar-powered technology. Seiko also offers a more reasonably priced list of timepieces than Tag Heuer with some of the watches priced at a small fraction of Tag watches.
If you are looking for a combination of reliability, functionality, excellent watch features, and most bang for your buck – you can never go wrong with Seiko. On the other hand, if you are looking for absolute precision with high-end sports aesthetics and vibe – Tag Heuer is the place to be.