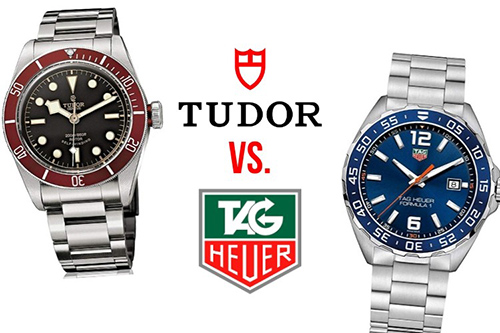 Tudor and Tag Heuer are both well-known Swiss watch brands and are considered among the cream of the crop. The chances are that you are more acquainted with Tag Heuer than Tudor, which is expected as Tag Heuer can be seen in almost all facets of the sports industry. Tudor, on the other hand, is a more sublime brand that leans towards the fashion market. That said, Tudor still offers some top-notch tool watches as well, so you can't count it out if the functionality will be the basis of your decision.
How does Tudor compare to Tag Heuer in aesthetics and functionality? If you are torn between the two brands, you have come to the right place. Check out our comparisons and decide for yourself as to which watchmaker better suits your style.
Tudor Brand Overview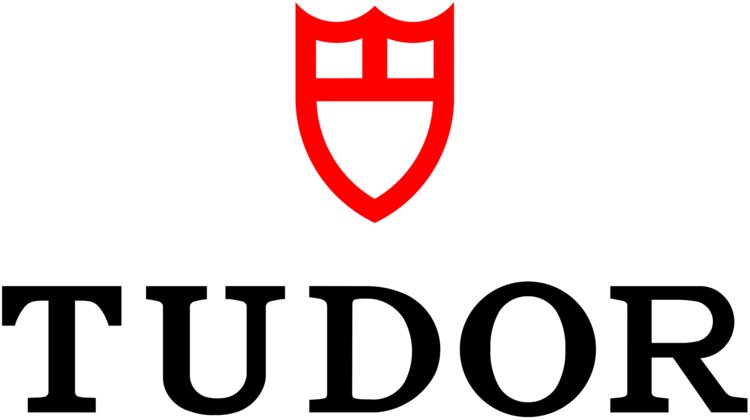 Tudor was conceived as an alternative to Rolex by Rolex founder, Hans Wilsdorf. Tudor watches captured a lot of the charm that made Rolex one of the best luxury watches in the world but at a considerably lower price. Of course, "lower price" here is relative as Tudor timepieces can still cost within the ballpark of a thousand dollars. Still, it is far more competitively priced than its 'big sister' company.
While Tudor was initially planned as an alternative to Rolex, a "Poor Man's Rolex" if you don't mind the rather crude comparison, it managed to break out of that mold throughout the years. Nowadays, if you bring out Tudor, the first things that pop to mind is a classy yet highly innovative brand that is not just a cheaper substitute to Rolex.
Tudor was founded in 1926, but it didn't get its current moniker, Montres Tudor SA up until 1946 once Hans Wilsdorf officially took over the company. Over the years, Tudor expanded its repertoire in regards to the types of timepieces it offers. Today, Tudor is well-known for having some top-tier tool watches such as dive watches as well.
One of Tudor's most defining trait that helps its separate itself from Rolex is its affinity to experimenting with its watches. The company is not as beholden to tradition as Rolex, which means Tudor is far more likely to deliver some innovative timepieces with modern watch tech.
Tag Heuer Brand Overview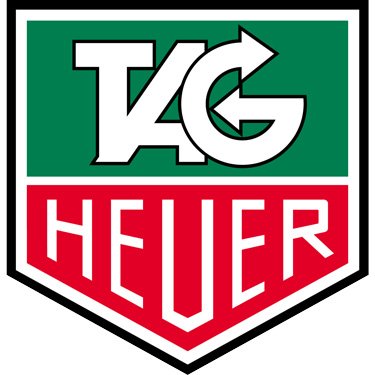 One of the most famous Swiss brands in the market today, Tag Heuer has been around for quite some time. To be exact, it was the Heuer Watch Company that comes with a rich history behind it. Founded in 1860 by Edouard Heuer, the Swiss watchmaking company made its name within the sports industry. This was legitimately a smart business move as sports breaks global barriers. This means that Heuer's watches are instantly being advertised to a broad audience around the world.
Heuer's partnership with several sports companies also helped showcase the company's skill in crafting top-tier watch movements. Not just any brand can land a collaboration within the sports industry. The primary factor to be even be considered is impeccable accuracy, as that aspect is mandatory in sports – especially, in the automobile racing industry.
Of course, Heuer proved the top-notch accuracy of their watch movements when they unveiled the Heuer Mikrograph in 1916. The Mikrograph was developed to measure 1/100th of a second and clocks in a jaw-dropping 360,000VPH. This timepiece helped Heuer appear in the radar of significant sports companies. In particular, they gained the attention of the Olympics, which resulted in Heuer being tapped as one of the official timekeepers of the 1920s Olympics.
Heuer did not become Tag Heuer until 1985 when the Tag Group Holdings purchased the company. Tag Heuer also purchased LVMH in 1999, further expanding their repertoire and improving the timepieces further. Nowadays, Tag Heuer is best known for their stylish luxury sports watches and top of the line precision watch movements.
Tudor and Tag Heuer Watch Comparisons
Chronograph Watches:
Tudor Black Bay Chronograph Review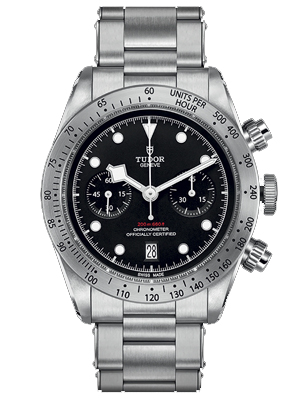 The Tudor Black Bay Chrono is the brand's answer to the Rolex Daytona. A quick comparison between the two will show these as there are several aesthetic similarities that even beginners will be able to notice. From the two sub-dial features, a date window located at the 6 o'clock position, round index markers, and a snowflake-style hour and minute hands, the Tudor Black Bay projects that Rolex Daytona vibe.
The Tudor Black Bay Chrono uses in-house watch movements, specifically the Calibre MT5813 movement, which also comes with a COSC certification. This guarantees optimum precision with its 28,800VPH. The stainless-steel case that the Tudor Black Bay Chrono measures in at around 41mm, which is the sweet spot for watches aiming for the unisex target demographic.
The Black Bay was already a beautiful timepiece on its own, and I truly believe that including a chronograph functionality further enhances its merit even more. The tachymeter bezel is the icing on the proverbial cake here which completes the upgraded level of functionality while staying true to its traditional timepiece roots. The Black Bay Chrono also features a substantial 200-meter water resistance which makes it a suitable timepiece for both function and fashion.
Tag Heuer Monaco Calibre 6 Review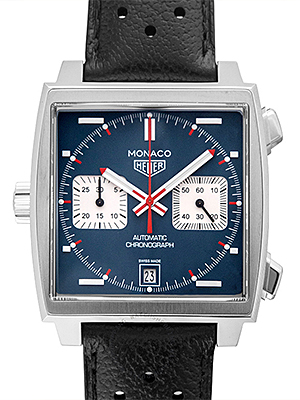 See on Tag Heuer | See on eBay
Tag Heuer certainly wears its sports credentials proudly on its sleeves as the Tag Heuer Monaco Cal 6 proves. The square stainless-steel case with titanium carbide coating and vibrant blue dial is always an aesthetically pleasing combination for a wristwatch. True to its racing-themed moniker, the Monaco Cal 6 features an automobile dashboard dial design. It also gives off a retro racing charm that will surely please racing car aficionados.
The Tag Heuer Monaco might also be the only timepiece that has embedded itself into pop culture history as it was the timepiece of choice by Steve McQueen's character in the classic racing film, "Le Mans". That alone automatically gives it a level of prestige that very few other sports watches can match. The Monaco Cal 6 does not just hit all the right marks in terms of design though, underneath its timeless exterior lies an exceptional watch mechanism that further lends to its "timeless" appeal.
The mechanism used sticks to the tested and proven automatic mechanical movement with analog display. The dial also features two square-shaped sub-dials with white and silver hands and index markers to top off the stylish presentation. Overall, the Monaco Cal 6 has proven itself to be worthy of its namesake; it is a highly accurate timepiece that honors its racing circuit roots with its impeccable design.
Outdoor/Sports Watches:
Tudor North Flag Review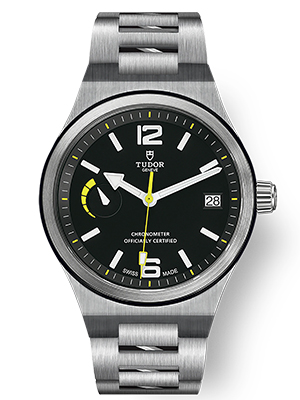 While Tudor is mostly known for their traditional dress timepieces, they also manufacture top-notch tool watches and – in Tudor North Flag's case, excellent sports/outdoor watches. The Tudor North Flag conveys an adventurous vibe with its sleek and modern sports watch aesthetics.
This design is simple yet striking thanks to its combination and placement of vital visual flairs that contrast and complement each other. The black dial accentuates the silver-tone case with bright neon yellow accents. This is a sporty-looking timepiece while keeping itself grounded with an overall traditional design.
Like all other Tudor watches, the North Flag feature watch movement that is developed and manufactured in-house. It uses the Calibre MT5621, which also comes with COSC certification; this is a stamp of approval regarding the timepiece's outstanding level of precision. The watch movement also packs an excellent 70-hours of power reserve.
Stylish and sublime, this watch can fit into any occasion. From casual to formal, and even outdoor activities – the North Flag is a reliable and sleek timepiece you can count on.
Tag Heuer Autavia Isograph Review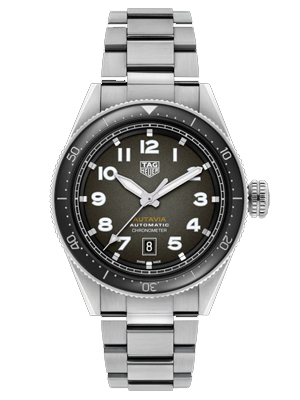 See on Tag Heuer | See on eBay
The Tag Heuer Autavia series is one of the brand's most iconic models and helped paved the way for Tag Heuer to become a prominent fixture within the sports industry. The first Autavia watch is renowned for being the first of its kind, being the first timepiece design for automobile and aviation dashboards.
The Autavia watch series was always known for its sleek and timeless design; the Isograph took the classic formula and injected some fresh new ideas into it. What we get is a modern-looking timepiece that is sleek and functional. The Autavia Isograph features polished stainless-steel casing measuring in at 42mm. The design still utilizes that signature ratchet bezel that the first generation Autavias have. Over at the back case, you will notice a detailed engraving of a tire and propeller which pays homage to timepiece's inspiration and roots.
The Autavia Isograph is powered by a Calibre 5 automatic movement. The watch mechanism also comes with a COSC certification. There is a reason why this timepiece is fashionable within racing automobile fans, and that is with an excellent level of precision.
Conclusion: Tudor and Tag Heuer – Which is Better?
If we will be basing our decision on which brand has the more prevalent reputation and prestige, Tag Heuer leads by a wide margin. However, take note that Tag Heuer leans over to the luxury sports watch market. As such, you might not find that specific dress watch. Tudor provides a broader selection of timepieces to customers while still offering the right level of prestige, being the sister company of Rolex.
Both are on par with each other as far as watch calibre movements are concerned. The tipping point between the two will be which timepiece aesthetic you prefer more. You should also take into account if prestige is a sough-after quality for you.