As one of the three iconic "JB" badass superspies in film history, Jason Bourne has become a legendary fictional character and a part of pop culture history. Along with the other two "JBs," Jack Bauer (from the critically acclaimed series, 24) and, of course, the man himself, James Bond (007 franchise), Jason Bourne has engrained himself into fans of the heart-pumping action-thriller genre.
For someone as clinically precise as Jason Bourne, you would expect the man to have equally precise tools in his arsenal, and you would be right. For this article, we will be looking at all the watches worn by Jason Bourne (Matt Damon) throughout the film series.
We will be excluding The Bourne Legacy (2012) because technically, Jason Bourne wasn't in that film as the plot focused primarily on Jeremy Renner's character, Aaron Cross.
Aaron Cross is a member of a black ops program called Operation Outcome, similar to Bourne, who is part of Operation Treadstone. We will be leaving out the 1998 TV movie adaptation of The Bourne Identity.
Before we begin our main topic, let me give you some fun little trivia about the Bourne film franchise as it has some interesting tidbits regarding the film's production.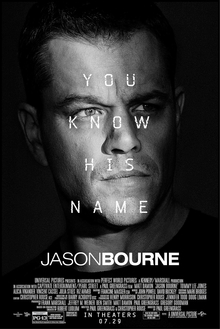 Major Differences Between the Films and Novels
First and foremost, you might be aware that the Bourne films are based on a book series by Robert Ludlum of the same name, but did you know that the film and novels vary significantly from each other? Everything is virtually different from the names of characters and the overall concept. The most glaring difference is that the novels take place in the 80s while the films are more current and transpires from 2000 and onwards. Also, the main antagonist of the books, Carlos the Jackal, is wholly absent from the films.
The Director Employed Some Unique Methods During the Shooting of the First Bourne Film
Also, did you know that the director, Doug Liman, caused several execs from Universal Pictures headaches due to his insistence on shooting the first film, 'guerrilla style'? Liman has a habit of shooting certain scenes without the appropriate permit and go-ahead from the studio. You can see the legal ramifications of this directing style, but it also gave the first Bourne film that hectic and frantic atmosphere.
A perfect example of this directing style was the scene in Paris, France, where Jason Bourne was frantically moving through a wave of people. The director admitted in the DVD commentary that he was following Matt Damon as the actor was trying to escape a growing crowd of fans trying to get a glimpse of the actor. This resulted in a chaotic and tense scene that perfectly captured what it was like to be on the run and alone.
Bourne's Fighting Style Encapsulates Character Perfectly
As we have noted at the start of this article, Jason Bourne is characterized by his strategic mind and pinpoint precision when executing his actions. What martial arts best complement this type of character than with the Filipino martial art, Kali, which utilizes pinpoint strikes and avoids unnecessary movements. A pretty apt fighting style to the character of Jason Bourne, if I might say so myself.
Watches Worn in the Jason Bourne Movies (Matt Damon)
TAG Heuer CT111.BA0550 Link Chronograph Watch

Now, then – let us get right into the meat of this discussion: the timepieces. For a character who is all about precision, it is not surprising that Jason Bourne prefers a TAG Heuer timepiece.
Specifically, the TAG Heuer Link Chronograph (2001 model) can be seen in The Bourne Identity's first film. We get to catch a glimpse of the beauty of a timepiece in the scene in Zurich, Switzerland, where Jason Bourne gains access to his safety deposit box that contains key items during his time as a CIA assassin. You can check the scene right here:

The TAG Heuer Link Chrono features a high level of craftsmanship, emphasizing its robust and rugged build and functionality. It features a highly accurate Swiss quartz movement and analog dial display underneath a tough and sleek polished 41mm stainless-steel case. The case has sapphire crystal movement with excellent scratch resistance and an anti-glare coating. The watch is also designed to provide up to 200-meter of water resistance.
TAG Heuer Formula 1 Chronograph CAU114.FT6024

In the fifth and final film in the series, Jason Bourne (2016), Matt Damon appears once again sporting a TAG Heuer watch. We get a more tactical-looking timepiece this time around with the all-black TAG Heuer Formula 1 Chronograph.
This TAG Heuer F1 Chrono watch is not picked randomly, though, and this perfectly symbolizes the character of Jason Bourne's growth throughout the film. This particular TAG Heuer F1 Chrono features a more tactical, sleeker, and low-key all-black aesthetic. Compared to the stainless-steel TAG Heuer watch from the first film, this model is not designed to grab anyone's attention but aims to blend into the environment.
The TAG Heuer used by Jason Bourne in the fifth (and final?) installment of the series features a black PVD-coated 42mm stainless-steel case and uses a black rubber strap for more flexibility. Like the TAG Heuer Link Chrono from the first film, this model uses a Swiss quartz movement, chronograph sub-dials, and 200-meter water resistance. This particular TAG Heuer watch is far more tactical and versatile, a perfect watch for someone as crafty and rugged as Jason Bourne, wouldn't you agree?
As you can see, Jason Bourne also has a signature watch brand similar to that of James Bond's affinity towards luxury timepieces such as Omega. Similar to James Bond and Omega, Jason Bourne and TAG Heuer complement each other's styles and are not a partnership based solely on marketing purposes. The character Jason Bourne and the TAG Heuer brand focus on delivering accuracy and efficiency in their mission. This, in turn, makes the appearance of a TAG Heuer timepiece in the film appear much more organic and less like an advertisement that feels off-putting.