Willful is one of the most popular smartwatch brands on Amazon, but with such a low price, you're probably wondering if it's any good. Well, I purchased one and have been wearing it for the last week so here's my honest review.
Overall Verdict
The Willful smartwatch is a simple, but reliable smartwatch with excellent battery life. If you're looking for basic features such as alerting you of new messages and tracking your daily step count, the Willful is great value for money and very comfortable to wear.
However, if you're looking for more advanced features, the Amazfit Bip U is an excellent budget smartwatch with broader and more detailed sports tracking, a better user interface, and additional sensors such as GPS and blood oxygen saturation monitoring.
| | |
| --- | --- |
| PROS | CONS |
| ✅ Lightweight and comfortable to wear | ❌ Very basic features |
| ✅ Excellent battery life that easily lasts a week | ❌ No third party apps |
| ✅ Media controls are accessible whilst working out | ❌ Smartphone app isn't the easiest to navigate |
| ✅ Screen is bright and suitable for use indoors or outside | ❌ Only 4 watch faces with no widgets |
| | ❌ Notification mirroring is limited to 10 select apps |
Willful Smartwatch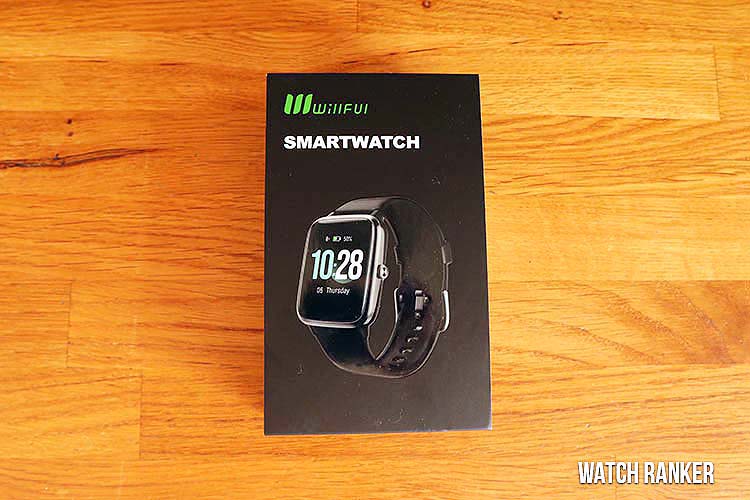 Willful is a budget smartwatch brand from China that's owned by YAMAY. Their watches are made in Shenzen and sold across North America, Europe, Japan, and Australia. Their watches use a proprietary operating system that works with both Android and iPhone, with a focus on simplicity, battery life, and affordability rather than high-end features.
What's In The Box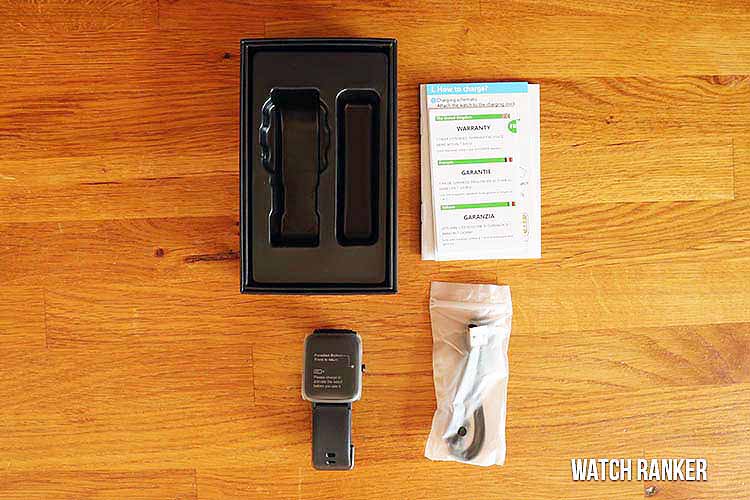 The Willful smartwatch arrives in a smart black box that made the unboxing experience very easy and enjoyable. Inside, the watch is neatly presented along with the charging cable and operating instructions.
The charger is a magnetic clip-on charger with a USB adaptor, you'll need to ensure you have the relevant power adaptor to hand.
Design & Build Quality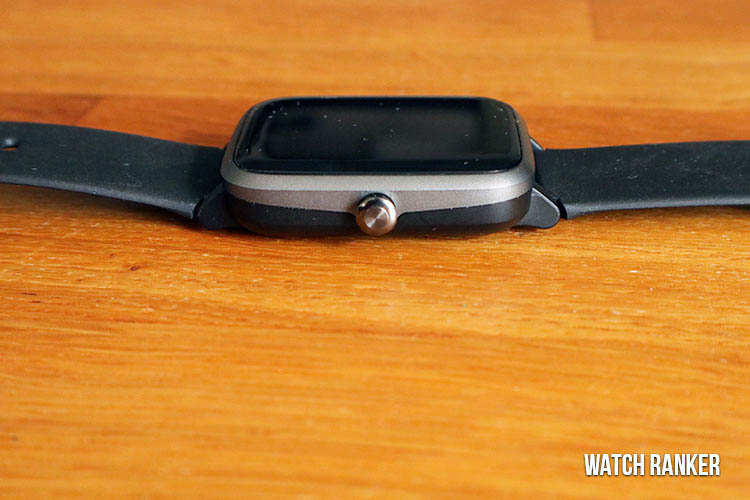 The body of the watch is made from plastic and so is very lightweight at just 31g. This makes it very comfortable to wear on your wrist and the slim profile of the watch means it could easily be worn during workouts without limiting your movement.
It also has an IP68 rating which means it can be submerged in 1.5m of water for 30 minutes so is suitable for wearing in the shower or swimming.
The strap is a black rubber silicone strap, this has quick-release pins allowing you to swap out the strap for any other standard strap.
The display is a 1.3" TFT touch screen, it has three brightness settings with the brightest being suitable for general outdoor use. There is no always-on display, instead, it wakes when you lift your wrist. This worked consistently as long as the movement was very obvious.
It has a single button that acts as a back button, there is no crown dial or rotating bezel, but given the simple interface, this wasn't a deal-breaker.
Features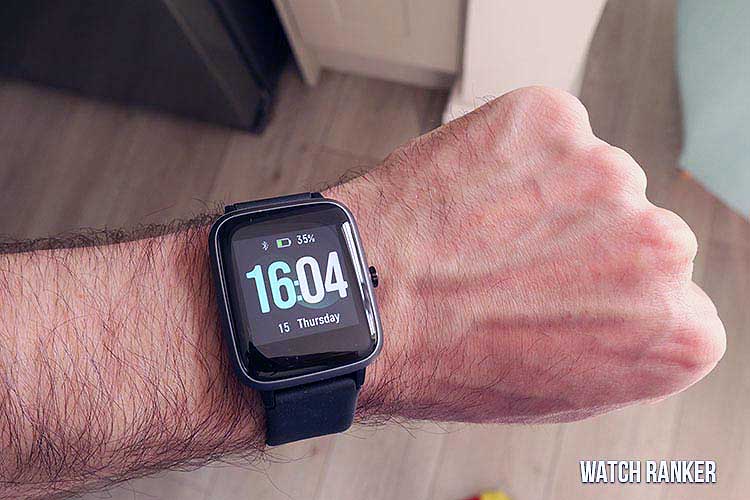 When you first receive the watch, most of the features are turned off by default so you'll need to have a play around in the app to set up notifications, call alerts, etc.
The interface is easy to navigate with most settings accessible within two or three gestures from the home screen. The main menu is accessed with a left swipe, this provides access to the sports tracking, timer, alarm, and music controls.
A right swipe from the home screen will take you to the quick settings menu. This is slightly unfamiliar as you'd usually expect quick settings to be a swipe down, but once I overcame the initial confusion it was a fast way to switch on do not disturb mode or for locating my phone.
Watch Faces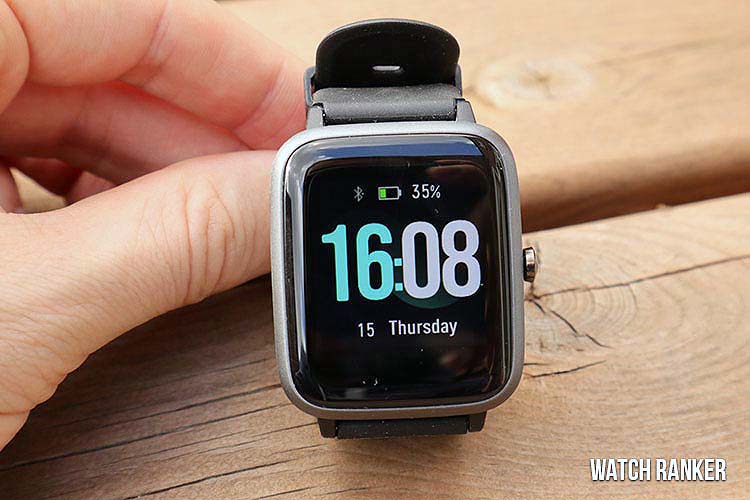 The number of watch faces is very limited compared to other budget smartwatches I've reviewed. There are four watch faces pre-installed on the watch to choose between, however, there is no way to add additional watch faces.
The watch faces are limited to showing the time and date, I could not find any option to show daily fitness goals such as a step counter on the home screen.
Notifications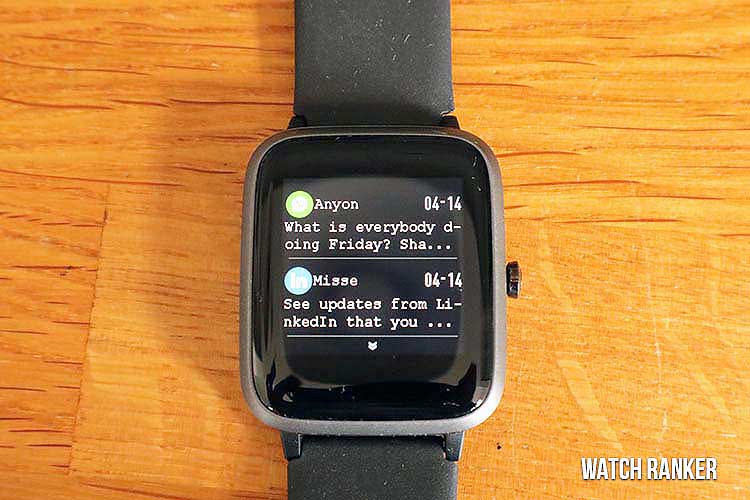 One of the main features of the Willful watch is that it mirrors your notifications. These pop up when they first come through and a feed of notifications can be accessed by swiping down from the home screen. You can't interact with the notifications or reply to messages, but you can dismiss them as they come through.
The downside is that it doesn't mirror all notifications, only 10 select apps are supported which include calendar, email, SMS, Facebook, Twitter, Whatsapp, LinkedIn, Instagram, Facebook Messenger, and Gmail. If you use any other messaging apps such as Telegram, Snapchat, or Line, then this isn't the watch for you.
The watch also has a timer, alarm, heart rate monitor, and breathing exercises. Whilst none of these features excel, they are occasionally quite useful to have such as when I needed an egg timer.
Health & Fitness Tracking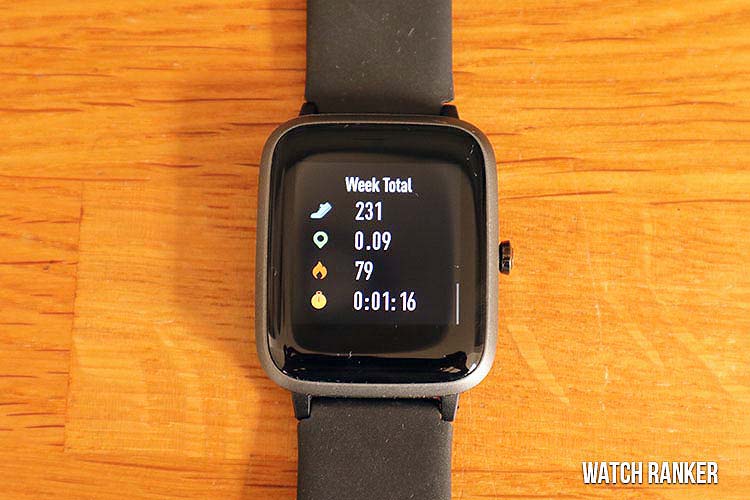 Health Tracking
In terms of health tracking, the watch counts your daily steps and uses this to estimate your calories burned and distance traveled. This information can be found by swiping up from the home screen and cycling through the different screens for each metric.
It's also synced to your phone in the VeryFitPro companion app. Unfortunately, there is no integration with other fitness apps like Google Fit or Strava.
The watch also has a heart rate monitor, however, I found the reporting on this to be inconsistent so I wouldn't recommend you rely on it too heavily, especially if you have any health conditions that need to be monitored.
Fitness Tracking
When you want to work out, you can choose from 7 different sports that are preloaded on the watch. These are running, walking, cycling, climbing, treadmill, spinning, and yoga.
When you start an activity, the watch starts a timer and keeps track of your steps and distance traveled. It also activates the heart rate monitor, all of which can be seen in the app afterward.
I like that you can still access the music controls whilst doing an activity. Many of the other budget smartwatches I have reviewed do not allow this which has always been a frustration.
Smartphone App
The watch connects to your phone using Bluetooth low energy 4.2 and the VeryFitPro app which is available for Android and iPhone.
The app is very simple and provides the basic functions you'd expect. However, it's not great for navigating, the English is poor in some areas and things aren't always where you'd expect, for example, your daily fitness goals are displayed in a different place to your weekly and monthly goals.
Battery Life
Battery life is where this watch excels. The watch has a 210mAh battery which Willful says will last at least 7 days. In my own testing, after wearing the watch for more than a week it still had 50% of its battery remaining so I'd suggest it lasts even longer than the manufacturer suggests.
Verdict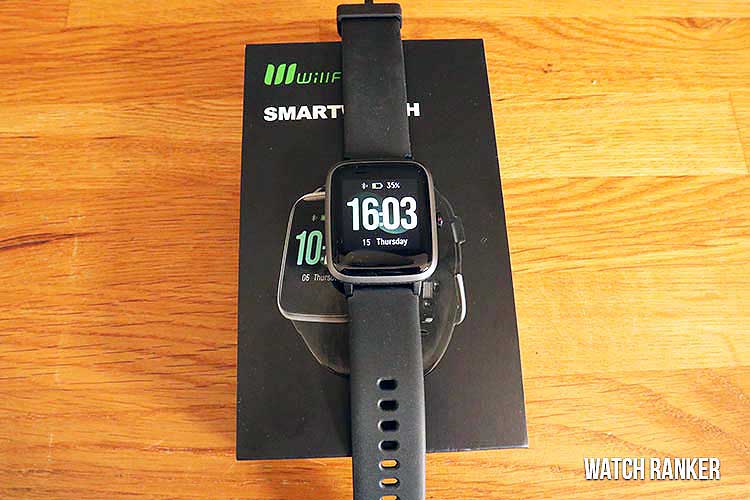 If you're looking for basic features and an affordable price, the Willful is a reliable and comfortable smartwatch. It can provide notifications from the most popular messaging apps and track your daily fitness goals including steps, distance traveled and calories burned.
However, beyond these basic functions, the watch cannot do much else and has limited integration with your phone and other fitness apps.
If you can afford to spend a little more, the Amazfit Bip is our top budget smartwatch and offers a far better experience than the Willful watch. We particularly liked the Amazfit Bip's health tracking via the companion app, the inclusion of GPS to provide route information after your workouts, and the range of 50 watch faces with customization.
Our Take On Low-Budget Smartwatches
Disclaimer- We did not disassemble the watches so we're not able to conclude with absolute certainty that they are identical.
However, for all practical purposes, after wearing and testing these smartwatches for over a month, we are not able to find any significant differences between these four models.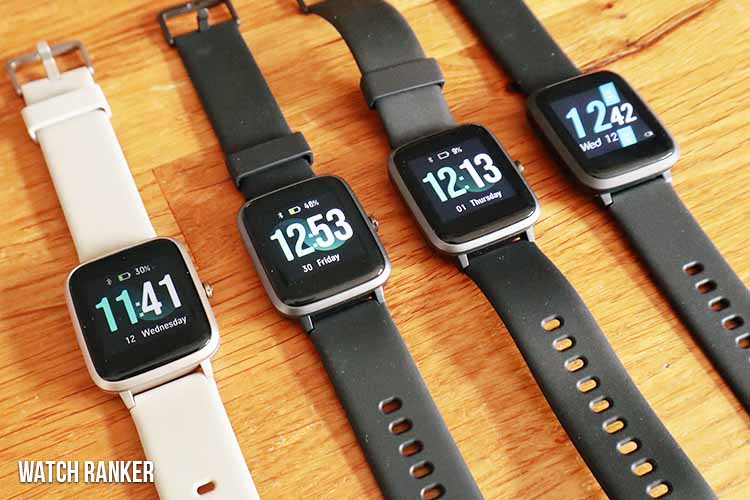 The only noticeable difference we can see is the branding and packaging of each model, the style of the button on the side, and a few minor differences in the user interface.
Because of our findings, if you decide to buy one of these – we'd recommend you buy whichever model is the cheapest.
For your convenience, we've listed the current Amazon prices of these watches below.