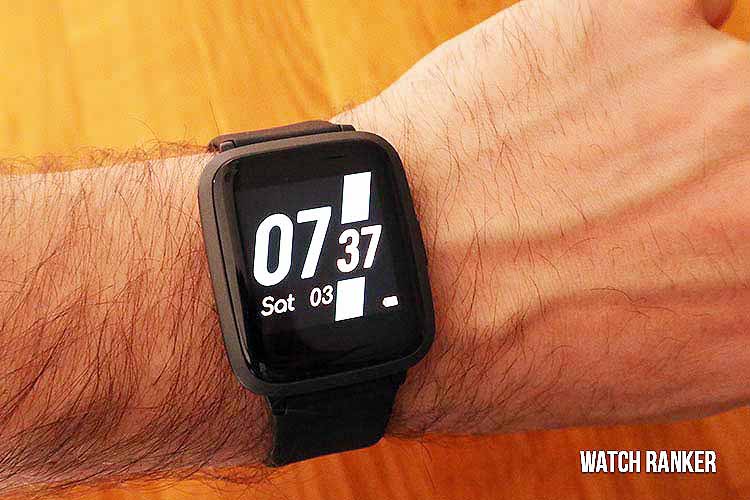 If you're thinking of buying a budget smartwatch that costs less than $50, the Aikela ID205U might be one of your options for consideration.
Is this watch an absolute bargain or should you save your money? I bought one myself and have been wearing it for the last week or so. In this review, I'll share my thoughts on every aspect of the watch from design to software.
Overall Verdict
If all you want from a smartwatch is basic fitness tracking and an alert every time you receive a message on your phone, then the Aikela will do just that and it will do it for an incredibly low price compared to other smartwatches. I found it to be comfortable and the battery only needs charging every 2 or so weeks.
On the other hand, if like me, you're looking for something a lot smarter, then this watch doesn't quite cut it. You cannot track your running routes as it doesn't have GPS, there's no onboard music storage so you still need to rely on your phone, and the companion app doesn't give very detailed fitness stats.
Having reviewed our fair share of watches, the Amazfit Bip U is our top budget smartwatch which I'd recommend as a viable alternative. It has GPS, a better user interface with lots of watch faces, and you can integrate with Strava for better fitness tracking.
| | |
| --- | --- |
| PROS | CONS |
| ✅ Very affordable | ❌ No GPS for tracking your workout routes |
| ✅ Comfortable to wear on your wrist, even whilst working out | ❌ Cannot control your music whilst in sports tracking mode |
| ✅ Outstanding battery life of 2+ weeks | ❌ Only 4 watch faces to choose from |
| ✅ Works well as a daily step and calorie counter | ❌ The companion app provides limited reporting |
| ✅ | ❌ |
Aikela Smartwatch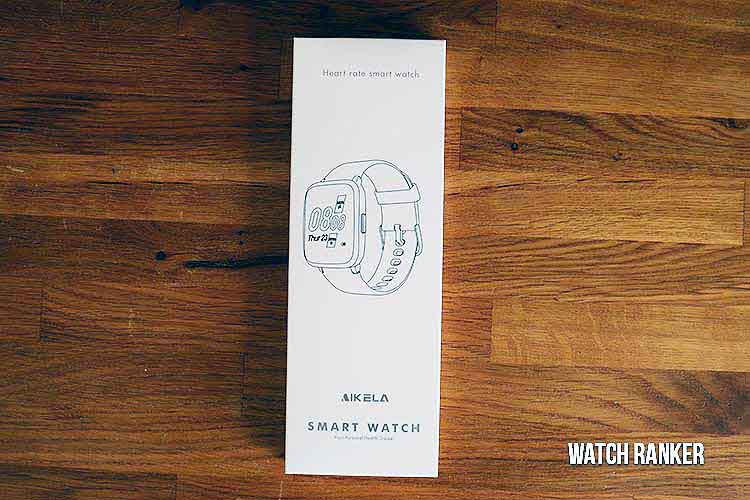 Akela is an electronic brand based in Shenzen, China. They specialize in selling budget-priced electronics, mainly smartwatches and fitness trackers, and accessories through online retailers such as Amazon and eBay.
I hadn't heard of the brand before purchasing and reviewing this product, but they seem to have grown very quickly with 000's of 4 and 5-star reviews on Amazon.
What's In The Box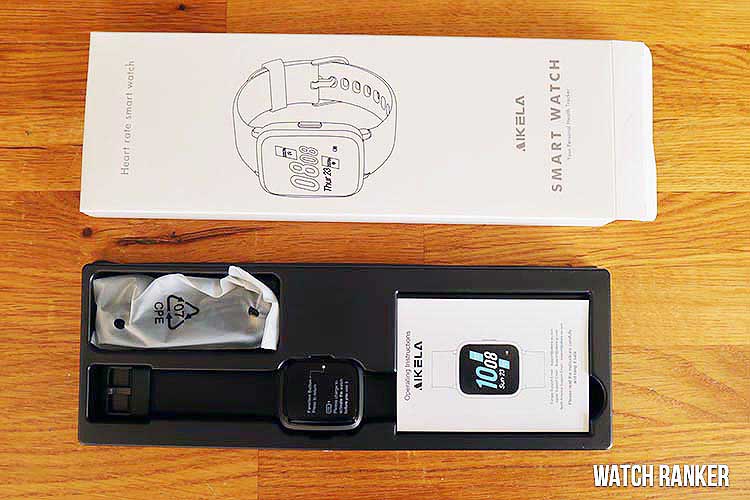 The packaging was about as cheap as you could get. A white box with their logo on the front and a plastic tray inside. But it's what's inside that counts right?
Once opened, you'll find the watch itself long with a magnetic charger and the instruction manual.
The magnetic charger is a USB cable with no wall socket provided, most people will have a spare one lying around these days, if not you'll need to source one yourself.
Design & Build Quality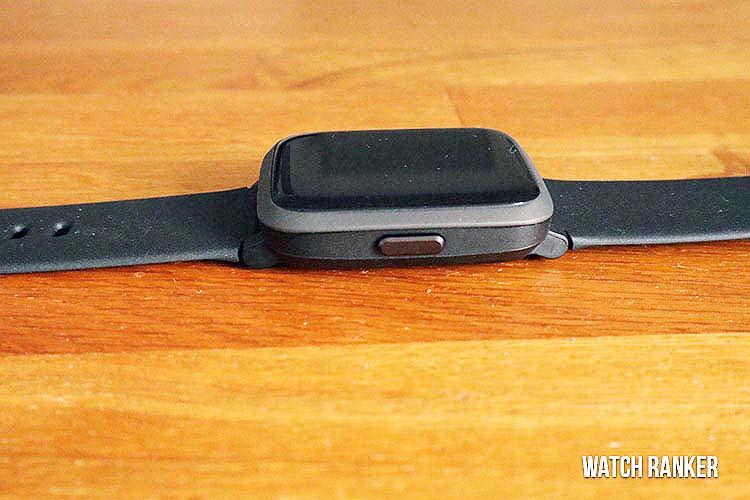 The Aikela watch has a plastic build which does feel quite cheap, but this also means it's lightweight and very comfortable to wear. I wore it whilst working out and didn't find it to obstruct my activity as I have found with larger watches in the past.
It has a black rubber silicone strap which has quick-release pins so you could easily swap it out for another color or style in the future.
It has a 1.3-inch touchscreen display which is bright enough for use indoors and out, there are three brightness settings but I had it on full. The display comes on whenever you lift your arm and for the most part, I found it to be very responsive o my movements.
As well as the touchscreen, there's a single button on the side of the watch which acts as a back button or a home button with a long press. There's no crown dial or rotating bezel but with such a basic interface it's not necessarily required.
Features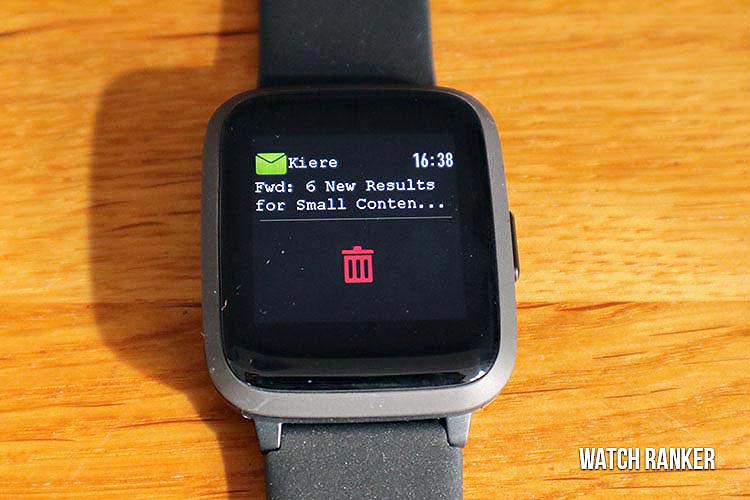 As far as features go, the watch can be used to track your daily fitness goals, during workouts, and for mirroring your notifications.
Beyond this, there aren't many other features that I found myself using on a daily basis. There's no GPS, no speaker or microphone, no voice assistant, you can't send messages or take calls, nor can you use it to pay in a shop.
There is a media player on the watch which controls the music playing from your phone with basic play/pause/skip options. Unfortunately, there's no storage for adding music to the device itself.
The watch has its own alarm feature which is different from the alarms on your phone. This was a shame as I'd have liked alarms to sync between the two, however, I'd have to set it in both places and dismiss it twice for this to happen.
Watch Faces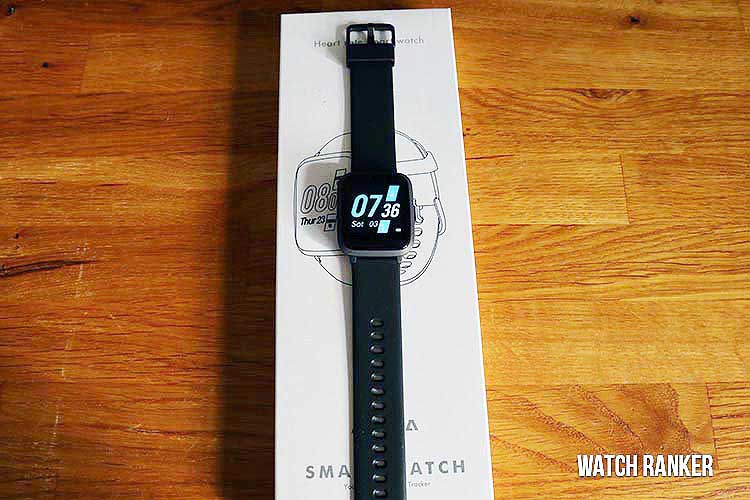 The watch lets itself down when it comes to the watch faces. There are only four to choose from on the watch, three of which I found very unappealing which leaves only the default watch face.
This wouldn't be so bad if I weren't for the fact that it only displays the date and time. Most smartwatches, even at this price point, should have the ability to show your daily steps or distance traveled on the home screen.
Notifications
One of the biggest selling points of the Aikela smartwatch is that it can mirror your notifications from your phone so you don't need to get it out every time it goes off.
This is very useful if you're trying to reduce your screen time, however, keep in mind that there is only a select set of 9 supported messaging and social media apps that it mirrors, these are calendar, email, SMS, Facebook, Twitter, Whatsapp, LinkedIn, Instagram, and Messenger.
Notifications can be dismissed as they come through, or you can look back through a feed of previous notifications by swiping down from the home screen.
Unfortunately, you cannot interact with the notifications as you might be able to on other smartwatch operating systems like Samsung's Tizen or WearOS.
Health & Fitness Tracking
Health Tracking
The most used feature during my testing of this watch was health tracking. I'm a big fan of tracking my daily steps so the watch was a very useful tool.
It counts your steps, distance traveled, and calories burned each day. You can set goals and view your progress towards your goal for the day by swiping down from the home screen. There are also more detailed reports by week and month in the app.
The tracking is very basic and nowhere near as advanced as something like a Fitbit, but given the price point, it's still acceptable. Although, I would have liked to see integration with other fitness apps like MyFitnessPal or Strava.
The watch also has on-board heart rate, blood oxygen, and blood pressure monitoring using an optical light on the back of the watch. You can use these for a spot check or you can set them to automatically monitor your health throughout the day. Generally speaking, I wouldn't rely heavily on these as their accuracy hasn't been proven.
Sports and Fitness Tracking
When you're ready to workout, you can head to the sports tracking in the main menu.
This has 8 different sports preloaded to track including running, walking, cycling, hiking, climbing, treadmill, spinning, and yoga. It doesn't matter which sport you choose as the watch will track the same main things; time, calories burned, distance traveled, step count, and heart rate.
Results from each workout can be found in the sports record from the watch's main menu or in the VeryFitPro companion app.
I didn't like that the music controls could not be accessed during a workout as these two features should go hand in hand. This meant I still had to use my phone whilst exercising and somewhat defeated the object of the watch.
Smartphone App
The Aikela smartwatch connects to your phone using Bluetooth and the VeryFitPro app.
The app allows you to change the settings on your watch and see the health and fitness tracking data recorded by it.
When you first connect the watch, you'll need to turn on the features you'd like to use as everything seems to be turned off by default which I thought was unusual.
The app itself is very basic and can be hard to navigate, not always helped by the poorly translated English. But after using it for a few days, I had no problems getting to what I needed.
Battery Life
The battery life on the Aikela is outstanding, especially when compared to major brands in the market. I expect this is largely because the basic operating system uses little power, especially with no GPS.
In the manual I received with the watch, Aikela claim 7-9 days battery life from the 210mAh battery, however, after wearing it for 7 days straight, the watch still hasn't dropped past 50% so I'd say 2 weeks is a reasonable estimate.
Verdict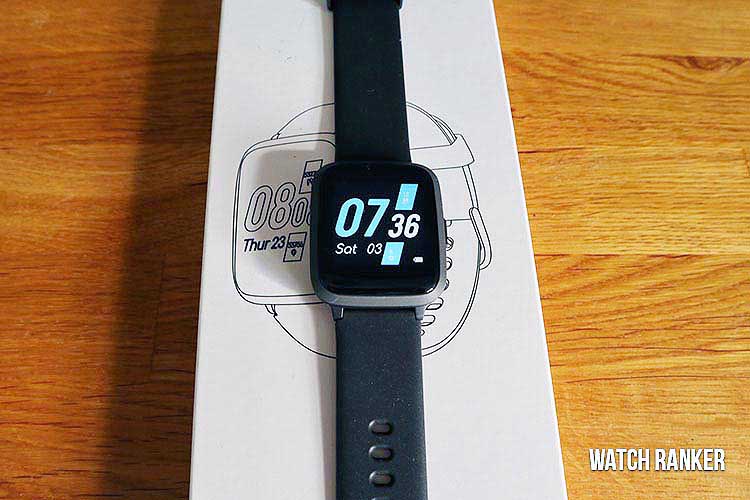 If you're looking for a cheap watch that can track your daily fitness goals and let you know when you've got a new notification, I have no problem with recommending the Aikela watch. It's lightweight, comfortable, and has an excellent battery life compared to the rest of the market.
I like that it's small and sleek enough for use in almost any situation, from an office job to the gym.
However, beyond the basic tracking features, the watch doesn't do much else. When I buy a smartwatch, I like to see some onboard music storage, GPS, lots of watch faces and widgets, and contactless payments via NFC. Unfortunately, the Aikela has none of these.
If you're looking for a great budget smartwatch, the Amazfit Bip U is our current top pick. It has all the same features as the Aikela, plus GPS, a better interface with more detailed reporting, and integration with other fitness apps. Plus, it's still very affordable.
For even more smarts, splash out a little more and you could get the Ticwatch E2, this runs WearOS so you can install third-party apps such as Spotify. You can also reply to notifications and connect your Bluetooth headphones directly to it.
Our Take On Low-Budget Smartwatches
Disclaimer- We did not disassemble the watches so we're not able to conclude with absolute certainty that they are identical.
However, for all practical purposes, after wearing and testing these smartwatches for over a month, we are not able to find any significant differences between these four models.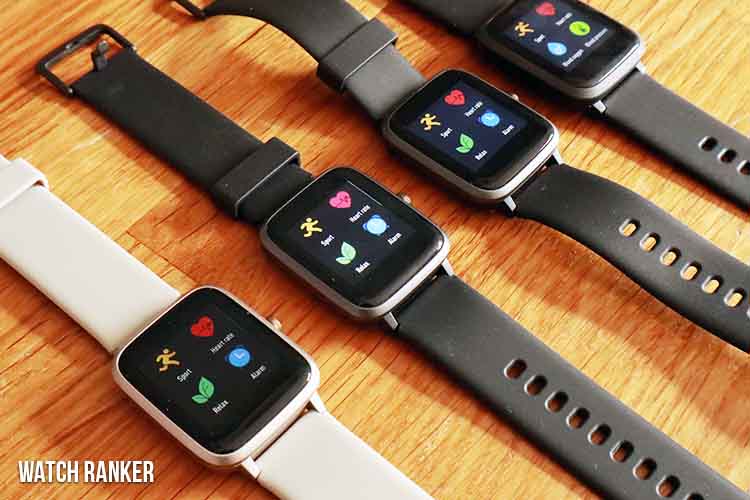 Each watch had its own packaging with the relevant branding on, and some had branding on the rear of the watch too. The only noticeable differences in the watches themselves were the style of the button on the side and minor differences in the user interface.
Because of our findings, if you decide to buy one of these – we'd recommend you buy whichever model is the cheapest.
We have listed the current Amazon prices of these watches below.