Amazfit and Mobvoi's TicWatch are two of the most respected and successful brands in the smartwatch industry. Amazfit is currently the second-largest wearable manufacturer of wearables. Mobvoi, on the other hand, is extremely popular when it comes to Wear OS-powered smartwatches. And despite how different the offerings of each company is, it is inevitable for them to be compared since some of their products are similar in terms of the features and value proposition.
In this article, we will be taking a look at the midrange offerings of these two brands; the Amazfit GTS and TicWatch S2. We will be comparing key features such as the build quality, fitness, and health tracking, UI, etc. And by the end of this article, you should have a better idea of which smartphone best suits your needs. Keep on scrolling to find out more.
Also, if you are interested in learning more about the Amazfit GTS, don't forget to check out our full review.
Amazfit Brand Overview
Amazfit is a newcomer to the smartwatch industry. They are a US-based company that was only established in 2016. However, they have mostly been getting more attention due to the number of products they produce each year.
They are owned by Huami, who is currently the exclusive partner of Xiaomi. Together, they have become the second-largest wearable manufacturer. This is an impressive feat, given their relatively young age in the industry.
Their current lineup is more diverse and targets a wide range of audiences. They have budget offerings such as the Pace series and more high-end watches such as the Stratos Series. The Amazfit GTS is, of course, part of their midrange series aimed at casual users.
Mobvoi TicWatch Brand Overview
Founded in 2012, Mobvoi's core focus has been on voice AI interaction and hardware-software integration, providing B2B and B2C AI products and services to more than 40 countries and regions.
Mobvoi aims to define the next generation of human-machine interaction, creating a more natural and intuitive way for people to interact with machines.
As a technology company driven by innovation, Mobvoi has developed a series of proprietary AI technologies that establish an" end-to-end" human-computer interaction system architecture, including speech signal processing, wake words, speech recognition, natural language understanding, dialogue management, vertical search, speech synthesis, knowledge graph and more.
Amazfit GTS vs. TicWatch S2
Design and Build Quality
Design Language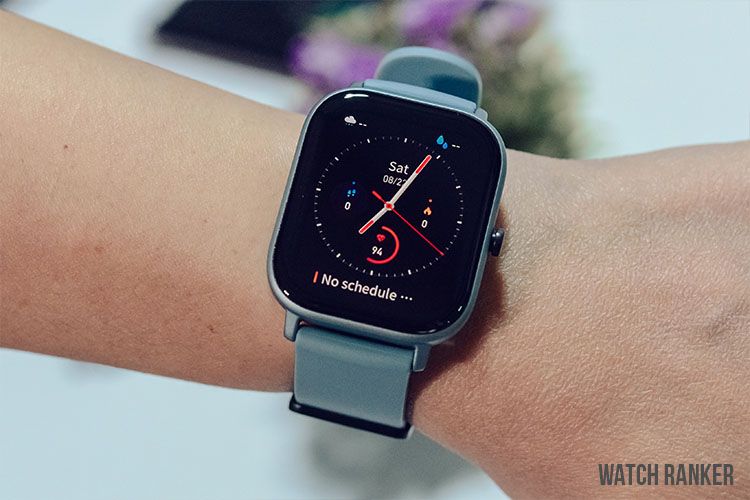 The Amazfit GTS is a square watch with a very minimalist and clean looking design. It is a simple-looking watch that is not littered with any branding or special features.
It is worth noting that the Amazfit GTS looks substantially different from its more expensive counterpart, the Amazfit GTR. Aside from the difference in the shape, the strap design and materials used are also entirely different.
The Amazfit GTS comes in various colors, which is great to see, especially since Amazfit is advertising the GTS as a fashion accessory. The unit featured in this review is rocking the blue color scheme, which looks as good as it does on camera.
And if that's not your style, there are other colors such as black, grey, gold, orange, and pink. The various color options make the watch more interesting, which is good since this price segment is filled with the same neutral color schemes.
On the other hand, the Mobvoi TicWatch S2 is a rugged built quality and the lightest Android Smartwatch. The TicWatch S2 is a decent option if you're in the market for an affordable Wear OS smartwatch.


It has a nice AMOLED display with excellent visibility even under bright sunlight. The TicWatch S2 design is ultra-durable for outdoor activity. The TicWatch S2 has US Military-grade durability. This watch is built to withstand extreme temperature fluctuations, shock, dust, and water.
The TicWatch S2 has a huge bezel around the watch face with a chronograph engraving and a single hardware button on the right. The TicWatch S2 is available in black and white colors; the polycarbonate body is built for touch activities while still having an aesthetic look.
Weight and Dimension
The Amazfit GTS is a light smartwatch weighing only 24.8g. It almost feels as if there is nothing strapped on my wrist. Some users may perceive this as a bad thing, but I find that it helps with the overall comfort, especially during workouts.
In terms of size, the GTS is a small smartwatch. Here are its dimensions: 43.25 x 36.25 x 9.4mm. Its smaller size helps reduce the overall weight of the watch.
In comparison, the TicWatch S2 has a physical size of 46.6 x 51.8 x 12.9 mm, and it weighs 35.2 grams. The GTS is lighter than the TicWatch S2.
Both watches should be comfortable to wear and should not cause any discomfort throughout the day, given their weight and size. The straps on both models are replaceable in case you want a different style or different material.
Screen Quality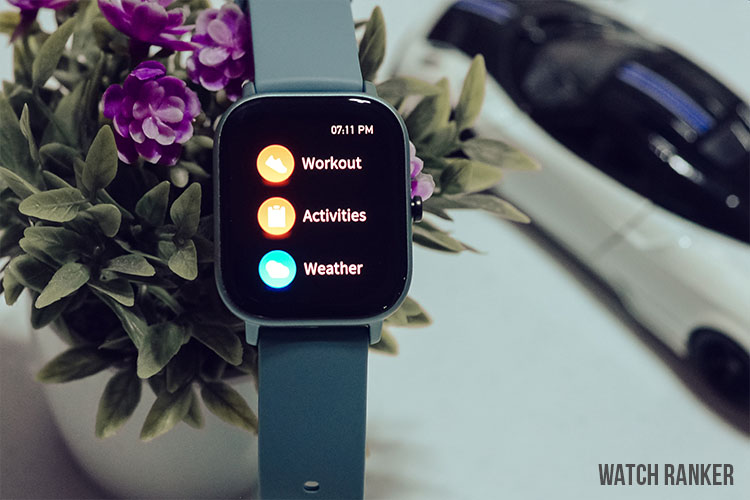 The Amazfit GTS is rocking a 1.65-inch OLED display. It has a resolution of 348 x 442 with a pixel density of 341 PPI. The screen size and resolution are perfect for the watch's small form factor. The GTS' display is sharp and easy to read regardless of the lighting conditions.
The bezels on the GTS are not visible. This is mostly thanks to the screen's excellent black color reproduction and the operating system's design aesthetics.
The TicWatch S2 has a 1.39" AMOLED Display full color with a 400 x400 screen resolution. The TicWatch S2 has Anti-scratch glass screen protection. Both watches offer a solid display that remains visible regardless of the lighting condition.
Both watches have a reliable touchscreen and physical button for easier navigation of the app, on or off, or for emergency phone calls. Both watches have an always-on display feature. Activating the always-on display will consume more battery life of the watch.
Build Quality
Both smartwatches are dust-proof and water-resistant up to 5ATM. Both watches are also swim-proof and sweat-resistant. You can confidently use both of them for sports and other outdoor activities. The GTS's square design also means that it won't get in the way while doing your workouts.
Overall, both smartwatches are well built. Both watches have a branded damaged-resistant glass. The GTS screen has a corning gorilla glass technology, while the S2 has Anti-scratch glass for the protection of the screen against scratches while using it.
Both watches are water-resistance with a 5 ATM water rating and swim-proof recommended.
Features

Both smartwatches are feature-packed and cover most of the basic features that most smartwatches have. Here are some highlights for each watch.
Smart Notifications
Both watches have smart notifications. Both can receive emails, texts, calls, weather forecasts, calendar reminders, and more.
The Amazfit GTS has all of the standard features that you would expect from a mid-range smartwatch. It has Bluetooth 5.0, which helps provide a solid connection. It also has all the standard health and fitness tracking features.
The Amazfit features playback controls for your smartphone. However, I did not find this feature to work well due to the latency. The button presses are not instantaneous, and there is a one-second lag. It is tolerable, but for people like me, I do not enjoy the slight delay.
The rest of the standard features include the compass, stopwatch, timer, countdown, and find mobile. Interestingly, there is also a find my watch feature on the Amazfit App. Unfortunately, it's not too practical since the GTS has no built-in speaker.
On the other hand, the TicWatch S2 has a full android wear watch meaning all notifications on the phone get straight on the watch. It can play media streaming, controls music, can install apps directly to the watch with limited selection, can install Spotify to control music on your phone or desktop, and also have cool math games on the watch.


The TicWatch S2 has Google assistant, MOBVOI TicMotion technology, call, and message function. When it comes to specs and features, the TicWatch S2 is pretty similar to the E2 version; the only difference is that the S2 has a much durable body and a much more compact good build design for outdoors.
Ticwatch S2 has onboard storage space that lets you store files directly on the watch. It comes with about 4GB ROM, out of which about 2GB is available for storing your data and files. 512MB RAM supports the smooth operation of the watch.
It also has a microphone and loudspeaker by the side, which means you can answer calls directly from the S2 or access voice command features via Google assistant who is now more comprehensive and helpful.
Ticwatch S2 is smart enough to keep you connected with notifications from your phone. It syncs effortlessly with compatible phones and alerts you when there is an incoming call, SMS, email, or other notifications from both third-party and native applications on your phone and also with the Amazfit GTS.
Music Playback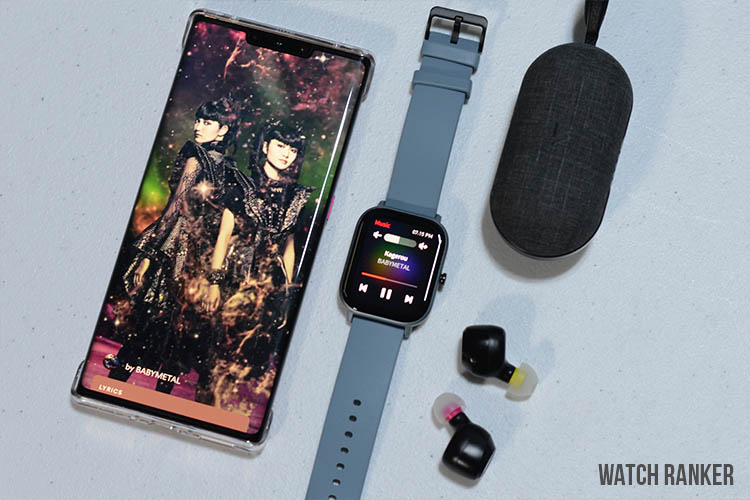 Read Amazon Reviews on the Lypertek Tevi
Both watches have a Spotify app that can now support Spotify's control on your wrist. On the other hand, the Amazfit GTS watch can control the music playing on the phone, such as Play, Pause. The GTS cannot connect to any Bluetooth Headphones/Earbuds, while the TicWatch S2 can connect to Bluetooth headphones/Earbuds.
Sensors
In terms of sensors, the Amazfit GTS and TicWatch S2 have a built-in GPS with GLONASS. The Amazfit GTS is also equipped with the BioTracker PPG Bio-Tracking Optical Sensor advertised for accurate 24-hour heart rate tracking. Simultaneously, the TicWatch S2 is even better now as it comes with TicMotion, an invisible technology that proactively tracks your activities without you needing to activate anything.
Other GTS sensors are an accelerometer sensor, Heart Rate sensor, Barometer sensor, Gyroscope sensor, Ambient light sensor, and compass. On the other hand, the TicWatch S2 does not have a compass, altimeter, barometer, and ambient light. Both of the watches don't have SPO2, cadence sensor, temperature and don't monitor perspiration.
Other Features
In terms of health tracking features, both watches feature fitness achievements. This is similar to video games, where you are given achievement badges for reaching your health goals. Additionally, this feature has a social aspect that allows you to share achievements and compete with your friends' high scores. This is a great feature since competing watches don't usually tackle health and fitness using this kind of approach.
The TicWatch S2 has features designed for women. These include exercises tailored specifically for women. A menstrual cycle monitoring feature allows the watches to give notifications and alerts to the user when the specified/predicted date is near.
Software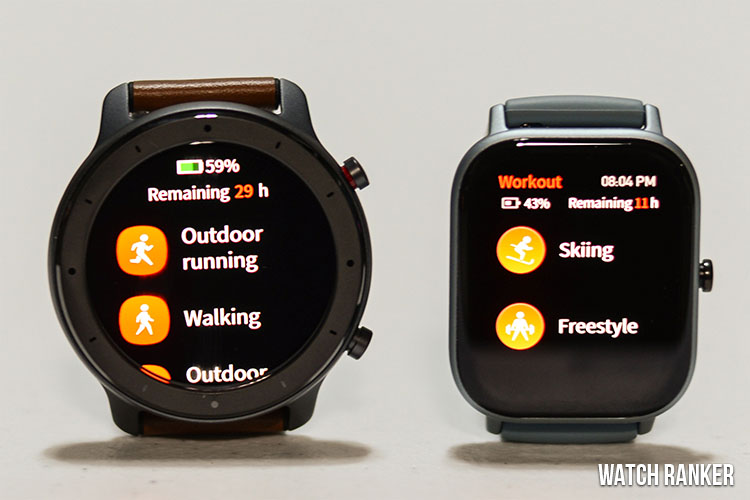 Booting the GTS for the first time was not a fun experience. After the horrendous login process on the app (which we'll get to in the Amazfit App section), you are forced to do a series of updates that take a couple of minutes. There is no option to reject these updates.
The menus are also customizable through the Amazfit smartphone app. This is crucial, and I will explain why when we get to the downsides of the user interface.
On the home screen, you only get two additional apps. Swiping left gives you the heart rate scanner, and swiping right gives you the activity tracker. This is great since the home screen is free from clutter. You can change the arrangement of the menu to allow quick access to the ones you often use.
The TicWatch S2, on the other hand, is powered by Qualcomm's outdated Snapdragon 2100 chip. The newer 3100 chip would have been better. The Snapdragon Wear 2100 platform may not be the latest, but it still manages to do a decent job. The TicWatch S2 also has 4GB of internal storage and 512MB of RAM, and in day-to-day usage, the interface was fluid for the most part. Wear OS by itself has a lot of issues, but more on that later.
Fitness Tracker
The Amazfit GTS supports several health-tracking features that are commonly found in most smartwatches. These include heart rate monitoring, step and activity tracking, sleep tracking, and idle alerts.
The GTS also supports sleep tracking. However, I think it is one of the GTS' weakest features. The GTS cannot display your sleep records on the watch. Instead, you have to access the Amazfit application to see all of your sleep data. This is extremely annoying, especially when I am still half asleep in the morning, and I am trying to check if I already got enough sleep.
The step and activity tracker was, by far, my favorite feature. You can access it by swiping right from the home screen. It shows a basic breakdown of your data and shows additional details such as calories when you press the screen.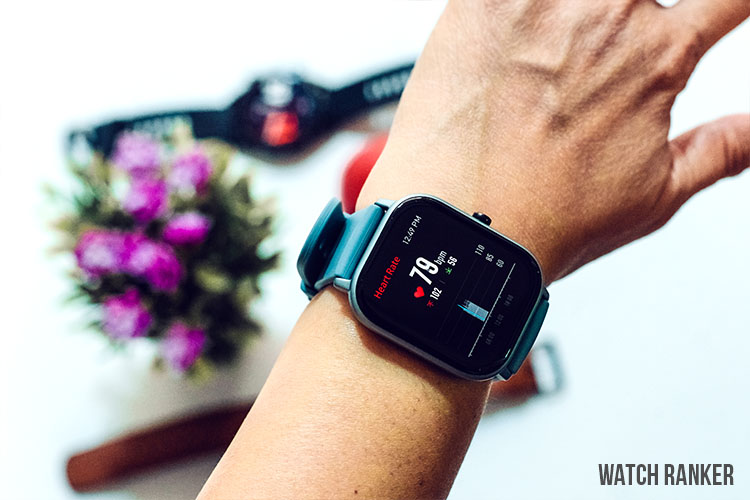 In terms of fitness tracking, the Amazfit GTS covers all of the basics. These include Outdoor Running, Walking, Outdoor Cycling, Treadmill, Indoor Cycling, Open Water Swimming, Pool Swimming, Elliptical Trainer, Climbing, Trail Running, Skiing, and Freestyle.
On the other hand, fitness tracking, in general, was pretty decent with the TicWatch S2. You get move reminders for every hour, and TicMotion can automatically detect workouts. The S2 also has 24/7 heart rate monitoring, and you can easily view the data on Google Fit or TicHealth.
The S2 automatically recognizes and tracks steps, distance, calories, and complete sleep tracking. There are 6 preloaded sport modes available to choose from; outdoor run, outdoor walk, indoor run, cycling, freestyle, and pool swim. Mobvoi had stated they would add more fitness tracking features in future updates.
The Ticwatch S2 tracks swimming activities a lot better as it is equipped with a State of the art machine learning algorithm that can differentiate your stroke type and count your laps and strokes seamlessly while you are swimming. All your key performance metrics such as lap time, speed, Swim Golf (SWOLF) will be recorded and generated right after you finish your swim.
Connectivity
Both watches can connect to smartphones via Bluetooth. Both watches are compatible with both iOS and Androids. Both watches are not compatible with Windows OS.
The TicWatch S2 supports Wi-Fi connectivity. It allows the installation of more applications such as music streaming services. Additionally, GTS has NFC, allowing a device to perform simple wireless transactions. This feature is lacking with the TicWatch S2.
Lastly, both watches do not have a cellular module; both smartwatches wirelessly and automatically sync to your devices—however, both watches lack ANT+.
Battery Life
The Amazfit GTS has excellent battery life. It can last up to two weeks or 14 days in normal mode, 46 days in basic watch mode, and 25 hours with GPS switched on. Of course, features like the Always On Display (AOD) will drain the battery faster.
Ticwatch S2 received a battery life boost; it uses a lithium-ion battery with a 415mAh capacity. On mixed usage, you should get up to 2 days or more battery life. It's not the best battery life. It's enough to finish your workout session. If you turn off the always-on display, it'll last three days, and it can last even longer too. When you're going to be doing more with it, you shouldn't expect such good battery life.
Both watches have a battery indicator that shows when the device has a low battery level. The GTS has 2-Pin charging while the TicWatch S2 charges using a proprietary charger.
Winner
Amazfit GTS


Both smartwatches are excellent. They both have their shortcomings and also excel in different areas. Since both smartwatches keep on trading blows, it will be hard to crown a winner.
The TicWatch S2 has a slight edge since it has a more powerful operating system. However, it isn't the best Wear OS smartwatch, especially in TicWatch's lineup.
Overall, we will be selecting the Amazfit GTS as the safer option since it can do a lot of the TicWatch S2's features without any issues. But if you are a more demanding user, we suggest going for the more feature-packed TicWatch S2. Either way, you can't go wrong with these two smartwatches.
Specs Amazfit GTS vs. Mobvoi TicWatch S2
Brand
Amazfit
Mobvoi
Model
GTS
TicWatch S2
Screen Size
1.65" AMOLED Display
1.39" AMOLED Display
Screen Protection
Corning Gorilla Glass 3
Anti-scratch glass
Screen Resolution
384 x 442 pixel
400 x 400 pixel
Pixel Density Sharpness
341 PPI
–
Touch Type
Multi-touch
Multi-touch
Watch Dimensions
43.25 x 36.25 x 9.4mm
46.6 x 51.8 x 12.9mm
Weight
24.8 grams
35.2 grams
Watch Case Material
Aluminum alloy
Polyamide & glass fiber
Bezel Material
Bezeless, Ceramics
Polyamide
Watch Design
Rectangular
Circular, Curved
Strap Size
20 mm
22 mm
Watch Colors
Aqua, Black, Cyan, Gray, Red, Rose-gold
Midnight(black), Glacier(white)
Water Resistance
Waterproof (5ATM)
Waterproof (5ATM)
Swim-proof
Yes, recommended
Yes, recommended
NFC
Supported
Not Supported
GPS
With GLONASS
With GLONASS
CONNECTIVITY
Wi-fi
Not Supported
Yes
Bluetooth
Yes
Yes
SENSORS Accelerometer
Yes
Yes
Heart Rate
Yes
Yes
Compass
Yes
No
Gyroscope
Yes
Yes
Altimeter
Yes
No
SPO2
No
No
Elevation
Yes
Yes
Ambient Light
Yes
No
Barometer
Yes
No
FITNESS TRACKING
Sleep tracking
Yes
Yes
Sleeps
Yes
Yes
Floors Climbed
Yes
No
Heart Rate Monitoring
Yes
Yes
Calories
Yes
Yes
Distance
Yes
Yes
Stress
No
–
VO2 Max
No
–
Blood Oxygen
No
No
Blood Pressure
No
No
Menstrual cycle tracking
No
Yes
Swim tracking
Yes
Yes
Underwater heart rate
tracking
No
No
On-screen workout modes
No
No
Triathlon mode
No
No
ECG tracking
No
No
Preloaded sport modes
Yes
Yes
Safety tracking
No
No
Battery Life
14 days in normal mode, 46 days in basic watch mode, and 25 hours with GPS switched on.
Standby: 2 days+; Mixed usage: 1 day+
Battery Technology
Lithium-ion polymer
Lithium-Polymer
Charging Time
About 1-2 Hours
About 2 Hours
Charging Type
2-Pin charging
USB based charging dock
Compatible OS
Android v5.0
iOS 10.0+
Android v4.3+
iOS 9.0+
NOTIFICATIONS
Email Alert
Yes
Yes
SMS Alert
Yes
Yes
Calls Alert
Yes
Yes
Event Reminder
Yes
Yes
Weather
Yes
Yes
Third-party Apps
Yes
Yes
MEDIA
Audio
No
mp3/mp4
Music Streaming
No
Yes
Bluetooth Music
No
Yes
Radio
No
No
Loud Speaker
No
Yes
Microphone
No
Yes
CLOCK FEATURES
Time/Date
Yes
Yes
Stopwatch
Yes
Yes
Alarm
Yes
Yes
OTHER FUNCTIONS Control camera
No
Yes
Music Control
Yes
Yes
Find Phone
Yes
Yes
Text Response
No
Yes(Android Only)
Answer Call
No
Yes
MISC
Payment System
Alipay
No
Companion App
Amazfit Watch App
TicWatch App
Customizable watch face
Yes
Yes
Interchangeable band
Yes
Yes
Voice command
No
Yes
Internal Storage
4 GB
4 GB
Operating system
Amazfit OS
Wear OS by Google™