Amazfit is one of the most recognizable brands in the smartwatch market. They are the second-largest smart wearable manufacturer and have one of the biggest product selections. You can enjoy Amazfit's products regardless of your budget. 
However, the number of Amazfit products can be confusing for potential buyers. While their products are broken down into different categories, you may still have a hard time choosing since all of their products have solid features. But we're here to help you out. 
In this guide, we'll be giving our top Amazfit smartwatch recommendations. We will be ranking these smartwatches in categories such as fashion, sports, and exploration. We will also award an overall winner and a runner-up. 
The most notable Amazfit watches include the Nexo, Verge 2, and the GTR 2/GTS 2. But we highly urge you to check out the full list since all of these watches are solid choices. Keep on scrolling to find out more. 
Best Amazfit Smartwatches
Amazfit Nexo – Best Overall

The Amazfit Nexo is currently Amazfit's most advanced offering. It is designed to be a full-featured smartwatch that balances fitness tracking and consumer-related features. It manages to pack all of this in an elegant-looking but ruggedly built design to suit both the adventurous and the casual user. 
What separates this watch from Amazfit's other offering is its built-in eSim module. This essentially allows you to perform most smartphone-related tasks such as calling and texting without carrying your smartphone. 
The Amazfit Nexo can make and receive phone calls with ease, especially when you are on the run or exercising outdoors. You can leave your phone at home and won't miss a single call. This is a killer feature for anyone who wants to minimize their smartphone usage without compromising on the essential smartphone features. 
The Amazfit Nexo has exceptional performance thanks to its quad-core CPU. It also supports cellular connectivity up to 4G LTE. 
In terms of fitness tracking, the Amazfit Nexo comes with various sensors such as Bio tracker PPG optical sensor, Acceleration sensor, Geomagnetic sensor, and Ambient light sensor.  For multiple positioning, this watch uses GPS+GLONASS+GALILEO+WIFI. 
If all features are turned on, the battery will last up to 28 hours. In typical use for around two days. Overall, the Nexo is a feature-packed smartwatch and is highly competitive, especially in the flagship price range. 
Amazfit Verge 2 – Runner Up

The Amazfit Verge 2 is another exceptional smartwatch from Amazfit. It is a watch that aims to compete both in the smartwatch and smart fitness tracking market. It has most of the standard smartwatch features that you would expect in this price range, as well as a  variety of workout and fitness tracking modes. 
Amazfit's previous smartwatches, such as the older versions of the Stratos, were known to have issues when it came to heart rate monitoring. The Verge aims to solve this by utilizing a new heart rate sensor that is more accurate in tracking the heart rate, especially during more intense activities. 
In terms of the build quality of the Amazfit Verge, it is cleaner looking and lighter than the likes of the Stratos. However, it doesn't feel as durable as other Amazfit watches due to its plastic build.
The Verge is equipped with a sharp and vibrant 1.3 inch AMOLED display that is visible regardless of the lighting condition. It also has several sensors such as an optical sensor, acceleration sensor, gyroscope sensor, geomagnetic sensor, air pressure sensor, and ambient light sensor. This watch also has a dedicated sports mode, which includes activities such as outdoor running, treadmill, elliptical training, etc.  The Verge also features a voice assistant powered by Amazon's Alexa. 
If you want the Nexo's features in a more affordable package,e the Verge 2 is a great alternative. 
Amazfit GTR 2 – Fashion Pick


The Amazfit GTR 2 is quite possibly the most gorgeous-looking and feature-packed smartwatch that Amazfit has released. Just like its predecessor, its design is mostly inspired by the look of high-end analog wristwatches. But this time around, the bezels are smaller, and the screen is curved, giving the watch a more premium look. 
Of course, the GTR 2 takes full advantage of its better design by pairing it with a vibrant 1.39 inch AMOLED display. All of these are enclosed in a stainless steel or aluminum case (depending on the variant) to complete the sturdy yet minimalist look. 
The GTR 2 doesn't just look good on the outside. The advanced tech inside the watch completes the overall experience. 
This watch has all the basic features that you need. It has a 24/7 activity tracker, sleep monitoring, health tracking, sports modes, and many more. It is also packed with sensors such as SpO2 sensor, accelerometer, gyroscope, 3- axis geomagnetic sensor, and air pressure sensor.
Additionally, the GTR 2 now has a speaker and microphone. Additionally. It has an online voice assistant powered by Alexa as well as an offline voice assistant. The GTR 2 also now features a 4 GB internal storage for local music playback. 
The best part about this watch is that even with its new features and better software, it can still last up to 14 days. If you do not need an E-Sim or any of the advanced features found on the higher-end watches, this might even be one of Amazfit's best offerings. 
If you are interested in hearing our thoughts about the GTR 2's predecessor, make sure to check out our review of the Amazfit GTR. 
Amazfit GTS 2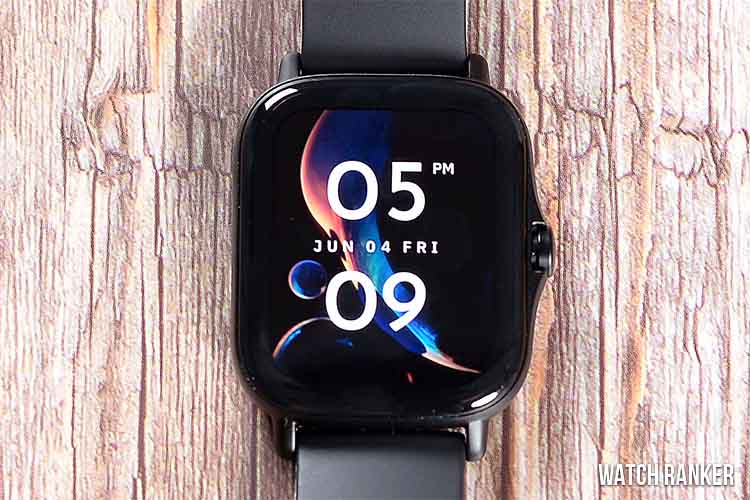 If you're more of a fan of square watches, then the Amazfit GTS 2 is a great alternative to the Amazfit GTR 2. It offers a very similar user experience to the GTR 2 but in a smaller and more affordable package. 
Despite its looks, the GTS has very good construction. Compared to its predecessor, it has a larger and curved 1.65" HD AMOLED display, which is capable of producing vibrant colors. The screen is also covered in 3D glass, which helps give the illusion of having a larger display. 
Just like the GTR 2, the GTS 2 matches its physical appearance with great hardware and software. It has most of the essential smartwatch features and health tracking options. In terms of health tracking and workout modes, it features a heart rate sensor, activity tracker, step tracker, sleep tracker, and various workout modes.
It also features the upgrades found on the GTR 2, such as the microphone and speaker, onboard storage for music playback, and online/offline voice assistant. Overall, if you are looking for a great-looking square smartwatch, then the GTS 2 is one of the best in the under $200 price range.
If you are interested in hearing our thoughts about the GTS 2's predecessor, make sure to check out our review of the Amazfit GTS. 
Amazfit Stratos 3 – Best for Sports

If you are looking for a smartwatch that has a strong emphasis on health and fitness tracking features but still maintains its classy look, the Amazfit Stratos 3 is the smartwatch for you. The Stratos 3 comes with everything you would need in a workout session. 
It has a built-in GPS tracker, water-resistance, and fitness/health tracker with advanced performance analytics. It also has sensors such as PPG Bio-tracking optical sensor, 6-axis accelerometer, 3-axis geomagnetic sensor, etc. 
The Stratos 3 is made of stainless steel, zirconia ceramic bezels, and a plastic bottom casing. The Stratos 3 comes with a silicone strap, but it is easily replaceable with Amazfit straps or third-party straps.
Of course, the Amazfit Stratos 3 does not compromise the usability and consumer aspects. It still retains its user-friendly UI and features such as built-in music playback. The only notable omission that it has is a speaker and microphone. 
The only downside of the Amazfit Stratos 3 is that it does not last as long as other Amazfit watches. A single charge can last up to 7 days on its standard mode and 14 days on ultra mode. But overall, this is Amazfit's best offerings for fitness enthusiasts and athletes. 
Amazfit T-Rex – Best Outdoor Watch

The Amazfit T-Rex is another fitness-focused smartwatch from Amazfit. But this time around, it is more optimized for outdoor use and drops more consumer-related features compared to the Stratos 3. It only leaves the essential features which help give it long-lasting battery life. The battery lasts up to 20 days on a single charge. 
In terms of the design and build quality, the T-Rex shares a striking resemblance to G-Shock's offerings. It is mostly made of plastic, but the overall build is pretty good as there are no noticeable weak points in the watch. 
In terms of its activity tracking features, it can track the following: Jogging, Cycling, Pool Swimming, Free Swimming, Indoor Treadmill, Indoor Cycling, Free Training, Mountain Climbing, Cross Country Running, Skiing, and Hiking. 
The Amazfit T-REX certifies the durability and water-resistant aspects of the smartwatch. It comprises the fundamental elements of a smartwatch: a built-in GPS tracker, a heart rate sensor, and 14 sport modes. 
The T-Rex is, however, using the same proprietary software and hardware found in most of Amazfit's smartwatches priced under $200. This is largely the reason why it is missing some of the more advanced features. It may be a downside for those who plan to use the T-Rex as a daily driver. But despite its limitations, the T-Rex truly excels at what it is good at and has the battery life to keep it in the game as long as possible.
Amazfit Bip S – Budget Pick

If you are on a tight budget but still want a satisfactory smartwatch experience, then the Amazfit Bip S  is as good as it gets at this price point.  Despite its low asking price, it still manages to pack a lot of features that are found on its higher-priced watches, such as health and fitness tracking. 
The build and screen quality of the Bip S is decent. They won't wow you, but they do get the job done. 
The Bip S features a 1.28 inch TFT display that gets bright enough to give readable results even in direct sunlight. Again, this isn't AMOLED quality, but it isn't too bad given its price point. 
The Bip S has a polycarbonate body that can easily survive daily use. It comes in different colors and features a replaceable strap that is compatible with third-party straps. 
The Bip S is fairly packed when it comes to its features. It has GPS, a BioTracker TMPPG Optical Sensor, a 3-axis acceleration sensor, and a 3-axis geomagnetic sensor.  This watch can track activities such as distance, steps, sleep, pace, strokes, and can provide activity reports and sleep reports, calories, and calorie burn. The Amazfit Bip S is water-resistant rated 5ATM making it usable for activities such as swimming.   
The best part about the Bip S is its battery life. It can easily last anywhere from 15 to 40 days, depending on the features you are using. Overall, with its vast feature set, the Bip S is easily one of the best budget smartwatches. 
Amazfit GTR 2E and GTS 2E

The Amazfit GTR 2e and GTS 2e are some of the best smartwatches that Amazfit has released in years. But if you are looking for a more budget-friendly option that still retains the aesthetics of these two watches, Amazfit also offers a lite version in the form of the GTR 2e and GTS 2e. 
Although these watches do not have some of the main functions of the regular models, you get an improved battery life and the inclusion of interesting new sensors.
Both models are very similar to their higher-priced counterparts. However, they do not feature the same curvature or the same level of screen performance found on the standard models.  
Features such as the speaker, Wi-Fi, and NFC payment have been removed. This means that you can no longer make and answer calls via Bluetooth. The built-in music player has also been removed.  


But with that said, the GTS 2e and GTR 2e still feature the same fitness tracking options available on the standard GTR 2 and GTS 2. The same fluid software experience is also kept intact here. However, the battery is now significantly increased and can last anywhere from 14 to 25 days. If you are willing to have a more basic smartwatch, these two prove to be a worthy alternative to the GTR 2 and GTS 2. 
Amazfit Brand Overview
Amazfit is a newcomer to the smartwatch industry. They are a US-based company that was only established in 2016. However, they have mostly been getting more attention due to the number of products that they produce each year. 
They are owned by Huami, who is currently the exclusive partner of Xiaomi. Together, they have become the second-largest wearable manufacturer. This is an impressive feat, given their relatively young age in the industry. 
Their current lineup is more diverse and targets a wide range of audiences. They have budget offerings such as the Pace series as well as more high-end watches such as the Stratos Series. The Amazfit GTS, is, of course, part of their midrange series aimed at casual users.  
Learn more about Amazfit in our Brand Review.