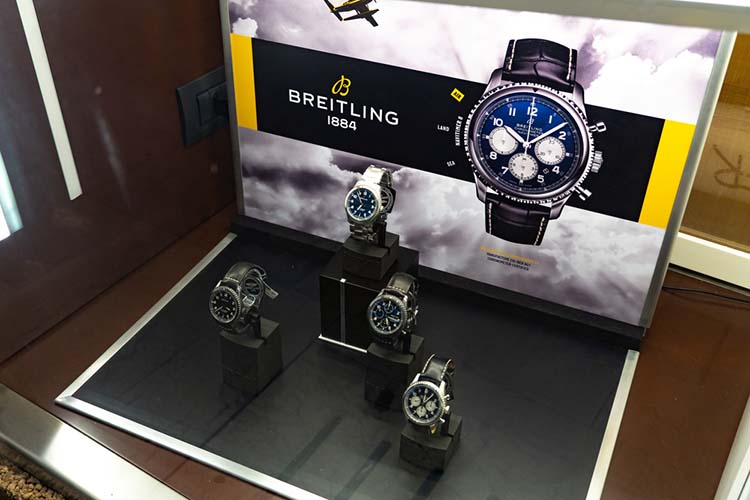 Starting a luxury watch collection can be a daunting task as the investment you will need to lay down is nothing to scoff about. For those who are determined to follow through with this extremely expensive hobby, know that you should do your research constantly and keep evolving your knowledge about the business and timepieces that are out there in the wild. Determining where the best deals are located must be a talent you should start forging early as you can take advantage of the fantastic deals with pre-owned timepieces. Building up your collection will take some time and a whole lot of money, but once you see your collected timepieces on display – it will make it all worth it.
If you are specifically going for one particular watch brand, then the collection will be relatively easier. For example, maybe you are aiming at forging a Breitling watch collection. Breitling watches are well-known for their intricate chronograph features and refined aesthetics. To start your Breitling collection, know that the brand offers different watch lines, each with its unique traits:
Colt – The cheapest Breitling watch line in their catalog, the Colt is equipped with the COSC-certified SuperQuartz movement. This is the watch line that a budding Breitling timepiece collector should start on.
Navitimer – Breitling's iconic and flagship timepiece. The Navitimer is a classic chronograph sports watch that delivers the level of reliability and craftsmanship the Breitling is known for.
Chronomat – With a more robust and tank-like build, the Chronomat features a level of reliability that places it among the top of the competition. It also comes with an outstanding 500-meter water resistance on top of its well-rounded design.
Transocean – With its blend of retro and contemporary features, the Transocean is a classy chronograph timepiece for those who value finesse and subtlety.
Avenger – With a similar approach to the Chronomat but with a more subdued aesthetic, the Avenger is just a tough and dependable as the former, but with a more casual charm.
Superocean – This is Breitling's dedicated entry into the dive watch category and features a sleek case with a bezel, which is the standard design in this market. However, the Superocean provides an excellent 1,000-meter water resistance that blows most of its competition out of the water.
Professional – This Breitling watch series focuses more on functionality as can be seen with the highly innovative Breitling Emergency collection.
Montbrillant – This classy series features a midcentury aesthetic and is one of Breitling's more refined watch models.
Galactic – Not a fan of chronograph watches? The Breitling Galactic series might suit your fancy as it forgoes the brand's iconic three sub-dial designs.
Now, that you have been introduced to Breitling's impressive collection of timepieces, we have gone through the trouble of compiling a list of entry point models to start your collection with down below.
Breitling Watches for Beginning Collectors
Breitling Chronomat Colt Automatic 44
As we have stated earlier, the Chronomat Colt is a great watch line to start building your Breitling collection with as it relatively won't have as steep a price as Breitling's other watch lines. This particular model is quite a looker as well and incorporates all the key features of what makes Breitling a fan-favorite watch brand. It comes with a robust build and design with its brushed stainless-steel case and scratch-resistant sapphire crystal with an anti-glare finish. It is also equipped with Breitling's signature COSC-certified self-winding automatic chronometer movement. The dial features a rugged volcano black color tone that adds to the Chronomat Colt 44's tough-as-nails appeal. This is a solid and excellent timepiece with what feels like an indestructible build – a good watch to start your Breitling collection with.
Breitling Superocean 44 1,000M Watch
The Superocean is a definite must-have for Breitling watch collectors due to its iconic level of performance that is on a league of its own. First and foremost, the Breitling Superocean watch is designed to provide water-resistance of up to 1,000-meters. This is an indispensable timepiece for professional divers because of that particular capability. The watch is also equipped with Breitling's in-house COSC-certified Caliber 17 23-jewel automatic movement that clocks in a fantastic 28,000VPH. The Caliber 17 also packs a 42-hour power reserve. Design-wise, the Breitling Superocean 44 follows the iconic dive watch design with its stainless-steel case and bezel build. It also delivers on the classic dive watch aesthetic of using silver and blue color tones. Of course, you can expect finer detail and style with the Breitling Superocean's dial.
Avenger Seawolf Automatic 45
Incorporating a rather unique silver and yellow color scheme, the Avenger Seawolf 45 will be a fresh addition to any collector's inventory. The Avenger Seawolf 45 is equipped with the Breitling Caliber 17 movement with 25-jewels and 28,800VPH. The Caliber 17 also has a 38-hour power reserve making it incredibly reliable as well. The Seawolf 45 also has jaw-dropping 3,000-meter water resistance, making it one of the most remarkable diver's watches this side of the Superocean. The Avenger Seawolf is a bold modern timepiece that packs the dependability and quality you would expect from Breitling.
Breitling Navitimer 8 Automatic 41
Considering that the Navitimer is one of Breitling's most iconic timepieces, it is not surprising to see this model embodies all the top qualities of the Swiss watch brand. With its refined and highly functional aesthetic, the Navitimer 8 is designed for both fashion and function. It features a silver-tone stainless-steel case which is accentuated by a black dial enhanced by luminous silver-tone hands. Within the classy appearance lies the in-house Caliber 17 self-winding movement with a power reserve of up to 38 hours. If you are looking for a flagship Breitling watch to top off your bourgeoning collection – the Navitimer 8 is an excellent choice as it encompasses everything that makes Breitling special.
Breitling Professional Aerospace Evo E7936310/F562-152S
Breitling's Professional watch series delivers functionality in spades. The Professional watch line already has a few models available, but for this list, we will be going with an entry from their Aerospace series. The best way to describe the Breitling Professional Aerospace is that it is a chronograph watch that exudes innovation and delivers top-tier multifunctionality. It features a titanium case with a sapphire crystal window and a tungsten gray dial that truly gives it that rugged look. Functionality-wise, you won't be disappointed for investing in this state-of-the-art chronograph watch as it comes with GMT (dual time zone), analog-digital display, countdown timer, perpetual calendar, and Breitling's signature Caliber 79 SuperQuartz movement. The watch also comes with solid 100-meter water resistance for good measure. The Professional Aerospace will not just look good on your collection, it is also something that you can depend on at any time.
Breitling Superocean II 44
With a stunning all-blue color scheme, the Superocean II 44 will certainly be able to stand out from the pack with relative ease. The gun blue dial comes with a certain sheen to it that gives it a premium appeal. Not only does the Superocean II deliver top-marks in the style department, but it also excels in regards to performance. Within the spectacular vibrant design lies the Breitling Caliber 17 self-winding 25-jewel automatic chronometer movement with a 40-hour power reserve. Besides the high-precision mechanism, the build of the Superocean II also gives it exceptional 1,000-meter water resistance. The Superocean II hits all the right marks, which makes it a Breitling timepiece that should be in any collector's display case.
Breitling Vintage Navitimer 806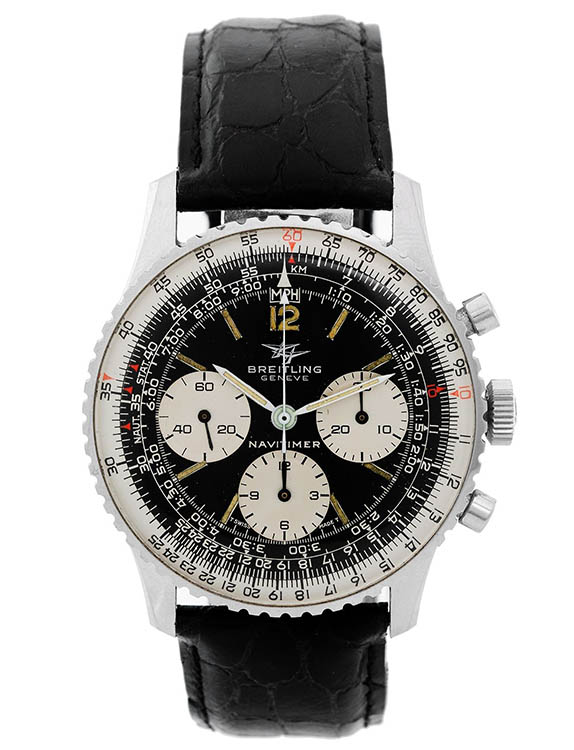 First released back in 1966, the Vintage Navitimer 806 is an essential part of any Breitling collection. It features all the classic elements of the chronograph timepiece and a nice look-back as to how far Breitling has evolved their game throughout the decades. Breitling has re-released the Navitimer 806, but for true watch collectors, hunting down the original release models is an absolute must.
Breitling Vintage Chrono-Matic Ref. 2110
The Breitling Chrono-Matic Ref. 2110 was first released in the 1970s, which explains the distinct use of orange-tone handsets. The retro look is quite irresistible even today, and we certainly find this one of the more charming vintage Breitling timepieces that are circulating out there in the world today. The Chrono-Matic comes with chronograph features and a rotating bezel that displays both hours and minutes. There is also a date display located over on the 6 o'clock position. The overall aesthetic exudes that classic motorsport vibe as well. If you are just starting your Breitling collection, do yourself a favor and look for this particular model for a true "blast from the past" experience.