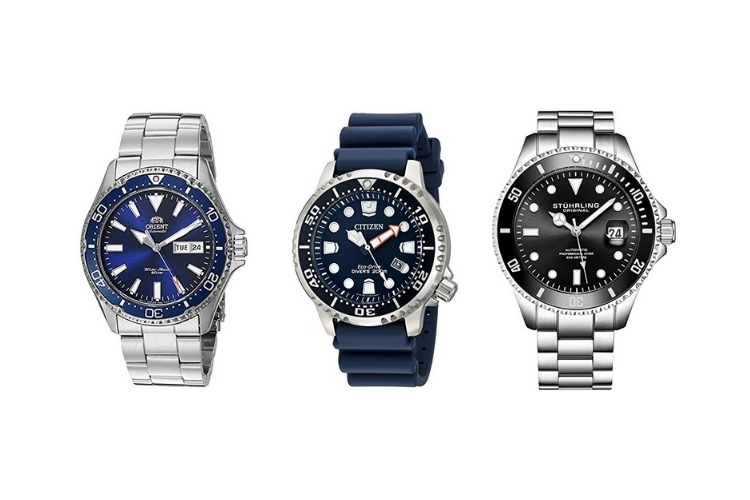 Throughout the years, dive watches have evolved and innovated the game with new watch technologies that raise the bar in terms of marine timepieces. The very best dive watches in the market will usually cost an arm and a leg (high-end luxury watches can easily cost over several hundred or thousands of dollars).
It is still possible to find high-quality dive watches at a fairly reasonable price. The more flexible price range is all thanks to the many advancements in watch technology over the years. Most, if not all, well-known watch brands from entry-level brands have their dive watch series in their catalog.
In this article, we will be taking a look at the finest dive watches that you can get if you have a budget of $300. You can bet all the entries in this list are well worth it and will be able to provide you with excellent functionality as well as style. So, without further ado, let's begin!
(Please note, at the time of publishing, all these watches were selling for $300 or less. Prices may have fluctuated since then, possibly pushing them over the original budget).
Best Dive Watches Under $300
Orient Kamasu Dive Watch (RA-AA0002L19A)
With a name like Kamasu, which is Japanese for Barracuda, this Orient dive watch certainly displays its confidence on its non-existent sleeves. The Orient Kamasu comes in seven variations each with a different colored bezel with a couple of Kamasu models utilizing rubber bands instead of the stainless-steel bracelet.
The Orient Kamasu is as sleek as the aquatic predator that it is named after. It comes with a 120-click unidirectional bezel and a day/date display. The dial is encased underneath a durable and scratch-resistant sapphire crystal glass window. The Kamasu incorporates a Japanese automatic movement with its analog dial display that comes with luminous hands and markers. This dive watch also provides a decent 200-meter water resistance making it ideal for swimming and snorkeling.
Seiko Prospex Padi Solar Dive Watch (SNE435P1)
The Seiko Prospex PADI is a special edition model from the world-renowned Japanese watchmaker. It features Seiko's Solar-powered watch technology and is equipped with a high-precision Caliber V157 Japanese quartz movement. Some of the notable exterior features include the 43mm stainless steel case and a durable Hardlex mineral crystal dial window.
The window also comes with a magnifier that increases the readability of the date display. Both hands and hour markers are coated with Lumbrite for optimum luminosity in low-light environments. This timepiece also features a one-way rotating elapsed bezel, and the screw-down crown helps give the Prospex PADI its 200-meter water resistance.
VOSTOK Amfibia WR200M Dive Watch
The stylish Vostok Amfibia dive watch is quite a beauty with its modern square-shaped 45mm black stainless-steel case. The black dial is complemented by the bronze accent luminous white hands and markers. The Vostok Amfibia also utilizes an automatic self-winding movement that provides an additional 31-hours of power reserve, making sure it keeps on ticking even if you did not wear it for a day.
The build of the Amfibia dive watch is unquestionable considering Vostok is an official supplier of the Russian Defense Department. The shock-resistant construction, coupled with its 200-meter water resistance, truly makes this a reliable outdoor and diving watch for thrill-seekers.
Citizen Promaster Professional Diver (BN0151-09L)
The Citizen Promaster Pro Diver features a fairly traditional dive watch aesthetics with its generally (dark) blue color tone and use of rubber straps instead of a stainless-steel bracelet. The watch is also quite large with its 43mm round case. This substantial size is due to the robust build and design and the inclusion of Citizen's Eco-Drive technology which means that this timepiece can be powered by light, both natural and artificial, ensuring it won't stop ticking anytime soon.
Using Japanese quartz movement, the Promaster guarantees precision. Additional features include the unidirectional bezel and a date display located on the 4 o'clock position. The Promaster delivers 200-meter of water resistance, making it suitable for most marine activities except diving.
G-Shock Gulfmaster GN1000B
The G-Shock Gulfmaster GN1000B offers excellent value for money, considering the functionality that this G-Shock series can bring to the table. Of course, there are other similarly designed watches out there that can surpass what the GN1000B offers, where the Gulfmaster beats its competition is with its competitive price tag.
Apart from standard 200-meter resistance on all G-shock dive watches, other key features include a tide graph, moon data, and a digital compass, 1/100 second stopwatch and thermometer. In addition, Casio incorporated a thermometer into the Gulfmaster as well.
Stuhrling Original Regatta 792 Dive Watch
The Stuhrling Original Regatta 792 is an elegant timepiece with a robust build and features. The 42mm stainless steel case is made from durable 316L surgical-grade material and has a polished finish to add a layer of extravagant charm. The watch is powered by the Miyota 3 21-jewel automatic self-winding movement.
The dial window is made from highly scratch-resistant Krysterna crystal which is developed to withstand underwater pressure. The Regatta 792 also comes with a date display and a water resistance rating of up to 200-meters.
Invicta Pro Diver Chronograph Watch (6981)
The Invicta Pro Diver Chronograph 6981 is one of the most visually stunning on this list with its sporty design and striking black and gold color tone. It also comes with chronograph features that improve overall functionality considerably. Take note that this Invicta dive watch comes in at a hefty 48mm diameter case.
Simply put, it might be too big for petite watch enthusiasts. As for water resistance, the Pro Diver 6981 can be used up to 100-meters, which makes it a good fit for swimming and snorkeling.
Phoibos PX005C 1000M Dive Watch
The Phoibos PX005C might be one of the most impressive dive watches that you can get within this price range with its 1,000-meter water resistance build. It is also equipped with high-quality and high-precision watch movements, namely the Swiss quartz Ronda 515 movement. The PX005C also features a date display which is located at the 3 o'clock position.
This timepiece manages to achieve its outstanding water resistance thanks to the helium release valve which you can find on the side (2 o'clock position) along with the screw-down crown. The PX005C is also equipped with a sapphire crystal glass window, and both hands and markers are coated with a Super-LumiNavo C3 luminous finish.
Spinnaker Bradner Dive Watch (SP-5062-03)
If the previous entry was one of the most impressive builds in this list, the Spinnaker BRADNER is one of the most stylish. The round stainless-steel case accentuates the gunmetal outer rim and polished blue dial within. Measuring in at 42mm in diameter, the dial incorporates luminous broad hands and markers for optimum readability no matter the level of environmental lighting you find yourself in at any given moment.
This timepiece uses Japanese automatic caliber SP-5062-03 movement for its analog dial and date display. The BRADNER also provides about 180-meters of water resistance which will suffice for most recreational marine activities.
Seiko 5 Sports SKZ211K1 Dive Watch
The Seiko 5 Sports series has always been synonymous with quality and style – the SKZ211K1 continues this tradition with its fantastic two-crown build which is positioned over at the 9 o'clock and 4 o'clock position. The Seiko 5 Sports incorporate high-precision Japanese automatic movement that operates both the analog dial and the day/date display.
The dial features white luminous markers with a luminous white with gold accent hands. This Seiko 5 Sports Dive Watch can deliver up to 200-meters of water resistance, making it suitable for even recreational scuba diving.
Neymar 1000M Professional Dive Watch
The NEYMAR Pro Dive Watch is another impressive marine timepiece that is designed to withstand immense water pressure with its 1,000-meter water resistance build. The watch is also quite refined in regards to its construction with its polished stainless steel (316L) case that measures in at 44mm in diameter. The dial window is made from durable and scratch-resistant sapphire crystal with an anti-glare finish.
The Neymar Pro Diver also comes with a 120-click unidirectional ceramic bezel. Underneath the impressive exterior, build is a highly accurate Japanese NH 35 automatic movement with an analog dial display. Additional features include a date display a screw-down crown.
Citizen Automatic Analog Dive Watch (NY0040-17LE)
The Citizen Automatic Dive Watch model #NY0040-17LE features a sporty design with its flexible rubber band and stainless-steel case construction. This timepiece incorporates a high-precision automatic movement for its analog blue dial display. The case measures at approximately 41mm and is equipped with a mineral glass window, screw-down crown, and a bolted back case.
Both the hands and markers are coated with a luminous finish to help improve overall visibility even in low-light environments, perfect for underwater use. The Citizen Automatic Dive Watch also comes with decent 200-meter water resistance.
Citizen Eco-Drive Divers Watch (BN0085)
This dive watch comes with Citizen's signature Eco-Drive technology which means it can recharge using natural and artificial light. The Eco-Drive Dive Watch uses Japanese quartz movement with its luminous analog dial display. The sturdy and flexible rubber band provides additional comfort.
In contrast, additional features that include a date display, unidirectional bezel, mineral crystal window, and a depth measure makes this an excellent wristwatch for scuba diving. Speaking of diving, the Citizen Eco-Drive provides water-resistance of up to 300-meters.
Seiko Automatic Analog Automatic Dive Watch (SRPD53K1)
With a classic, timeless dive watch design, the Seiko Automatic SRPD53K1 certainly looks the part. The good news is that it is also a pretty good dive watch with its 100-meter water resistance rating. As stated previously, this Seiko dive watch comes with all the essential features such as a unidirectional bezel, screwed-down crown and back case.
At 43mm, the SRPD53K1 has a well-balanced build. Additional features include Lumbrite coated hands and markers as well as a date/day display. This timepiece also comes with a double-sided automatic lift with a power reserve of up to 41-hours tops.
Citizen Eco-Drive Promaster Diver Watch (BJ8050-08E)
Another Citizen Eco-Drive Dive Watch cracks the list, this time around it is the Promaster BJ8050-08E. This version takes a more modern approach with its design with an easy to read dial with luminous hands and hour markers. This dive watch measures in at a hefty 48mm and is equipped with a mineral crystal window and is operated by a high-precision Japanese quartz movement with its analog dial display.
The Eco-Drive technology means that this timepiece is powered by light. As for water resistance, the Promaster Diver is water-resistant for up to 300-meters.
Orient Kano 200M Dive Watch (RA-AA0009L19A)
The Orient Kano offers a distinct style with its highly polished 44mm stainless steel case and bracelet, which gives it a more sophisticated and professional charm compared to other sports dive watches. Featuring an accurate Japanese automatic movement, the Orient Kano takes a classic aesthetic and refines it to near perfection.
Notable features include a 120-click unidirectional bezel, day and date display, a sturdy mineral crystal window, and a water resistance rating of up to 200-meters.
If you are looking for a dive watch with a rough and tumble design, then the rugged Luminox EVO Blackout might be what you are looking for in the market. Equipped with a Swiss quartz movement, the precision offered by the EVO Blackout is undeniable. The 45mm case also uses reinforced PC carbon material making it lightweight and durable at the same time.
The all-black aesthetic of this timepiece complements the white luminous hour markers and hands, making the Blackout easily readable whether it is day or night. This Luminox dive watch is designed with a water resistance of up to 200-meters, making it a good timepiece for swimming and other recreational water activities.
Momentum M50 Dive Watch
The Momentum M50 is one of the most durable dive watches on this list. The marine timepiece is made from bulletproof stainless steel which is partnered with the equally tough sapphire crystal. The dial is packed with dive watch-centric features like the Superluminova dial and a water resistance rating of up to 500-meters! This is such a reliable watch that it is officially used by several special tactic police units across America.
Another full all-black Luminox dive watch enters the fray. As with most Luminox watches, the Navy Seal 3001 model is designed for durability rather than fashion. The watch uses a 43mm diameter carbon reinforced PC plastic case.
The build of the watch is also quite impressive with its screw-down crown and double security gasket which helps it in delivering its 200-meter water resistance. Inside the robust and rugged case is a high-precision Swiss quartz movement that guarantees not only reliability but also accuracy.
Orient Nami Dive Watch with Rubber Straps (FAC09004D0)
Leave it to Orient for delivering another noteworthy mid-range dive watch in the form of the Orient Nami. Practicality and a subtle sense of style are Orient dive watch's biggest strengths, and this is non more visible than with the Nami. Simple and straightforward, the Nami does come with some sublime aesthetics such as a highly detailed dial.
The Orient Nami is not just for show though as it is designed to be water-resistant for up to 200-meters. It also features a unidirectional bezel and operates using Japanese automatic movement. This is a no-frills timepiece that delivers the goods while looking quite snazzy on your wrist as well.