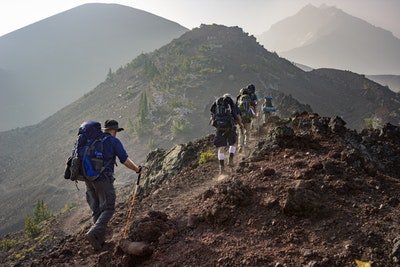 There are few activities more rewarding and rejuvenating than a hike. Getting far away from busy cities and crowded neighborhoods for a little peace within nature is one of my favorite escapes. It's even better when I can get somewhere that phone signals don't reach and I can leave all my technology behind.
All my technology except my watch, that is. When I'm hiking, my watch is an invaluable tool, offering me information on my location and the shifting meteorological moods. The great thing about a hiking watch is, while they include advanced features, many don't require internet connectivity. That means I can actually disconnect for a few hours on my hikes.
There are a number of hiking watches on the market, and most of the modern, feature-rich watches would do in a pinch.
But, for my money, the best hiking watches on the market are made by three companies: Garmin, Casio, and Suunto.
Each of these companies makes a variety of watches with different price points and unique features that make them especially handy for the serious hiker. In this article, I'll look into some of the best watches by each company and discuss what exactly a hiker should look for in a quality hiking watch.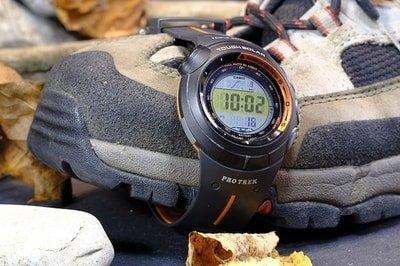 Best Hiking Watches for 2020
Garmin, Casio, and Suunto are all well-established watchmakers in their own right, though, of course, Casio is by far the brand with the most name recognition worldwide. What each of these brands has in common is that they all know sports watches. A watch for a sports or outdoor aficionado needs to be durable, comfortable and functional.
Keep reading as we look at each company and three of their best-hiking watches, plus one watch by a lesser-known company that is deservedly getting some attention. Any one of these 10 watches would be a great companion on your next hike.
We'll start with one of the most impressive brands, Garmin.
Garmin Hiking Watches


I have to admire what Garmin does with their sports watches. They're a brand that really seems to get that simplicity of design doesn't have to mean a lack of features. Take for instance the Fenix line of watches, which manages to pack a whole lot of functionality into sleek, ergonomically designed timepieces.
Garmin Fenix 5X Plus
The best example is the top of the line, the Garmin Fenix 5X Plus. It is one of the most expensive hiking watches available. For that price tag, though, you get a lot to work with.
This is a smartwatch, but unlike those made by Apple or Samsung, this isn't trying to augment your smartphone or even replace it.
The features that will make the 5X Plus most appealing for hikers are GPS and TOPO maps, which are user-generated maps that lay out the best routes for your walk or run. If you want, you can input a specific distance you want to travel and the watch will calculate a round-trip route for you. The watch also includes a three-axis compass, gyroscope, and barometric altimeter.
Other "smart" features include a bevy of health trackers, like the Pulse Ox Acclimation sensor which tracks blood oxygen saturation levels. This is especially beneficial for people hiking in mountainous areas. The watch measures a user's performance metrics, which can be uploaded to a computer or smartphone, so anyone who is training for an event or just trying to improve their time can basically have a virtual coach with them at all times.
The 5X Plus comes installed with Garmin Pay, a contactless payment method that means you don't need to take your wallet or purse with you on your hike. This watch also allows wearers to store offline music or use streaming services like Spotify to allow for some musical accompaniment.
The price of the 5X Plus will certainly give some hikers pause, especially if they aren't interested in the more advanced features. Also, in GPS-mode, the watch's battery life takes a serious hit, dropping to about half a day of power. For anyone who pursues hiking as a serious sport, though, this top of the line Garmin certainly deserves your consideration.
See full specs of the 5X Plus on Garmin.com
Garmin Fenix 5
For anyone who likes the Fenix line but doesn't want to spend almost $1000 on a watch, consider the Garmin Fenix 5 standard model. It lists for a few hundred dollars less and doesn't include quite as many features or cutting edge tech as the 5X Plus, but it's no slouch either. Like the more advanced model, this watch uses a digital display and is ruggedly designed with a stainless steel bezel and an interchangeable silicone band.
This is a GPS-enabled watch with a compass, barometric altimeter, and gyroscope, like the 5X Plus. It can also measure your heart rate and the watch can track your performance so you can see your training progress. The standard model can be updated with a number of apps from Garmin's Connect IQ store and can connect to an online fitness community.
While the standard Fenix 5 lacks a few of the 5X Plus's features, the biggest absence is the TOPO maps. It's still a great sports watch and worth its price, but the automatically updating TOPO maps are a great feature that can help users make the most of their day on the trails. Still, if the 5X Plus is a bit pricey for your tastes, you won't regret going with the standard model.
See full specs of the Fenix 5 on Garmin.com
Garmin Fenix 3 HR Special Edition
Of course, the Fenix 5 isn't Garmin's first rodeo. The brand has been making excellent sports watches for a few years now. Of their older models, the Fenix 3 GPS Watch remains one that's still worth the price of admission. This watch was where Garmin really came into its own.
This is a pretty classic fitness watch, so in addition to GPS location tracking, the watch measures heart rate, distance traveled speed, calories burned, and even your sleep pattern. You can track your elevation and even use it to evaluate your swim strokes (it's water-resistant up to 100 meters, so swimming is fine but deep dives are out).
The high-resolution display is designed to be easy to see in sunlight while the case is tough, stainless steel. With all of the Fenix watches, Garmin has avoided touchscreens, which makes the line fairly unique among traditional smartwatches. But the watch can connect via Wi-Fi and get regular updates.
Garmin has set their sights on creating some of the most durable and functional sports watches on the market, and so far they've been achieving those goals. They're hardly alone, though, which is good for consumers. When companies compete, it pushes innovation.
See full specs of the Fenix 3 HR on Garmin.com

Casio Hiking Watches
For the last few decades, one of the most innovative companies in watchmaking has been Casio. Besides being one of the big names behind the rising dominance of digital watches in the 1980s, Casio is the brand behind the G-Shock line of nearly indestructible watches.
Casio G-Shock GW9400-1
The G-Shock line launched in the 80s, and while they came out of the gate in impressive fashion, the line hasn't been resting on their laurels. Recently, G-Shock released the Master Of G Series, a line of watches designed specifically with the various branches of the military in mind. These watches combine typical G-Shock durability with great tech for anyone out in the elements.
One of the best examples is the Rangeman GW-9400 Solar Watch. This particular watch is part of the "land" military-style watches (along with the Mudmaster line). While it isn't technically billed as a "sports" watch, the GW-9400 would be a valuable accessory on any hike.
This is an atomic watch, which means it uses radio signals to calibrate the time by atomic clocks, making this the most accurate watch you will ever own. On top of that, the watch uses a solar-powered battery that doesn't need to be recharged for seven months and will last the lifetime of the watch. Considering that this watch uses G-Shock's proprietary "floating module" and other shock-resistance technologies make this a long-lasting watch.
For the hiker, the functions that will be most exciting are the altimeter, digital compass, barometer, and thermometer. Other useful features include a stopwatch and a case that's mud-resistant as well as water-resistant up to 200 meters. It can display the time for 31 different time zones and has sunrise/sunset data. It's a watch designed for the toughest terrains, so it will have no trouble keeping up with your hiking routine.
This is a great digital watch, but what hikers will miss most is the GPS. There aren't any maps or ways to indicate exactly where you are. That might not be a big factor if you're someone who mostly stays to familiar trails, but it could be sorely lacking for anyone that likes to explore. Read more about the on GW9400-1 Casio.com
Casio Men's Pathfinder Triple Sensor
If the Rangeman line is a little too intense for your tastes, Casio offers much of the same features in their non-G-Shock timepiece, the Pathfinder Triple Sensor Multi-Function Sports Watch (read reviews on Amazon).
Like the GW-9400, this is a solar-powered watch that can go months without a charge. It also has a power-saving setting to help prolong the battery as long as possible.
It includes many of the same hiker-friendly features as the GW-9400, including an altimeter, barometer, thermometer and digital compass. It's water-resistant up to 100 meters (instead of 200), so, again, it could be worn in a swim but shouldn't be taken for any deep dives.
Other familiar features include world clocks, a stopwatch, daily alarms, and a calendar. It's a stainless steel watch with a resin band, so the Pathfinder is considerably tough, albeit not as durable as a G-Shock. For most hikes and outdoor activities, though, this watch will be plenty strong to handle what you'll be throwing at it.
Once again, the biggest drawback to the Pathfinder is its lack of GPS and map functions. Of course, these Casio watches also tend to retail for considerably less than the Garmin, so you're getting what you pay for. In the case of the Pathfinder, that's a strong, well-equipped solar watch. Read more about the on PAG240-1 Casio.com
Casio PRG-300 Pro Trek
From the Pathfinder, we travel over to Casio's Pro Trek line of watches, specifically the Men's PRG-300-1A2CR Pro Trek.
This watch doesn't set itself apart from the Pathfinder in any major way, and that's kind of the point. Casio does a certain kind of sports watch very well, and they offer it in a variety of styles and looks.
This solar-powered, digital watch essentially mirrors the Pathfinder in outdoor features (altimeter, barometer, thermometer, and digital compass) and other general accouterments (stopwatch and countdown timer). It's also water-resistant up to 100 meters and has an incredibly long-lasting battery.
There's nothing in this watch that really sets it apart from the Pathfinder, and it doesn't have all the functionality of the GW-9400. It also doesn't have GPS. Yet, for those admitted shortcomings, this is still a great watch that you can pick up for less than $300 and that won't let you down when you're on the trails.
There is a more rugged Pro Trek model that made our list of best titanium watches that you may also want to consider.
Casio has been putting out these types of reliable, durable watches for so long that it's just kind of assumed that their timepieces will do the job. They're not always the prettiest of watches (I prefer the sleeker design of the Garmin watches), but they definitely have a distinct design. Read more about the on PRG300-1A2 Casio.com
---

Suunto Hiking Watches
Finnish watchmaker, Suunto, doesn't have the name recognition of Casio, nor have they quite achieved Garmin's reputation, but this company, which has been around for over 80 years, knows their trade. They have a wide selection of sports watch lines, all with their own unique pluses and styles. Almost anyone of their watches would be a good companion on a long hike, but I'm going to focus on three of their best.
Suunto Spartan Sports Wrist HR
One watch that definitely gives Garmin's Fenix line a run for its money is the Suunto Spartan Sports Wrist HR (check its availability on Amazon). This GPS-enabled smartwatch has a touchscreen, is water-resistant up to 100 meters, and uses a battery that will last up to 12 hours in "training mode" (i.e., while using GPS trackers).
More than just a hiking watch, this is an all-around sports watch that has different trackers for running, swimming, and cycling. First and foremost, it tracks heart rate, steps taken, calorie consumption, pace, distance, altitude, and speed on land and in water. This is a watch for serious sports enthusiasts who are looking to improve their performance and better understand how their bodies are behaving, even while sleeping.
Other features include route maps guided by GPS, a digital compass, sunrise/sunset data, and Bluetooth. The touchscreen functionality is the main feature that sets this windswept, black watch apart from the Garmin Fenix 5. It's a very durable watch, with scratch-resistant crystal for the face and a stainless steel bezel. It doesn't quite achieve the G-Shock level of durability, but for your typical active needs, the Suunto Spartan will be more than strong enough. See full specs of this watch on Suunto's website.
Suunto 9 Baro
For a slightly stronger watch with a longer training mode battery-life (up to 25 hours), check out the Suunto 9 Baro. It retails for slightly more than the Spartan (see price on Amazon), which places it at the higher end of the Suunto line. For that extra green, you get a highly accurate fitness and activity tracker.
This GPS watch has an altimeter and barometer with a storm tracker and air pressure alert. Like the Spartan, this is a multi-sport smartwatch with a touchscreen that can operate in multiple modes, depending on which activity you're doing. The Baro is equipped with the most advanced and accurate tracking software that Suunto has to offer.
Furthermore, the Baro is specifically designed to be extra tough for the most arduous training, so this is a timepiece that would best serve someone who is training for a triathlon or some other equally strenuous activity. Of course, if you just want it for hikes, it can definitely handle it, but in its price range, you probably wouldn't get this for the casual outdoors person.
Here's a closer look at the 9 Baro by DC Rainmaker on Youtube:
See full specs of this watch on Suunto's website.
Suunto Core
If the Baro and Spartan seem a bit overstuffed for your needs, I would go with the Suunto Core.
In addition to being more affordable (check Amazon price here), the Core keeps things relatively simple. It foregoes health trackers and all the other features that make for helpful training partners and just gives you what you need for a good hike.
Those features include a compass, altimeter, barometer, and sunrise/sunset tracker. These are basic features that will take the guesswork out of any hike or climb and can be invaluable in new terrain. It even has a weather alert function, as well as other common watch features like a stopwatch, countdown timer, and alarms.
What this watch lacks are GPS and a long-lasting solar battery. For that reason, it might not be the ideal watch for taking on a hike into the unknown, but for most casual hikers (myself included), the Core is more than enough.
Suunto also makes the Traverse and the Ambit3 Peak, both great watches for the outdoors, though not necessarily for hiking. The Traverse is specifically designed for hunting and fishing, while the Ambit3 Peak is a climbing watch. Still, if you like those activities, either one could double as a hiking watch. See full specs of the Core on Suunto's website.
TomTom Adventurer Cardio and Music Outdoor Watch
Finally, we get to the outlier: the TomTom Adventurer watch.
TomTom doesn't have the status of any of the other three watch brands we've discussed, but this particular watch is worth considering.
The Adventurer compares favorably to Garmin's Fenix 5X Plus in terms of all-around functionality. That includes GPS with a route planner, as well as a compass, barometer, and altimeter. You can get updated information in real-time so that you always know where you are and if you're on the right path.
Other features include a heart rate tracker, calorie counter, and a speedometer. Also, like the 5X Plus, the Adventurer includes a music player that can store up to 500 songs so you can have your preferred soundtrack with you wherever you go. This is a great watch for anyone who enjoys getting away from the world for a few hours. Twenty to be precise since that's how many hours the battery lasts.
The TomTom brand might not be on your radar, but with the Adventurer and a few of their other watches, they are definitely angling to make a big splash in the sports watch world very soon. Find full specs on TomTom.com
Buyers Guide To Hiking Watches: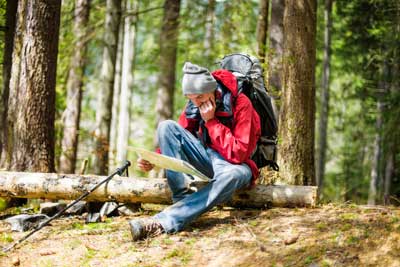 The most necessary features for a hiking watch
Having now looked at 10 of the best sports watches on the market, I'm sure a pattern has started to come into focus. These watches generally have a specific assortment of features that are absolute must-haves for any hikers or outdoorsy types. Let's take a closer look at some of those features and why they're so important.
GPS
GPS tracking is fairly vital for anyone who likes to get off the beaten path. A GPS (Global Positioning System) uses satellites to provide real-time positioning data. Understandably, there are people who would prefer not to have a satellite tracking them when they're on a hike, so hopefully, they have a good sense of direction and a reliable Casio. Otherwise, the Garmin watches, as well as most of the Suunto and the TomTom, come equipped with this feature.
Compass, Altimeter, Barometer
These three features almost always come as a package deal, largely because they function together. A compass provides direction, an altimeter measures altitude (distance above sea level), and the barometer measures atmospheric pressure. Together, these tools help a hiker know where they are precisely and what kind of conditions they can expect. Even more than GPS, these tools are absolute necessities for a hiker, and they don't require satellite connectivity. ABC features have become standard issue on high-end watches for skiing, snowboarding and other adventurous mountain sports where altitude, direction, and weather are a major safety concern.
Thermometer
Less of a necessity than a perk, a thermometer allows a hiker to keep track of temperature changes. This is especially helpful if you will be making a climb during your hike or if you plan on staying out overnight when knowing the temperature can help you make sufficient arrangements. Not every hiking watch will have a thermometer, but it's nice when one is included.
Health and activity trackers
Here is where we get into the truly optional features. Smartwatches have helped make health and activity trackers popular. Even non-active people have turned to watches to track their daily steps and calorie consumption. If you're a long-distance hiker or in the midst of training, trackers of these sorts (heart rate, steps, speed, sleep) can be great for helping you progress. For casual hikers, though, they're probably superfluous. Still, they can be nice to have.
Solar-powered battery
The problem with a lot of the feature-heavy sports watches is that GPS and health trackers tend to use up battery power very quickly. That's not a concern if you're only out for a few hours, but if you plan on spending considerable time in the great outdoors, solar-powered watches offer a handy solution. Additionally, it's just better for the environment to utilize solar energy, and if there's something a hiker should appreciate, it's anything that pleases Mother Nature.
The best hiking watches, like the 10 we've looked at above, will combine most if not all of these features into a timepiece that is so much more than an accessory; it's more like a companion.