Skiing and snowboarding are not exactly the most affordable sports out there. If you want to hit the slopes on a regular basis, you'll have to shell out a mountain of cash for skis, boots, bindings, and other gear – not to mention the sky-high cost of lift tickets nowadays.
One of the best investments you can make is in a good watch. Some newer models can give your exact location and altitude on the mountain. Some, like the Casio Pathfinder, have a thermometer and barometer to warn you of changing weather conditions which is a great safety feature to have right on your wrist.
Smartwatches are becoming even more popular with the recent avalanche of apps dedicated to skiing and snowboarding that can track everything from total descent to the number of runs you've done in a day. The Garmin Fenix 7 which was released in 2022, is the most advanced sports smartwatch we've seen to date. In addition to the Backcountry Skiing Activity tracking, the watch comes with a heart rate monitor, topo maps, and Pulse Ox Acclimation.
There are a lot of great brands to choose from, and these days, more and more smartwatches are keeping skiers' needs in mind.
Below is a list of some of today's best watches for skiing and snowboarding—from entry-level models to high-end brands you can splurge on. If you're thinking of buying your first ski watch or want to upgrade, this article has got you covered.

Best Ski & Snowboarding Watches
Casio Pathfinder Triple Sensor Solar Watch

If you're looking for a non-smart option that is a good value for money, the Casio's Pathfinder Sports Watch is worth a closer look.
This new model is not only more energy-efficient, but it's also 95% slimmer than previous models. Aside from the necessary ABCs, two things that make this watch stand out are the price and weight.
The Casio Pathfinder Triple Sensor weighs only 2.12oz. The world time display also allows you to easily look for different time zones, making this watch ideal for those who travel frequently.
The sunrise/sunset display feature is handy for skiing and climbs. The water resistance feature allows up to 330ft, so this one also works very well for non-ski activities such as snorkeling or swimming.
One of the unique features of this watch is it's solar-powered. A built-in solar panel recharges the battery using any light source, so you won't need to buy batteries or worry about it going dead while you're out on the mountain. Many users have praised its toughness and durability, saying that it holds up despite extremely harsh conditions.
Considering some of the higher-priced Sunnto and Garmin models on the list, this Casio watch is excellent value for money.
It doesn't connect to your phone via apps, but it has all the outdoor essentials that you'll need.
Garmin Fenix 7 – Premium Skiing Smartwatch

The Garmin Fenix 7 is one of the top smartwatches for outdoor enthusiasts. This fantastic smartwatch comes loaded with features emphasizing what skiers and hikers will need.
In particular, the Fenix 7 comes with the ClimbPro tech, altimeter, barometer, and 16-day battery life. It also includes a heart-rate monitor and Pulse Ox which are both very useful for sports where users may need to monitor these closely. This wrist-based Pulse Oximeter sensor provides estimated blood oxygen saturation levels, an especially useful feature for extreme skiing where you're adjusting to higher altitudes.
Versatility is where the Garmin Fenix truly shines, as this smartwatch is designed to be a multi-sport accessory. Notable features include a GPS tracker and built-in ski maps that cover over 2,000 resorts worldwide.
Another fantastic feature implemented in the Fenix is the three ski modes. These three features can track your performance, routine, and pace, helpful for skier athletes looking to polish their skills.
Considering state-of-the-art GPS and ABC features (altimeter, barometer, and compass), this watch still has excellent battery life. The Fenix manages to impress us with its 18-day battery life (22 days for the solar model), up to 57-hours in GPS mode (73 hours for the solar model).
The compact and sleek design of the Garmin Fenix complements the modern thrill-seeker. The durable stainless-steel case also offers excellent durability even under harsh weather conditions. Overall, the Garmin Fenix offers all the necessary functionality required by a skier, making it one of our most recommended in this list.
Garmin is a trusted multisport smartwatch brand that continues to produce some of the best technologies today. The Fenix is not just an excellent all-around sports watch for running, swimmers, thanks to its Ski/Board Mode, this model is arguably one of the best watches for skiing and snowboarding.
All you need to do is start the watch's "Ski/Board Mode" and go on with your day.
There is no need to activate anything when you go up the lift, as it has an auto-pause while on the lift and records descents. In between (say, when you're having lunch or taking a break), you can pause it to save the battery. After you've taken your final run of the day, stop the watch and you can start to use the information in the logs.
---
Which Garmin Fenix? Shopping for a Garmin smartwatch can be very confusing with so many models. Starting with the Fenix 6, the optional solar charging further complicates things. The decision will mostly come down to your budget and how much of a priority battery life is for you. For the latest and greatest, look at the Fenix 7, most affordable is the Fenix 5 and the Fenix 6 would be in the middle.
Since Garmin released the Fenix 6 and now 7, the price of the Fenix 5 has dropped substantially and you can get the "X Plus" model which was the market leader just a few years ago for about $200 less than it retailed for when it was released.
If you really want a long battery life – look at the solar versions of 6 and 7. We recommend avoiding earlier models (like the Fenix 3) unless you are okay with used or refurbished models.
---
Garmin Fenix 5X Plus
While the Fenix 7 is the cutting-edge model of multi-sport watches, it also comes at a premium price.
If you want a feature-packed smartwatch without paying the high price of the latest and greatest gear, you'll want to check out the Garmin Fenix 5X Plus.
Being outdoors, the battery performance is a key feature to consider, and this is where the 5X excels with a life of up to 20 days in smartwatch mode. But the impressive thing about the battery is the 13 hours in GPS mode while playing music. A full day of skiing while listening to music from sunrise to sunset is even more than most hard-core skiers will be needing.
Advanced fitness features:
Heart rate: Garmin Elevate heart rate technology allows you to monitor your estimated heart rate without wearing a chest strap.
Pulse Ox: As we mentioned at the beginning of the article, another feature that sets the 5X apart from the competition is the wrist sensor to measure blood oxygen levels. While recreational skiers may not need this, backcountry skiers or hard-core athletes that are "skinning-up" the hill, where your heart rate can max out, being able to check heart rate and blood oxygen could be an excellent health and safety feature to have on your wrist.
Trend line TOPO maps": Using Garmin Connect data can help you find and follow the best trails and routes. The 5X is also compatible with Garmin's Skiing App Professional.
Again, the 5X plus is one of the most expensive watches on the market for the serious skier it definitely worth considering the extra investment.
Read reviews on Amazon | See all the fēnix® 5X Plus features on Garmin.com
SUUNTO Spartan Sport HR

Suunto is a well-known Finnish company that continues to innovate its products for all types of adventurers. If you're looking for a multisport watch at the mid-range price point, this is something that you should consider.
The Suunto Spartan Sport HR watch (link to both models on Amazon – with and without heart rate monitor feature).
This watch boasts a color touch screen that has all the skiing essentials mentioned above: a good GPS, a bright screen which means there's excellent visibility outdoors (especially in direct sunlight), and a built-in altimeter, barometer, and compass.
This watch is a great investment for people who ski and do regular outdoor activities, as it allows users to record their progress in a wide array of activities like running, cycling, hiking, swimming, and even triathlon and obstacle course racing.
The Spartan HR is compatible with the Suunto Movescount app, letting you track your progress, plan routes, and get creative with the photo and movie clips.
A unique feature of this watch is the heart rate sensor, which uses the well-known PerformTek biometric technology.
Another is the recovery display, which suggests your recovery time based on your workout–something that will tell you how many days you need to rest before you start working out again.
Here is a quick demo of all the features of the Spartan Sport HR if you want to take a closer look:

Suunto Core – Value Outdoor Sports Smartwatch

If you're looking for a relatively affordable watch, take a look at this Suunto Core.
First things first: Do not buy this watch if you think you will need GPS. If you need the exact altitude and location, you'll want to go for a GPS watch like the Suunto Spartan Sport.
However, the watch does give you altitude and barometer change w/ a storm alert and compass at a cheaper price than most other watches on the list. On our tests, the altimeter worked reasonably close (within a few hundred feet of a 14K peak), but again, it's not totally accurate and can also be affected by the weather.
There are, however, lots of pros that can outweigh this. For instance, this Suunto ski watch has a broader range thermometer (-5F to 140F) that tells accurate temperature readings. The sunrise and sunset feature is also extremely useful too, and it's also waterproof up to 100 feet.
This also doesn't require any fancy batteries, as it uses a CR2032 battery, which is readily available anywhere, and the battery lasts for about one year.
If you're looking for a multifunction ski watch with a minimalist design, this one might be one of your best bets.
Many owners have expressed satisfaction with its durability–having no issues despite daily wear and exposure to both hot and cold temperatures.
Apple Watch Series 7 – Top Pick for iPhone Users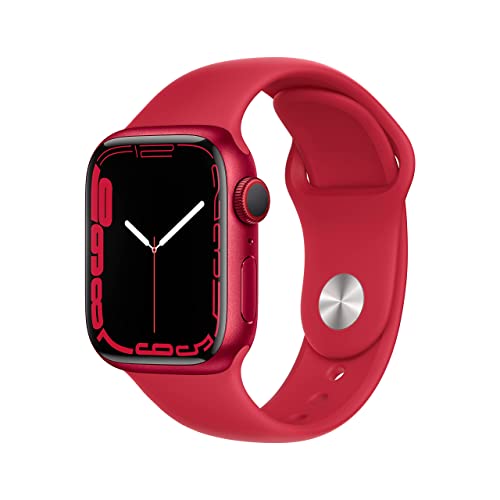 Apple Watch 7 | Read Amazon Reviews
An Apple watch may not be the first thing that would come to mind when talking about sports and ski watches, but recent developments show that the brand is determined to compete with the big brands with its latest technology.
Earlier this year, Apple announced the latest entry from the Apple Watch series, the Series 7 model, features a slew of impressive new functionalities. The Series 7 and 6 appear almost identical, with the Series 7 having a slightly larger screen and fast charging capability.
Many of these features were already available on the Apple Watch, starting with the Series 3. Because that was the first version to include skiing and snowboarding activities, we've left it below as a recommendation.
If you're primarily using your watch for skiing, you might be better off with the earlier, more affordable Apple Watch. If you want the latest and greatest, opt for the new Apple Watch Series 7. You can see the main differences b
The Apple Watch has a 'Snow Sports' activity app to track snowboarding, downhill skiing, or cross country skiing. The Apple watch will know when you're on a ski lift or going downhill. Combining GPS and altimeter measuring. Some of the most useful apps include:
Snoww App – useful ski statistics tracking and social sharing app.
The Slopes App, for instance, has features like providing heart rate, distance, vertical feet and can detect periods when you're idle. For more features like satellites, you can update the app for an extra fee. An interesting feature of the Snow App is the performance tracker that allows you to compete with friends and other users who also have the app installed on their devices. Snow also enables users to go hands-free.
Ski Tracks – incline, descent, number of runs, and lots of other useful features.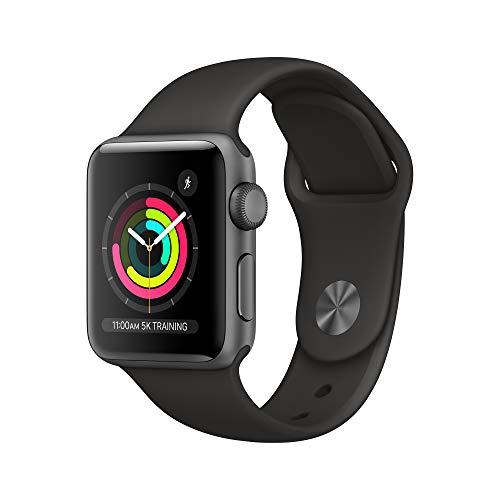 The Apple Watch Series 3 (operating system of watchOS 4.2) is now able to track skiing and snowboarding activities such as vertical descents, calorie measurements, and number of total runs via its activity app. There is an LTE option, which means that you can use the watch independently–no need to use your phone.
Timex Expedition WS4 – Oldie but Goodie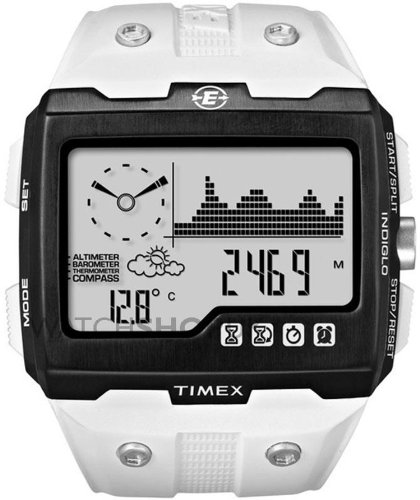 Before the release of smartwatches, if you were buying a watch for skiing, this was the model to look at, the Timex Expedition WS4.
High altitude mountaineer, Conrad Anker, wore the Timex WS4 during an expedition Himalayas and at the time it was hailed by the press as one of the advanced watches for mountain sports.
Since then it has been outpaced by smartwatches and Timex has since discontinued it – but if you're looking for a practical watch, you can still occasionally find the Timex WS4 on eBay.
This is the first ABC watch from Timex and has a widescreen format with an analog display which makes it easy to read. You can also view the time in two modes–digital and analog.
Some of the most basic features, aside from the ABCs, include a thermometer, an activity review mode, timer, an option to have two time zones at a time, and an INDIGLO night light.
It does not have smartphone integration, but Timex put a lot of work into the functions and user interface. In terms of size, this has a big screen and strap, but the watch itself is surprisingly thin and light. The WS4 is often compared with the Casio Pathfinder watch above.
Please note, avoid confusing this with the more basic version of the Timex Expedition that sells for a fraction of the cost but does NOT include an Altimeter or Temperature, which is why it's so cheap. It's not a bad option for an outdoor watch, but we do not recommend this more affordable model as a ski watch because of the lacking features.
Casio G-Shock GW9200 Riseman
This G-Shock Riseman model does have altitude, barometric pressure, and temperature but does not have a compass.
Like the Pathfinder Triple Sensor above, this watch is also solar-powered, which means you don't have to worry about it conking out on the slopes.
You can also turn off the LCD when you're sleeping or during periods when there's no light. The backlight (the 'G' button) is also conveniently placed below (6 o'clock), and the buttons are easy to press even when you're wearing gloves.
Other features include a thermometer, water-resistance of up to 200 meters, shock resistance, world time that includes dozens of cities in 29 countries, a snooze feature, and a countdown timer. Many owners can also attest to its durability, saying that this can take a beating and still work like a charm.
The temperature sensor needs about 30-40 minutes to adjust completely, so if you'd like an accurate reading, make sure that it's not getting overheated by your body heat in enclosed spaces (inside a glove)
What To Look For: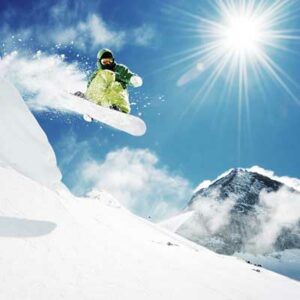 GPS is one of the most useful features on a watch for mountain sports. Finding map coordinates and knowing exactly where you are on the map is useful for meeting up on the mountain, finding your favorite back bowl, and could be a life-saving device on your wrist.
Hopefully, it will never come to needing GPS for that, but it is comforting to know (maybe even more so for loved ones back at the bottom of the slopes) that you always know where you are and can avoid getting lost.
If you don't want to invest in expensive GPS watches, there are standard features on watches for outdoor mountain sports that go by the acronym ABC—Altimeter, Barometer, and Compass, all built to handle extreme weather conditions, which is why they are excellent for skiing and other mountain adventures like snowboarding. The barometer helps detect atmospheric pressure readings and changes.
Another essential feature of a ski watch to consider is readability. You'd want a watch which would allow you to see in weather conditions even if you're wearing ski goggles, for instance.
Watches with the ABC feature are durable and can be used while wearing thick clothing and gloves.
Heart rate monitors are also extremely helpful, especially to those with medical conditions or doing backcountry skiing, hike-in, or skinning up the mountain. With the combination of high altitude and intensity, many suggest keeping an eye on HR. Even if you're not concerned with HR, it can be a useful watch feature off the mountain to have this for a more efficient and healthier workout.
Our Top Picks


The best watch for beginners: Casio Men's Pathfinder Triple Sensor
While this one's not the cheapest on this list, the Casio Men's Pathfinder Triple Sensor watch is an excellent entry-level smartwatch that will last you for years. If you're going skiing, this has everything you'll need–the ABCs, most importantly.
While it does not have smartphone features, it has all the basics that you'll need in a multisport watch.
It's also cost-effective, as it's solar-powered–no need to spend more money replacing the batteries.
The best watch for experienced smartwatch users: Garmin Fenix 7
If you're considering purchasing this watch, chances are you are already knowledgeable on multisport watches or probably already have one. Garmin is one of the top brands in outdoor multisport watches today, and the Fenix is, hands down, one of its best releases yet.
The only thing that might set you back is the hefty price tag, but it's a watch worth investing in, considering all the features that won't only help you while you're out doing skiing or other sports, but also email, texts, and other alerts. This Garmin ski watch is an upgrade worth making if you can utilize all or most of the features.