Sometimes referred to as a Tough Mudder, Warrior Race, Spartan Race or the original Mud Run, there are lots of other similar names and they continue to grow in popularity.
Whatever they may be called, these races all share many similarities. They all are an extreme test of your fitness, physically and mentally, through a race course designed with various types of obstacles – from monkey bars to dirt hills to cargo nets, mud pits and even barbed wires!
From test-taking to fitness or skiing, practice is undeniably vital to prepare oneself mentally, physically and even psychologically. In doing so, you would need a timepiece not just to track time but also to monitor your statistics and track any improvement. This is also the same reason why you should invest in a reliable watch as you practice for an OCR.
A good watch is needed not only during practice but all the more during an actual race. Aside from one that could tell time, you'd want a watch that will be able to track your fitness data such as heart rate, pace, and speed so you would have an idea how good or bad you're doing.
In general, you should look for a watch that is as though as, or even tougher than, you. Primarily, you should consider GPS watches that are very durable and water-resistant & mud-resistant.
Durability
Since you'd be going through various types of impediment along the course of the race, the materials of your watch should be strong enough to handle any accidental smash, pull or push and any other pressure that the watch and its wearer may encounter. It should not easily break, be torn or unclasped; otherwise, the 'Spartan' athlete will just be surprised that he or she no longer has a functioning watch.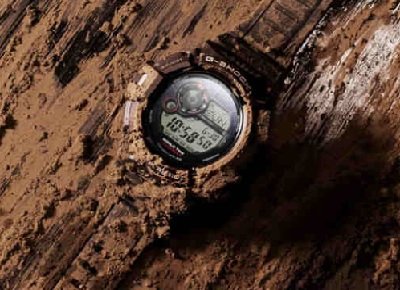 Mud resistance
Water resistant watches are no longer hard to find. Even stylish and fashionable timepieces can already withstand a certain water depth and pressure. However, that is not enough during the mud runs. OCR watches should be tightly sealed to ensure that no amount of sand, water, mud or any other foreign object will be able to reach the internal structures of the watch. As such, it should be also able to withstand thorough cleaning after the race.
In addition to those key features, you must also consider all those other features that you'd typically look for in other fitness and sports watch such as heart rate monitor, long battery life, built-in GPS, readability and water resistance (all of which we explained here).
With those in mind, the following are the watches that are worthy to look into if you're into endurance races.
BEST OCR WATCHES
Garmin
Maybe unpopular to many, but Garmin has already been producing various devices for the past 30 years. In case you might not have heard, Garmin's products vary from automotive to aviation and even to marine industries. It offers GPS devices for your cars, transponders, and radars for aviation, a water-resistant stereo system for marine activities, among many others.
However, Garmin has significantly gained popularity in the area of fitness, particularly for their fitness trackers and smartwatches. Amazingly, Garmin has learned to compress the technology from all those automotive, aviation and marine products it has made and packed them accordingly in those fitness wearables.
As such, Garmin certainly has some models to offer that would fit your needs for OCRs.
Garmin Forerunner 920XT
Check Amazon Price | See On Garmin.com
The Forerunner 920XT is another feature-rich Garmin model that is sure worth every penny spent on it. Its 29mm x 21mm display is designed to remain bright and readable even under direct sunlight. Its battery life would, most likely, also be able to keep up with your energy by powering the watch at most 25 hours during fitness mode.
One vital feature of this watch for Spartan races is its ability to sort a run into various segments. With this feature, they can monitor their performance in each obstacle and so focus on those where they are struggling.
During your practice or race, Forerunner 920XT could also help you monitor your health or fitness by calculating your estimated VO2 max, providing you the recovery time you would need and other basic metrics such as heart rate, cadence, ground contact time, etc.
Garmin Forerunner 35
Check Amazon Price | See on Garmin.com
The Garmin Forerunner 35 may not be as feature-rich as Forerunner 920XT but it is also not as expensive. The Forerunner 35 offers the key features you'll need for the race without the high price tag.
The Forerunner still meets all the above-mentioned requirements. It has built-in GPS and can provide basic metrics such as heart rate (wrist-based, so no need for chest strap), pace and calories burned. Similar with other Garmin watches, you may sync it to Garmin Connect app to see more of your data.
Forerunner 35 does not offer much but if you are looking for the watch that best combines functionality and price, then this may be the one most apt for you.
Suunto
Unlike Garmin, Suunto has been focused on fitness, particularly producing premium sports watches. Although it also offers some instruments such as compass and most recently, dive computers, Suunto still primarily focuses on continuously innovating its sport watches to match the needs of various sports enthusiasts.
When it comes to Spartan races, surely Suunto has some models to offer.
Suunto Spartan Trainer
Check Amazon Price | See Spartan Trainer on eBay
From the name itself, you can already take the hint that this one's designed for Spartan races. Also, considering that Suunto boasts of its durability and compactness, Spartan Trainer is definitely one worthy to consider wearing in your OCRs.
The Suunto Spartan Trainer was particularly designed for wrist comfort so its band is thinner with optimal fit compared to other Suunto models. This also makes it perfect for runners as they go through difficult obstacles and rough terrain.
Moreover, the rest of its features are not just for Spartan Race but also suitable for all other sports such as swimming, cycling, and hiking. Its heart rate monitor is deemed as one of the most accurate in the market while its GPS navigation comes with automatic breadcrumb review to help you find your way back.
Its display is well-lit so you can easily read even under sunlight while its battery can last up to 10 hours when GPS is in full tracking mode. Otherwise, if GPS is in power saving mode, it can last up to 30 hours and up to 14 days of regular time mode.
Suunto Spartan Sport
Check Amazon Price | See Spartan Sport On eBay
The Spartan Sport features a high-end touchscreen with wide viewing angle making it durable while keeping great visibility outdoors. Similar to Spartan Trainer, it also boasts of accurate heart rate monitor and even adds accurate GPS navigation. It also includes built-in altimeter, barometer, compass and is water resistant up to 100 meters.
Not only is this watch durable but it is also versatile. Offering 80 Sports modes, it is a great partner for whatever physical fitness activity you'd try. On a regular day, it is also stylish enough for you to wear almost everywhere.


G-Shock Master of G Series
Watches from Master of G Series are particularly designed with durability in mind considering that they are intended for the military personnel and other personnel who are ready to risk their lives.
Given this, and the amount of dirt that the watches could have possibly acquired in the line of work or sports of their wearers, people have been talking about merely tossing the watch in the dishwasher or washing machine and letting those appliances do the cleaning. Surprisingly enough, there are testimonies that the watches of the Master of G Series are durable enough to withstand even the dishwasher and washing machine. specially designed with high resistance from dirt and mud.
Here are two worth considering just to give you an idea.
G-Shock G9300-1 Mudman
Check Amazon Price | See 9300 Mudman on eBay
The G-shock G9300-1 Mudman is packed with a long list of features you'd expect from a Casio sports watch – from stopwatch, countdown timer, sensors and to all other features. In addition to all those, it boasts of its digital compass, tough solar power, and shock resistance.
It has a one-touch access button to compass and thermometer. Its compass has a declination function that allows the wearer to adjust the watch's magnetic north direction reading in order to indicate true north. Also, its tough solar power keeps the watch stably running even with power-hungry features. Lastly, even from the name itself, G9300-1 Mudman can take all the dirt and mud and pressure you might encounter along with the race since it is not only shock resistant but also mud resistant.
These features make it worth considering especially if you're looking for a budget-friendly sports watch.
G-shock GG-1000-1A8 Mudmaster
Check Amazon Price | See GG1000 Mudman on eBay
The G-shock GG-1000-1A8 Mudmaster is the latest addition to the Master of G Mudmaster Line that was launched just last August 2018. It is built to withstand extreme weather, therefore, suitable for the winter months. It also features a cylindrical guard structure designed to protect the watch from any form of dirt, sand, debris. Its textured band and large buttons also make it easier for the reader to access the functions even with gloves. This improved design makes this Mudmaster undeniably suitable for your OCRs.
If you are running a race like the Tough Mudder weird mud is one of the main features of the race, mud-resistance is a top priority and where this G-shock line outdoes the other brands.
Another key feature that it boasts of is the Twin Sensor technology that enables the watch to determine compass bearing and temperature accurately.
Although this is notably more costly than the previously mentioned G9300-1 Mudman, this one sure is still worth considering. For aside from those features that it boasts of and actually increased its functionality, the GG1000-1A8 is also equipped with other G-shock standard technology such as shock resistance, 200m water resistance, auto LED illuminator, countdown timer, etc.
If you are still not sure, you can shop the entire line of Master of G Series Mudmaster watch models on Amazon
Or see Master of G Series Mudmaster watches on eBay.
There are a lot of similarities between all these watches and the kind that special ops are looking for: durable watches that can get banged around out in the elements. If you're still not sure which watch to buy after finishing this article you may want to check out: the watches that special forces wear and our overview of Navy SEALs watches.
TomTom
When TomTom was founded in 1991, it offered business-to-business applications such as meter and bar code reading. 10 years after, it produced its first car navigation products, and for these, TomTom has prospered. Since then, it has been producing a variety of navigation devices.
Evidently, compared to other brands presented here, TomTom is still new in the fitness arena. It was only in 2011 when it partnered with Nike to create a fitness watch. After which, TomTom has learned to produce its own watches. In 2015, it announced a collaboration with the Reebok Spartan race and their GPS Sport Watch
Nonetheless, this one model from TomTom has been a popular choice for Spartan racers.
TomTom Spark Cardio + Music

Lastly, the TomTom Spark Cardio + Music is worth mentioning especially for those who cannot survive the Spartan Race without music on.
With this watch, you can store up to 500 songs that you can play without the need of your phone. It also comes with waterproof Bluetooth earbuds so you do not have to worry if it gets splashed along the race. However, to accommodate this feature, it has become bulky compared to other multi-sport watches.
Also, it has been observed that it may be quite difficult to add new music to the watch and that most may find it hard to navigate the watch features.
What is OCR?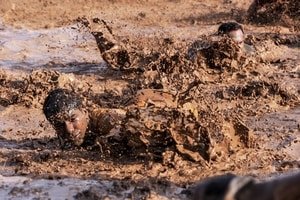 If you've gotten this far, we assume you know what they are but just to clarify so we are on the same page: OCR stands for Obstacle Course Race. Many of the basic elements of the races have their roots in military training.
OCRs would certainly test your limits in every way possible. Some of these race organizers actually hire military personnel to help design the courses and many of the elements are similar to what you would endure during training or boot camp, but of course on a much smaller scale since these courses last a few hours compared to a full career in the military.
Some people have gotten away from the narrow focus of "obstacles" and refer to it as "Adventure Training"
If you want to know more about how you can prepare for a race, check out this training video by Scott Herman:
[youtube https://www.youtube.com/watch?v=4kDcFahhZ10]
Before You Go
Entering a Tough Mudder run, warrior race like the Warrior Dash or Spartan race is no joke. It is not for those people who suddenly want to get into fitness and try what's latest.
You cannot just search for a race and sign up for one that's coming in a week. No, a week's worth of preparation is certainly not enough to prepare you for any OCR, regardless if you've been to one or two races already.
Here's a quick video to give you an idea of just how tough (and muddy) these races are.
[youtube https://www.youtube.com/watch?v=F_Y86zJkt9s]
Any athlete who intends to join an OCR should seriously do some planning, training, managing your diet and preparing your gear (including a watch of course).
These include gathering as much information as you can about the race – familiarize yourself with the obstacles and course conditions, know what the other athletes are saying, watch what you eat and make sure that you get enough nutrition that you need, and of course, prepare the things you need such as an appropriate outfit, gloves, shoes, hydration pack, and a tough watch.
---
Additional Sources for Watch Specifications: