In the spring of 1983, Casio released one of the most groundbreaking watches of the 20th century: the G-Shock.
Designed to withstand the kind of blows that would disrupt or break most normal watches, it wasn't too many years before the G-Shock established itself as one of the strongest watches in the world. Even today, the watch's shock resistance is essentially unparalleled among tactical watch brands.
The durability of the G-Shock has made it a popular timepiece for people in tough professions, and they don't get much tougher than the US military!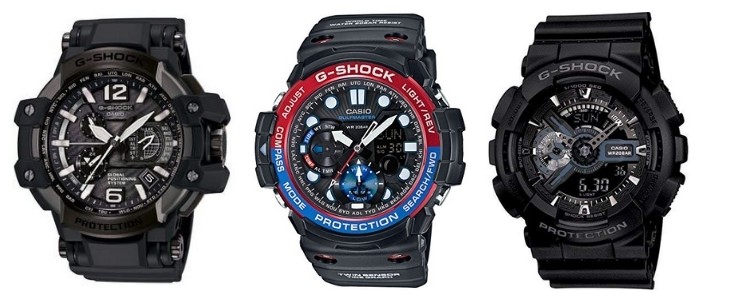 Military personnel at all levels are fond of Casio's resilient watch, and for that reason, there are numerous watches in the G-Shock line that are geared directly towards the men and women in combat.
We've rounded up some of the top G-shocks watch models currently available, from the most affordable budget options to high-end G-Shock watches in the Masters of G collection.
Best G-Shock Watches For Military (Army Basic Training Gear)
The most obvious appeal of a G-Shock watch to someone in the military is its durability. Whether in training or combat, military personnel wants a watch that can take a beating as well as they can, including being dropped from a great height or taking concussive force hits. One of the other main points of attraction is that G-Shock watches are some of the most affordable on the market.
G-Shock Military GA-110 – Affordable Pick
Take for instance the G-Shock Military GA-110 watch.
This all-black timepiece is water, shock, and magnet resistant. It's made with a resin watchband and metal buckle closure.
Other features include a 1/1000 second stopwatch, countdown timer, LED light with afterglow, and full auto-calendar.
This G-shock can store times for 48 cities + UTC and includes a 29-time zone world clock for the home city/world time swapping as well as an on/off for daylight saving time, all useful features for frequent travelers like soldiers on deployment. The GA-110 watch is water-resistant up to 200 meters.
Click here to read Amazon reviews of this G-shock watch that mention "basic training".
The face of this G-Shock is both digital and analog. For the price, this is one of the most reliable watches you can get.
G-Shock DW-9052-1CCG: Another Budget Pick
There are a number of slightly cheaper models with the same basic features, including this digital DW-9052-1CCG sports watch.
For the price, this is one of the cleanest watches in the G-Shock line, but considering how many default features come with it, that says quite a bit about the versatility and usefulness of a G-Shock. Among its features is an auto-calendar that comes pre-programmed until the year 2039, a countdown timer as well as a 1/100 second stopwatch.
12/24 hour military time formats can easily be toggled on and off. This G-shock comes with an accuracy rating of +/- 15 seconds per month which is respectable for a tactical watch in this price range.
Several buyers have commented in reviews that this G-Shock model was a great budget choice for heading off to basic training.
---
G-Shock Master of G Series
Those previous watches are popular G-Shock styles that would appeal to military personnel.
However, the brand has recently released the Master of G Series, a line intended specifically for people who risks their lives as members of the military. The series includes 42 different watches ranging in price from $200 to over $1000+.
These watches are split into three categories: "By Air," "At Sea," and "On Land."
Air: G-Shock Gravitymaster Lineup
Sea: G-Shock Gulfmaster & Frogman lineup
Land: G-Shock Mudmaster & Rangeman lineup
The watches in each lineup include specific features that would be beneficial in those specific arenas. Let's take a look at a watch for each military theater:
---
G-Shock Air: Gravitymaster GPW1000
First, there is the Gravitymaster GPW1000, is one of the pricier but more sophisticated G-Shock watches in the series.
It includes a GPS hybrid radio-controlled solar-powered system to ensure that it keeps accurate time even while flying through time zones.
Naturally, it is shock-resistant, has world clocks, and a long-lasting battery. This is a heavy-duty timepiece that isn't afraid of heights or long hauls.
Understandably, not everyone has the budget for this high-end watch solar watch.
However, the series has a wide range of models, click here to browse the whole Gravitymaster Collection on Amazon.
G-Shock Sea: Gulfmaster GN-1000
For the seafaring military personnel, there is the Gulfmaster GN-1000.
This watch outperforms the standard G-Shock water resistance by being waterproof up to 200 meters.
It also displays tide and moon data and has a bright LED display screen. With a compass and remarkable durability, the GN-1000 has everything one needs to navigate at sea.
If you're looking for something other than the dark colors of most of these military watches, there's the Casio Gulfmaster Smoke that comes in bright yellow.
G-Shock Sea: Gulfmaster GWN-Q1000
For an elite, high-performance model you could look at the Gulfmaster GWN-Q1000, the first G-Shock to feature a Quad Sensor with all of the settings and features you'd need for Sea expeditions: compass, water depth meter.
This G-shock also comes with ABC features (altimeter, barometer, and thermometer) which come in handy in any military training exercise or situation where you'll need altitude and weather readings.
This watch also has a tide graph and moon, sunrise and sunset data. The rugged, reinforced carbon fiber case and sapphire crystal make it completely shock and scratch-resistant.
As with the other military G-Shock collections, there's a wide selection within the Gulfmaster series.
G-Shock Sea: Frogman GWF1000-1
If you're looking to an upgrade in the "Sea" category, the Frogman offers high-end features and a price to match (many of them are over a grand).
The Frogman GWF1000-1 will set you back about half of that, so somewhat more affordable (all things being relative).
This model still offers you impressive build and features: Solar Quartz movement, 200 Meter water resistance, tide, and moon data Multi-Band 6 Atomic for highly accurate timekeeping.
Click here to see the watches the Navy SEALS wear.
G-Shock Land: Rangemaster GPRB-1000
Finally, we come to the Rangemaster GPRB-1000, one of the most technologically advanced watches in the G-Shock stable.
Equipped with both Bluetooth and GPS, this watch is also solar-powered.
The watch can measure atmospheric pressure and altitude, as well as temperature and compass bearings. It maintains accurate time by receiving data from central time servers around the world.
Add in the reliability of the G-Shock brand and this is one of the most impressive timepieces you can get for the price.
G-Shock Mudmaster GG-1000-1A3CR
One of the most recent additions to the Master of G Mudmaster Series is this GG-1000-1A3CR.
Among the practical features are a: thermometer, digital compass, countdown timer, 5 daily alarms, and stopwatch, just to mention some.
The olive green casual look of this model also fits in well for a tactical watch. The easy-to-read date and time along with the bright backlight make it user-friendly.
It's one of the more reasonably priced Mudmaster models and considering the list of features you get quite a bit of bang for your buck.
One drawback is that as part of the "land" series, the waterproofing is not as good as you get on the Frogmaster or Gulfmaster.
While the rating says is also up to 200m, it's really only able to take surface water activity, I wouldn't rely on it for actual diving unless you want to risk water getting under the glass. If you're looking for better water resistance, look at the higher-end models in the "Sea" series above.
The History of Military Watches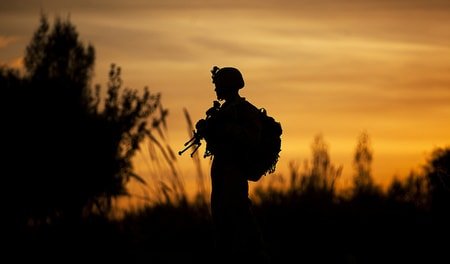 World War I launched the modern era of the wristwatch. Until then, men were rarely seen wearing them, preferring to own pocket watches. On the field of battle, though, it wasn't practical to have one's watch stowed away, especially when there was available real estate on the arm. What started as a combat necessity, the field watch eventually became a fashion inevitability.
During World War II, the military began to issue standard watches, though it was common for personnel to provide their own. Those early military timepieces were as barebones as they get, with a basic hand-wound, mechanical movement displayed in black and white. As the years progressed and the technology of war advanced, so did the watches.
Since 1964, the military has had specifications for what watches are considered suitable for its personnel. Those specifications have been routinely updated in the decades since then, though the basics remain the same: they should be durable, easy to read, and, if officially issued, inexpensive. Enter the G-Shock.
Creation Of The G-Shock Watch
In the early 1980s, the Japanese electronics manufacturer, Casio, employed Kikuo Ibe.
He and his team were dedicated to creating a watch that wouldn't break if it fell. Their guiding principle was the so-called "Triple-ten test":
a watch that could sustain a drop from 10 meters,
would withstand water pressure at 10 atmospheres (100 meters),
and had 10 years of battery life.
The first G-Shock model was the DW-5000C and its rectangular digital face is now one of the most iconic in the industry. Since the release of that first watch, the G-Shock has expanded dramatically, with multiple series for men and women and numerous collaborations with athletes, artists, and other public figures.
If you want to learn more about Kikuo Ibe check out this short video – The story behind G-SHOCK
The appeal of G-Shock watches is that they have the strength and resilience to survive in the extreme conditions of military service, but they are fashionable and affordable enough for everyday use.
Many people who buy a G-Shock watch end up owning them for the rest of their lives, no matter their profession- from nurses to police officers, G-shock is one of the first watches they consider.
Whether you serve in the air, by the sea, or on the ground (or you've never spent a day in the military), G-Shock has a watch that can handle your lifestyle.