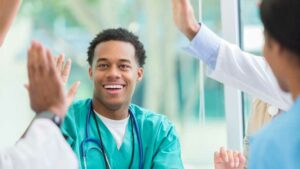 Nursing is one of the hardest but least glamorous jobs around. Nurses save lives, deal with an onslaught of crises every day, and comfort families, usually never leaving their feet for more than a few minutes on a 12-hour shift. Doctors get all the acclaim (and glossy television shows), but without nurses, hospitals couldn't function.
It's for that reason that we're dedicating this post to those unsung (and underpaid) crusaders of the field. Here we're going to discuss the best watches that can make a nurse's job just a little bit easier because we know anything that takes even a small portion of the pressure off is welcome.
If you're looking for a quick watch recommendation, something like the rugged and reliable Casio G-Shock is a top choice for nursing work, plus plenty of useful features for everyday activities, especially for active men.
For a watch designed specifically for medical professionals, the Speidel Scrub Watch is our clear choice. Affordably priced, the stainless steel case and silicone band are meant to be hygienic and the visible red second hand is perfect for taking a patient's pulse
If you prefer a lapel watch instead of wearing one on your wrist (or you're not allowed to at work for hygiene reasons)- this stainless steel carabiner style clip on by Dakota Watch Company is a more rugged and masculine version of more flimsy silicone lapel watches we often see being marketed to nurses.
All nurses, no matter their gender, are worthy of esteem, but so often in discussions of nursing, the assumption is that only women do the job. In fact, there are hundreds of thousands of male nurses in the United States and the number is growing every year.
A growing number of male nurses: Since the 70s, the percentage of men in the nursing field has skyrocketed from 2.7 percent to 9.6 percent, yet the stereotype of the nursing field as a women-only sector persists. This upward trend in the number of male nurses is something to be celebrated.
We're focusing on watches for male nurses, not because men and women necessarily have different requirements for their timepieces – in fact, most of the watches we'll discuss will be unisex – but because it's rare to find resources specifically for this small but growing market.
Best Watches for Male Nurses: Our Top Picks

Timex Expedition Rugged Core
Read Amazon Reviews | See on Timex.com
These days, most watches that aren't procured from a toy vending machine are reliably accurate enough for precise timekeeping. For nurses, the real concern is whether it provides the functionality for the jobs they need to perform on a daily basis.
For example, the Timex Expedition Rugged Core is a durable, accurate watch with a large face for easy readability. It's lightweight and has a resin strap so it should be comfortable to wear all day. For people who like an analog watch, the Expedition, with its large numbers and contrasting, the red-on-white second hand will be ideal for taking heart rates and other vital measurements.
One feature that some nurses will look for in a watch is the ability to set one or more alarms. When the day gets hectic, it's nice to have a reminder of important tasks.
Speidel Scrub Watch
Read Amazon Reviews | See on eBay
Another top pick for medical professionals is the Speidel Scrub Watch because it's made with easy-to-clean 100% silicone band and is water-resistant up to 30 meters. The main feature that nurses have commented on is the easy to view red second hand that makes pulse readings easier. The watch band comes in cool colors including teal, pink and light blue and is covered by a 2-year manufacturer's warranty.
While the same is true of the Timex Rugged, the contrast on the red hand on the white face of the Speidel (vs. the black on the Timex) makes it even easier to read. The Speidel watch is also popular with med-students and other medical professionals.
A bit of extra style
Like we said above, most of the watches we've suggested are unisex. Besides, any watch, no matter what gender it's labeled for, can be worn by anyone.
Still, when looking for watches specifically made for nurses, most of the results tend to be flimsy and small, and if you are a male nurse, you may want a watch with a bit more bulk.
In that case, there are some watches that are ideal for male nurses.
Casio Men's Sport Watch
Read Amazon Reviews | See on eBay
The Casio Men's MRW200H-1BV is an analog, Japanese quartz watch with a day and date display, large numbers, and a second hand. It's a sports watch, so while not designed specifically with nurses in mind, its durability and water resistance up to 330 feet will certainly be a selling point. This is about as affordable a watch as you can get with this quality movement and level of water resistance.
Most good sports watches will meet the needs of a nurse specifically because they are designed to withstand a lot of wear and tear.
Casio G-Shock
If durability is a concern, look at a Casio G-Shock or something along those lines: Check out all G-shock watches for men on Amazon.
G-Shock is a great line to check out if you are looking for something that can take a lot of wear and tear, there is a wide variety of colors and price ranges. Even the most basic and affordable G-Shock models offer quite a few features and are all made to withstand a lot of use and abuse.
Naturally, as the kind of watches worn by military personnel in the line of duty, any of the G-shock models would be more than sufficient for a nurse.
Timex Ironman Sleek
Read Amazon Reviews | See on Timex.com
Many veteran nurses get by with something as simple and reliable as the Timex Full-Size Ironman Sleek, this affordable watch takes a beating and has a resin strap which is practical for a nurse. It also comes in a dozen different color combinations, giving you plenty of options depending on your personal taste. If you are a nurse that likes to wear fun colored scrubs, there is likely a colored Ironman to match your outfit.
Some family and loved ones are tempted to buy an expensive watch as a present for graduating from nursing school.
While that could be a special and memorable gift that will last for yours as many nurses have suggested in online forums, it really isn't advisable to wear your most expensive or cherished watch on the job.
For one, you're going to get all manner of bodily fluids on it. Some stains will never come out of a leather strap. That doesn't mean you can't buy them a nice watch as a gift, there are plenty of quality watches that are durable and easier to keep clean than your new nurse having to worry about their luxury watch getting destroyed on the job.
Look for sturdy and water-resistant watches that can take a beating for the repeated washings they will get and something that is comfortable to wear for those long nursing double shifts they'll be pulling. Just remember, functionality is far more important than style. As a nurse, a simple, reliable, and easy to read watch is all you need.
Options other than wristwatches
While most nurses like to have a watch on their wrist because it's easy to look at, some people find wristwatches irritating.
Also, when dealing with patients, any kind of jewelry can be a hazard as it can get snagged or caught by something.
In fact, some medical centers don't allow personnel to wear anything below the elbows. To meet those concerns, there is a lapel watch.
BestGrew makes very inexpensive, silicone lapel watches in a variety of colors.
Nurses Luminous Lapel Pocket Watch
BestGrew makes very inexpensive, silicone lapel watches in a variety of colors.


Luminous Lapel Pocket Watch
This Luminous Lapel Pocket Watch, which comes in packs of three, are analog and include a glow-in-the-dark hour and minute hands and a red second hand for easy visibility.
Most lapel watches are as basic as they come, so they aren't ideal for nurses looking for a lot of functions, but they do meet the essential timekeeping needs without getting in the way.
Clip Watch By Dakota
Read Amazon Reviews | See on eBay
If you like the practicality of wearing a watch on your uniform rather than on your wrist you might want to consider a carabiner watch like this digital clip watch by Dakota Watch Company This water-resistant clip-on is made with stainless steel to is much more durable and heavy-duty than silicone clip-on watches.
Budget Pick: Readeel Waterproof Watch
The Readeel Waterproof Sport Watch is a digital watch that has both an alarm and a stopwatch function to cover any timekeeping needs you might have.
It's very reasonably priced, and yet still durable enough to take the beating it'll surely go through on the job. Being waterproof is an added perk.
What is a nurse looking for in a watch?
All nurses, male or female, know the importance of a reliable watch. There are countless reasons for a nurse to use a watch, among them: tracking vitals, staying on schedule, administrating medication, documenting medical interactions, and, of course, simply keeping track of the time.
Most of the work a nurse does is time-specific, whether it's ensuring that medication is given at a precise time or keeping detailed notes for the other nurses and doctors. If you've ever had your vitals taken by a nurse, you can surely picture the nurse holding your wrist between their fingers while staring at their watch and counting the seconds.
There are few professions in which exacting timekeeping is so important. For this reason, a nurse wants the most accurate watch available.
Accuracy is the key: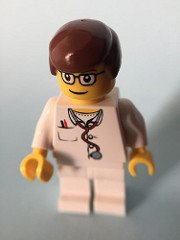 Be thankful that since the days of Florence Nightingale, medicine has gotten far more advanced. So have timepieces.
If you're in the market for the most accurate watch on the market, you're looking at an atomic watch, which is set and regulated by atomic clocks and, if properly calibrated, lose less than one second in 100,000 years. That's what we call reliability.
For most people, though – even nurses – that exacting accuracy isn't entirely necessary. Plus, on a nurse's salary, an atomic watch is probably going to be a bit extravagant.
Fortunately, there are plenty of watches on the market that can boast of near-perfect accuracy and can still fit into a reasonable budget.
If your tastes do lean towards the more sophisticated, though, we recommend you wear that fancy watch on your days off. Feel free to splurge, you deserve it!
Fortunately, the stereotypes are finally starting to break down. No longer is nursing considered a women's job but unfortunately, some men in the nursing field still do deal with comments, questions, and criticisms.
Here's a quick video interview with a few men about their careers in the nursing field.