In this increasingly complex and complicated technology era and the rising popularity of smartwatches, there is something quite elegant and refreshing about a classic field watch.
What Is A Field Watch?
By definition, a field watch is a simple military-inspired watch that is designed to tell accurate time without the extra features found on other types of tool watches. Field watches were originally called "trench watches", and were designed for soldiers to wear in WWII.  Field watches are usually made of stainless steel casing with a durable canvas or leather Nato or Zulu strap to prevent losing the watch in the field of battle.

It would seem counterintuitive that basic timepieces could maintain their popularity when they have been made superficially obsolete by smartphones and the like. In reality, though, what makes a field watch so great is that it's the complete opposite of a smartwatch, it's simple.
To understand the modern appeal of a field watch, we'll have to look at their history and how they've adapted – or not adapted – to the times.
The History of the Field Watch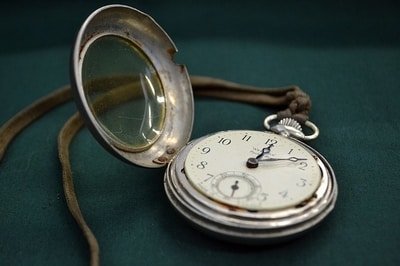 Before the First World War, wristwatches were strictly fashion accessories for women. An example of this is World War I inspired Tank Watch by Cartier.
Watches were considered dainty and unbecoming for a man who would more commonly be seen sporting a pocket watch. As has so often happened in history, though, wartime necessity would lead to a global shift, both in the military and civilian realm.
A watch was an invaluable tool to ensure military precision, but reaching into your pocket to check the time was impractical and potentially deadly during battle. Wristwatches solved this problem. The first wristwatches for those in the military were called "trench" watches because they were worn and marketed toward the men who were literally in the trenches.
While the use of wristwatches by officers was common practice in the military during WWI, it wasn't until WWII that militaries on both sides started making them standard issue. There were numerous types of watches commissioned by the military, though they were all similar, and the most common (at least on the Allied side) was the A-11, a classic example of one of the earliest field watches.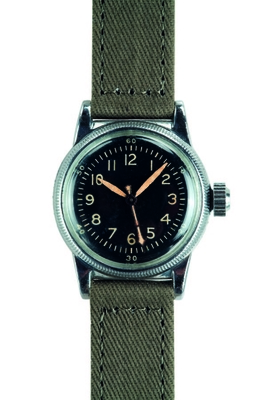 Field Watches Features:
As with all things military, the issued field watches had to meet specific standards in terms of timekeeping reliability and physical durability. In the decades before battery-powered quartz watches upped the expectations for accuracy, the A-11, which only lost or gained 30 seconds a day, was considered very accurate. The A-11 also needed to be dust and waterproof and able to withstand extreme temperature conditions.
There were other qualities that helped make a watch especially useful in the field.
Stainless steel was generally used for the casing, while an adjustable and comfortable leather or canvas strap was standard. Also, the display needed to be readable in all conditions, so the case would be large (though not as large as a pilot watch), and the face was high contrast, usually white numerals on a black background.
It's now been more than a century since the beginning of World War I and the emerging popularity of the basic wristwatch for men. In those 100 years, watches have gained increasingly more sophisticated features while fashion preferences have cycled through dozens of styles. Yet, through it all, the classic, unflashy field watch has remained a popular timepiece among collectors and casual watch wearers alike.
Let's look at four watches that epitomize the field watch in the modern era.
If you like the classic style of a field watch, chances are you already own one that's still ticking. The great thing about field watches is their longevity and complete immunity to changing fashions. For anyone looking to buy another field watch, or maybe your very first, here are some of the best field watches being put on the market today.
Click here to see our list of the best field watches.
Here are some that made the list: 
Hamilton Khaki Field Mechanical Watch


Hamilton has created a beautiful timepiece that genuinely looks like it could have been worn on the battlefields of World War II.
The Khaki Field Watch doesn't throw in unnecessary bells and whistles. It has a stainless steel case, a nylon "NATO" strap, and a high-contrast display that uses large white numerals on a black face and luminescent hands.
If the price seems high for such a basic watch, consider that underneath the simple design is Hamilton's renowned Swiss watchmaking quality.
As we discussed in that link, Hamilton has a long history of making quality watches.  Many of the brands' watches have been featured in Hollywood movies.
This is a classic hand-wound mechanical watch, a true throwback in our modern timekeeping era. The Khaki Field Watch is a timepiece for anyone who enjoys the classics.
Here is a great overview of this watch and its history by well-known Youtuber-horologist The Urban Gentry. There are several different models of
He is referring specifically to Ref. H69419933. Note: the video title mentions it being a $300 watch, but I've never found it that cheap.  You could compare it to the H69439131.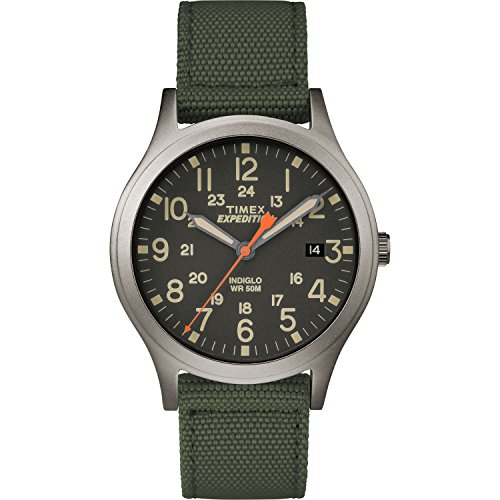 From another American company, Timex, comes a bargain-priced facsimile of a classic field watch, the Expedition Scout.
Timex is known for making good watches at good prices, and this green, quartz analog watch fits the bill, with a nylon strap and large luminescent numbers on a military-green face.
It also includes a date window. If you're just on the search for something simple that doesn't cost a lot of money, this should do the job.
Luminox Aticama Field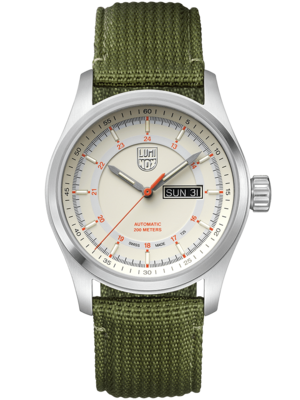 These days, when people talk about military watches, they often mean Luminox.
This US-based company has been commissioned to create durable watches for various military branches, including the Navy SEALS.
These watches are far more advanced than the standard field watches of yore, equipped with all kinds of features intended to help the men and women in the most dangerous situations.
As you can see in the photo, Luminox does an excellent job with the illumination on the hands, which is one of the reasons why more than one of their timepieces ended up on our list of best luminous watches.
The Luminox Aticama Field line includes various watches that are field watch-inspired, albeit with modern twists.
Any list of the Best Luminox Watches will surely include one or more of their field watches.  
Atacama 1929 
The closest to a classic field watch is probably the Atacama 1929. This quartz analog watch comes with a brown leather band and day and date windows. Though the face isn't as high in contrast as a classic field watch, Luminox makes up for this with its patented luminescent face that lights up without a battery or external light source.
With its roots in simpler times (at least in terms of technology), the classic field watch seems poised to remain a popular item for generations to come. You would be wise to keep it in mind the next time you're in the market for a wristwatch.
Bertucci A-2T Original Classic
For a more affordable option, the Bertucci A-2T hits many of the same notes as the Hamilton.
Bertucci is an American watchmaking company that started in 2003, and its focus is entirely on making high-performance field watches.
Manufactured entirely in the U.S. and using a Japanese quartz movement, Bertucci guarantees the durability of their watches, something any field officer would surely appreciate. 
Its titanium case also landed it on our list of best titanium watches here.