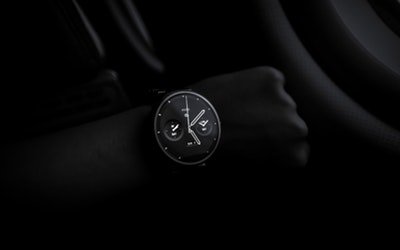 There are various luminous watch materials used today. For instance, those that have the dials painted with a non-harmful coating, those that have embedded glass capsules that produce an instant glow, or those that have LED technology.
Most big brands have their own versions of these watches, so choosing the best one may get a bit confusing. There are simply so many excellent luminous watches in the market to choose from, so this article will try to narrow things down for you. Here are eight of your of the best night watches for that will let you see in the dark easily.
Aside from the different illumination features, some of the other things to be discussed below are durability, style, and price points. We'll also let you in on some of the latest technologies in luminous watches today. While the watches will not be divided into categories, we've included models for different occasions—ie. a watch for everyday use, a watch for the outdoors, a dress watch, and so on.
Best Luminous Watches
Luminox Original Navy Seal

This Swiss-made Lumino has a self-powered illumination technology that allows you to see clearly in the dark.
The original Navy Seal watch comes in various styles but all boast of an exceptional illumination system that is 100 times brighter than other luminous watches available in the market today.
The Luminox is also scratch and water resistant (up to 200 meters, which means that you can use it for recreational swimming and diving) made of mineral crystal, and weighs less than 50z.
What makes this watch unique is that it does not require sunlight to charge the dial and hands. You also do not need to push any button to illuminate it. As mentioned above, it has a state of the art illumination technology that allows it to always remain brightly lit. The watch has tiny gas lights embedded in it called borosilicate glass capsules,  which allows it to glow in the dark instantly.
Luminox Mariner Series 6250

This one's more on the pricey side, but if you are looking for a watch that is both stylish and functional, the Luminox Mariner Series is one that you should definitely consider. The Luminox Mariner diving watch is the best of both worlds: an extremely durable sports watch that's also a stylish dress watch.
Available in stainless steel and black leather straps with black or red stitching, this series has the famous Tritium Illumination that's excellent for night viewing. This is an illumination system on the hands an hours that neither needs any natural light source nor requires a press of a button to illuminate—and stays this way for decades without having to recharge.
Having military specs, another unique feature of the Mariner 6250 is the water resistance of up to 200 feet, making it a great choice for water sports. In addition, the Swiss-made Quartz movement is powered by a lithium battery that will last you about a decade.
Luminox is known for being extremely durable, their watches are worn by special forces including watches designed specifically for the US Navy SEALs, so this one is sure to last you a long time too.
F-117 Nighthawk 6400 Series

Luminox created the F-117 Nighthawk 6400 Series after they were commissioned by military pilots to make a design that they can use for flying. This model boasts of a self-powered illumination, one of its most well-known features, that lets the user easily view the time even in extremely dim lighting situations. There is no need to press any buttons, too.
Paying homage to an important jet in aviation history, this analog, Swiss-made model is made of stainless steel so it's guaranteed durable and has an anti-reflective sapphire crystal that's both functional and stylish. This one has a water resistance of up to 200 feet and is powered by an analog-quartz movement.
The downside: this watch delivers brilliantly in illumination, durability, and style, but it's not cheap. If you're looking for a relatively affordable luminous watch (priced around $300 and below), this is not the one for you!
Seiko SRPB55 Men's Black Ion

The next watch on the list is the Seiko Men's SRPB55.
Japanese brand Seiko is another name to look out for if you're investing on a night watch.
The company has the Lumibrite technology, which is basically a non-radioactive (and 100% safe) luminous paint/coating that gets its energy from sunlight and other sources of light and stores it in the watch. The result is a luminescent watch that will let you check the time clearly anytime when you're in the dark.
Around 10 minutes of exposure to sunlight allows the Seiko Lumibrite watch to stay illuminated for up to five hours.
This watch also has an interesting history. The paint technology was discovered by Kenzo Nemoto, who sold the technology to the military during the war. At this point, it was being used as paint for aircraft and submarines. He then came up with the idea to expand its use to households, approaching the Seiko company to let him apply the paint to their clock dials. He took Seiko clocks and applied the luminous paint in his home workshop. The rest is history, with the technology still being used today.
There are different categories of Seiko Lumibrite watches. The video below shows a side-by-side performance test. As you can see, the Seiko does quite
The Seiko manages to maintain a bright dial and comes in 2nd after the Oris dive watch, which is very respectable, especially since it costs about a thousand more than the Seiko.
The actual Seiko model in this test is the Seiko Automatic Analogue SKX007K. This is another Luminous Seiko and more affordable (retailing for about half the retail price of the Seiko SRPB55)- so its another watch worth a closer look. 

The Seiko SRPB55 from the brand's Prospex collection is a dive watch that has this technology. Aside from the luminous hands, it's also that is water resistant up to 200 meters, Quartz movement, and a power reserve of 41 hours. The black silicone strap and the black ion plated stainless steel combine sleekness and durability.
Citizen Men's Eco-Drive Navihawk

The Citizen Eco-Drive Navihawk watch is made of a polyurethane strap and has a fold-over clasp that has a hidden double-push button, stainless steel case, an anti-reflective mineral crystal. It's also water resistant for up to 200 meters.
The design is clearly a lot more complicated than the rest of the watches on this list, but it's because it has a lot of functions such as a frequency scale, a reception stand-by scale, universal coordinated time display, 1/100-second chronographs, luminous markers, and digital information display.
One of the issues that one may encounter with this watch is the size. If you have a small wrist, this may not be the best choice for you. If you, however, are looking for a luminous watch with about a dozen other features (such as being able to tell the time in 43 different cities and a 99-minute countdown timer), this one will definitely deliver.
Casio Pro Trek PRW-6000 Series

Casio has a wide range of watches perfect for night use. The Casio Men's Pro Trek PRW-6000Y is a radio-controlled watch that's excellent for users who will be using the device in an outdoor setting.
This Pro Trek model is a solar watch, which means you won't have to spend on the batteries. It has an auto illuminator which adjusts to the person wearing it—when you tilt it in front of you to check the time, for instance, it will automatically switch on the backlight, which will make it easy for you to read in any lighting condition.
One of the best outdoor-friendly features of this watch is the ABC feature: the altimeter, barometer, and compass. 
We discussed these watch features in detail in our Skiing and Snowboarding Watch Guide and Casio also made that list with one of the Pathfinder models.
There is a pressure sensor that displays your altitude and barometric pressure instantly, and the digital compass automatically detects magnetic north. Other features include a built-in temperature sensor, a countdown timer, and world time. The scratch-resistant crystal lens and the resin bracelet do not only look stylish–they are extremely durable as well.
If you're looking for a durable outdoor luminous watch, this is an excellent model to consider. Price: this Casio Pro Trek comes is mid-range for a quality luminous watch, about twice the price of the Seiko and Citizen watches listed above but about half the price of Luminox Nighthawk- so about right in the middle
Mondaine Men's Night Vision

If you prefer an elegant and sleek model over the more military looking watches above, the Swiss-made Mondaine Men's Night Vision Watch is our top recommendation.
With its leather strap and stainless steel material, with Mondaine BackLight Technology has a long-lasting self-powered illumination that glows continuously for decades without needing batteries or exposure to light for charging.
Like one of the models mentioned above, this model has small tritium gas tubes on the hands, which are filled with a radioactive compound (no need to worry–it's 100% safe).
This natural glow and will last you for more than two decades. Unlike most of the models we've mentioned so far, however, this one has a much simpler look.
One of the possible downsides is that this is water resistance up to only 100 feet, which is just half of most brands on this list. If you're not doing too much water activities, and you'd like an everyday classic and utilitarian watch that is excellent for using at night too, however, this will be a great choice.
Victorinox Swiss Army Night Vision Watch

The Victorinox Swiss Army Night Vision Watch Collection is strikingly visible during both day and night, thanks to the brand's state-of-the-art LED lighting.
This analog Swiss model is known for its Night Vision features and security. The Dial Illumination Mode is activated by pushing a button that activates the LED light for six seconds (this can be deactivated by pressing the button again). There is also an Extended Light Mode (that lets the light stay for two minutes), which requires two pushes on the button.
There is also an SOS mode, which is activated by doing three quick pushes of the button. This will cause the white LED light of the watch to strobe for 150 pulses per minute. This will run for two minutes but can be deactivated by simply pushing the button once. If you will need to do a more intense SOS signal, the watch also boasts of an even brighter option which can run for five seconds.
To top it all off, this model has a Locator Mode, also known as the End of Life or EOL mode located on the 6 o'clock mark. The red LED locator beacon blinks once every 1 second, which will allow you to find your watch easily. The locator beacon will flash three times every 10 seconds if the batteries need to be charged.
If you're looking for a night watch that has comprehensive lighting features, this is one of your best bet.
Conclusion: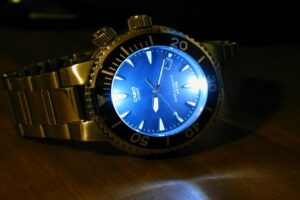 For the more adventurous and another for those who are looking for a luminous watch that can be worn every day.
The classic design and affordable price of the Seiko SRPB55 watch make it an excellent choice for those looking for a simple look and long-lasting illumination.  
If you, however, are going to use the watch for outdoor activities on the regular, the Casio Pro Trek PRW-6000 solar watch has everything you need and more–from the essential outdoor ABCs (altimeter, barometer, and compass) to the auto illuminating feature. All things considered, the price is very reasonable.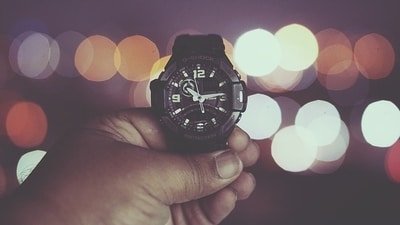 We hope this guide has been useful as you research your next watch purchase.
While all of these watches have some of the best illumination features in the market today, they cater to different lifestyles.
Know that expensive does not always mean best—ask yourself if the extra features will be utilized, see if you're capable of operating it, and try them on if you have the chance. This is an investment worth looking into very closely.