In the 1970s, Asian watch manufacturers began making major waves in the industry. This was in large part due to the Quartz Revolution (aka the Quartz Crisis in Switzerland), where the proliferation of quartz, battery-powered watches dramatically changed the watchmaking landscape. No longer were European watchmakers the center of the timekeeping universe.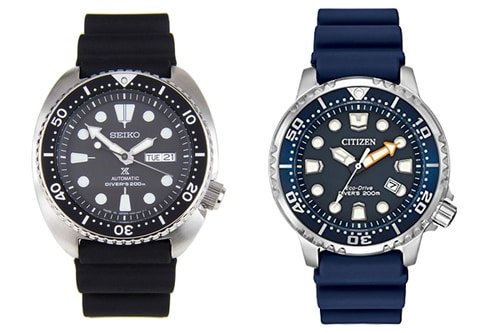 In the decades since quartz watches became popular, two Japanese brands have chiseled out a considerable chunk of the market: Seiko and Citizen. On the surface, there are a lot of similarities between the two companies, even beyond their country of origin. Yet, in reality, the brands and their watches have considerable differences.
Here's everything you need to know about Seiko and Citizen watches.
The History of Seiko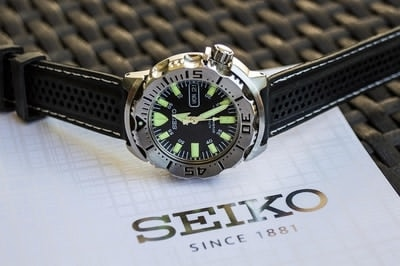 Seiko's roots go all the way back to 1881 when a man named Kintarō Hattori opened a watch and jewelry shop in Toyko, Japan. Starting in 1892, Hattori began creating clocks under the name Seikosha, which by 1924 would grow into a watchmaking company named Seiko. Seiko is Japanese for "exquisite" or "success"; clearly, Hattori had grand ambitions for his company from the very beginning.
The company would do steady business for a few decades before it helped change the watchmaking game in 1969 by releasing the first quartz wristwatch for public consumption: the Seiko Quartz-Astron 35SQ. Those watches sold for $1250 (about $8500 in today's dollars).
It would be a few years before the quartz watch became affordable enough to become a product for the average person, but the Astron was the first shot in a revolution.
The 1970s saw great upheaval in the watchmaking world, with the prestigious Swiss watchmakers thrown into panic. As the technology became simpler to reproduce, quartz watches, which relied on a battery instead of winding mechanisms (like mechanical watches), dropped in price and the buying public turned to them en masse.
In the 1980s, the traditional watchmaking powerhouses, particularly those in Switzerland, managed to find their footing again and re-established themselves as creators of the finest luxury watches. Nonetheless, Seiko had helped usher in an era of cheaper, everyday wear wristwatches and became one of the prominent global watch brands.
The History of Citizen Watches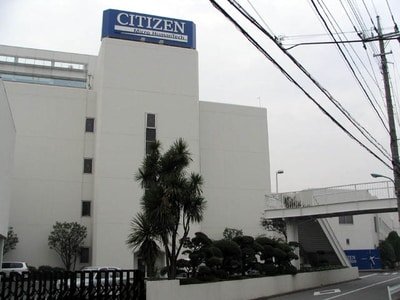 Compared to Seiko, Citizen's history is shorter and less dramatic. Co-founded by both Japanese and Swiss investors in 1930, Citizen was initially registered in Switzerland in 1918 by Swiss watchmaker, Rodolph Schmid. In the 100 years since that registration, the company has been especially focused on innovating and creating sustainable watches.
Many of their watches are solar-powered, but the company's greatest claim to innovative fame is the creation of the first multi-band atomic timekeeping watch in 1993. An atomic watch receives a signal from one of the atomic clocks – the most accurate clocks ever made – located around the globe. An atomic watch will lose less than one second in 100,000 years (compare that to many quartz watches that lose a second in the period of months or even weeks).
Since the Quartz Revolution, Citizen has grown into one of the largest watchmakers in the world.
Though their main manufacturing arm is in Japan, many of their watches can technically claim to have "Swiss movement" and can accurately be described as Swiss-made. In addition to the Citizen watch line, the Citizen Watch Co is the parent company of American watchmakers, Bulova.
Which Watches Are Better: Seiko or Citizen?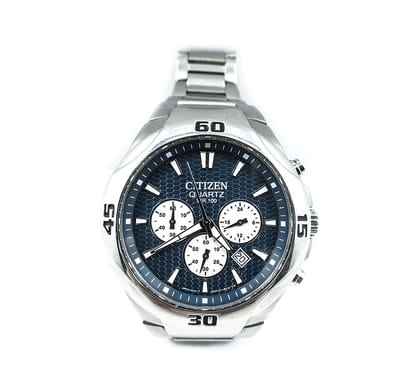 A direct comparison of the two brands is difficult for a myriad of reasons.
First, they both have an extensive line of watches with differing series and styles. Secondly, the lines of both companies run from complex, function-heavy watches at high price points to cheaper fashion watches. Beyond those factors, both companies have their fans and detractors, so finding unbiased critiques is difficult.
Answering the question of which company is better also depends on what you, the consumer, are looking for in a watch. For instance, even though Seiko is known for kickstarting the Quartz Revolution, they still produce a considerable amount of mechanical watches.
Citizen, by contrast, is far more focused on quartz watches.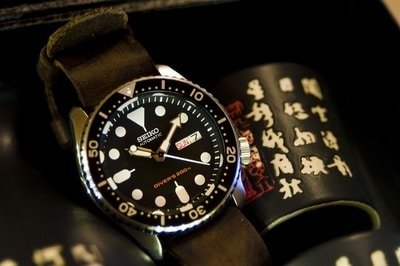 Stylistically, also, Seiko tends to go for more classic looks while Citizen has embraced a creative, even experimental style. Being the older company, it seems that Seiko is really looking to establish its reputation by deliberately creating a connection to the past.
Citizen, on the other hand, puts more emphasis on modern technology. This is underlined by the fact that Citizen embraced solar-power technology in their watch lines much earlier and stronger than Seiko.
In terms of sales, Citizen appears to be the winner, having saturated the market more thoroughly than Seiko, but the difference isn't huge.
For most watch aficionados, the two brands share a similar reputation: quality watches that are neither flashy nor too expensive. For all these reasons, the best way to compare the companies is with a head-to-head comparison of their equivalent watches.
Top Sellers for Seiko and Citizen
The best place to start is by comparing a couple of the top-selling watches of Seiko and Citizen.
That would pit the Seiko Men's SNK805 Seiko 5 Automatic Watch against the Citizen Men's BM8180-03E.
These are both analog watches with a day and date window and nylon straps. They each have a stripped-back look that places elegance of design over extra features. Other similarities include a green, military-inspired look, stainless steel bezels, and identical bandwidths
Seiko 5 (check Price & Read Amazon Reviews)
Citizen BM8180-03E (Check on Amazon)
Because the two watches compete against each other and have similar features, the two watches are very competitively priced. Click links to see current prices on Amazon.
On the surface, these watches are very similar, which explains why they would lead up the pack for each respective company.
There are differences, though, that is made apparent when we look beyond the surface.
One main difference is that the Seiko watch is an automatic mechanical watch while the Citizen is a Japanese quartz watch.
A battery-powered watch is generally more accurate than a mechanical watch, though the automatic watch uses the natural movement of the wearer to maintain relative timekeeping accuracy.
The Citizen case is 1.5 mm thinner than the Seiko watch, which makes sense because automatic watches require more movable parts. The Citizen watch is also water-resistant up to 330 feet, while the Seiko is only up to 99 feet. The Citizen also utilizes luminosity for the hands to make it easier to read in the dark.
One other feature that can be found in the Citizen watch (and in most of their watches) but not in this particular Seiko is a solar-powered battery.
If you want a more in-depth look at Seiko, we've come up with our own list of Best Seiko Watches with recommendations for every budget and style and here we have a similar article with our picks for Top Citizen Watches.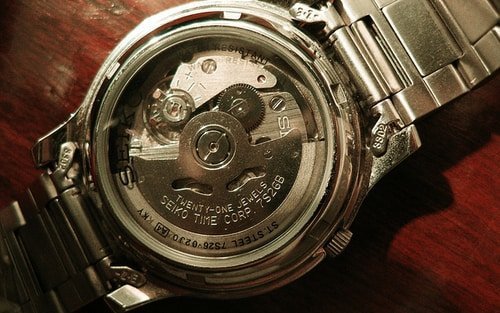 Solar-Powered Watches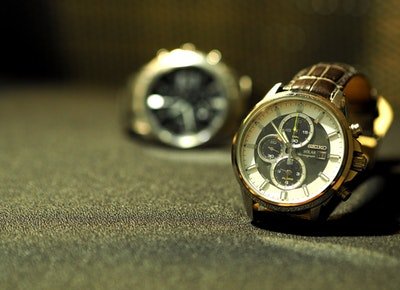 As discussed above, Citizen watches are generally quartz while Seiko mostly produces mechanical watches. For this reason, Citizen has been leading the way with solar-powered watches.
Both companies sell watches with solar-powered batteries, but in this particular area, Citizen is well ahead of Seiko.
Citizen calls its solar power technology Eco-Drive and you will find it in almost all of their best selling watches. This solar-powered technology means the titanium lithium battery inside lasts longer and doesn't need to be replaced. In fact, even after 20 years of use, the battery should retain up to 80% of its recharging capabilities.
Seiko's own quartz division includes the Seiko Solar. Unlike the Eco-Drive, which is found across the various Citizen watch lines, Seiko Solar is limited to a specific line of watches and a few of their premiere watches. Seiko made their first solar-powered watch in 1977, a year after Eco-Drive was first released.
In terms of actual technology, the difference between the Eco-Drive and Seiko Solar is fairly negligible. How do the two brands eco-friendly watches matchup in a head-to-head comparison, though?
Citizen Eco-Drive vs Seiko Solar
Since the Eco-Drive is used far more extensively than the Seiko Solar technology, narrowing down to one watch for the comparison is a little harder. For that reason, we will look at a couple of watches that represent two of the most functional watches in the lines of each company.
If you want a more in-depth list, see our top picks for best solar-powered watches here. As you might expect, several on the list are made by Seiko and Citizen.
Citizen's Eco-Drive Promaster Navihawk Satellite GPS Watch is chock full of special features. The Promaster series covers a range of watches that include dive watches and all-terrain watches. This particular Navihawk Satellite GPS has features specifically designed for pilots.
For comparison, there is the Seiko Solar SS Chronograph GPS Watch (see its current Amazon price here). Seiko makes numerous Solar GPS watches, including a wide range of Astron watches (as you'll recall, the Astron was the first quartz watch). This SS Chronograph is also in the Astron line.
Let's start with the similarities. They are both solar-powered, stainless steel analog watches. The face on each is crystal and the case on both is large: 44.6 mm on Seiko and 47 mm on the Citizen.
The GPS on both watches lets the watch automatically update the time based on the time zone you are in. They both also include a chronograph function and luminous hands.
The Seiko watch has a few extra features that explain its higher price point, including atomic timekeeping and a tachymeter. Despite being atomic and solar-powered, the movement is still automatic, whereas the Citizen is Japanese quartz. The display of the Citizen is busier than the Seiko, though they both include three extra dials and a date window in the face. Both watches have readings for all world time zones.
The Citizen watch does outpace the Seiko in terms of water resistance – up to 660 feet compared to Seiko's 330 – and a pilot's rotating slide rule bezel. Otherwise, the watches are remarkably similar, even down to their bands' widths. Perhaps because of its cheaper price tag, the Citizen watch has far more reviews on Amazon, suggesting it sells better than the Seiko.
Women's Seiko and Citizen Watches
Another point of comparison is in the two companies' lines of women's watches.
Let's look at two that cost roughly the same price.
For Seiko, there is the SXDG58P1 Ladies Casual Watch: see what it is on Amazon now). And from Citizen, there is the Chandler FB2003-05A Eco-Drive: see the current price on Amazon).
Seiko's ladies' analog watch is silver and white with gold and diamond accents. It uses a quartz battery that has a three-year life. It is water-resistant up to 330 feet and includes a date window. Other than that, this is a very simple, stainless steel watch. The case is 28 mm in diameter and seven mm thick.
The Citizen watch isn't as flashy but still has a quiet elegance. The face is white, the band is a salmon hue, and the case is rose gold. It's a bigger watch, with a 39 mm by 12 mm case. It also has a quartz movement, but it uses the Eco-Drive for much longer and more reliable battery life. The face includes a date window and two extra dials, including a chronograph. Other than that, like the Seiko watch, the Chandler is mostly understated.
They are both fashion watches with a decidedly feminine style. Just based on performance and functionality, the Citizen watch offers more for a lower price, but neither watch is particularly expensive and the quartz movement means they'll both be reliable.
See our favorite Ladies Citizen watches here and our top Seiko Watches for Women here.
Is Seiko or Citizen More Popular?
Despite the similarity between the two brands in terms of country of origin and array of styles, it's pretty clear that Citizen is enjoying greater sales and a wider reach.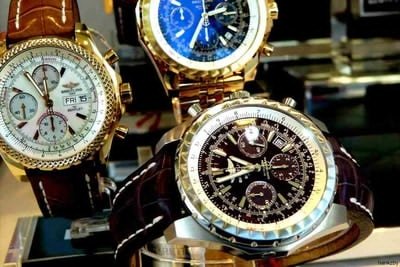 When searching for Seiko watches, you'll often find that the major retailers aren't carrying them and that you either have to buy directly from Seiko or through specialty watch dealers. Now, that isn't unusual, especially for luxury watch brands like Rolex or TAG Heuer.
The problem is, Seiko isn't a luxury watch brand and their clientele is more than likely to search Amazon or another major retailer than a specialty shop.
Citizen, by contrast, is making their presence felt throughout the watching retailing world. Part of that saturation is their focus on their Eco-Drive technology. In addition to being environmentally friendly and more reliable, solar technology solves one of the biggest annoyances with wristwatches: changing the batteries.
The varying qualities of each brand's watches are hard to quantify, but in terms of value for your dollar, Citizen generally has the lead. For anyone who is specifically in the market for a mechanical watch, Seiko definitely has a lot to offer. For everyone else, Citizen's future-minded watch designs will probably be the more enticing draw.
Click here to read more about why the US market really didn't know Seiko until the Vietnam War...
Your Vote?
Do you have a clear favorite between these two watch brands? Maybe this overview helped clarify things for you or just made the choice even harder. Here's a quick poll, leave your vote to see how it stacks up against our other readers.
[crowdsignal poll=10566085]
Who Rules The Streets of Japan? Seiko or Citizen