Citizen has been around for over 100 years. Founded by Japanese and Swiss investors and currently based in Tokyo, the company is one of today's most popular watchmakers.
If you're thinking about buying your first Citizen, or simply want to upgrade to a new model, here are some of our top picks for this year. Below, we'll feature models that will suit different needs, and include different styles and price points—from dress watches to models you can wear to work daily, from dive to pilot watches.
Before we begin with the reviews, let us introduce you to one of the best things that Citizen is known for. You will notice that all of the watches below have the Eco-Drive feature, a revolutionary technology. We've included everything from Citizen dive watches and pilot watches to elegant dress watches and more casual options so there should be something for everyone on the list.
Quick Picks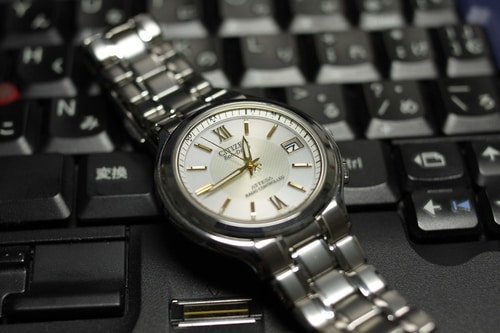 Best Citizen Watches for Men
Here are the best Men's Citizen watches on the market today.
Citizen Eco-Drive Promaster Diver
Read Amazon Reviews | See on eBay
Citizen has an impressive line of dive watches. The Eco-Drive Promaster watch is a sporty diver's watch that's water-resistant up to 300m and has a stainless steel case with a rubber band.
This is a big watch, having a case diameter of 48mm, which is perfect for divers, and will look great on big wrists. It also has a non-reflective curved crystal which is used for gas diving, as well as luminous accents. It also has a strap extender that allows divers to wear it over a wet suit.
You will notice that the crown, which is normally placed at 3 o'clock, is on the opposite side of the case. This crown on the left made it one of our top picks for left-handed "Destro" watches, the placement of the crown makes it practical for lefties that normally wear watches on their right wrist (non-dominant hand).
Citizen Eco-Drive Stainless Steel Watch
Read Amazon Reviews | See on eBay
The Citizen Eco-Drive stainless steel watch is a crowd favorite. Its simplicity, design, and affordability are some of the reasons why it's so popular.
The design is neat and simple, having an analog display with bold white numerals on a black dial and a day/date window at three o'clock. It has a rugged look, having a stitched canvas band (which will allow you to easily change it up with different NATO straps).
This is an affordable field watch (read more about our field watch feature here). If you're looking for something simple; an everyday watch that can go well with different outfits, this is something that you should definitely check out.
Citizen Men's Promaster Professional Diver
Read Amazon Reviews | See on eBay
Sporty and handsome, this Citizen Promaster watch is another option that you can consider if you're looking for a dive watch that won't break the bank.
This ISO-certified 48mm watch, which made our list of Best Dive Watches under $500, has a stainless steel case, a blue dial, an anti-reflective mineral crystal, and a one-way rotating bezel. The screw-down crown is at 4 o'clock, and the strap is a molded polyurethane.
This watch has received a lot of good reviews on readability. Many users are saying that the bold hands and numbers against the blue face make it very easy to see. The luminosity is also long-lasting. These features make it an excellent dive watch.
One of the things that many owners of this watch have pointed out is the box that came with the watch. The packaging is a mini scuba tank with the watch inside of it. This might seem a very minor thing, but it's something that would definitely come in handy if you're giving this watch as a present—the added fun packaging will surely be appreciated.
Citizen Eco-Drive Promaster Nighthawk Dual Time Watch (BJ7000-52E)
The highly detailed aesthetics and features of the Citizen Promaster Nighthawk Dual Time exude an attractive professional look. The watch's elements are there to accommodate the needs of a pilot and aviator. The style points that the Citizen Promaster puts it in on a league of its own.
The Citizen Promaster Nighthawk is surprisingly compact, considering it comes with a sleek 42mm stainless steel case. As stated earlier, the Promaster Nighthawk has an excellent array of features such as dual-time display, date window, and a pilot's slide rule within the inner rim.
This timepiece also has the Citizen's signature Eco-Drive equipped, which can recharge itself via natural and artificial light. Other notable features include a low-power warning, luminous hands and hour markers, and 200-meter water resistance.
As for precision, the Citizen Eco-Drive Promaster Nighthawk utilizes a Japanese quartz movement with an analog dial display.
Citizen Eco-Drive Super Titanium PCAT Chronograph Watch (CB5908-57E)

The Citizen Eco-Drive PCAT Chronograph features an impressive level of precision thanks to its atomic timekeeping technology. This watch technology allows the PCAT Chrono to automatically sync with any of the 43 city time zones, making it a suitable timepiece for pilots.
The Citizen PCAT also comes with a slew of functionalities that make it a highly viable option for travelers, pilots, and aviators. These features include a chronograph, perpetual calendar, GMT (43 cities), 12/24-hour format, alarm, date display, and a power reserve indicator.
The watch also uses Eco-Drive technology which eliminates the need for batteries. As with all Citizen watches, you can get a 5-year warranty if you make your purchase from an official retailer. We highly suggest you do so to take advantage of the benefits that Citizen offers its customers.
If you are looking for the complete set of PCAT Chrono variations, might we direct you here to see all four models of this fantastic Citizen timepiece?
Citizen Eco-Drive Satellite Wave GPS Freedom Watch (CC3038-51E)

The super-sleek style of the Citizen Satellite Wave Freedom Watch is undoubtedly one of its best traits. The black with blue accent aesthetics of the Satellite Wave GPS Freedom is quite bold and truly highlights its modern functionalities.
The Satellite Wave GPS Freedom has a 44mm black ion-plated stainless-steel case. As stated earlier, the blue accents accentuate the black dial. A black stainless-steel bracelet perfectly accompanies the black case with a tri-fold clasp for optimum security.
As for features, this Citizen timepiece utilizes a quartz movement that operates its analog dial display and its GPS functionalities. This watch supports up to 27 city time zones and is structured to provide up to 100-meters of water resistance.
The case also uses a durable and scratch-resistant sapphire crystal with an anti-glare finish. The dial also comes with a power reserve indicator that complements the Eco-Drive technology nicely.
You can also check out the red and green accent variants here at Citizen's official website. These two variants unquestionably come with a charm of their own that you might want to check out as well.
Citizen Eco-Drive Axiom
Check Price on Amazon | See on eBay
The Citizen Eco-Drive stainless steel Axiom watch is for minimalists. This watch, which has a black case and silver dial, has a single 12 o'clock marker and a date window at 3 o'clock, and nothing else.
This watch has both men's and women's sizes, but here we're featuring the former. The clean design and stainless steel band would make it a great everyday or dress watch. Take note, however, that this is only water-resistant up to 30m, so it's best if you don't take it swimming with you.
The Axiom line has a lot of different models to choose from. For instance, there is a stainless steel black or this bracelet/bangle type that has two Swarovski crystals. Check out this page to see the different styles.
This is a great alternative to other minimalist watches like the popular Movado Museum Watch, which could be two or three times more expensive.
Citizen Captain America (AW1367-05W)
Read Amazon Reviews | See on Citizen
For comic book fans, have we got a treat for you! The Citizen Captain America watch features a silhouette of 'The Man' himself, Stan Lee, and a signature over on the dial. The watch features a black ion-plated stainless steel case with gold accents making it quite classy as well.
This Citizen watch is also a limited-edition timepiece from Citizen, with only 1,922 (Stan Lee was born on December 28, 1922). As for features, the Citizen Captain America also utilizes the Eco-Drive technology and comes with a 5-year manufacturer's warranty.
This particular timepiece is relatively simple when it comes to its functionality. However, if you are a fan of superheroes and comic books, this is a definite must-have addition to your collection. Check out other Marvel watches here.
Citizen Eco-Drive Thin Red Line Chronograph Watch (CA0299-57E)
A watch designed for firefighters and first responders; you can expect the Citizen Thin Red Line to be highly reliable on every occasion. The Thin Red Line Chrono comes with a 42mm stainless steel case and bracelet with a fold-over clasp for optimum durability.
As this is a timepiece designed for firefighters and paramedics, you can also expect to utilize a slew of features and functionalities. The watch comes with a 1/5 second chronograph, 12/24-hour time format, a tachymeter scale, and a date display.
The Thin Red Line Chrono build is also pretty impressive and comes with a solid heft when worn. The dial uses a sturdy mineral crystal window for protection, and the case itself features a 200-meter water resistance rating.
The watch also comes with Citizen's signature Eco-Drive technology and packs an outstanding 210-day power reserve. You can go to the manufacturer's official website to know more about this imposing Citizen first responder watch line.
Citizen Eco-Drive Quartz Titanium
Read Amazon Reviews | See on eBay
One of the best features of this next watch is its lightness. If you're looking for a titanium and stainless steel watch that's not too heavy, this is the model that you should check out.
The Citizen Men's Quartz Titanium is a watch that looks excellent with casual and formal wear, so you can practically wear it every day. Some of the best features of this watch include a Super Titanium case and the sleek cerulean blue dial.
This is the Brycen model, and is 40% lighter than stainless steel, and is also five times stronger and harder to resist scratches. The case is 42mm, and this is water-resistant to 100m. Take note that the bezel is stationary.
If you think that the Brycen is not for you, there are many other models to choose from under
Citizen's Titanium family. Check out Citizen's page for other models with different features and price points.
Citizen Eco-Drive Avion
Check Price on Amazon | See on eBay
Perfect for those who like a vintage pilot-style watch, check out Citizen Avion, which is what Citizen refers to as a "timepiece reminiscent of transatlantic flights from the 1950s."
Rugged and sleek, this stainless steel watch has a handsome brown leather strap with contrast stitching, a 1/5 second chronograph (which measures up to 60 minutes), and a 12/24 hour time and date. The numerals are bold and the markers are thick, so you will be able to easily see the time. The leather strap can go with casual and formal outfits, but you can also use NATO straps if you want to change things up.
If you're looking for a men's watch that you can wear on all occasions, this is something that is worth checking out. This is a 45mm, so it will look excellent on bigger wrists.
This is a Flieger style watch, which is a type of design inspired by World War II pilot's watches: bold numbers, easy to read, and accurate.
Citizen Eco-Drive Paradex
Check Price on Amazon | See on eBay
The Citizen Paradex 42mm Eco-Drive watch is a bit more formal than the rest of the watches we've featured so far. It has a mesh bracelet band that has a sleek gray dial and rose gold hands and markers, making it a great dress watch.
This Citizen analog watch delivers both in looks and functionality. A lot of customers who have purchased this watch have expressed satisfaction over the attractive mesh band that's simple yet elegant, making the watch stand out even more.
If you're a fan of the Breitling mesh band watch designs (such as the Superocean Heritage II with a mesh band, which costs thousands of dollars), this could be a good alternative.
This one has a scratch-resistant mineral crystal, a tachymeter on the outer rim, a date window at 3 o'clock, and has a 1/5 second chronograph that measures up to 60 minutes. You can also take this to the shower or some light swimming, as it's water-resistant up to 100m.
Citizen Eco-Drive Titanium Chronograph
Read Amazon Reviews | See on eBay
The Citizen Paradigm is an Eco-Drive titanium chronograph that measures up to 60 minutes. This all-black watch has a 12/24 hour time, a date window at 3 o'clock, and luminous hands and markers.
Great for both daily and leisurewear, the Paradigm's design with a 42mm black ion plate is rugged but sophisticated; a sporty-looking watch that you can also wear to work. Some of the other features include a push-button deployment clasp, a water resistance up to 100 meters, and a unidirectional bezel. This watch also has a low charge indicator, which allows the watch to go into power-saving mode to reserve the charge when there's no light present.
Many users continue to rave about its lightness compared to other brands made of similar materials, as well as its durability (many reviews point out that the sapphire crystal makes it very difficult to scratch). The titanium strap, however, is not as durable as models that are made of stainless steel.
Citizen Eco-Drive with Sapphire Crystal
Check Price on Amazon | See on eBay
If a simple and elegant watch is what you're after, check out the gold-toned Citizen's Corso.
Made up of gold-tone stainless steel with gold-tone accents, this 42mm timepiece has a striking black dial, sapphire crystal, a date window at 3 o'clock, and a fold-over clasp with push buttons.
This is a handsome dress watch that has a classic design perfect for those who like to mix up different outfits. Many customers are saying that they have received a lot of compliments on the design, and one of the most common feedback from users of this watch is how "expensive" it looks.
Citizen Blue Angels Stainless Steel
Read Amazon Reviews | See on eBay
Moving on to something that's packed with functions—the Citizen Blue Angels Eco-Drive watch (this also made our list of Best Pilot Watches Under $500).
This watch has a number of characteristics that go very well together: sporty-looking because of the yellow accents, handsome because of the silver-tone stainless steel case, and the sapphire dial window. One look at this watch and you can tell that it's packed with many different features.
This is the 43mm Blue Angels edition of the Citizen Eco-Drive Radio-Controlled Chronograph World Timer—stainless steel with a non-reflective sapphire crystal, sleep blue ion plating, and leather strap. It boasts of accurate atomic time in 26 world cities, a 1/20 second chronograph (up to 60 minutes), and a perpetual calendar. This is also water-resistant up to 200m.
This is also perfect for those who travel a lot. The watch makes it easy to change time zones. The radio control feature allows the watch to adjust the time automatically.
As the name suggests, this special edition watch is an homage to the Blue Angels, the elite flight squadron of the United States Navy. Fans of the Blue Angels would also love the case back detail, which has the group's emblem.
Citizen Eco-Drive Promaster Navihawk
Check Price on Amazon | See on eBay
Another impressive timepiece from Citizen's Promaster collection is the Eco-Drive Promaster Navihawk Satellite GPS watch.
Like the previous watch, this 47mm watch is great for pilots, or simply anyone who travels a lot. This model has synchronized time adjustments in dozens of cities all over the world.
Take a closer look at the features here
Some of the best features include an accurate GPS function, a perpetual calendar, a power reserve indicator, a daylight savings time function, and a 200m water resistance.
One of the most common feedback from users is the watch is a bit heavier than previous Navihawk releases. This one is made of stainless steel, as compared to the more lightweight 2015 model with lighter titanium material. Other than this, however, the watch continues to receive rave reviews for its excellent design and accuracy.
Citizen Super Titanium Satellite Wave GPS F950
When it comes to premium timepieces, Citizen certainly knows how to infuse sophistication with complex functionality quite nicely. The Citizen Super Titanium Satellite Wave GPS is a limited-edition model with only 550 pieces manufactured worldwide.
This Satellite Wave GPS model features a 48mm titanium case which should enhance its overall lightweight construction. The dial makes full use of its rose gold-tone accents which gives the timepiece a superbly elegant appeal.
You can expect chronograph functionality, dual time zones, perpetual calendar, daylight savings time, world time (27 cities and 40 time zones), power reserve, and light level indicator in terms of features. With its sharp style, we highly recommend the Super Titanium limited edition for watch collectors.
Classic Citizen Watch | Photo Credit: Ty Konzak
Buying Guide: What is Citizen Eco-Drive Technology?
The company invented the Eco-Drive technology in 1976, and today, all new Citizen watches employ this feature. Simply put, this means that the watches do not need regular winding and batteries.
According to Citizen: "This technology, now known as "ECO-DRIVE," can generate power from any light source — artificial, natural, and even dim light — to keep watches running without ever replacing batteries."
This is one of the best things about the brand. The watches we're featuring below are all solar-powered.
This is what made a lot of customers choose Citizen over others—not needing to change the batteries is not only convenient but good for the environment as well. Citizen and Seiko are often compared to each other, in part because they are leading brands when it comes to making the best solar watch technology.