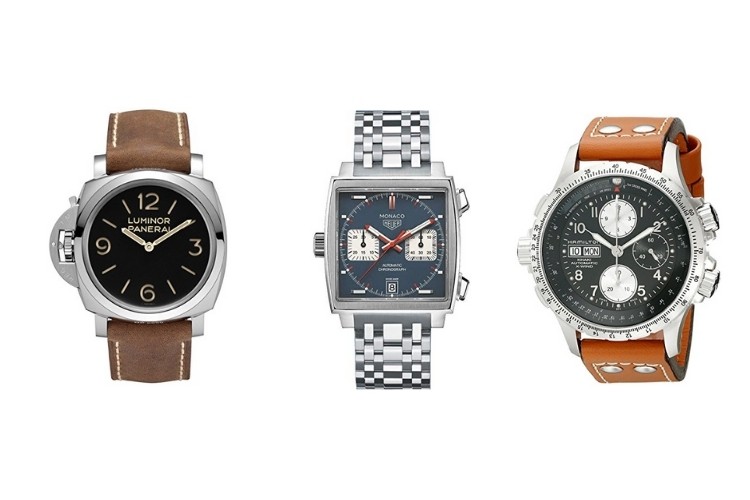 Lefties have always been a minority of the population. As such, most of the available things in the market are designed for the right-handed – from notebooks and desks to cooking tools, gadgets and certainly even watches. You might even be surprised to know that there is such a thing as watches for the southpaws.
Although there is no set rule about wearing a watch on the left or right wrist, most people tend to do so in their non-dominant hand: righties on their left, lefties on their right hand.
With this in mind, designers commonly place the watch's crown (the small knob used in setting the time, and other buttons) on the right side of the watch face.
Why put the watch crown on the left side? Leftie watches have the push buttons and crown moved to the left side of the watch so that the user can wear the watch on their RIGHT hand and still conveniently access the settings with their left hand.
Because these watches are designed to be worn on your right hand, you may also see Left-handed watches advertised as "Destro Watches" ("destro" means right in Italian).
See our top picks below:
Best Left-handed Watches For Men
Citizen Eco-Drive Promaster (BJ8050-08E): Best Overall Value For Lefties

At first look, this watch may seem rather ordinary but its features will prove that it's worth your every penny. With water-resistant to 1000 ft (300 m), this practical dive watch also makes a bold fashion statement with its thick sword hands and oversized numbers on the bezel. Brightly-lumed hour markers and hands make it easy to read and the black rubber strap is durable.
If you have the budget to allow for it, the Citizen Eco-Drive Men's Promaster would be a considerable upgrade.



The Eco-Drive technology of these watches boasts that these models no longer need any batteries since they are fueled by light.
Both of these Citizen watches feature stainless steel case (48mm for the sports watch and 53mm for the Promaster), mineral dial window, Japanese quartz movement, rubber bands, and buckle closure to ensure durability.
Another determining feature of the Sports Watch is that its water-resistant is up to 1,000 feet while the Postmaster is resistant up to 660 feet.
Budget picks: Invicta Men's "Force Collection"

If you are a leftie on a tighter budget, then this watch from Invicta Force Collection is worth taking a closer look at.
Invicta 2771 is Japanese quartz, the white dial and tachymeter internal bezel are protected by a mineral crystal dial window and made of stainless steel.
It also features chronograph subdials, date window, leather band, buckle closure, and water resistance up to 330 feet. All of which makes it almost identical to Invicta 330 mentioned above, but at a lower price.
Invicta Men's 3330 'Force'

Invicta has been known for offering a wide range of affordable watches in the market – with many models at around the $100 mark.
Certainly, they did not forget their left-handed customers.
The 3330 Force model for men is not just designed with style but mainly for the active wearers, including resistance to 330 feet, making it suitable for snorkeling and swimming.
It is made from stainless steel with a black leather band while its window is made from mineral crystal, therefore, completing the overall durable design of the watch.
It is also Japanese quartz, with an analog display, date window, and chronograph subdials making it not only durable but also feature-rich.
Nixon 51-30 Chrono

The 51-30 Chrono Waterproof is perfect if you're looking for a chunky, tank-like watch build. The tungsten bezel on this Chrono plays well with the ion-plated steel case. With an impressive 300M-water resistance rating, you can take this bad boy on a scuba diving mission and not worry about the display getting foggy afterward. The one downside is that if you have small wrists or don't like the look of a bulky watch you'd want to pass on this one as the 51mm case will be overkill.
PUMA Men's Ultrasize Analog

Puma may not be among the first brands you would think of when it comes to watches but this analog watch is worth considering particularly for beginner athletes looking for an affordable left-handed sports watch.
Compared to many of the brands' models, this one has quite a minimalist analog display with only stick indices, the Puma logo at 12 and the Arabic numeral at number three position, and stick hands with quartz movement.
Like the previous watch mention, this also water-resistant up to 330 feet making it another good value pick for the active leftie looking for a sporty model showing off its well-known feline-inspired logo. However, given its affordable cost, you cannot expect too much since it only has a 50mm metal case with a plastic dial window, elastic band, and buckle closure.
Tudor Pelagos LHD

If you are looking for luxury and elegance the Tudor Pelagos LHD is one to consider, if you are not familiar with the brand you may be surprised at the sticker price but for watch collectors familiar with the brand, you'll recognize it as a sub-brand of Rolex with a price you'd expect for the category.
The ceramic matt black disc brings a very attractive design to the watch. Yet, its titanium steel case and titanium bracelet further enhance not only its elegance but also its durability. You may even wear it while swimming or snorkeling since it can withstand water depth up to 1,640 feet. Its date window is even intentionally designed to be small to focus on the ivory numbering and hands to complete its classy look.
The last key feature is that Its internal rotor is self-winding or automatic therefore foregoing the need for a battery and will, ideally, just keep on ticking so long as it rotor work.
SevenFriday Men's M2-1 M Series

This watch may not be for everyone's taste, but if you looking for a unique and high-end design this is one to look at.
Rather than the standard analog display and hands, it uses three (3) rotating discs to tell time. It may seem unusual but the yellow discs in contrast with black fonts make it easy to read the time. This mechanism is being powered by an internal engine that runs automatically with a 40-hour power reserve to prolong the life of this timepiece.
Its case measured at 47 x 47.6mm in diameter made up of stainless steel while its glass face is specially hardened and anti-reflective mineral to prevent scratches.
Despite the unique futuristic watch design, it has kept its crown on the left side making it convenient for the left-handed wearer.
This Seven Friday watch is only water-resistant up to 99 feet, but in all reality, this is a fashion statement piece, not a practical tool watch.
For hard-core water use, check out the deep-diving Omega that's up next:
Omega Seamaster PLOPROF 1200M

For this very boldly designed yet purposeful watch with a price that matched the Omega brand's reputation for being pricey.
Yet, its features make it lives up to the brand name and proves to be worthy of some consideration.
Primarily designed for divers, it can withstand water up to 4,000 feet, equipped with a chronometer, helium escape valve, and bi-directional rotating bezel.
It has a round shape face in a stainless steel case, date dial, and hour indices powered for automatic movement.
Its crystal window is also an anti-reflective, scratch-resistant sapphire. Lastly, its band is made of rubber with a push-button folding clasp.
Apple Watch
While the Apple Watch is not technically left-handed but since it has a rotating display, it is versatile for right- and left-handed alike.
See the Apple Watches on Amazon.
Its clock display may be digital or analog and can even display a barometric altimeter, accelerometer, gyroscope, and even your heart rate.
Since it is a smartwatch, it boasts of apps that are readily accessible in the watch, display notifications, and connectivity to your iPhone and other Apple devices.
However, despite being a digital device, it is water-resistant up to 164 feet so you may still wear it while swimming or in the shower. All these are contained in a durable sapphire crystal casing.
If you opt for an Apple watch, check out this useful video on how to change the settings for using it on your left or right wrist.

Boat Chimera Carbon 7177

Chimera Carbon 7177 is another uniquely stylish watch brought by a 48 mm carbon-fiber titanium case and calfskin strap.
The luminescent numerals and hands in contrast to the black dial make it easy to tell time – even up to the seconds! It also displays the date, has chronograph subdials, and an extra hand to show the GMT (Greenwich Mean Time).
Its movement is automatically powered by silver 925 rotors and has up to 48 hours of power reserve.
U-boat is a watch brand from Itlay, known for its unique-looking dive watches. While some critics find the oversized and ornate crown a bit to much, this watch is a great fit for a left-handed guy that wants to make a clear statement with his wristwear.
Mulco Buzo Helio

This Mulco Swiss quartz Chrono with black dial contrasted against the white luminous hands and hour markers makes it easy to read the time.
The numeral six at the bottom center is also made intentionally large to showcase the date at its center, while the sides contain the chronograph subdials.
The 49mm case is made of stainless steel featuring a fixed black-finished bezel. The cover, on the other hand, is scratch-resistant mineral crystal and the band is made of silicone, both intentionally designed for durability. Lastly, it is water-resistant up to 3,300 feet which allows you to wear it even during your water activities.
Sinn Diving watch U1000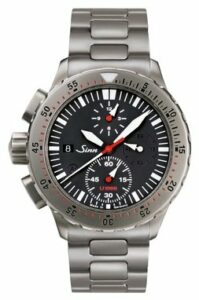 See on the Sinn Website | Search on eBay
Sinn Diving Watch is that it is made of German Submarine Steel making it incredibly strong and seawater-resistant designed to withstand even unexpected high impact.
It can withstand water depth up to 3,280 feet, perfectly suitable for divers. It was even tested and certified to match European diving equipment standards.
Its case is also made with Tegiment Technology, increasing its scratch resistance while its inside used Ar-Dehumidifying Technology to increase the functional reliability and keeps the watch free from fogging.
The diver's bezel also comes with a guard to prevent accidentally adjusting the setting and the large push buttons for the chronograph are flat so it remains accessible even with the diver's gloves.
TAG Heuer Monaco Calibre 11

One interesting fact about this unusually designed TAG wristwatch is that it is the timeless classic worn by Steve McQueen, a famous actor in the 1960s and 70s who starred in films such as The Great Escape (1963), Bullitt (1968) and The Getaway (1972).
Are you a movie buff? Click here to see other classic watches worn in the movies.
The two counters on either side of the watch face are one of the unique designs of Calibre 11. Each counter is made of a silver opaline second hand and black lacquered minute hand. Another key feature is the date window shown at the bottom center of the watch face.
The internal engine is self-winding causing the automatic movement of the watch and it is also water-resistant up to 328 feet, making it suitable for everyday wear.
All these features are contained in an alternate finishing steel sapphire case with steel push buttons at 4 and 2 o'clock.
Hamilton Khaki X-Wind

At first glance, the various numbers and dials on the Hamilton Khaki X-Wind may seem messy on the watch face, but that is not the case. They are all expertly designed and once you understand what you are looking at, you will be able to see and appreciate all those numbers and dials.
Since this Khaki X-Wind watch from Hamilton is primarily designed for pilots, who need a face that can be read at a quick glance, the black, silver and white colors of the face are simply perfect. The black disc in contrast with lighter silver and white features makes everything easily readable – from the time to the date and even the chronograph.
Another interesting feature for pilots is that it has the first drift-angle calculator that the pilots may use to calculate and record crosswinds with ease.
The internal rotor is Swiss automatic and water-resistant up to 330 feet, contained in a 44mm stainless steel case. It also has a leather band with contrast stitching and buckle closure.
Panerai Officine Luminor 1950

The sleek design of Luminor 1950 makes it simply elegant. It has a black dial with luminescent watch hands and hour markers, therefore, making it easier to read the time even in darker lighting.
It has a polished steel bezel and the case is a 47mm sapphire see-through crystal completing the elegant design of this timepiece.
Internally, it runs on a P.3000 caliber with a hand-wound movement and a three-day power reserve. It is anti-shock and water-resistant up to 330 feet, suitable for everyday wear.
Nixon Chronicle SS Watch

The Nixon Chronicle SS is elegantly designed almost entirely black, except for the lighter shade for the hour markers, the accented silver hands, and the date indicator in white with a magnified window. This left-sided date window cyclops makes it a unique pick on the list and the subtle tones of the hour marker and watch hands make it a versatile option. However, because of its dark design, it is not particularly recommended to be worn during swimming due to limited visibility underwater. This 48 mm stainless steel case houses an accurate Swiss-quartz Movement
Breitling Chrono-Matic

The Breitling Chrono-Matic boasts as being one of the first chronographs launched in the late 60s with a self-winding movement. As such, all Breitling chronographs with automatic movement are named Chrono-Matic – including Chronomat Chrono-Matic and Navitimer Chrono-Matic.
It is made of a 44mm round rose gold case, 8 inches crocodile leather band, and buckle clasp. Its dial showcases a date window and chronograph subdials on each side. You'd also find various digits around the dial which may seem too much at first but you'd surely appreciate and find functional once you learn to read them.
Best Left-handed Watches For Women
You may have observed that the numerous options presented above are for men. How about for the women, you might ask. Unfortunately, many of the watch case diameters above make them pretty chunky looking on a women's wrist for women. Good thing Nixon offers some affordable models for left-handed women.
Nixon Women's Facet Watch

Simple yet elegant is the theme of this Facet Watch for women, with only stick hands with Japanese quartz movement, hour markers on its center dial, and seconds track on the concave ring. It is mainly made of solid stainless steel – a 20mm case, 3-link bracelet, and double locking lock with micro-adjust clasp. This model is available in black, silver, gold and rose gold.
Nixon Women's A4241603 42-20

This Nixon model is designed for a sporty look because of its raw leather band with topstitching and buckles closure.
It has a Japanese quartz movement with an analog display. The round dial features rose-tone indices, silver hour hands, light blue seconds hand, and three chronograph subdials in sunray finish. The combination of these colors maintains the feminine look of the watch despite the sporty design.
To match its sporty look, it is also water-resistant up to 660 feet so it can be worn not only for swimming or snorkeling but also for other water sports, except scuba diving.
Nixon Women's Chrono

If you want the elegance of the first model and the functionality of the second one, then this Chrono may fit your preference.
It is mainly made of solid stainless steel – from 38mm case with a unidirectional rotating bezel, 3-link bracelet, and double locking clasp with micro adjust. Its numbered dial includes bold printed indices with Japanese quartz movement and three (3) textured chronograph subdials for increased functionality.
It would also still be able to support your water sports, excluding scuba diving, because of its water resistance up to 660 feet.
Although all those watches mentioned above are labeled Left-handed Watches, it does not necessarily mean that right-handed individuals should be restricted from using them. If you're a right-hander who prefers to wear watches still on your dominant hand then you'd find these watches more convenient for you than the typical watches.
Moreover, you may also wear these Left-handed watches still on your left hand! Yes, the position of the crown may seem a little bit awkward at less convenient once you put it on the left but it's not likely that you have to use it and turn the knob as you go through the day. So go and wear your watch whichever you like. What's most important is that you would still be able to read the time that it shows.
Related Video: 13 Things Only Left-Handed People Understand