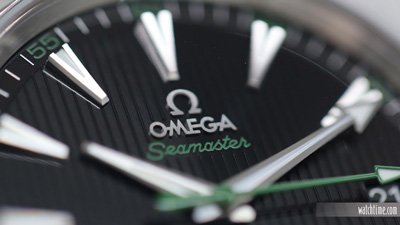 The perceived value of a watch depends much on the person wearing or admiring it. The same could be said about many things that we buy, especially non-essential items such as designer clothes or luxury cars. Many consumers can not comprehend how some watch aficionados and collectors can pay thousands, hundreds of thousands or even millions of dollars for a watch (in Nov, 2019 a Patek Philippe watch sold for $31 million).
Many consumers do not see a reason to spend a lot of money on a watch. After all, you can buy good looking, accurate watches for $100 that do a great job of telling time and there are lots of fashion watch brands that make stylish and affordable models. So many people, upon seeing Omega watches gracing the wrists of the rich and famous or seeing Omega advertisements for watches that cost thousands many people ask:
Why are Omega watches so expensive?
The answer to the question lies in a number of reasons. Omega watches are expensive because they are Swiss-Made and known for high quality. Omega is also a premium brand with a long history and reputation. Omega also spent a lot of money on marketing and celebrity endorsements to build the perception that they are worth the high price tag.
Here is a more in-depth look at each of these factors.
Why Are Omega Watches So Pricey?
Because Omega Calls The Shots
Being a premium brand of luxury watches, Omega has a reputation for making some of the finest watches in the world.
Omega is a Swiss watchmaker who has been in operation for 170 years and, in general, Swiss-made watches fetch a higher price than watches made in other countries.
Omega watches have also been featured in the most sensational of places like on the Moon by Buzz Aldrin worn by James Bond in Casino Royale and other movies, by Olympic athletes, international business tycoons and celebrities including Ryan Gosling, Ron Howard, George Clooney, Pierce Brosnan, Nicole Kidman, Cindy Crawford, Daniel Craig and many others.
People are ready to pay the asking price to be able to seen sporting such a watch on their wrist so that they can identify with these great personalities as well.
Omega Does Excellent Workmanship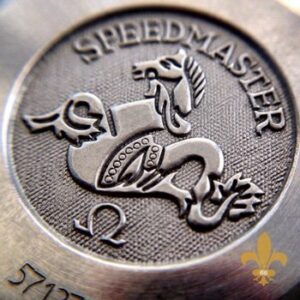 It is not just the name but it also defines quality and workmanship that is involved in manufacturing Omega watches. Each watch is designed in such a way that the beautiful lines and elegant curves do not cause discomfort to the wrist. When you buy an Omega watch, you pay for the intricate engineering and design that goes into the manufacture of these complicated mechanisms. You are also paying a premium for a timepiece from a watchmaker with a long and distinguished horological history.
Omega Watches Are Made In Switzerland
Just like Indian tea, French wine, German beer, Belgium chocolate, and Italian food, Swiss watches are sought after the world over.
Omega is a typical Swiss-made watch hence, it is no wonder that people are ready to pay whatever it costs to lay their hands on an Omega watch. While the average Omega watch may sell for the jaw-dropping prices of the most expensive Lange & Sohne or Patek Philippe watches, the brand does have many models that sell for tens of thousands of dollars and some into the hundreds of thousands.
Omega Does Aggressive Advertising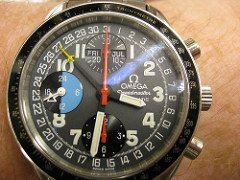 One of the salient features of Omega watches is that they advertise very aggressively. Omega spends millions of dollars sponsoring events movies and endorsing celebrities and various other advertising channels. It is this huge cost of advertising that makes the watch well known and sought after but also very expensive because a large amount of the advertising cost is passed on to the consumer.
Exclusivity
To create highly-exclusive designs, Omega spends a lot of money, especially for limited editions. Due to the low production volume of each batch of exclusive luxury designer watches, the cost of each piece automatically shoots up.
The most expensive Omega to date that we know of is the Constellation Baguette that features 30-carats, 459 Wesselton diamonds, 146 baguette and trapeze diamonds on the dial and the case is made of 18-carat white gold and retails for around $700,000
Does Omega make an Affordable Watch?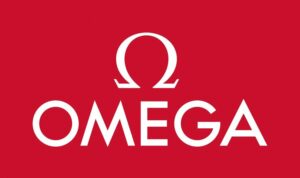 Affordability is a very relative concept.
What is considered an affordable watch to one person is considered expensive to another. However, in general terms, we can say that a product that costs thousands of dollars is expensive. Omega watches are expensive to start with. However, does Omega make an affordable watch? Relatively speaking, you can find a few models that are within reach of the common man and definitely affordable in relation to other more expensive brands.
Here are a few (relatively) affordable watch models manufactured by Omega:
Omega Speedmaster Moonwatch Professional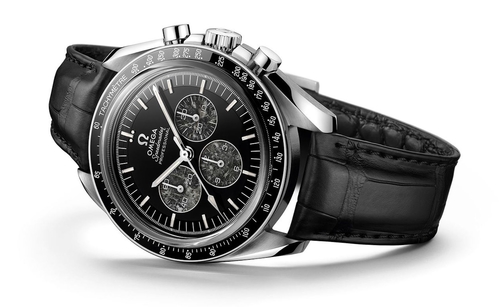 Launched in 1957 this watch is associated with space travel and adventure sports. With a characteristic black dial and hesalite crystal, the Speedmaster has a thin hour and minute hands and 30 minute and 12-hour recorders.
This watch has the prestigious distinction of having made 6 trips to the moon and back with NASA astronauts.
Check the current price of the Speedmaster.
Omega Constellation Watch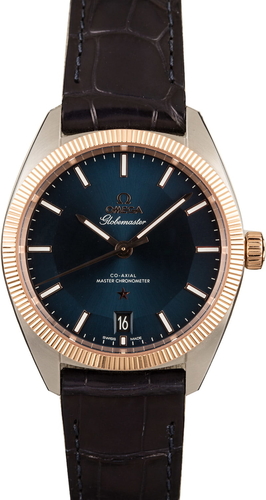 The constellation family has been around since 1952 and is well known for the Dome of the Geneva observatory which serves as a family crest. This watch has made history by breaking its own record for accuracy in 1931. It was through this watch that Omega introduced coaxial calibres in 2007. In 1982, the trademark "griffes" or claws were introduced by Omega at the 3 0'clock and 9 O'clock positions.
See the current price of the Constellation: New | Pre-Owned
Omega Seamaster Aqua Terra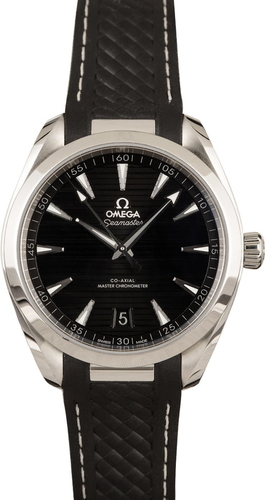 This watch is well-known as a clean, robust timepiece. The Seamaster Aqua Terra conjures up images of the decks of fine luxury sailboats. A unique feature of this watch is the 18-carat gold second hand. You can also view the watch's movement through its transparent case back.
Another special feature of this luxury watch is the non-ferrous key movement components. The non-ferrous components give rise to the best feature of this family of watches, which renders the watch resistant to magnetic fields over 15,000 gauss.
The anti-magnetic properties of the Seamaster are particularly relevant in today's world where we use smartwatches, tablets, microwaves, and refrigerator doors on a daily basis.
See current price of the Seamaster Aqua Terra: New | Pre-Owned
Omega De Ville Prestige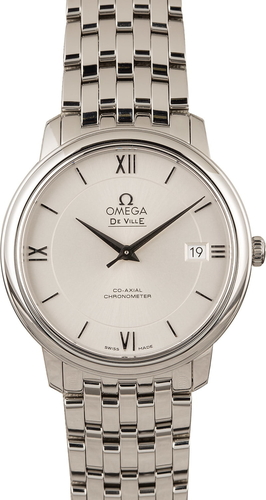 This is a watch with the difference because it's more like a dress watch, which comes as a refreshing change from the other high-end models. With a classic but luxurious appearance, this watch will go with any style of attire.
Water resistance to 30 meters and automatic winding are just a couple of cool features of the Omega De Ville watch.
Check the price of the Omega De Ville: New | Pre-Owned
---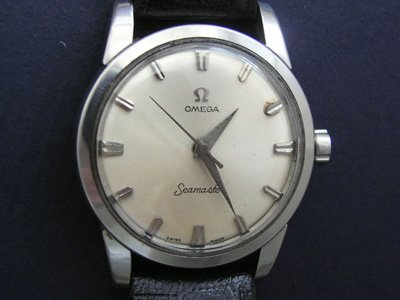 Where To Buy Discounted Omega Watches
While there are some more affordable models in the Omega line-up, no matter what model you are looking for there are a few places where you may find a better price.
The first decision is whether you want a new or pre-owned watch?
If you are buying new, other than popping into a physical Omega boutique, you most likely are looking to buy online. Be sure to check authorized dealers.
In the US, one good example is Jared, a well-respected jeweler with nearly 300 stores in 41 US states. Shop Omega on Jared.com.
In the UK, Beaverbrooks is one of the brand's authorized dealers with a wide selection here.
Worldwide: JomaShop carries a wide range of new Omega watches and ships to over 150 countries. Their watches are guaranteed to be authentic, However, because they price watches at well under MSRP they're not authorized to provide a manufacturer's warranty (but provide their own warranty).
For guaranteed authentic pre-owned, we recommend Omega watches from Bobswatches.
Another option for both new and pre-owned would be to see the Omega watches currently available on eBay here.
---
So, there are watches and there are Omega watches. Omega watches are one of a kind. If you invest in an Omega, you are likely to be stuck with a relationship that will last you a lifetime nurturing a passion that only the proud owner of an expensive watch like an Omega can understand. Why are Omega watches so expensive – do they make an affordable watch? Yes, on both counts, and hopefully we have answered these two questions satisfactorily.
Curious how Omega stacks up to other brands? Check out Omega vs Oris or Omega vs Longines
If you're interested in a closer look at where Omega watches are made, take a look at this video from Omega inside their new factory:

We hope you have enjoyed reading this article. If so, please do leave your valuable feedback, comments and questions, if any, and we will be glad to get back to you.