Timepieces are not just functional accessories to help us keep track of time; they can also add to one's overall style when it comes to completing their attire or look. A timepiece can be sleek, smart, elegant, or rugged, but most importantly, it needs to be reliable. While some people spend thousands on luxury watches, many of our readers are looking for a reliable watch that won't leave their wallets empty. Luckily there are plenty of decent options in this price range.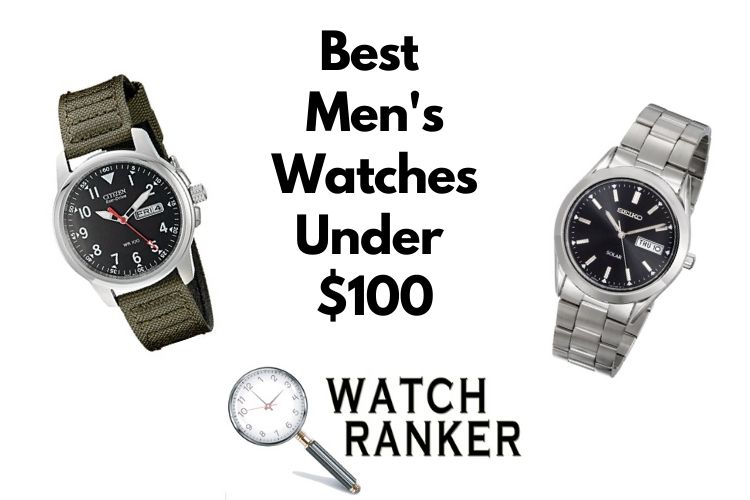 To help you in finding the best budget-friendly wristwatch, we have compiled the best-selling watches for men that are priced under $100. We included watches from well-known brands here to ensure you get the most bang out of your buck. Some of our favorite affordable brands such as Timex, Citizen, and Seiko are heavily represented will good reason – they've all been in business for over 100 years and are known for quality and value.
But to offer options for all different styles we've also included other brands such as Orient and Casio and as well as few fashion watch brands with modern and stylish designs.
(Please note, all prices were checked at the time of publishing and all watches were selling for $100 or less. However, prices may have fluctuated since then, possibly pushing them over the original budget).
So, without further ado, let's begin.
Best Men's Watches Under $100
Timex Men's Expedition Field Chronograph Watch
Read Amazon Reviews | See on Timex
The Timex Expedition Field watch comes in a variety of designs, but it all perfectly delivers that outdoor aesthetic with its durable brass case and nylon straps. This is also a chronograph watch which means it includes three sub-dials (hours, minutes, seconds).
The black brass case measures a sizeable 43mm in diameter. The dial features Arabic numerals that denote the minutes instead of the hour. The hands use a compass-like design which I find it fitting for the overall aesthetic of the Expedition Field.
Additional features of note include a date display over on the 4 o'clock position and a 30-minute sub-dial that tracks to 1/20th of a second. The Expedition Field watch is also designed to withstand up to 100 meters with its water resistance which makes it suitable for swimming.
Seiko Men's Silvertone Solar Calendar Watch
The Seiko Silvertone Solar watch provides an excellent companion for individuals who aims for that sharp look. With its silver 37 mm stainless steel case and link bracelet, the Seiko Silvertone will fit nicely with both business and casual attires.
The watch does not only deliver a stunning design but excellent features that enhance its overall functionalities as well. The main feature here is, of course, Seiko's Solar-powered technology that is installed within the relatively sleek frame of the Seiko Silvertone.
It also utilizes quartz movement and analog display. The dial features a traditional design and is protected using a Hardlex crystal window. Also, it comes with a date display window which is located at the 3 o'clock position.
Citizen Men's Watch BM8180-03E
This particular Citizen watch is designed for casual every day and outdoor use. It features a stainless steel 37 mm in diameter case with nylon straps and buckle. It certainly provides optimum comfort on the wrist.
Design-wise, this Citizen watch takes the classic approach with nothing too fancy. It aims to provide excellent reliability, and it does so quite well. Within the case is a Japanese-quartz movement that operates its analog display.
The black dial uses silver-toned hands and markers. The second's hand does come in red which helps distinguish it better and even enhances the overall look of the black and silver dial design. There is also a day and date display which is located over at the 3 o'clock position. The watch is also structured to provide water resistance of up to 100 meters.
Fossil Men's Grant Stainless Steel Chronograph Quartz Watch
Read Amazon Reviews | See on Fossil.com
Fossil is a designer brand that already gives you an idea of what to expect. However, their watches are not just all show with no substance. Fossil watches incorporate tried and tested designs and construction but infused with the signature Fossil style.
This is what the Fossil Grant delivers. It features the always stunningly beautiful combination of polished silver and blue tones with its case. This is further enhanced with the genuine brown leather band that it comes with, Thus, completing this perfect blend of rugged and smart appeal.
The stainless-steel case measures in at a hefty 44 mm, even so, it is quite light and is well-balanced. The blue dial features silver hands and markers. It also comes with three sub-dials as well, which significantly boosts its overall functionality.
The hands of the dial are also coated with a luminous finish to help improve visibility in low-light environments. Inside is the quartz movement which ensures precision in timekeeping. A mineral crystal window protects the dial, and the watch itself provides decent 50-meter water resistance.
Invicta Men's Pro Diver Gold Automatic Watch 9828OB
The Invicta Pro Diver is not only a solid diving watch, but it is also an affordable and stylish looking one. The Pro Diver features two-toned gold and silver with a glossy blue bezel and dial for added flair. The case features a 23k gold-plated stainless-steel design and a sturdy mineral crystal window.
The dial design indeed went all-in when it comes to its design. The Invicta Pro Diver comes in a 40 mm stainless steel case and uses automatic movement. This timepiece was designed to capture the attention of any who glances at it, and it achieves its mission nicely.
Of course, the most vital feature here is its water resistance. In that regard, it manages to provide an impressive 200-meter rating which makes it ideal for swimming and snorkeling as well as a whole host of water activities except for scuba diving.
Nixon Time Teller Stainless Steel Watch
Read Amazon Reviews | See on Nixon.com
The minimalist Nixon Time Teller is an excellent timepiece for the modern individual. The black matte case is partnered up with the orange suede leather band which gives it that contemporary charm that blends modern and traditional aesthetics.
What's more, is that the Nixon Time Teller series provides a wealth of choices that cover the broad spectrum of watch designs from casual to luxurious. The Nixon Time Teller utilizes quartz movement with its analog display. Depending on your style, the chances are that the Nixon Time Teller series has you covered.
Citizen Axiom Eco-Drive Men's Watch
Read Amazon Reviews | See on eBay.com
Citizen provides another amazing watch for individuals who follow the minimalist way of life. The Citizen Axiom watch comes with a pristine black dial that only features the hands, a date display, and one marker at the 12 o'clock position.
While the exterior takes on a minimalist approach, within is a complex machination of gears and cogs. The Axiom watch incorporates Japanese quartz movement with its analog display which ensures a high level of precision when it comes to timekeeping.
The stainless-steel case measures 40 mm in diameter, making this lean towards the larger group of timepieces. The Citizen Axiom also delivers a decent 30-meter water resistance, but it is not like you will be wearing this chic timepiece on the beach.
Seiko 5 SNK805 Automatic Stainless-Steel Watch with Green Canvas Band
Read Amazon Reviews | See on eBay.com
The Seiko 5 indeed leads towards appealing to the outdoor enthusiasts with its design. The green canvas band and the green dial is a dead giveaway. This timepiece takes on military-style design and construction with its impressive durability and simple functionality.
In other words, the Seiko 5 is all about reliability. The watch has the right size with a 37mm diameter stainless steel case. The dial comes with luminous hands and markers as well as a day and date display over on the 3 o'clock position.
The Seiko 5 also incorporates automatic movement with its analog display. The overall construction of this timepiece ensures optimum comfort and durability that will be able to withstand constant outdoor use.
Casio Men's Edifice Multi-Function Watch EF527D-1AV
Read Amazon Reviews | See on eBay.com
The Casio Edifice Multi-Function watch is an impressive timepiece that is jam-packed with features. While the price tends to hover around the $100 mark, you can easily find retailers that sell this below the hundred-dollar bracket.
The Casio Edifice integrates the classic all-silver tone look. The black dial, though, is where things get interesting. The dial features chronograph functionalities with a 1/20-second sub-dial, a date display window, and a sliding rotation inner bezel.
The Casio Edifice is also quite large with a 45 mm stainless steel case. This feature-rich and durable timepiece further pushes the envelope with watches in its price range by also adding 100-meter water resistance.
Fossil Men's Nate Quartz Stainless Steel and Metal Casual Watch
Read Amazon Reviews | See on eBay.com
The Fossil Nate watch is designed to grab your attention with its rugged gunmetal and gear-like aesthetic. This is a watch designed for men with its 'rough-and-tumble' charm. The stainless-steel gunmetal case comes in at 50mm in diameter, giving it an almost tank-like appearance.
The dial applies an exciting color scheme that gives the timepiece more character. The dial's degraded gunmetal finish certainly looks like it will fit in the Mad Max series of films. The markers utilize large and bold Arabic numerals.
Since this is a multi-functional watch, it contains three sub-dials that help track the hours, minutes, and seconds. The straps are also interchangeable with all Fossil watch straps (24mm), making this timepiece quite flexible when it comes to its aesthetics.
Bulova Men's Classic Gold-Tone Brown Leather Band Watch 97B100
Read Amazon Reviews | See on eBay.com
If you type in classic men's watch, you might come across this exquisite Gold-tone watch from Bulova. There are no additional bells and whistles with this one, just a traditional and elegant gold watch with leather straps.
This timepiece delivers a sophisticated charm. It comes with a 37 mm in diameter gold-tone case with a pure white dial. The dial itself incorporates gold-toned hands and markers, simple yet elegant. Within this Bulova watch is a Japanese-quartz movement with analog display. The leather bands feature crocodile-embossed leather with buckle closure.
Orient 2nd Generation Bambino Version 3 Dress Watch
Read Amazon Reviews | See on eBay.com
One of the most visually striking watch entries in this list is most certainly the Orient 2nd Gen Bambino 3. With its stainless-steel case that measures 40mm and a domed mineral crystal window, it radiates a different aura than most watches you will come across.
The Orient 2nd Gen Bambino 3 opts for a more modern route when it comes to its design. It also somewhat leans over to the minimalist approach but not too much that it is akin to a Movado timepiece.
This timepiece features a Japanese quartz movement and a date display at the 3 o'clock position. It also has a 30-meter water resistance which should help protect it from accidental splashes of water and rain.
Casio G-Shock GA-110 Watch
Read Amazon Reviews | See on eBay.com
The G-Shock GA-110 is one of the most durable and cool looking watches that is designed for outdoor and sports use. As you would expect, the G-Shock comes with several functionalities that include a countdown timer and a 1/1,000-second stopwatch.
The construction is another aspect of G-Shock watches that it thoroughly excels in. The watch is made from a durable resin material that is both lightweight and sturdy. It is designed to provide optimum shock resistance to ensure that it can easily brush off most impacts delivered to it.
The resin case measures 51 mm and utilizes a mineral crystal window. Also, the G-Shock GA-110 comes with world time, 12/24-hour format, and a flash alarm. Its durable construction also gives it 200-meter water resistance.
Swatch Classic Quartz Silicone Strap Watch
Read Amazon Reviews | See on eBay.com
Swatch watches are known for their contemporary design and comfortable construction. The Swatch Classic checks both boxes with its simple appearance and a soft silicone band. The Swatch Classic measures in at a relatively small 34 mm case which also utilizes a push/pull crown.
The bronze markers and hands fit nicely with the all-black dial, which gives it maximum legibility. It uses a quartz watch movement and is battery-powered. You can also ask for free battery replacement in official Swatch retail stores. Also, of note is that the Swatch Classic comes with a 2-year warranty as well – a win-win situation.
Seiko 5 SNK809 Automatic Watch
Read Amazon Reviews | See on eBay.com
The Seiko 5 series has always catered towards the chic market with its comfortable and casual aesthetics. The Seiko 5 SNK809 continues this tradition with its stainless-steel case that measures a sleek 37 mm in diameter.
The dial features a pretty standard aesthetics with its Arabic numeral markers and silver-toned hands. It also has a day and date display that is neatly positioned at the 3 o'clock position. Inside the Seiko 5 is a 21-jewel automatic movement that delivers precision in timekeeping with its analog display. The use of black canvas straps helps improve comfort while also adding a more modern appeal to the Seiko 5.
Armani Exchange Classic Stainless-Steel Watch
Read Amazon Reviews | See on eBay.com
The Armani Exchange Classic watch comes in a variety of models, but each features the same grid-textured dial which is pretty much its signature. The 46 mm stainless steel case is undoubtedly a hefty one, and with its already tank-like aesthetic, you know this watch is not fooling around. The outer section of the dial, where the markers are, also utilizes a ribbed circular track.
Within this 46 mm tank of a watch is a quartz movement with an analog display to provide excellent precision in telling the time. Construction also offers around 50-meters of water resistance as well. Overall, the Armani Exchange Classic delivers more of an impact with its superbly masculine design.
Citizen Eco-Drive BM8242-08E Watch
Read Amazon Reviews | See on eBay.com
If you are looking for a classy looking timepiece for men, then Citizen is undoubtedly one of the few watchmaker brands that will always be able to deliver in this regard. The Citizen BM8242-08E watch comes with a strikingly beautiful gold-tone 36 mm stainless steel case and a crocodile-embossed leather band.
The gold case, combined with the silky-smooth blackness of the dial makes this one quite a strikingly handsome watch. This Citizen watch follows a pretty traditional setup and looks. It does come with a date display and uses a Japanese-quartz movement for its analog display.
If you are looking for a classic timepiece that seems a couple hundred more expensive than its actual price tag, then you should take a look at this particular Citizen men's watch.
Seiko SNE102 Stainless-Steel Solar Watch
Read Amazon Reviews | See on eBay.com
The Seiko SNE102 Solar Watch features an attractive combination of polished two-tone silver and gold case with a brown crocodile-embossed leather strap. The 39 mm two-tone case also adds in a dark blue dial that further enhances its overall aesthetics.
The dial uses baton-style hour markers with gold-tone hands. The dial is encased within a durable Hardlex crystal window and comes with a surprising 100-meter water resistance rating. Inside the Seiko SNE102 is a Japanese-quartz movement with analog display.
Seiko also took one extra step forward with the inclusion of their solar-powered technology which gives the SNE102's lifespan an indefinite amount.
Stuhrling Original 3997Z Dress + Casual Watch
The Stuhrling Original watch proudly displays its minimalist aesthetics with its large 40 mm stainless steel case. The dial is quite prominent here and with its minimalist approach, delivers an uncluttered look that displays all the essential details.
While the watch is relatively large, its minimalist design helps give it a sleeker vibe that will appeal to both modern and traditional watch enthusiasts. The case is also quite slim, which further balances out its 40 mm diameter size.
The black dial utilizes silver-toned hands and slim markers. It also comes with a date display which is located over on the 3 o'clock position. The Stuhrling also incorporates a Japanese-quartz movement with its analog display. As a bonus, and show of confidence from the brand, all Stuhrling watches come with a 2-year warranty.
Swatch Unisex Silver Glam Analog Quartz Watch SUOZ147
The Swatch Unisex Glam watch is undoubtedly one of the most exciting timepieces in this list in terms of design. The black case and silicone band delivers a sleek look that will appeal to most of the current market today.
To go further beyond, the dial integrates a numberless skeletal dial that gives you a clear view of the inner workings of its Japanese-quartz movement. The full skeletal dial is quite unusual to look at and provides this watch with an edge with its unique charm.
The 42 mm plastic case features a durable plastic window, which might give some pause, but we have tested it, and it appears to be quite durable. Plus, the Swatch Glam's use of hard plastic material for both its case and window gives it an even lighter weight.
Citizen Men's Stainless-Steel Watch with Blue Dial
Let's top this list off with one of the best diving watches under the $100 mark. As you can see from Citizen's other entries in this list, they deliver some excellent traditional timepieces that provide both functionality and style. This diving watch offers similar results, as well.
This Citizen watch comes with a polished stainless-steel case and bracelet. The glossy blue dial adds perfectly to the silver look of the watch. The stainless-steel case measures a hefty 40 mm diameter. Inside is an automatic movement that operates both the main and sub-dials.
The sub-dials of this Citizen watch offer impeccable precision in tracking hours, minutes, and seconds. Now, for the main event, this timepiece is designed to provide a water resistance rating for up to 300-meters. Thus, making it suitable for all types of water activities, even scuba diving.
Conclusion
As you can see from this list of amazing timepieces for men, you don't need over a hundred dollars to look like a million bucks. These best-sellers prove that in the hands of talented watchmakers, you can easily acquire top-notch timepieces that delivers reliability and style at a budget-friendly price.